Krakow tourist information will probably be the first place you're going to look for in Krakow.
Visiting it is the best thing you can do!
Nobody wants to waste the valuable time in a totally new city – that's why there are many of tourist information points in Krakow!
Check where to find Krakow tourist information first and get the answers for the most urgent questions!
Krakow tourist information – the basics
Are you already in Krakow, searching for some help? Discover Cracow consultants are ready to help you with all the necessary information!
Location
Helpful people with a huge knowledge about Krakow are waiting for you there:
City Center:
Plac Szczepański 8, 31-011 Kraków
Open: 6AM–7PM
Phone: 797 999 143
Świętego Jana 2, 31-042 Kraków
Open: 10AM–9PM
Phone: 12 357 21 70
Main Square tourist information
Plac Wolnica 13, 33-332 Krakow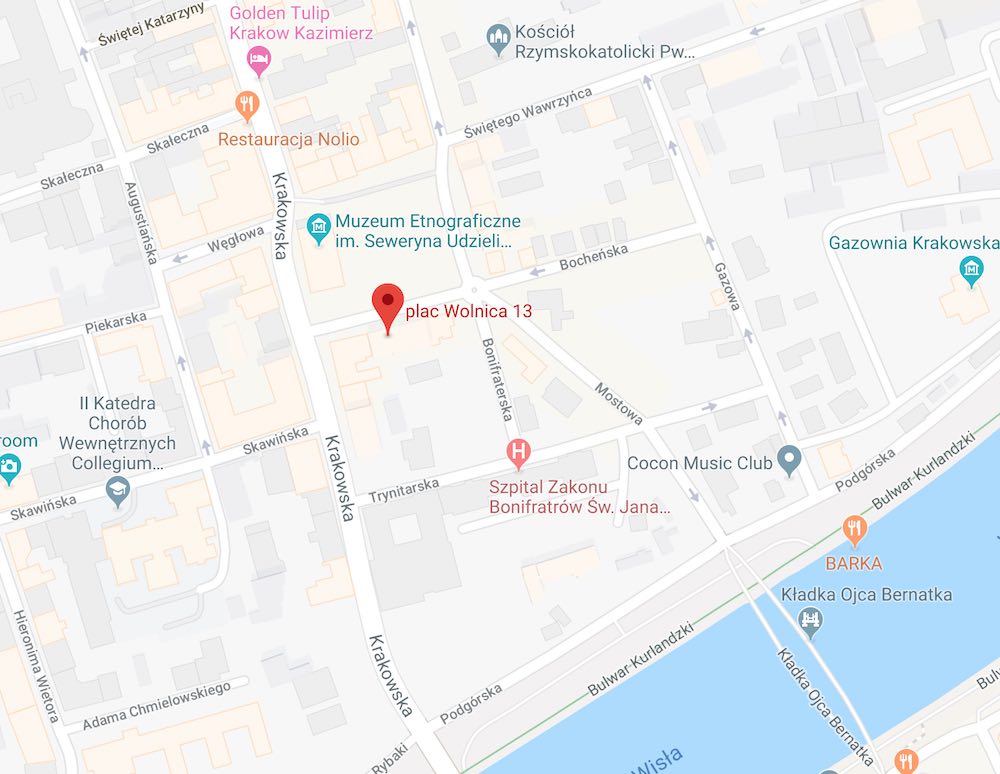 Opening hours: 6 AM – 7 PM
What are the opening hours?
You can come every day! Check opening hours above.
What will they help you with?
Visit on of those places, and:
Find a tourist guide info at least in English.
Get totally amazing maps for free.
Receive best tour catalog in the city for free.
Connect with free and fast WI-FI.
Drink cup of cold water and find place to rest.
Buy Krakow postcards for your family and friends.
Purchase all city and outside city tours in Krakow.
Exchange your KrakowCard voucher.
It is possible to pay for all extra services by credit card!
Have a chat with our local guide!
Come from 9:00 to 9:45 and chat with our local expert! Our friendly guide is ready to help you plan your stay in Krakow, explain its history and give useful tips. We encourage you to ask him anything you want to know about Krakow attractions or local insights. It will be a pleasure for us to help you make your time in Krakow unforgettable.
Do you want to join some Krakow tour?
That's great! At information point, we would love to answer all your questions regarding most popular tours in Krakow like Auschwitz Tour or Wieliczka Salt Mine Tour. Are you interested in hours when does Auschwitz Museum is open or how to get to Wieliczka? Just ask our advisors and you will get all information.
Still, don't know what to do in Krakow?
Just come to our office and ask what kind of activity would be suitable for you! You can also take a catalogue and then find out which tour is perfect for you.
Our office on Plac Sczepański 8 may be a starting point for your trip if you haven't indicated a hotel pickup!

Useful informations about Krakow
We predicted what you will ask for. Please, find the most important answers to basic questions below!
What to do in Krakow?
You have to seize your time in Krakow as much as you can!
Top 5 things to do in Krakow:
Take a walk along the Vistula river.
Taste delicious Polish food.
Join the trip to Wieliczka or Auschwitz Concentration Camp.
Relax and do some shopping or go for a party.
Don't forget about sightseeing! Admire all Krakow places and monuments!
Do you know which sights in Krakow are the most important?
Here's our list!
What to see in Krakow?
Top 5 monuments to see in Krakow:
Historic Old Town with Sukiennice (the Cloth Hall), St. Florian's Gate and St. Mary's Basilica
Barbakan
Wawel Cathedral
Kazimierz The Former Jewish District
Kosciuszko's Mound
Find the full list of attractions in Krakow here!
Transport in Krakow
There is no nice tour without smart and fast transport. Don't be afraid of moving around Krakow! Here are some tips about transport in Krakow for you.
Transport from Krakow Airport
In this case, you may use different ways of transport. There is a direct train that is really convenient and cheap. Departs from Krakow Main Station. Another option is to take a taxi or a transfer which costs about 80-90 zł for one-way travel for the whole car (up to 4 people). You may also try to taxi an Uber which is really cheap – 30-40 zł.
So once again:
Direct train: 3-5 zł from Main Station (30-40 mins ride)
Taxi/Transfer: 80-90 zł (30 mins)
Uber: 30-50 zł (30 mins)
Bus: 3 zł (40 minutes)
Full Guide to transport from Krakow airport
How can you get to Auschwitz?
This is a really often question at Krakow tourist information! 🙂 You may find more information about it in our full article here -> Krakow To Auschwitz.
Public transport in Krakow
Touristic area of Krakow is really narrow. You can actually walk through all major districts like Old Town and Jewish Quarter. You will probably have a maximum 30 minutes walk distance from each attractions. We do also have really developed tram connections. Read more about Public Transport in Krakow and get free maps.
Bike rental
Of course, it's possible to rent a bike in Krakow. Actually, it's easier than you can imagine! With Discover Cracow, you can rent a City Bike – Wavelo for the entire day or even three days! All you need to do is to enter the website: Rent-a-bike and choose your option. You can use a bike from any Wawelo Station (they are all over the city – have you noticed?) and enjoy the ride!
P.S. Download a free Audioguide to learn about the city at the same time!
Taxi in Krakow
Taxi is very popular what is not surprising. Anyway, remember that you will get a better fare ordering a taxi by the phone. Catching a taxi on the street can be much more expensive.
We have a good news for you if you are Uber user! The application is available and works in Poland without any problems. Thanks to that, you can save some money during your trip.
Useful addresses in Krakow
At Krakow tourist information you will find all necessary addresses!
Are you in hurry?
Don't worry! We've collected the most important addresses below:
Pharmacies in Krakow (24h)
Centrum Pharmacy, Miłkowskiego 3/1
Dbam o Zdrowie Pharmacy, Zielińska 3l; Kalwaryjska 94; Osiedle Centrum 4A
Dr. Max Pharmacy, Ćwiklińskiej 10; Karmelicka 23
Galaktyka Pharmacy, Wolska 1
Galla Pharmacy, Kronikarza Galla 26
Pod Eskulapem Pharmacy, Kazimierza Wielkiego 117
Prywatna Pharmacy, Mogilska 21
Hospitals and police stations in Krakow (with phone numbers)
Did something go wrong? Don't panic, please! First, call for a help!
Alarm numbers:
General emergency number:

112

The number for an ambulance:

999

The number for a police patrol:

997
Here are some addresses of hospitals and police stations in Krakow:
Krakow's general hospitals:
Pradnicka 35/37, phone: +48(12)4162266
Pradnicka 80, phone: +48(12)6142000
Skarbowa 4, phone: +48(12)6333400
Na Skarpie 66, phone: +48(12)6440144
Trynitarska 11, phone: +48(12)4305500
Złotej Jesieni 1, phone: +48(12)6468000
Krakow's police stations:
Rynek Główny 29
Szeroka 35
Lubicz 21
We hope that you won't need that kind of help at all!
Post Offices in Krakow
Did you buy some postcards at Krakow tourist information? For sure you want to send it to your family or friends now!
Here are some Post Office addresses:
Wszystkich Świętych 9
Westerplatte 20
Garbarska 12
Churches in Krakow
Churches are almost everywhere in Krakow. Most of them are also worth-seeing, great monuments.
In search of the Christian church, look around the Old Town.
If you want to find some synagogue, you have to visit Kazimierz district!
Restaurants in Krakow
Are you hungry? You have to try some Polish food, by visiting one of those restaurants in Krakow.
Accommodation
Getting tired? Book a room in one of the best hotels in Krakow! Here you can find some useful list – hotels in Krakow.
Where to find in Krakow…
We are sure that your trip to Krakow will be exciting and crazy! That's why (sooner or later) you're going to look for:
Toilets
Public toilets are located around the Old Town. You can find them on the Plants (in the underground) and on the Main Square as well. Other lavatories are at Smocza Street and just next to the Wawel Castle.
Free Internet
As we've already said, free Wi-Fi is waiting for you at our Krakow tourist information points. You can find it in most cafes, restaurants, and hostels as well.
Souvenirs
Do you want to buy some souvenirs for you and your closest family or friends? Krakow is famous for its beautiful wooden handicrafts, amber, leather slippers, ceramics, wicker products and food. You can buy all of it at Sukiennice (Cloth Hall) or in small shops all around the Old Town.
Other urgent questions
What currency should I bring to Krakow?
You don't need to worry about your currency as there are many exchange spots where you can easily withdraw PLN for dollars, euros and lots of other currencies. It is also possible to pay with euro at restaurants but you will receive your chance in PLN.
How can you get Polish money?
It is really easy to exchange any currency for PLN. You can do it in "Kantors", banks and even sometimes in a hotel. So do not worry about Polish money. You may also pay via credit card so your bank will take care of everything.
Here you can find all informations about Poland currency.
What are the temperatures in Krakow?
During winter temperature in Krakow can be between -10 and +5 degree
Spring is rather cold at the beginning. Later temperatures are from +9 up to +19 degree.
Summer can be unpredictable, there can be +15 degree but at some days even +30 degree as well.
Fall is rather rainy and cloudy except few days of "Poland golden autumn" when the views are the most beautiful!
Water in Krakow
Tap water in Krakow has the highest quality and it can be drunk directly without prior boiling.
Do you have any other questions about Krakow? Try to find the topic that interests you on our blog!
We hope you enjoyed our Krakow tourist information guide! If you find it helpful, please share and comment! We also wait for other questions that we should include in this article
At the end check these useful links: