Krakow Tourist Information
Are you in Krakow and search for Tourist information Krakow? Discover Cracow consultants are ready to help you with all the necessary information. So the crucial questions for you are probably:
Where can I find  Krakow info tourist spots? Whats the address?
City Center:
Plac Szczepański 8, 31-011 Kraków
Open today · 6AM–8PM
Phone: 797 999 143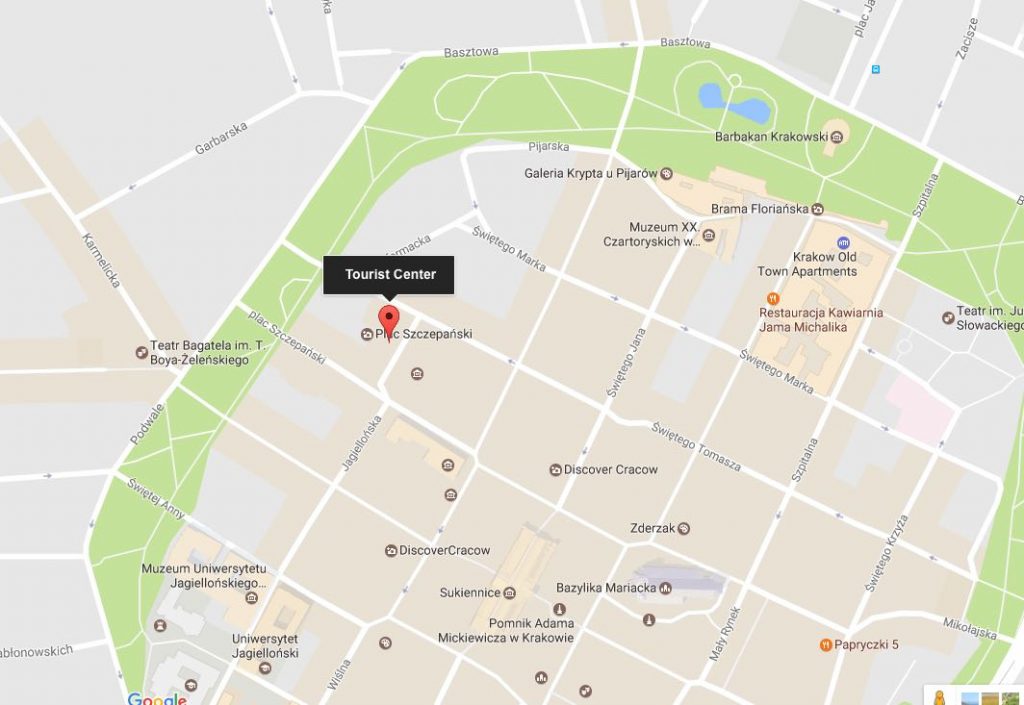 2. Main Market Square:
Świętego Jana 2, 31-042 Kraków
Open today · 9AM–8PM
Phone: 12 357 21 70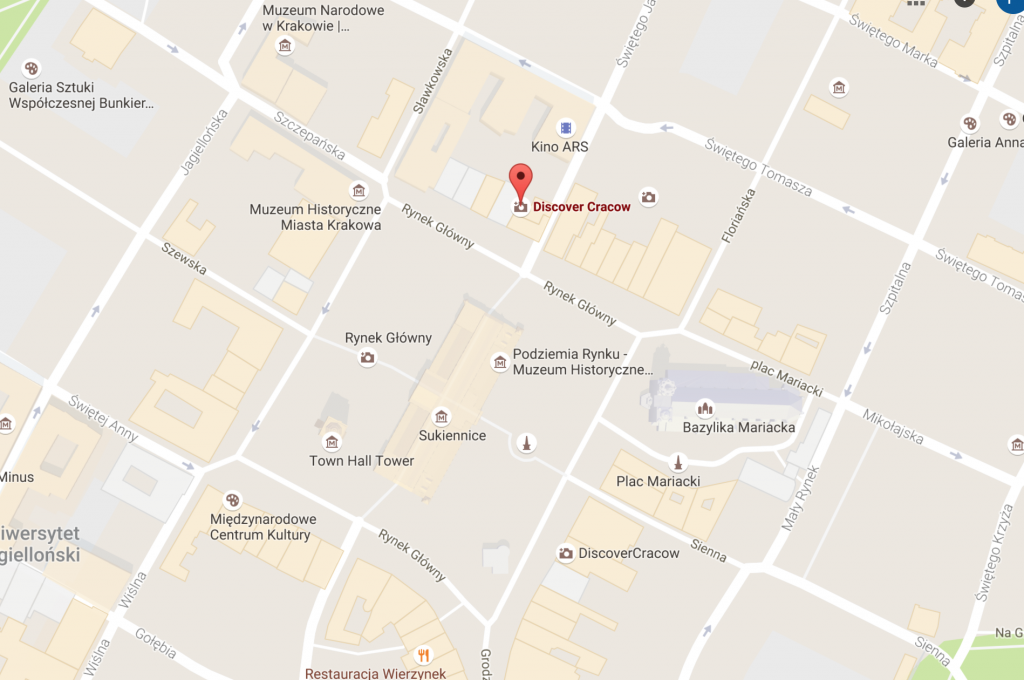 3. Main Market Square:
Rynek Główny 30, 31-042 Kraków
Open today · 9AM–9PM
Phone: 12 357 21 70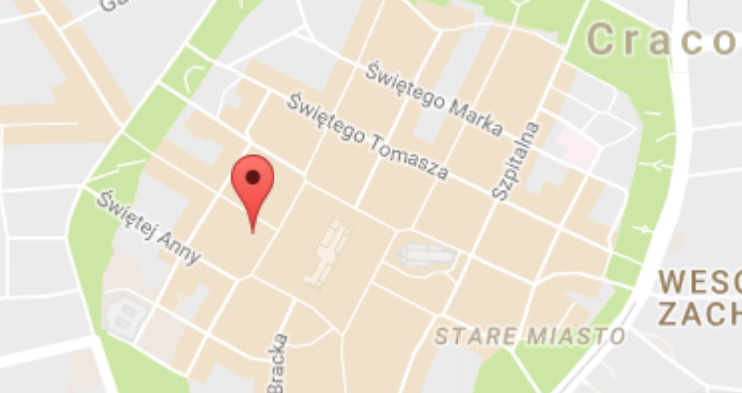 Usefull links:
When are tourist information points open in Krakow?
You can come every day from 6:00 AM to 8:00 PM
Why should I come to your? Because we want to help you with:
Tourist guide info at least in english
Totally amazing maps for free
Best tour catalogue in City for 0€
Free and fast WI-FI
Cup of cold water and place to rest
Krakow post cards for your family and friends
Purchase all city and outside city tours in Krakow
You can also exchange your KrakowCard voucher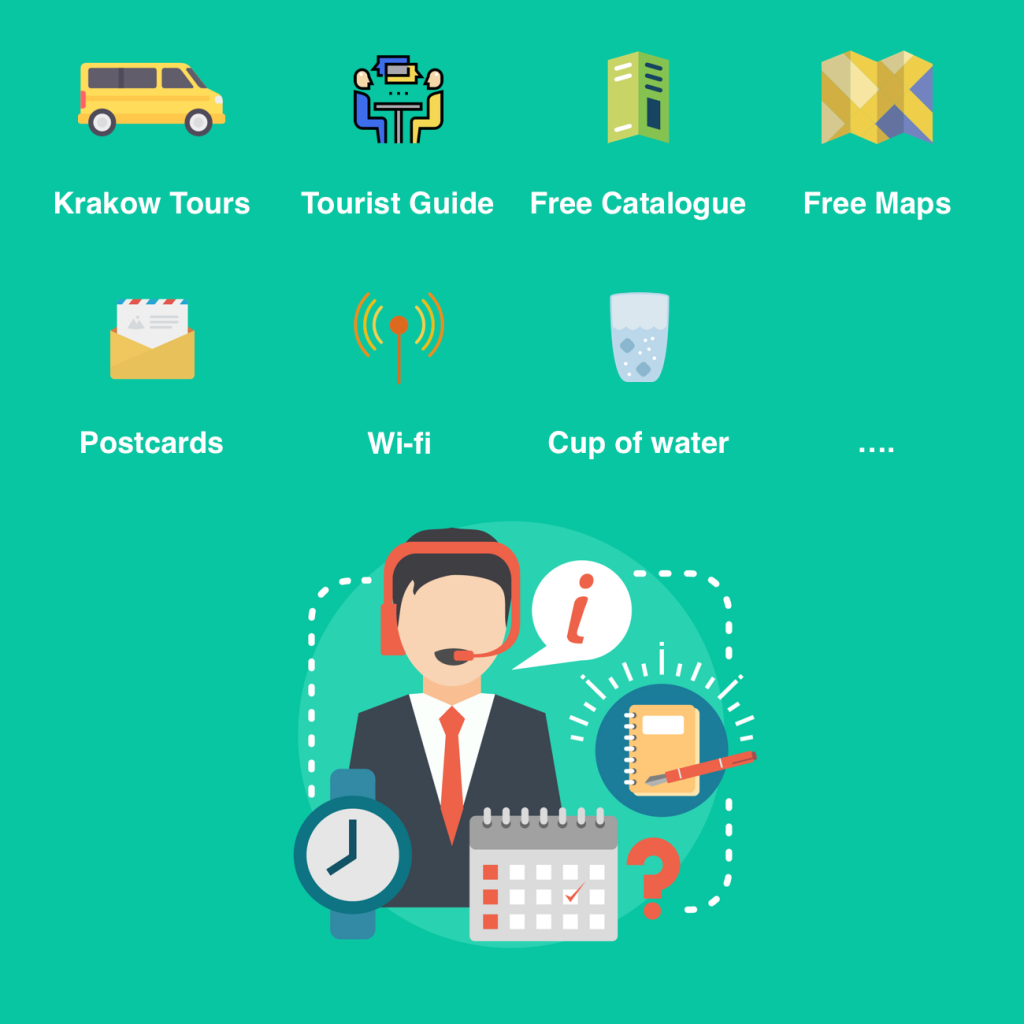 Have a chat with our local guide each day from 9:00 AM!
Come to us from 9:00 to 9:45 and chat with our local expert! Our friendly guide is ready to help you plan your stay in Krakow, explain its history and give tips. We encaurage you to ask him anything you want to know about Krakow attractions  or local insights. It will be pleasure for us to help you make your time in Krakow unforgotable.
Do you have questions about Krakow Tours?
Thats great! We would love to answer all your questions regarding most popular tours in Krakow like Auschwitz Tour or Wieliczka Salt Mine Tour. Interessted in hours whan does Auchwitz Musuem is open or how to get to Wieliczka? Just ask our advisors and you will get an information. Still don't know what to do in Krakow? Just come to our office and ask what kind of activity would be suitable for you. You can also take a catalogue and find which tour is for you.
Tour meeting points DiscoverCracow
Our office on Plan Sczepański 8 may be a starting point for your trip if you haven't indicated a hotel pickup.
Can I pay for a services with credit card?
Yes it is possible to pay throught credit card.

What currency should I bring to Krakow?
You don't need to worry about your currency as there are many exchange spots where you can easily withdraw PLN for dollars, euros and lots of other currencies. It is also possible to pay with euro at restaurants but you will receive your chance in PLN.
How can I get Polish money?
It is really easy to exchange any currency for PLN. You can do it in "Kantors", banks and even sometimes in a hotel. So do not worry about Polish money. You may also pay via credit card so your bank will take care of everything.
Transport from Krakow Airport?
You may use different ways of transport. There is a direct train that is really convenient and cheap. Departs from Krakow Main Station. Other option is to take a taxi or a transfer which costs about 80-90 zł for one way travel for whole car (up to 4 people). You may also try to taxi an Uber which is really cheap – 30-40 zł. So once again:
Direct train: 3-5 zł from Main Station (30-40 mins ride)
Taxi/Transfer: 80-90 zł (30 mins)
Uber: 30-50 zł (30 mins)
Bus: 3 zł (40 minutes)
Full Guide on transport from Krakow airport
How can I get to Auschwitz?
This is an often question. You may find more information about it in our full article here -> Krakow To Auschwitz.
Communication and public transport in Krakow
Touristic area of Krakow is really narrow. You can actually walk through all major districts like Old Town and Jewish Quarter. You will probably have a maximum 30 minutes walk distance from each attractions. We do also have a really developed tram connections. Read more about Public Transport in Krakow and get free maps.
I hope you enjoyed our informations, if you find it helpful, please share and comment! We also wait for other questions that we should include in this article.
24h  Pharmacies in Krakow
"Centrum" Pharmacy
Miłkowskiego 3/1 Kraków
"Dbam o Zdrowie" Pharmacy
Zielińska 3 Kraków
"Dbam o Zdrowie" Pharmacy
Kalwaryjska 94 Kraków
"Dbam o Zdrowie" Pharmacy
Osiedle Centrum A bl. 4 Kraków
"Dr. Max" Pharmacy
Ćwiklińskiej 10 Kraków
"Dr. Max" Pharmacy
Karmelicka 23 Kraków
"Galaktyka" Pharmacy
Wolska 1 Kraków
"Galla" Pharmacy
Kronikarza Galla 26 Kraków
"Pod Eskulapem" Pharmacy
Kazimierza Wielkiego 117 Kraków
"Prywatna" Pharmacy
Mogilska 21 Kraków