Auschwitz - Birkenau Entrance Ticket
Meeting point - Restaurant by the museum, Więźniów Oświęcimia 20 Street (picture below)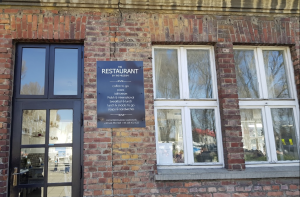 Easy booking and Instant confirmation
Expert Auschwitz Birkenau professional guide
Entrance fees inlcuded
Official Auschwitz guide will share the heartbreaking story in your language. Entrance fees are already paid so you don't have to worry about anything.
Please, wear comfortable shoes - the tour requires a lot of walking. Also take an umbrella or a raincoat with you in order to be prepared in case of rain (the majority of the tour will take place outside)
Please bear in mind that there are hundreds of tourists visiting the Museum every day and keeping your own pace of sightseeing is not possible.
You will be asked to leave your bigger belongings in deposit. The allowed dimensions of a bag you can take with you are 30x20x10 (A4 size)
You will get a headset to hear the guide clearly throughout the whole tour
Eating and smoking, as well as acting in a loud manner are forbidden at the site
Taking photos in the buildings with the use of flash is forbidden. You are allowed to take photos only in selected parts of the Museum
Free cancellation until 24h before the starting hour

To receive a discount the participant is required to show a valid ID confirming the age of the participant (students are required to have a valid Student ID)
Please arrive at the designated meeting point minimum 20 minutes before the departure time
Faq
How long do Auschwitz tours last?
The guided Auschwitz tour lasts about 3,5h.
I am using a wheelchair, can I participate in Auschwitz Tour?
Yes, you can visit Auschwitz with an assisting person. Bearing in mind that the wheelchair should be capable of folding so it would fit into a vehicle (please contact us beforehand if you have any difficulties with moving). However, some sites in Auschwitz are available only through steps so you may not be able to see some of them. Sightseeing in a wheelchair is difficult due to the historical aspect of the buildings (no driveways, large steps, and stairs, pebbly ground).
What luggage size can I take to Auschwitz?
The dimensions are 30x20x10 cm and you will not be able to enter with any luggage that exceeds those. These are strictly followed and controlled. You can leave your bigger luggage in the deposit.
I am interested in WWII history - what others tours can I take to enlarge my knowledge about this subject?
The History of World War II in Krakow is such an interesting and tragic subject, no wonder why you want to learn more about it. We highly recommend taking Schindler's Museum Guided Tour - it will not only teach you about the story of Oscar Schindler but also the conditions of living in Krakow through the wartime. 
Another place where you can learn more about War and particularly Krakow Ghetto is the Eagle Pharmacy. You will discover the story of Tadeusz Pankiewicz, a pharmacist that volunteered to be locked inside Krakow Ghetto in order to help Jewish people survive in the ghetto.