Wow Krakow - Hop On Hop Off Bus - 24 h
Ticket valid for 24h - one loop takes 1h 30min
Start Times - 12:10 | 13:50
Start Point - ul. Gęsia 22
24h & 48h tickets entitle you to hop on and hop off at any of WowKrakow! bus stop continously for 1 or 2 days
See the most important sights in Krakow.
[Included] audio guide talking about history and interesting facts related to the city (7 languages: Polish, English,
German, Italian, French, Russian and Spanish).
Buses are running on a fixed route including stops located nearby the attractive tourist spots.
Depending on weather conditions, the roof can be slid and the side panels lowered.
In addition, our buses are equipped with blankets for our customers.  
BONUS:
From 18th July, buying a 24-hour ticket you can take a gondola cruise and watch the show "Krakow in 15 minutes".
BUS STOPS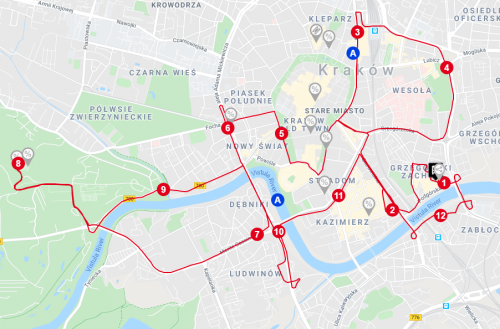 TIMETABLE
| | | |
| --- | --- | --- |
| 1  | Galaxy**** Hotel - ul. Gęsia 22 | 12:10 | 13:50* |
| 2 | Dajwór - ul.Wawrzyńca 31 | 12:17 | 13:57* |
| 3  | Dworzec Główny - Galeria Krakowska | 12:25 | 14:05* |
| 4  | Rondo Mogilskie - Ogród Botaniczny | 12:30 | 14:10* |
| 5  | Filharmonia - Zamek Wawel | 12:43 | 14:23* |
| 6  | Muzeum Narodowe - Błonia | 12:49 | 14:29* |
| 7  | Rondo Grunwaldzkie -ul. Monte Cassino 1 | 12:55 | 14:35* |
| 8  | Kopiec Kościuszki (Kościuszko Mound) | 13:10 | 14:50* |
| 9  | Salwator - ul. Kościuszki 88 | 13:18 | 14:58* |
| 10  | Grunwaldzki Bridge | 13:27 | 15:07* |
| 11  | Stradom -bus stop not in use | 13:30 | 15:10* |
| 12  | Zabłocie - ul. Zabłocie 15 | 13:38 | 15:18* |