Nothing helps in exploring new locations like mobile Travel app. The profusion of apps and services travelers can use directly on their smartphones helps makes every visit to a new place smooth and comfortable like never before. We use Airbnb to book accommodation, Uber to get a taxi, and Skyscanner to book our flights. But if you're traveling to Krakow, there are plenty other apps you can use to make your trip more exciting.
Here are 5 apps you need on your next trip to Krakow.
The creators of this Travel app have distilled over two decades of city guide expertise into a simple and elegant interface. The app features hand-picked Krakow cafés, restaurants, bars, nightlife venues and touristic sights.
You will get your essential travel information from local editors who are happy to share their tips and tricks to make the most of your stay in Krakow.
You won't get confused by an endless list of places to see. Instead, in your pocket city essentials will show you various spots – some of them well-known, others slightly off the beaten track. If an attraction is worth your time, you can be sure that it's included in this guide.
To make your trip even more comfortable, the venues and maps work offline. That way you will avoid expensive roaming charges and enjoy your stay in Krakow to the fullest.
This smart pocket guide is your passport to exploring everything Krakow has to offer. Whether you feel like investigating the famous Jewish quarter or meandering down the oldest part of Krakow to enjoy this beautiful Gothic architecture, the app will help you spend fantastic time in the city.
Use its audio city guide feature to hear the best stories, insider tips and information about must-see sights. Your smartphone will become your personal tour guide – the GPS follows your location and the app plays a voice recording of a local guide describing sites around you. You don't need to read text from your phone, but just listen in and enjoy Krakow attractions during your tour. The recordings are prepared by locals who are happy to share their insights together with useful information for visitors.
Moreover, this travel app works offline so you can be sure to avoid expensive roaming charges. You will get access to an offline map as well – together with plenty of reviews to help you decide where to drink, eat, and shop.
When using the app, remember that you are continuously using the GPS as well. Leaving it running in the background may significantly decrease your battery life so remember to bring your charger along.
This useful travel app offers several self-guided walks that show visitors the best of the city – ranging from world-famous attractions to hidden gems. Every traveler will tell you that the best way to explore a new place is on foot and at your own pace. That's why this travel app is such a find.
Naturally, a guided tour can be quite costly, but with this travel app, you will pay only a fraction of the price. Some of the examples of tours featured in the app are Old Town District (9 sights), Architectural Masterpieces (7 sights), Tour for Kids (5 sights), and Daily Life in Kazimierz (8 sights).
The app features a functional city map to help you explore the location and smoothly proceed from one sight of interest to another. You will get street names, but also businesses like bars and restaurants.
Other features include a smart search engine, location bookmarking, and movement tracking. That way, you can track your steps and take photos along the way to later share them with your friends. Everything you see is built into the software so you won't need to connect to the Internet and suffer high roaming charges.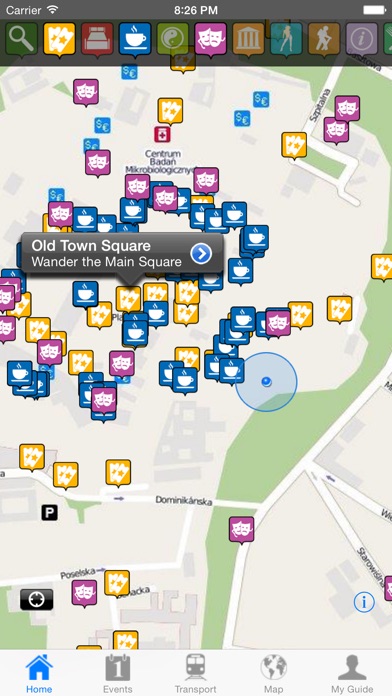 Another exciting travel app you should try during your next trip to Krakow is this offline travel guide. The guide is designed to be used offline – that means that all its content like event information, transportation tips, and maps can be viewed without an Internet connection.
Moreover, the app uses augmented reality where tourists can look through the camera in their devices and see all the attractions listed around them.
Krakow is known for its nightlife, and this travel app provides an updated events guide to help visitors explore all the best Krakow has to offer. All you need to do is update it when you have an Internet connection, and you will see hundreds of upcoming events like theater, festivals, concert, or sports events stored on your device.
Offline maps are fully zoomable and will show you not only your location but various points of interest around you. You will also get access to professionally written content by locals who know their way around the city and can share with you much more than simple wiki descriptions.
If you plan to use public transportation, this travel app will be of great help as well – you will see significant transport lines and stations stored in the guide to help you orient yourself in the city. You can add your points of interest and plan your trip with a unique itinerary builder as well. The app is integrated with Facebook to help show your friends where you been.
But that's not everything. It also features a tours section that allows booking trips relevant to your stay and a smart hotel booking feature that compares various hotel providers to make sure that you get the best view. The app is fully compatible with iPad, iPhone, and iPod touch.
Here's another helpful travel app of the same name by a different creator. You will no longer have to carry a big city guide in your backpack. Instead, this travel guide will provide you with a full offline city experience on your iPhone, iPad, or iPod touch. Because it's offline, you won't need a connection to the Internet to later worry about roaming charges.
Thanks to its augmented reality feature, you will be able to discover the city in a way like never before. All it takes is licking on the AR button in the app and turning yourself at 360° to view the screen showing the best spots, together with information on how to find them. You can also scroll up and down to see the closest and furthest attractions.
The app features plenty of advice to travelers about getting around the city, but also about shopping, nightlife, most famous sights, as well as practical safety tips. The offline maps are fully zoomable and GPS-capable to show you everything you need to know. The app includes information for all must-see attractions in Krakow such as the Old Town, Wawel Cathedral, Wawel Castle, the National Museum, the Barbican, the Old Synagogue, and many others.
Give one of these 5 Travel apps a try on your next trip to Krakow – you'll get to experience the city to the fullest and benefit from the exclusive information shared by local guides to make your visit memorable.