Kraków is visited by millions of tourists every year. In 2016 their number exceeded 12 million people. Visitors are attracted to this city by its unique charm and interesting history as well as different dimensions of culture, present in every corner and every recess of this place. What can you expect when coming to Kraków in 2018?
Whatever time of year you decide to drop by, one thing is sure: Kraków resounds with music of different kinds and genres from opera, jazz, shanties, etno through hip hop to modern. Each season in Kraków brings new bundle of music festivals and concerts. Everyone can find something to their taste. In 2018 Kraków will welcome such artists as: Metallica, Depeche Mode, Ozzy Osbourne, Pearl Jam or Iron Maiden. Apart from music, there are also plenty of sport events planned to take place this year in Kraków, as well as fairs, exhibitions, parades and events strictly connected with Krakow's folk traditions and history. There is always something to choose from. Let's see in detail what Kraków has to offer in 2018:
January and February in Kraków
"Wieliczka" Salt Mine New Year Concert
On 6 and 7 of January "Wieliczka" Salt Mine and its marvellous chamber located 125 m below ground level invites you for New Year Concert. Excellent soloists of Kraków Opera will carry you away into the world of music. Classical Viennese repertoire: waltz, czardas, polka but also some music hits from most famous American and English musicals such as "West Side Story", "The Phantom of the Opera", "My Fair Lady", Cats" or "Fiddler on the Roof" are the proposition for those two evenings in Kraków.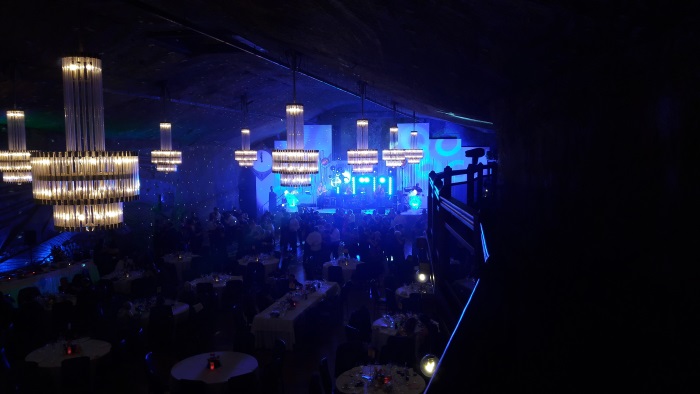 https://www.wieliczka-saltmine.com/news/events/new-year-s-eve-with-a-pinch-of-salt/
Royal Chamber Orchestra
The beginning of 2018, till January 9, is the time when you can still take advantage of concerts by Royal Chamber Orchestra performed on the Main Market Square. Since November 18 every day at 5.00 p.m. the most beautiful Christmas melodies sound in the air, which together with colourful lights and snow create magic atmosphere. Melodies such as Let It Snow, Walking in a Winter Wonderland, We Wish You a Merry Christmas as well as delightful pieces of classical music: Tchaikovsky's The Nutcracker and Corelli's Christmas Concerto is what you can hear in the programme of Krakow Christmas Music Concert.
Great Orchestra of Christmas Charity
Only a few days after the last concert, music will sound on the Main Market Square again, and this will be with much fanfare! January 14 is when the Great Orchestra of Christmas Charity, Polish biggest fundraising organization, will hold its Great Finales in every Polish town and city. In Kraków you can expect many open-air concerts and other free attractions that will take place in various parts of the city, including the Main Market Square, where many famous artists will surely perform. This year Great Ochestra of Christmas Charity is celebrating its 26th anniversary, and annual Great Finales are always connected with huge emotions and lots of fun. Traditionally, celebrities join the proceedings of the Orchestra, donating their personal belongings for auctions. Thanks to them, among others, 1 900 000 zl were collected only in Krakow last year. At 8.00 p.m you can witness impressive firework performance, called "Światełko do nieba" – "a Light sent to Heavens," which is to celebrate summing up of the Great Finales.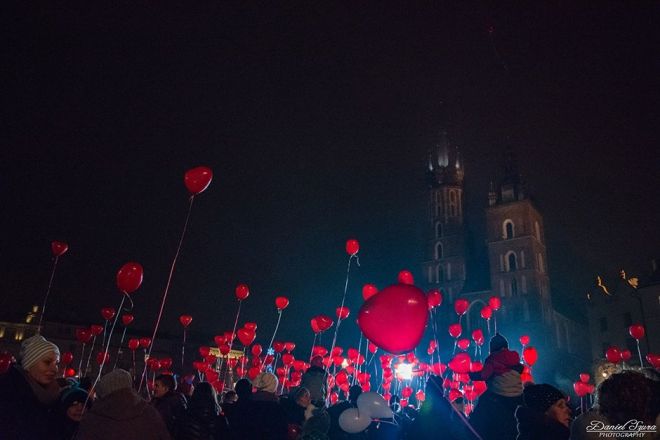 http://krakow.eska.pl/poznaj-miasto/25-final-wosp-w-krakowie-juz-15-stycznia-kto-wystapi-program-audio/335417
https://en.wosp.org.pl/final/dla-wolontariuszy
Opera Rara Festival
Since 18th January until 13th February piano and orchestra recitals as well as operas in diverse forms and styles will be heard from Krakow scenes due to Opera Rara Festival. In 2018 its programme includes pieces of art created from late 17th century up to 1986. You can expect to hear works of such artists as Nyman, Rameau, Wagner, Monteverdi or Szymanowski.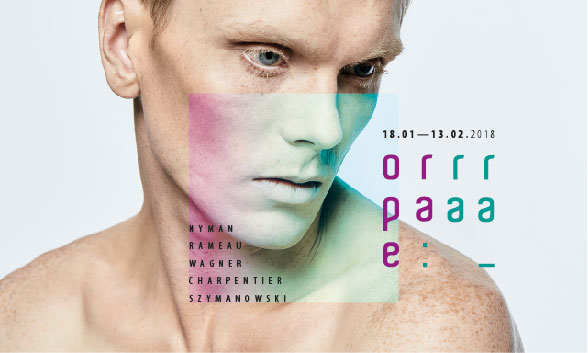 http://www.operarara.pl/
Stanisław Wyspiański exhibition
Enthusiast of visual arts can admire the exhibition of works by one of the most outstanding Polish artists of XX century Stanisław Wyspiański, who was born and died in Kraków. Not only was he a painter, but also a playwright, stage designer, poet, architect and internal furniture designer. In the Main Building of the National Museum in Kraków since 2017November 28 until 2019 January 20 you will be able to see exhibition entitled Wyspiański and in it, among others: drawings, stage designs, portraits, crafts, sculptures, print and art books of the artist whose influence is still visible in Kraków and Poland today.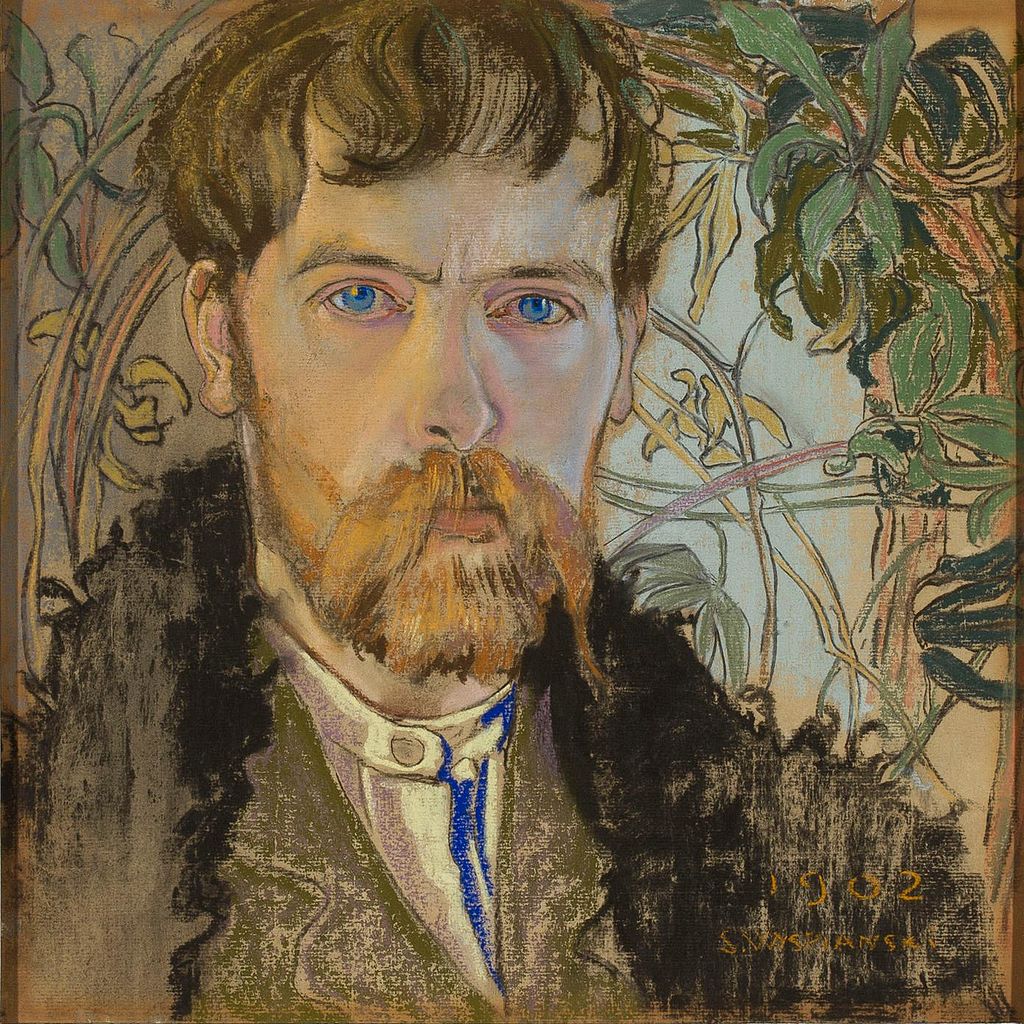 Sukhishvili Georgian National Dance
Unforgettable performance full of colourful costumes, music and dance is will take place on February 4. An orchestra along with 100 dancers from world famous Sukhishvili Georgian National Dance will appear on stage of ICE Kraków Congress Centre to reflect in their dance, incredible techniques, music and beautiful costumes rich traditions of individual cultures of Georgia.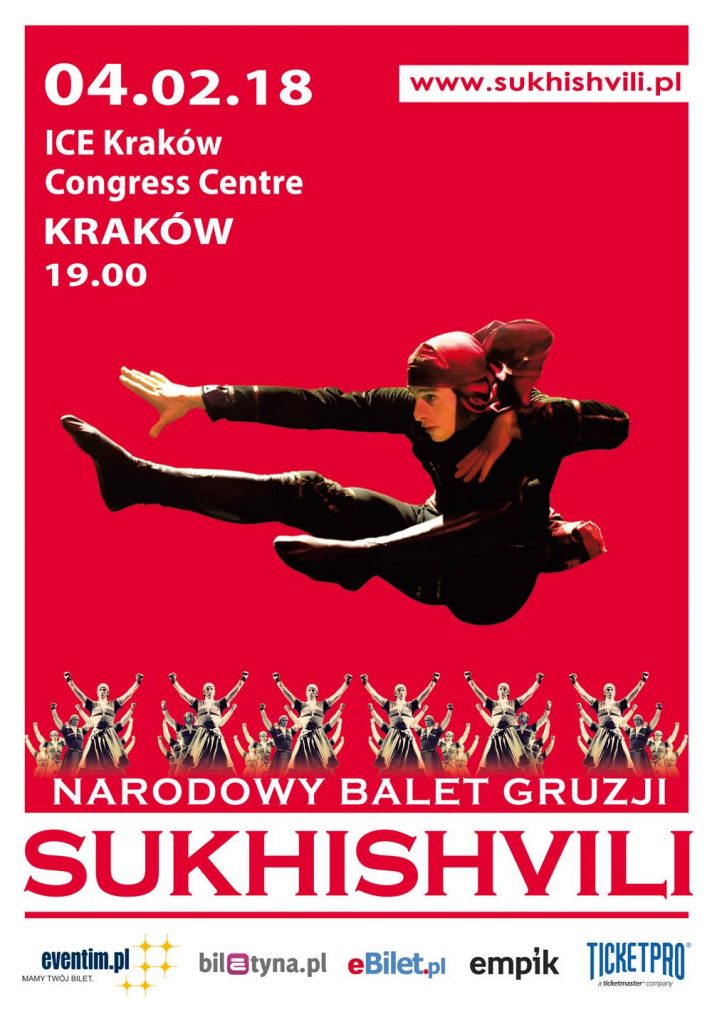 http://karnet.krakow.pl/en/23492-krakow-sukhishvili-georgian-national-ballet
Shanties Festival
If you'd like to warm up a bit and, despite the huge distance separating Krakow from the sea, feel breeze on your face, come to Shanties Festival, taking place here from 22 to 25 of February. Unexpectedly, a lot of sailing hits have been created in Krakow and some popular Polish shanties groups started their careers in this city.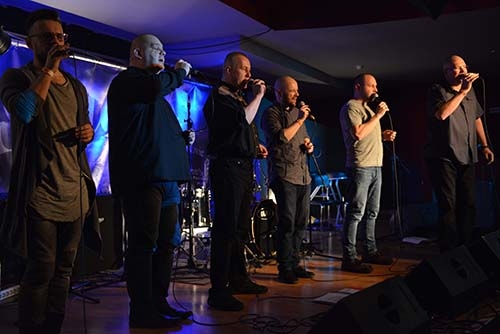 http://www.shanties.pl/shanties-2018.html
Metro Arena Kraków
Amazing story about dreams coming true and disappointment along the way, young people singing out their hopes, accompanied by breath-taking light and laser effects, dance and acrobatic stunts: the best Polish musical – Metro is on stage! 27 years after its premiere staged in Warsaw Dramatic Theatre the legendary musical will be now performed on the scene of Metro Arena Kraków on 3 March.

Spring in Kraków
Emaus
One of the oldest and most colourful Cracowian traditions takes place on Easter Monday, this year 2nd of April. A fair called Emaus, taking place along Kościuszki street, below the priory of Norbertines, has been organized each year since 1596. Stalls full of sweets, gingerbread, toys, wooden- carved artefacts, beads and jewellery as well as lotteries and carousels can be encountered in front of the priory that day.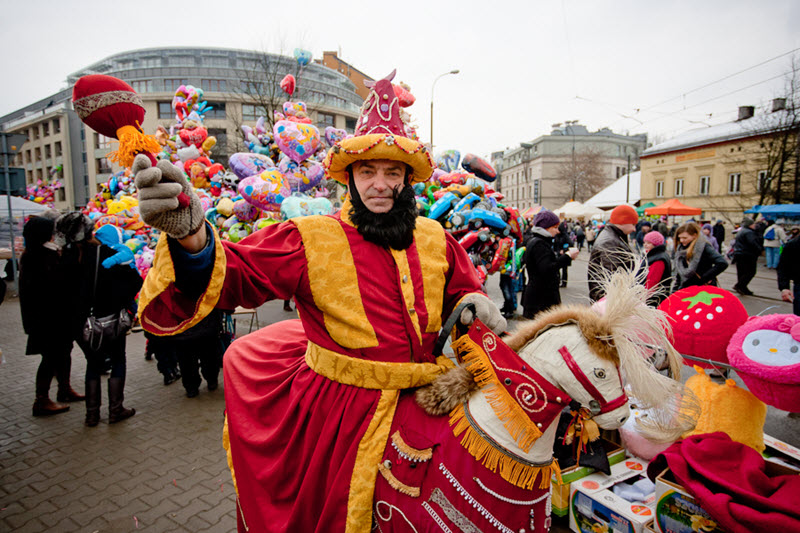 Rekawka – early medieval settlement
If you are curious what was it like to live in early medieval settlements you cannot miss Rekawka, an old Polish Easter custom. It is traditionally celebrated on Tuesday after Easter under Krakus Moud. Immerse in that specific journey back in time and see how did life, craft and arms look back then, taste some dishes prepared according to old recipes and watch re-enactments of medieval armed battles.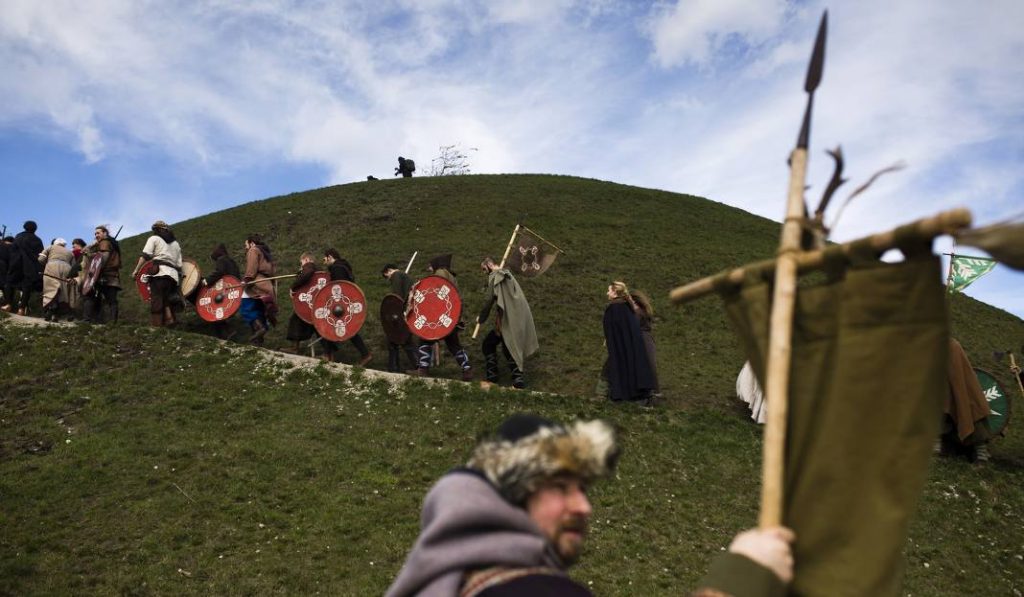 https://www.facebook.com/rekawka/
Misteria Paschalia
Between March 26 and April 2, the 15th edition of one of the most significant European festivals of early music Misteria Paschalia will present the most noteworthy pieces of British Islands. The City of Kraków has invited John Butt, a great musicologist to take part in creating the programme of 2018 edition. Those eight days full of Renaissance and Baroque music will let you experience depth of emotion hidden in music.

PZU Cracovia Marthon
Those visitors who are into running and history can take part in one of Poland's biggest running events: PZU Cracovia Marthon, which will be held on April 22. This year's, 17th edition's motto will be "Through history". The route of the marathon is planned along numerous historical monuments located in Kraków. Last year this event attracted 5756 participants.

http://www.pzucracoviamaraton.pl/cracovia-maraton-main-page-1?hl=en
Juwenalia
In May, there comes time for students to celebrate. Juwenalia is a 5-day festival of culture, music and entertainment prepared by students' community. This tradition of Cracowian students to celebrate reaches as far as 15th century.  Each time this year the city is full of colourful parades, open-air concerts and parties. It's time for youth to rule!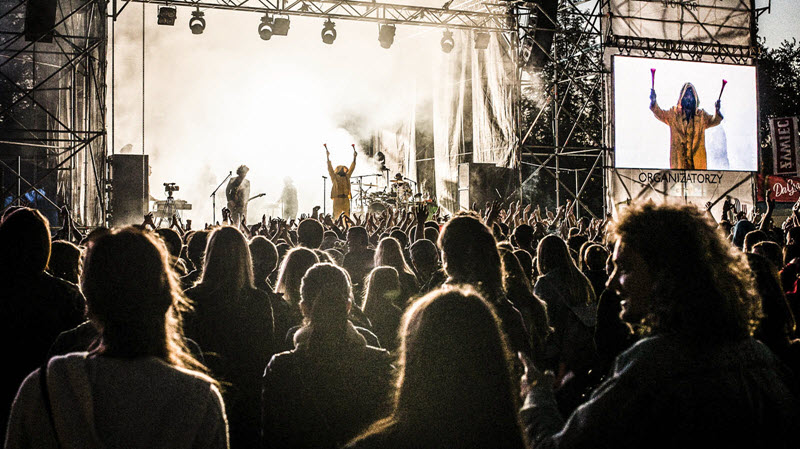 http://www.juwenalia.krakow.pl/index.html
The Night of Musems
At this time of year in Kraków you can also take part in The Night of Musems. From about 7 p.m. till 1 a.m. the biggest and the best museums of the city are opened to welcome visitors free of charge. Among them there are some venues not normally available for the public. If you decide to visit such places as the Underground Museum or Schindler Factory, remember to book them in advance, since they are extremely popular.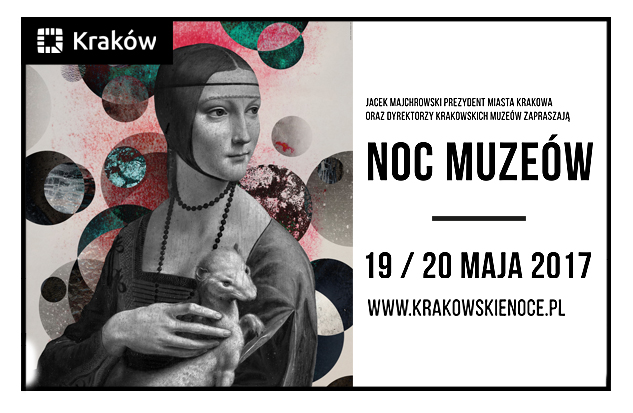 Krakow Film Festival
Starting from May 27 for eight days there's a chance to watch about 250 films from Poland and from around the world. The 58th edition of this Krakow Film Festival dedicated to documentary, animated and short feature films will, as usual, be accompanied by concerts, exhibitions and open-air shows.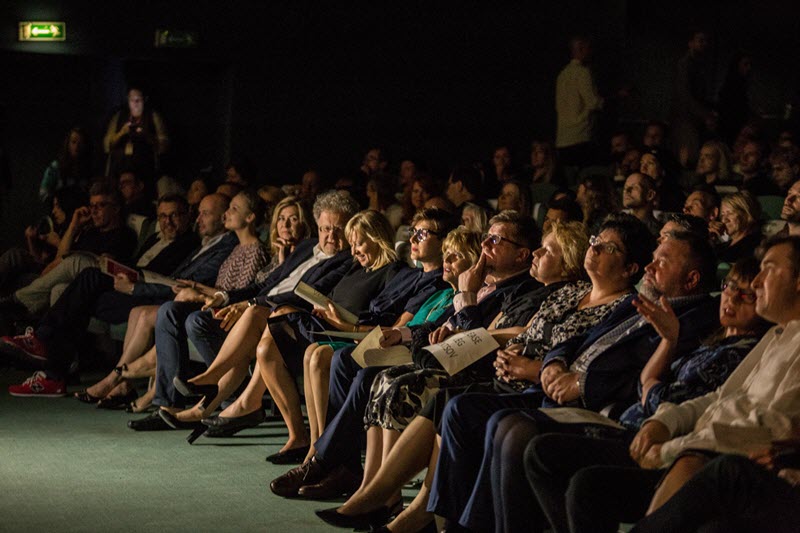 Cinema lovers are being indulged at this time of year in Krakow since only two days after the beginning of the above mentioned festival  another one starts. Musical interpretations of the moving image at its best, Europe' s and word's leading musicians and orchestras, eminent composers and film directors are to be heard and seen at Film Music Festival in Krakow. This year it will start on May 29 and last until June 5.
What will June bring?
Kraków Days (Dni Krakowa)
Kraków Days (Dni Krakowa) is a modern continuation of pre-war tradition to celebrate the birth of this unusual city. In the begging of June up to 14 days are filled with concerts, theatrical performances, exhibitions and shows. Among them there is the Lajkonik Parade: a rider on a wooden horse clothed in a bright Tatar outfit dances along the route from Zwierzyniec to the Main Market Square to collect a tribute from the Mayor of Kraków. The one of the most beautiful Cracovian customs dates back  to the mid-18th century.
Great Dragon Parade
How often can you see a dragon wandering through the streets? If you happen to be in Krakow in June, you can meet hundreds of them marching through the Old Town of Krakow. It's for the 18th time this year when the inhabitants of Krakow are invited to create a figure of a dragon to take part in the Great Dragon Parade and fight in the contest for the title of the Most Beautiful Dragon of the Parade. This is the show of amazing creativity, talent and adoration for Dragons. According to the legend Wawel Dragon devoured humans if there were no cattle available, but don't worry: these dragons are really friendly, though some of them authentically breathe fire.
http://karnet.krakow.pl/en/21776-krakow-17th-great-dragon-parade
Dachshund Parade
The most ubiquitous dogs in Kraków, Dachsund, also have their feast – Dachshund Parade. Usually in June these long time-companions in many Polish homes march along the Royal Route dressed up in a wide range of astonishing costumes. Poland is among the top breeders of Dachshund and in 2018 this country's love for the breed will be celebrated in Krakow for the 24th time.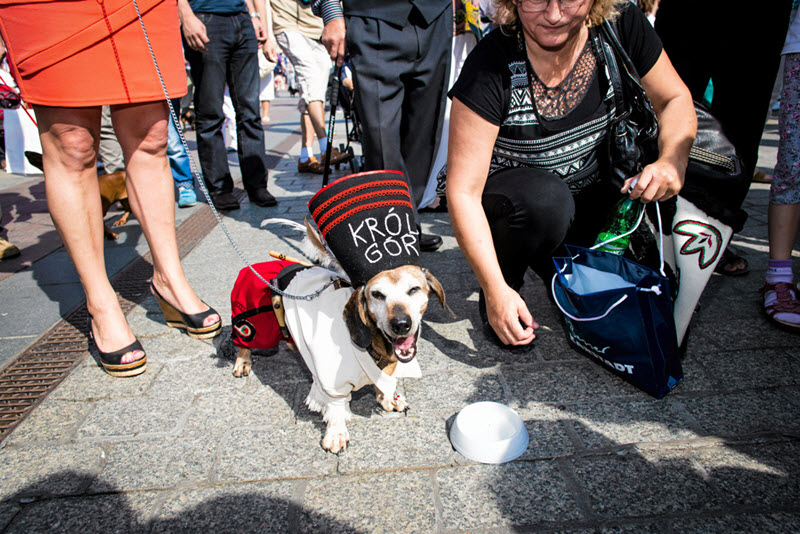 http://culture.pl/en/article/polands-favourite-dogs-and-their-annual-parade-through-krakow
Kraków Opera Summer Festival
Castle courtyard of Wawel, among other venues, welcomes top stars of music and dance from all around the world during Kraków Opera Summer Festival.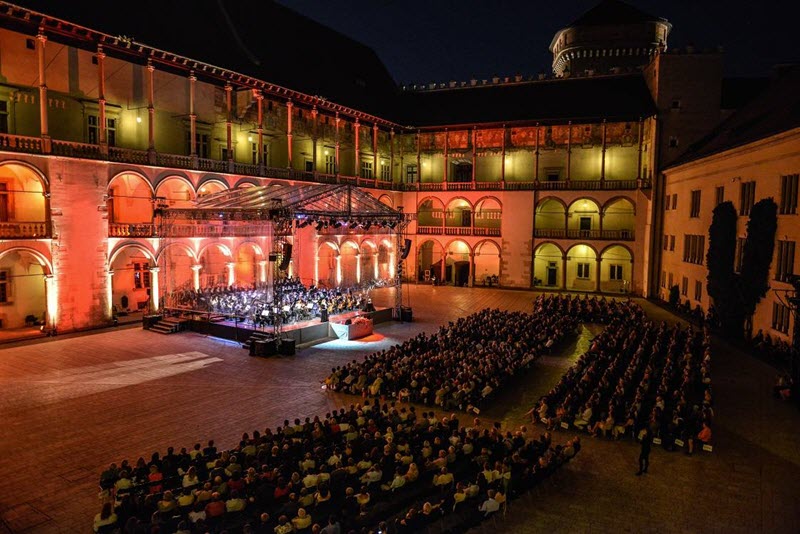 Wianki 2018
Another part of Kraków Days comes along with the longest day of the year – 24 June. According to an old Slavic tradition on that day young women take off wraths (wianki) from their heads and let them float on Vistula River. As a mass cultural event, Wianki-Fête de la Mousique has existed since 1992. Last year 160 thousand participants attended dozens of concerts performed on 6 main stages. You cannot miss Wianki 2018!

http://www.wianki.krakow.pl/en
St. John's Fair (Jarmark Świętojański)
St. John's Fair (Jarmark Świętojański) is one more event connected with the midsummer night. At that time Czerwienski Boulevard will be full of marked traders, cooks, musicians, ladies and knights from remote parts of the country – come there to see recreations of old traditions of the region, taste some old Slavic dishes and marvel at crafted art presented in the stalls.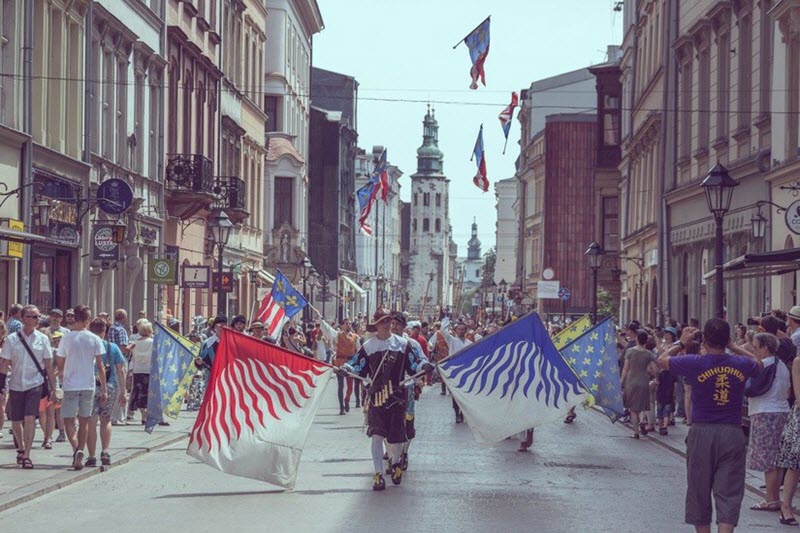 July and August in Kraków
EtnoKraków
Wolnica Square along with some extraordinary venues such as the Church of St. Catherine of Alexandria, the Galicia Jewish Museum or the Ethnograpic Museum is where you can attend nearly 20 concerts of the leading etno-scene festival in this part of Europe – EtnoKraków. Music workshops, traditional crafts shows and dance parties will accompany this 4-day event which you can expect coming up in the beginning of July.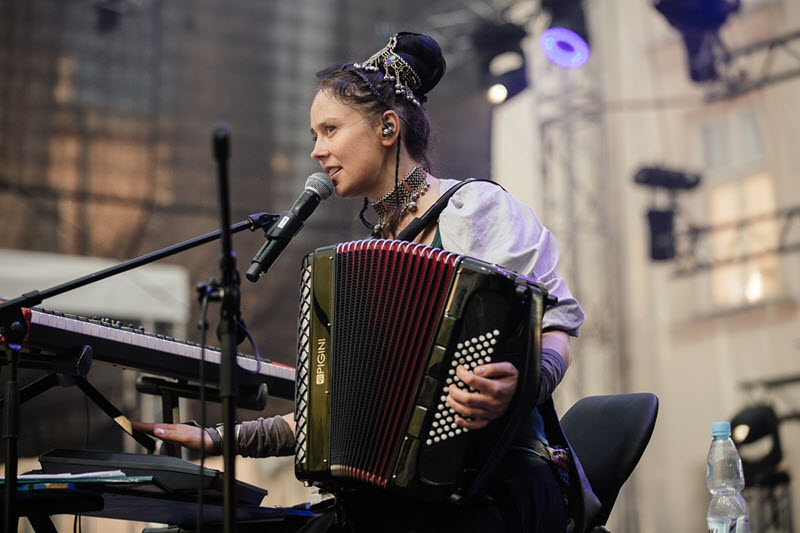 http://www.etnokrakow.pl/en/
Jewish Culture Festival
Summer in Kraków is also a time to admire the beauty of Jewish culture during the Jewish Culture Festival. Kazimierz district attracts with klezmer music, and its restaurants with the smell of delicious kosher dishes. While wandering through the streets you can encounter some renowned Jewish writers at bookshops and see amazing works of Jewish art at galleries of Kazimierz.

http://www.jewishfestival.pl/en/
Tour the Pologne
Those who admire emotion in its sportive edition can witness how the oldest bicycle race of Poland starts in Kraków. On the 4th of August amateur cyclist will set of to cover about 1,200 km in seven or eight stages around Poland – Tour the Pologne will be held for 75th time.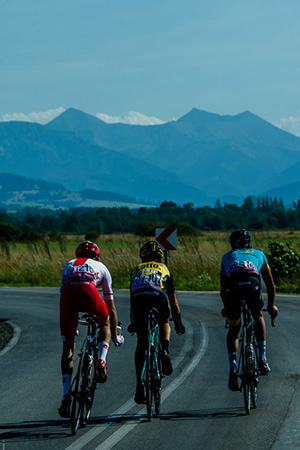 http://www.tourdepologne.pl/en/
Kraków Life Festival
August 2018 in Kraków also means there is an unforgettable music festival ahead of you. For two days Polish Aviation Museum airport will host Kraków Life Festival being undoubtedly one of the best summer music festivals of Europe and one of the most famous events in Kraków.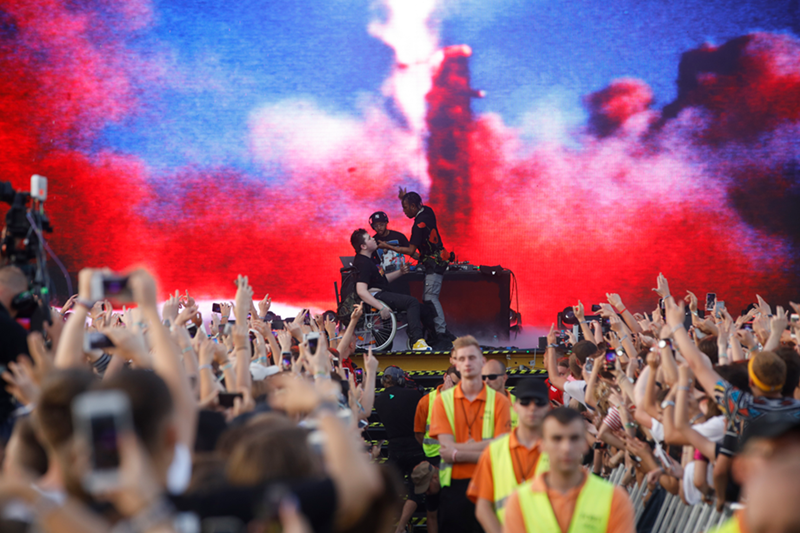 http://livefestival.pl/
Pierogi Festival
Have you ever tasted one of the most prominent dishes of Polish cuisine, pierogi? Whatever the answer, you cannot miss the chance to try some amazing variations of it presented during Pierogi Festival at the Maly Rynek Square in the middle of August.  Such unwonted fillings as duck and apricot or smoked meat with herbs will have a chance to meet your palate if you appear there. You will be even able to vote for the tastiest example of this Polish specialty or deepen your hands in the dough to master the art of preparing them on your own!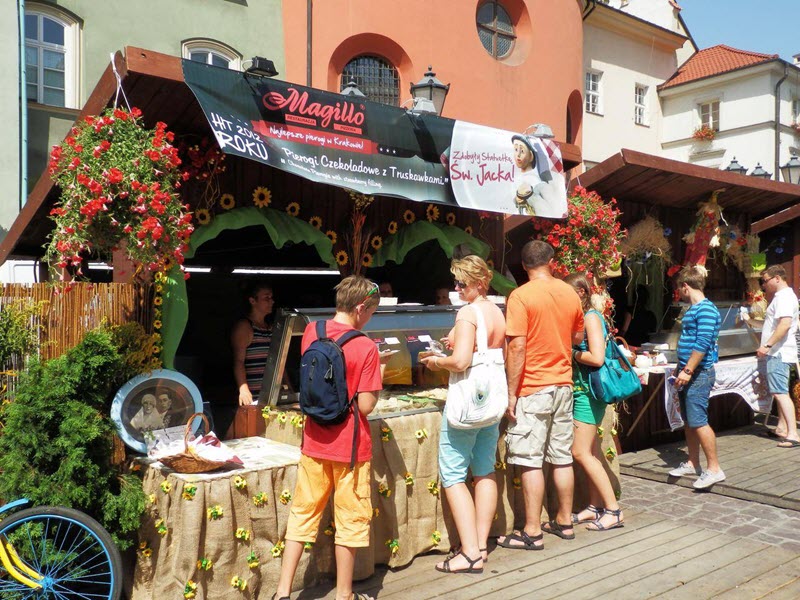 http://karnet.krakow.pl/en/17922-krakow-xiv-festiwal-pierogow
Kraków in autumn and at the end of the year
Before we list all the awesomeness that is happening in Krakow on Autumn let us direct you to the separate article about Krakow in September (yyyup, we love Krakow during autumn so much that we wrote an entire article about it 🙂
Classic Moto Show
The begging of September 2018 in Kraków will let you travel back in time to see automobiles of different ages from the twenties of XX century on. Classic Moto Show is to attract not only vintage car geeks.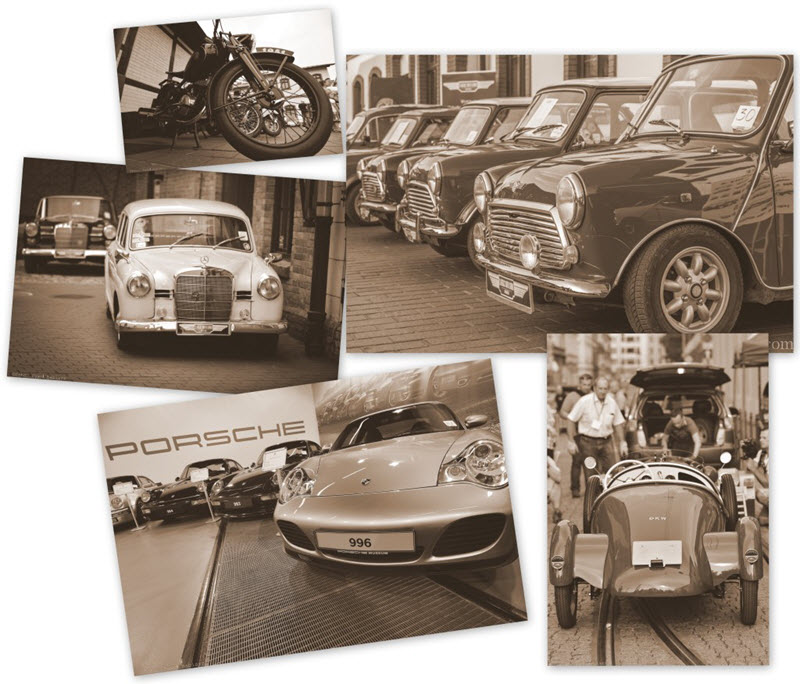 http://classicmotoshow.pl/
Sacrum Profanum
Leading musicians of Polish jazz scene, representatives of avant-garde music trends and most prominent contemporary music performers meet together during one of the most interesting musical events of Europe, which is Sacrum Profanum. This one-week long feast of music traditionally takes place in the middle of September.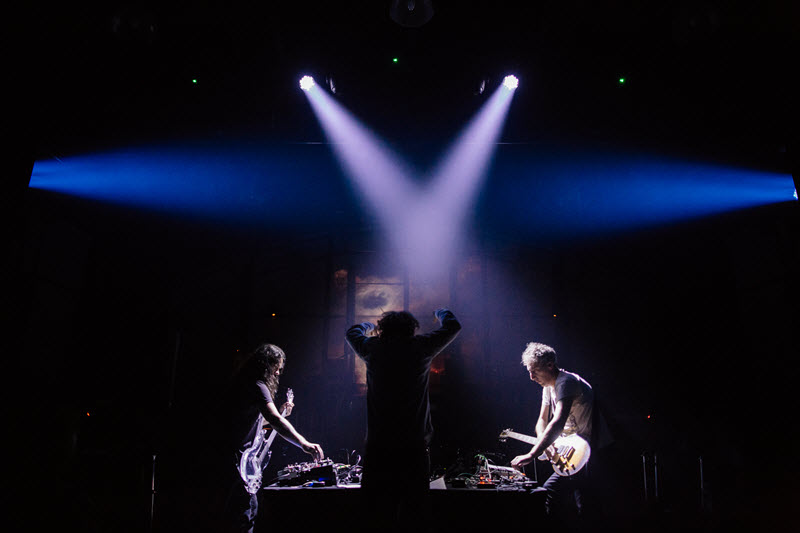 http://sacrumprofanum.com/
Zaduszki Jazzowe (Cracow Jazz All Soul's Day)
In November the cold air of Kraków will be filled with jazz music again. The tradition of organizing series of jazz concerts called Zaduszki Jazzowe (Cracow Jazz All Soul's Day) in this city is over half a century long. It all started back in 1954 when some jazzmen met in a school gym on the 1 November, as this was the only free day when they could meet and play together. Since then famous jazzmen from Poland came to Kraków to share their love for jazz, often playing in private apartments. After Cracow Jazz All Soul's Day Festival had developed for a larger scale, it also spread to other cities of Poland, and later even abroad. In 2018 you can expect plenty of jam sessions and jazz stars performing in various venues all around the city.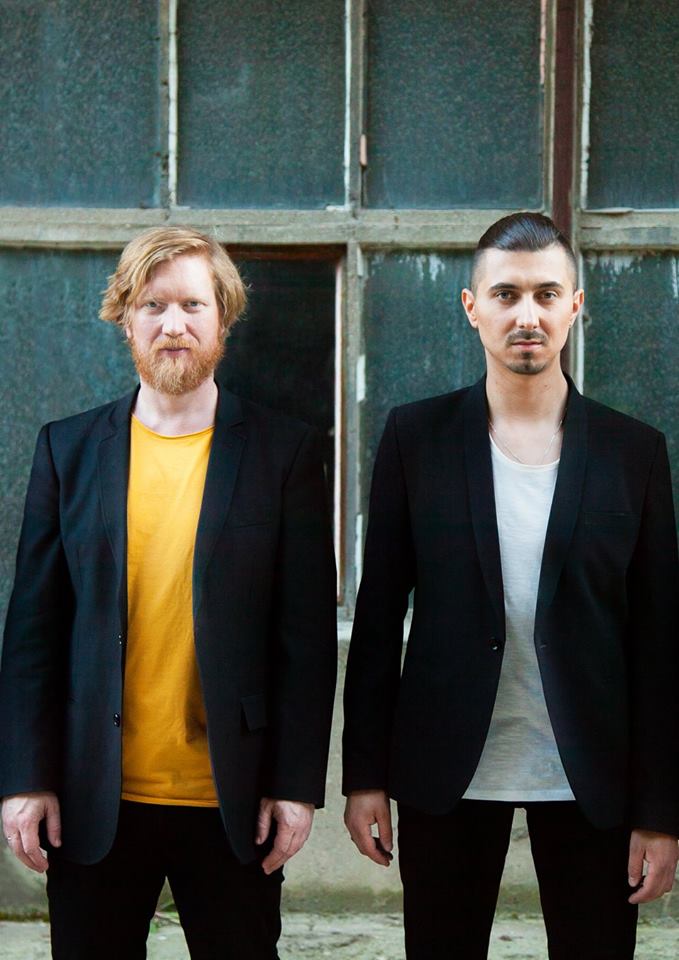 http://www.krakowskiezaduszkijazzowe.dt.pl/62_kzj/strona_en.html
National Independence Day
Military parades accompanied by brass bands and drill shows are to be expected in The Old Town on the November 11. This is how Krakow celebrates the National Independence Day.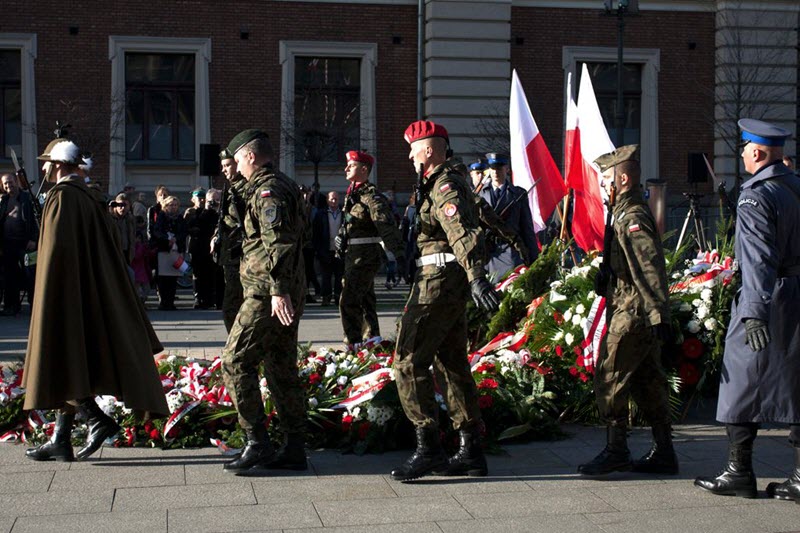 Chrismas Market in Krakow
With the end of the month Chrismas Market in Krakow comes with its unique charm. Walk around beautifully laid out stalls and fish for pieces of handcrafted art, wooden building blocks, hand painted dolls, aromatic gingerbread or some warm pieces of garment. The one of the best Christmas Markets in Europe offers you goods that you will seldom have a chance to come across elsewhere. It gives you also the opportunity to discover the beauty of Polish Christmas carols or admire beautiful crèches displayed under Mickiewicz monument to take part in Christmas Crib Contest.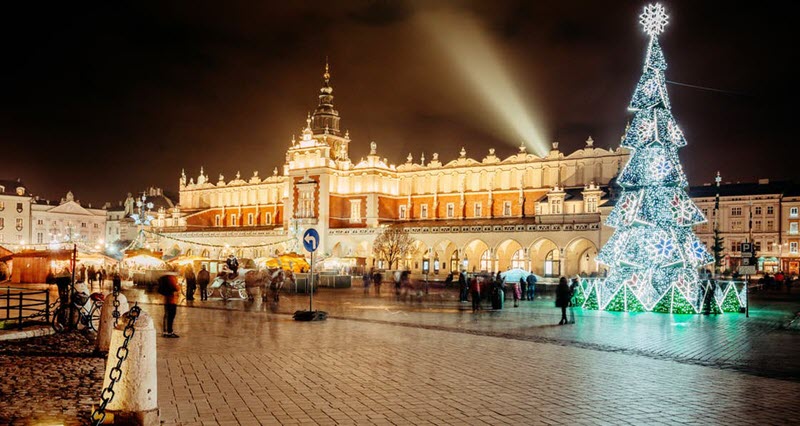 Each time of the year, in every month Kraków has to offer fresh and new experiences woven up on the canvas on its best traditions.