Things you have to know about coronavirus in Krakow & Poland

from the tourist's point of view
What are the security measures posed by polish government?
Polish government posed some decisive security measures on 15 March 2020 even though a number of infected people on polish territory was rather small (111 infected, 3 deaths) compared to other european countries at that time.
Here you can find a map of newly infected people in Poland (updated everyday)
Those measures are not as strong as in China, where temperature-measuring checkpoints were placed in all strategic places within the cities, hospitals were built with a blink of an eye and cities were in complete lockdown, but it is obvious that sitting down and doing nothing approach is not an option here.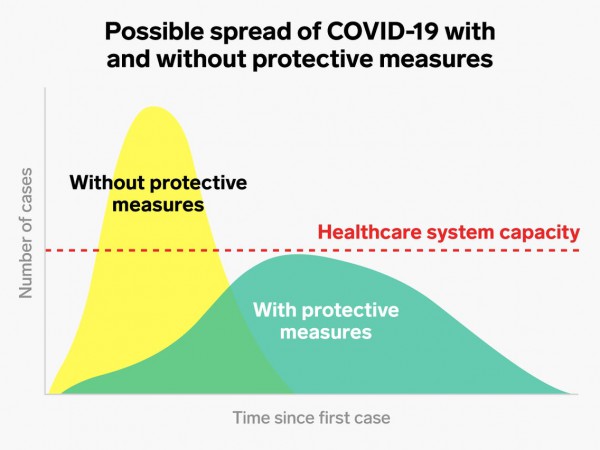 source: businessinsider.com
One of the purposes of these actions (as well as in other european countries) is to slow down the wide-spread of virus, so that the polish health system has some time to adjust to new situation (graph above). Some examples of actions taken by government, present themselves as follows:
Polish borders are closed for 10 days for foreigners effective from 15 March
All polish citizens and pernament residents that were abroad and weren't able to come back before border close will have an opportunity to get back to Poland, but will be forced to undergo a 14 days in-house quarantine. Polish National Airlines - (pol. LOT) have offered to use their resources to bring polish citizens back to the country for preferable prices given the circumstances.
All foreign flights and train routes were stopped, but cargo transportation is still operating, to ensure undisturbed flow of goods.
All cultural institutions in Poland like: cinemas, museums and theatres, are closed until further notice.
All gatherings that are exceeding 50 people have been now banned.
Places like bars, casinos, cafes and restaurants are now closed for 14 days. Restaurants on the other hand, are able to sell food for delivery.
---
What does all that mean for a tourist that wanted to visit Krakow and Lesser Poland attractions / museums / monuments ?
Study prepared by Krakow city council's agency - Magic Krakow - showed that in 2019 main attractions visited by foreign tourists inside and outside Krakow were: Wawel Castle, Main Market Square, Jewish District, Old Town, Wieliczka Salt Mine, Auschwitz-Birkenau, Energylandia, Zakopane and Wadowice. All of them have been shut down now or traffic there have been drastically reduced. 
Foreign tourists are practically limited to stay at hotels now (those few that are still opened) and taking occasional strolls (but it is strongly adviced to stay indoors when it is not absolutely necessery to go outside).
For those who are currently in Krakow:
There's infographic form Polish Ministry of Health (NFZ) that educates about behaviour during the coronavirus: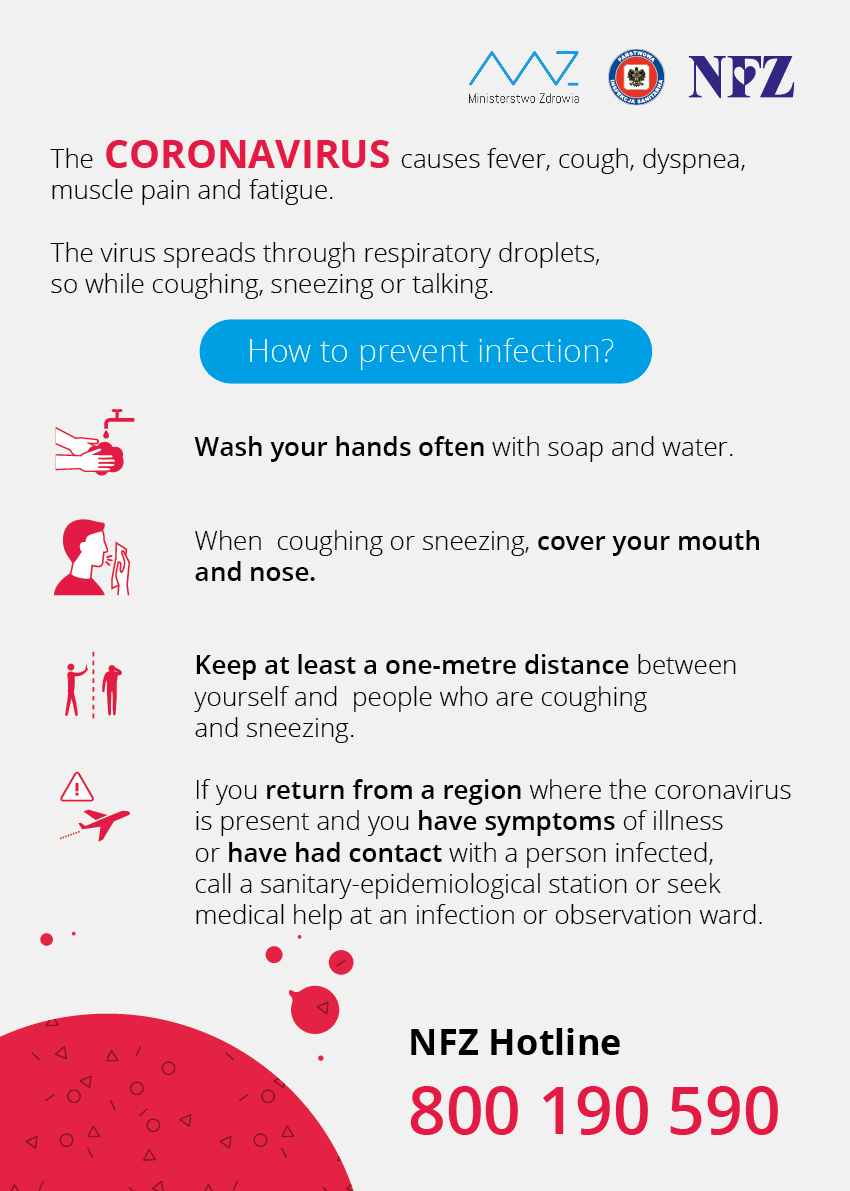 source: Polish Ministry of Health
---
Some of the most popular upcoming events, that have been cancelled or postponed
March of Living (Auschwitz-Birkenau Concentration Camp)
Easter Market Fair (Krakow)
Carlos santana concert (Krakow)
Cracow Fashion Week (Krakow)
Chopin concert eliminations (Warsaw)
World Athletics Half Marathon Championships (Gdynia)
---
What does it mean for a tourism industry in Krakow?
Last year Krakow hosted 10 750 000 internal and 3 300 000 foreign tourists with the following share of given countries: Germany - 14,2%, United Kingdom - 13,9%, Italy -  11,5%, France - 11,2%, Spain - 10,4% and Ukraine - 5,4%. Krakow tourism sector constitutes around 10% of the city's budget revenues.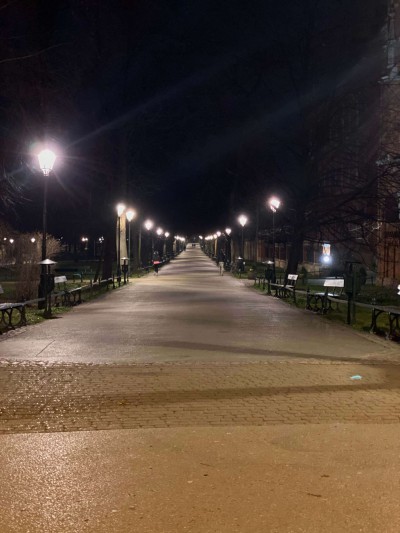 Furthemore Krakow has around 7000 companies connected to tourism, in which work about 10% of the city's population. Most of the tour guides that amount to around 1000 were practically forced to cease working overnight (pictures show how Krakow Old Town was impacted, thursday evening is usualy packed with people now it looks like this).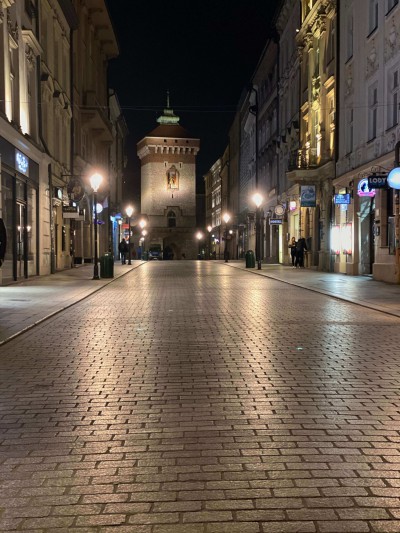 Hotels, restaurants, museums, bars and all the tiny businesses related to tourism, are receiving the strongest hit during the current situation. Many of them may not survive a prolonged suspension of their business, as in some countries they were put into a category of "non-essential businesses", that were forced to shut down their operations.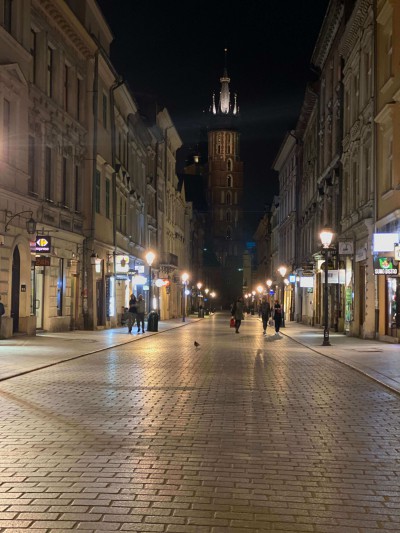 Current wide-spread of coronavirus and restrictions that it evoked in all the European countries, will cause a catastrophic impact for tourism in Krakow and in every other popular city in Europe.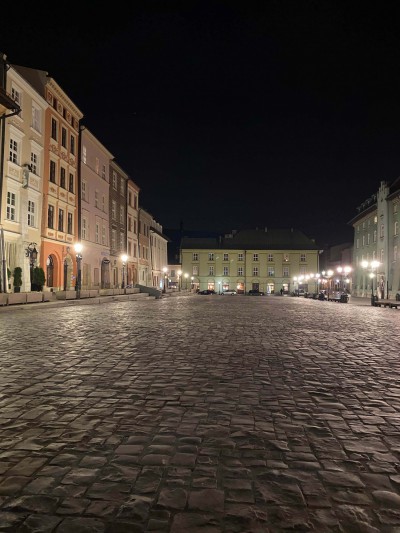 In an attempt to stay afloat and, at the same time, be responsible for clients health, many tourism companies in Krakow, across Poland and Europe, joined a recent social media movement called #dontcancelpostpone, which encourages solidarity for tourism industry all across the World.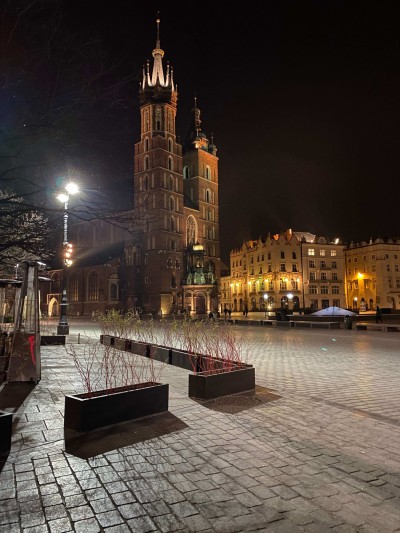 ---
What are current coronavirus statistics for Krakow and Poland in general?
Coronavirus statistics state as at 20/03/2020:
378 - confirmed positive
6 - deaths
Here you can see the dynamic of coronavirus spread in Poland from 4th of March up until 18th of March (please wait for a second for animation to start):

By SimpleMaps.com + Nadzik - Base map: specific map licence declaration Data: pl:Zakażenia_wirusem_SARS-CoV-2_w_Polsce Animated GIF: Own work, CC BY-SA 4.0, Link