Wawel - Guided Tour of the Royal Hill
Meeting Point: Kanonicza Street 11
You will learn how the alchemical fun of Sigismund III Vasa led to the biggest fire of Wawel Castle and what were the consequences of that event

By clicking here you will see a graphic showing what protective measures we use during our guided walks.

You will see where the only bomb dropped on Wawel landed during the World War II

You will learn how the Wawel Royal Castle changed hands during it's history and how it was bought back from the Austrian Emperor Franz Josef

You will hear about the interesting history of bricks bricked up on the way to Herbowa Gate and why the one belonging to Józef Piłsudski has number 295

You will learn about the history of the greatest treasure in the history of Poland discovered on Kanonicza street, from which we begin our walk

You will see the famous dragon from the Wawel Hill and the beautiful panorama of southern Krakow behind it.
Itinerary of Wawel Castle Tour
Start: Bon Ami, Kanonicza Street 11, meet our representative
Tadeusz Kościuszko Monument
Wawel cathedral from the outside
Arcaded courtyard / castle from the outside
Panorama with a view of the Wawel dragon statue and the southern part of Krakow
Return to the meeting point or expand the trip with more local attractions
Free cancellation until 24h before the pickup hour

You can book the tour up to 2 hours before it starts

Please make sure to show up on time. Being late might prevent you from taking part in the tour
Please bear in mind that your voucher cannot be exchanged for a ticket at the ticket booth
Faq
I cannot find the meeting point/ Discover Cracow Representative.
You can always call our Support Center and our lovely consultants will direct you.
Can I go straight to the Castle and wait for a guide there?
For logistical reasons, we picked one spot (John Paul II monument in front of Wawel Cathedral) to meet our Customers and walk them to the Castle from there. It is way easier to meet that way.
I missed my tour. Can I use my voucher another day?
Unfortunately, it's not possible. You purchased a ticket for this particular tour and we reserve a seat for you. Rescheduling in case of no-shows is unfortunately not possible.
What are some other must-see places I should visit while in Krakow?
While in Krakow except for Wawel Castle you should definitely see Auschwitz Museum. It's located outside of Krakow and it's a place that everyone should visit at least once to learn about the tragedy of WWII. If you are interested - check out Auschwitz Tour for more information. 
Another definite must-do is a Wieliczka Salt Mine Tour - walking through the labyrinth of underground chambers carved in salt is a truly amazing experience.
Another great place to visit while you are in Krakow is Zakopane. It's only 1,5h drive but walking around the city and admiring the cultural heritage and absolutely awesome views are something that can be the highlight of your Krakow visit.
Where is Wawel Castle located?
Wawel Castle, built upon the Wawel hill, is located in the very heart of Krakow – just by the Vistula river.
How to get to the Wawel Castle?
If you are accommodated in the city centre, there is a solid chance that the castle is within walking distance from you – it takes an approximately 10-15 minute walk from the Main Market Square to get to the castle (via the absolutely gorgeous Grodzka and Kanonicza streets).
When using public transport, you can take a tram and get out at WAWEL stop which is just by the castle. Trams that go there are 6, 8, 10, 13 and 18 (though just to be sure, I highly advise you to check current timetable).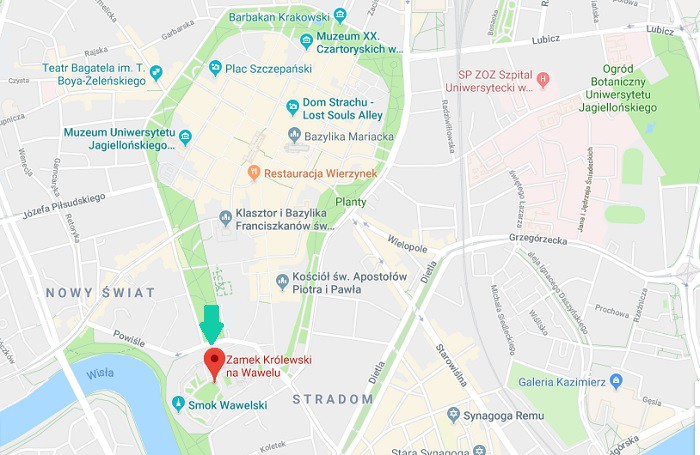 When was Wawel Castle built?
The oldest fragments found during archaeological research are dated to the XI century.
The buildings were being rebuilt and new ones were constantly being added so it is impossible to pin down one exact date.