Krakow on a Budget

Here's how to see a lot for very little!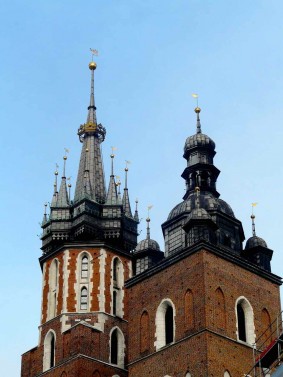 Planning a trip to Central Europe while short on cash?
Don't worry, we've got you covered.
Krakow is a perfect destination for travelers running on small budgets. In fact, Poland doesn't have euro as its currency, and that alone makes it a fantastic traveling destination then any euro-bearing city in Europe.
But most importantly, what makes Krakow so exciting is the richness of experiences visitors can get for free or paying very little money. Moreover, dining out in Krakow is cheap as well.
What more can you wish for?
If you're planning to travel to Krakow on a budget, read on to find out how to prepare an exciting and memorable holiday that won't destroy your wallet.
Where to stay in Krakow on a budget
What's the point of blowing all your holiday budget on a fancy hotel when you're going to spend more time exploring the city anyway?
Krakow offers a broad range of budget accommodation options:
First, there are hostels. You will find them scattered all over the city of Krakow but especially in areas that belong to or are nearby the historical center. You can get a night at a hostel for as little as 10 euros! 
Hostels in Krakow offer excellent value for money and travelers will find a broad range of options – from classic eight-people dormitories to comfortable private rooms with bathrooms. Hostels cater to all types of preferences and are usually filled with young travelers who come to Krakow to party and have a great time.
Another exciting option is couch surfing. There are plenty of hosts ready to welcome visitors to Krakow and show them around the city.
Airbnb is another great alternative as the pricing in euro might be advantageous to visitors coming from Western Europe. However, since Airbnb targets tourists, the prices might be a little high sometimes – simply because the hosts who put their places upon the platform are aware that Krakow is an attractive tourist destination. That's why it's a good idea to compare prices to make sure that you're not getting ripped off like a typical tourist.
Finally, another budget-friendly option for those traveling in larger groups could be renting out an entire apartment. That way, you can have the whole place to yourselves – and some of them will sleep even 5 to 6 people! You get all the comforts of living at home for a very reasonable price. That way, you can also save up on dining by cooking some of the meals on your own without the hassle of a busy hostel kitchen.

If you're traveling on a budget, you should definitely avoid any hotels located in the historic center of Krakow. Most of the time, they are expensive and simply not an option.
What to eat in Krakow on a budget
If there's a perfect place to dine out cheaply, it's definitely Krakow. Starting with street food options, there's the traditional zapiekanka or obwarzanek you can get for 1-3 euros and enjoy it as the perfect lunchtime snack – even when purchased on Krakow's Main Market Square.
Then there are the famous milk bars that serve hearty traditional Polish cuisine at very low prices. The quality of food served in milk bars ranges from average to high – but since they're trendy, you can be sure that the food is always fresh – and often delicious! Plus, milk bars provide an accessible gateway to getting acquainted with the traditional Polish cuisine.

If you're traveling on a budget, avoid all kinds of fancy bars and restaurants in the historic center of Krakow. They usually aim to bring in as many clueless tourists as possible, and their prices are quite high. There are plenty of beautiful places to eat in Krakow that are much more budget-friendly.
Move around on a budget
Moving around Krakow is cheap and efficient thanks to the city's well-developed and perfectly organized public transportation system. You can take trams, buses, or regional trains to explore Krakow and its vicinity.
Just to give you an example, a single ticket that allows you to use Krakow's public transportation will cost you only 3.80 PLN (that's not even 1 euro!). The daily ticket comes at the cost of 15 PLN (c. 4 euro) and a weekly ticket at 48 PLN (c. 12 euro).
As you can see, using public transportation is the most budget-friendly way to move around Krakow.

It's smart to avoid taking a taxi, especially around touristic areas where you might encounter taxi drivers who instead of using the meter will present you a scandalously high bill at the end of the ride. If you need to take a taxi, call for one or, when picking one on the street, make sure that it has a clear taxi sign on top of the car. That's how you avoid getting ripped off.
How to visit Auschwitz and Wieliczka on a budget?
Visiting the famous Wieliczka Salt Mine and Auschwitz on a budget requires some planning in advance.
You can buy tickets to Wieliczka in advance using this link.  You can quickly reach the Salt Mine on your own by taking the local train – it takes only 24 minutes and costs 4 pln (2 euro). You can find the timetable here. It's not worth to invest money in a special shuttle that takes tourists from Krakow's historical center to the Salt Mine or any other options.
When it comes to Auschwitz, feel free to use the bus that takes you from Krakow's Central bus Station to Auschwitz. A one-way ticket will cost you 12-14 pln (3-3.5 euro) and the journey time is 1.5 h. You can find the timetable here.  You can visit Auschwitz for free if you register here beforehand. Have a look at this post to learn more about visiting Auschwitz.
What to see in Krakow on a budget
Krakow is an excellent destination for travelers who don't have much money – also because its most exciting attractions are free of charge!
The Main Market Square of Krakow housing the beautiful St. Mary's Basilica is just one example. Stroll around the cobblestone streets of the historical center, explore Krakow's beautiful green parks, take a walk along the Vistula River and enjoy the beautiful panorama of the city – all for free!
Moreover, most of Krakow's museums welcome visitors free of charge on specific days and hours.
Here's a lineup of Krakow's most exciting museums and times when they're available to visitors for free:
The crypt of the Church of St. Adalbert – free admission on Monday, 10.00 – 16.00
Pharmacy "Under the Eagle" – free admission on Monday, 10.00 – 14.00
Schindler's Factory – free admission on Monday, 10.00 – 14.00 (but it's closed on the first Monday of the month)
Rynek Underground – free admission on Monday, 10.00 – 20.0
Old Synagogue – free admission on Monday, 10.00 – 14.00
Wawel Royal Castle – free admission on Monday, 09.30 – 13.00 (selected exhibitions)
MOCAK Museum of Contemporary Art – free admission on Tuesday, last admission at 18.00
Polish Aviation Museum – free admission on Tuesday, 09.00 – 19.00
Museum Botanical Garden – free admission on Wednesday (10.00 – 14.00), Friday (10.00 – 14.00) and Sunday (11.00 – 15:00)
Archaeological Museum of Krakow – free admission on Sunday, 10.00 – 14.00
The National Museum in Krakow – free admission on Sunday, 10.00 – 16.00
Partying in Krakow on a budget
It's easy to party in Krakow even when your budget is really small. Bars are full, clubs are filled to the brim, and there are plenty of free options for budget-minded visitors.
First, there are the traditional Polish bars where you get a shot of vodka, a glass of wine, or f pint of beer for only 1 euro. You can add a traditional bite to it for 2 euros. It's easy to spend an entire evening touring these bars around the city.
Moreover, Krakow's traditional pubs such as Alchemia don't charge any entry fees and the prices of drinks are quite reasonable once you're inside.

Make sure to avoid fancy clubs where you see an entry fee. Always ask about the cost before getting in. Moreover, it pays to avoid places that look as if they were created especially for tourists. The risk is high that the alcohol prices are over the top in these places.
Krakow – a perfect destination for budget travelers
If you don't have much money on your hands but still want to have a fantastic holiday, Krakow is your best destination.
Food and drink are cheap,
most touristic attractions are available free of charge or at a small entry fee,
transportation around the city is very accessible.
The main advantage of Poland as a tourist destination is that it doesn't have euro as its national currency, which means that prices are very low in comparison to Western European countries.
As you see in these examples, Krakow is an exciting city where travelers can get so much value for very little money.
Have you got any questions about traveling to Krakow on a budget? Or perhaps you know some other tips and tricks to help other travelers make the most of their time in Krakow while not spending too much?
Share your thoughts and experiences in comments; we're looking forward to hearing what you've been up to in Krakow when traveling on a budget.