A weekend in krakow for die-hard bike lovers
Are you a dedicated bike lover and want to combine a weekend trip or a slightly longer vacation with your passion? All you have to do is choose the right place. Krakow, the former capital of Poland, is a real paradise for bicycle fans. We will tell you how to organize a Krakow bike tour!
Many tourists wonder how to spend their free time in a unique way, especially during vacation or holidays. Hiking in European or other cities gives a chance to slowly discover the charms, hidden gems and secrets of a new place. However, sometimes we want more – a decent bike ride, to be exact. Although, we might want to say stop before reaching the Abhishek Kumar Sharma's level. This guy has already visited 40 countries on a bicycle, and plans to reach 50 more. Nonetheless, this type of transport allows you to see more in less time, while providing more fun and activity.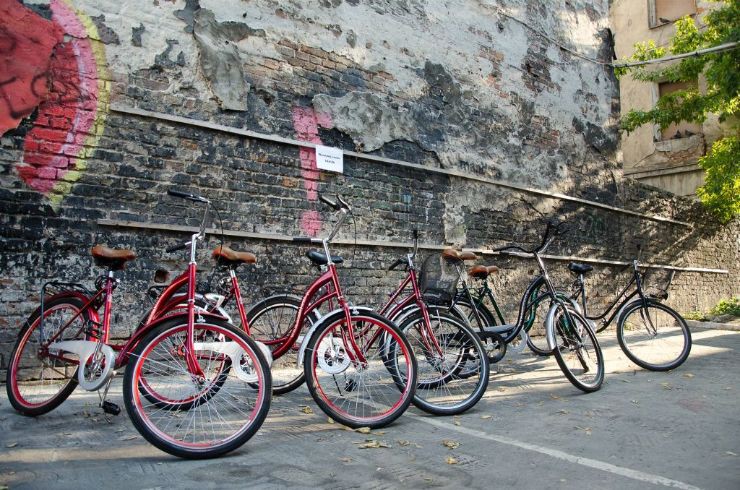 Cycling is always a great pleasure, but a Krakow bike tour is a truly unforgettable experience. Because the former city of kings definitely supports this kind of transport - a bicycle is the most convenient way of getting around Krakow. Could there be a more perfect city to spend a weekend for true lovers of cycling escapades? Certainly not! Continue reading and learn what options you can choose from, what to visit and how to prepare for a Krakow bike tour.
Why is taking a Krakow bike tour the best?
165 km of bicycle infrastructure, including 16 km of contraflow lanes (where you can cycle in the opposite direction of the surrounding lanes), as well as 150 bike stations. This is what Krakow looks like today in a nutshell. Planned investments include the creation of an additional 140 km of paths. However, Krakow is already a city where taking a bicycle tour is the standard of all tourist programs. Even the bicycle racks have historic and artistic significance here!
Did you know that about nine such stands were inspired by the writings of Stanisław Wyspiański, one of the greatest Polish artists? 
Plus – thanks to the "Climate parking" campaign – bicycle stands in the shape of a:
dragon
lajkonik
obwarzanek krakowski 
have appeared in 12 points of the city. You can literally "attach to culture and art" in the former capital of Poland.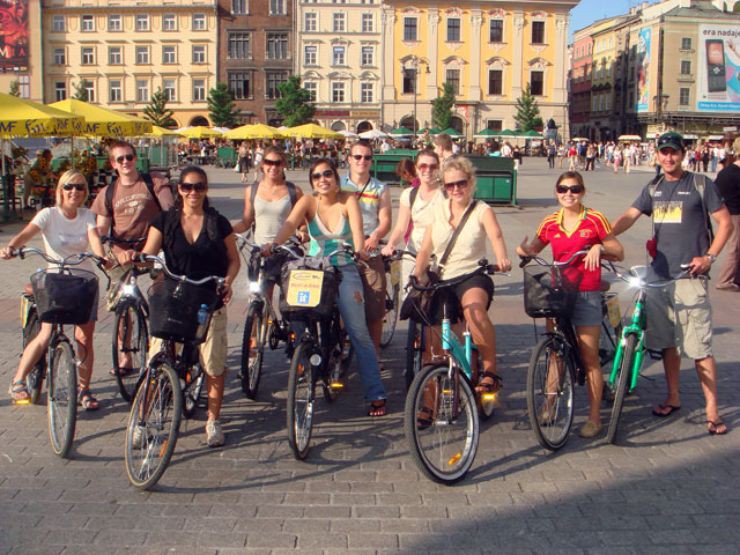 Krakow is also perfectly prepared for a large number of bike lovers. There are dazzling monuments, hundreds of excellent bars and restaurants, as well as a rich accommodation base including: 
hotels,
hostels,
youth hostels,
private accommodations. 
These can accommodate thousands of people each season. 
Safety first, or what should you remember when getting on a bike in Poland?
If you are dreaming of an unforgettable getaway, remember about bringing adequate supplies when planning a Krakow bike tour, as well as in its further surroundings. A helmet, safety pads and lots of water are indispensable to bring along in your backpack or bicycle basket!
When it comes to alcohol, remember that in Poland you are not allowed to get on a bicycle under the influence of alcohol. Permitted alcohol content in blood is 0.2 promilles. Unless you have an accurate breathalyzer with you, it is better not to drink even a small beer before a bicycle trip.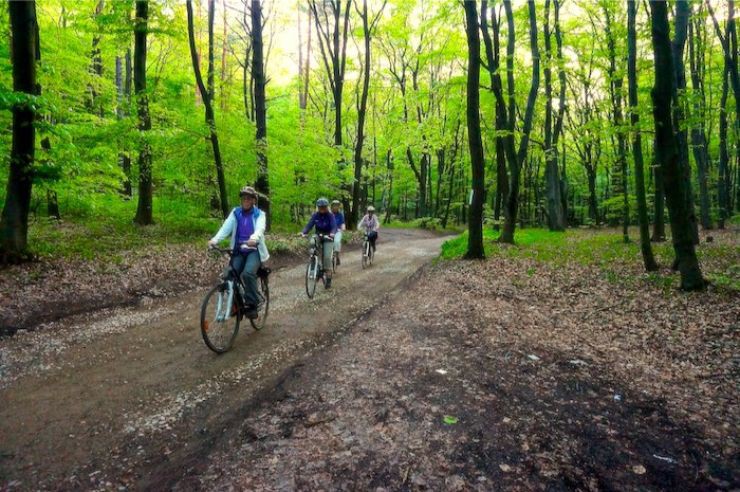 Documents - a driver's license entitles you to cycling. Also you are obliged to supervise all children under 10 y.o. who travel with you. 
You can cycle on bicycle paths, combined pedestrian and bicycle paths and roads – including city streets, commune, poviat, voivodeship and national roads. Of course, you are subject to traffic rules Rather avoid cycling on the sidewalks as it is prohibited by law in Poland. The exception is when:
you cycle with a child under 10 years old,
the road has no separate lane for bicycles, allows traffic at a speed of over 50 km/h, and the width of the pavement is at least 2m,
weather conditions are very bad (snow, strong wind, heavy rain, ice, thick fog).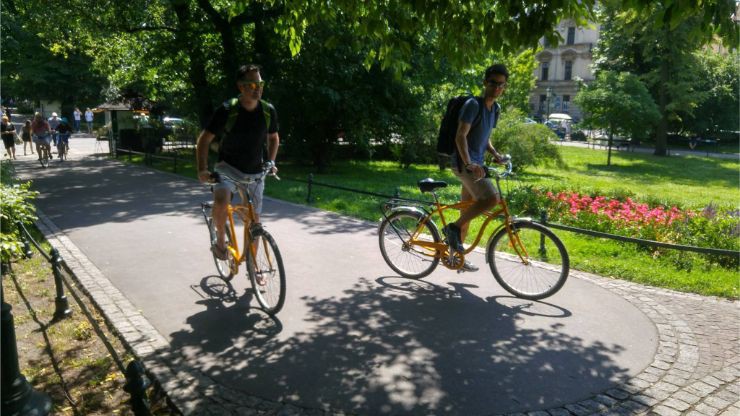 So where to go on a Krakow bike tour to make the most of your stay in this unique European city? Our advice
1. If you have only 1 day – try Krakow day trips
If you have only a weekend to visit Krakow, you mustn't worry that you lack time to see all of the landmarks. Use two wheels combined with well-organized Krakow day trips with a local guide.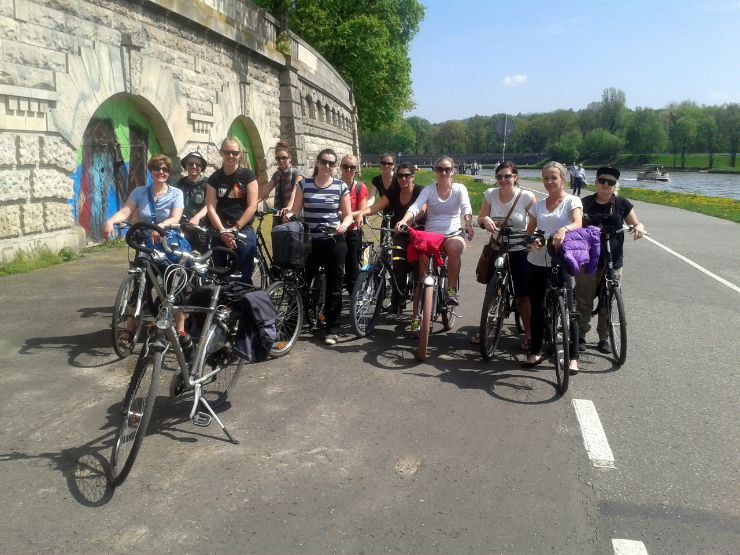 However, it will not be a race, but a slow ride with lots of stops for photos and extraordinary stories. City Bike Tour with a local guide takes about 4.5 hours. You can choose one of three available start times for your trip. 
Do you like getting up early? Plan on 11 am. For sleepyheads who like to snooze a bit longer we recommend midday. Then you will have the chance to hear the famous bugle call – Hejnał – from St. Mary's Church. The tour meetup is organized in the very center of the Main Square, beside the monument of Adam Mickiewicz. 
However, if you have just arrived in the morning in Krakow, and you will be here only for the afternoon aim at day trips from Krakow starting at 3 pm.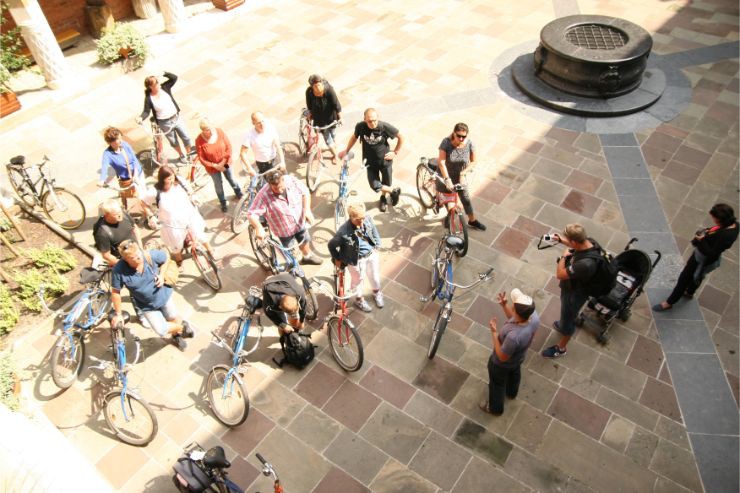 And what will the trip include?
This is a Krakow bike tour around the green Planty Park, the majestic streets of the Old Town and colorful district of Kazimierz – the oldest and most beautiful parts of the former Polish capital. 
First you will find yourself in the most beautiful city garden (isn't it impressive to have a park directly in the city center?), then you will pass by the oldest Polish university (the second oldest in the world), and then feel the atmosphere of royal times as you pass by the Wawel Royal Castle.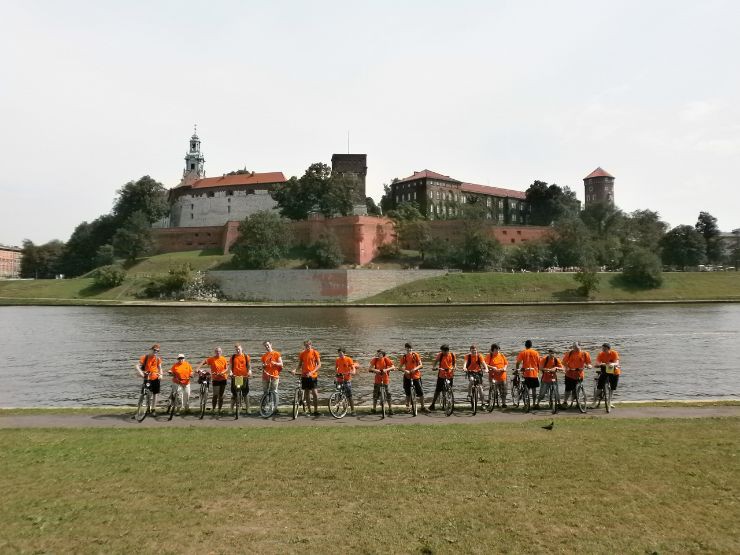 And that's not all! During a Krakow bike tour, you'll hear an amazing story about a German who saved Jews during World War II. You will take a look into the "papal window". From this very window each head of the Catholic Church greets believers – a tradition started by John Paul II. 
While learning about the architecture and history of Krakow you also have the option of an additional lunch break. We highly recommend you to use it well so you can sample a traditional Polish lunch. Nothing better justifies ordering a double portion of pierogi (and we guarantee you won't be able to resist them!) than the effort of riding on two wheels, even if it is a leisurely and light effort. 
To summarize, this is what your checklist will look like if you decide to go on a guided bike trip:
Click

here

,

select the date and time of the trip, book the place (you have the option of free cancellation until  the moment of departure).
Come at the given time to the Adam Mickiewicz monument on the Main Square.
Show the ticket on your phone or other mobile device (you don't have to print it).
Go with the flow of this amazing trip.
Enjoy the next spots –  the must visit places are:

Jagiellonian university
Bishop's Palace with the "Papal Window"
Oskar Schindler's factory
Wawel Royal Castle

Enjoy a traditional Polish meal (optional).
Return to the meeting point and enjoy the rest of the day in the former capital of Poland.
BONUS: You may hum this Queen's masterpiece all time along:
Day trips from Krakow on two wheels do not only have to be a bicycle trip at all. How about taking a momentary break from pedaling? The royal city also offers many other possibilities. 
The Segway Tour Krakow is a unique and safe way of spending time, which tourists from all over the world are increasingly eager to try out. During such a guided tour you will discover the charms of delightful architecture and listen to curiosities about the local culture - all in an atmosphere of wonderful fun.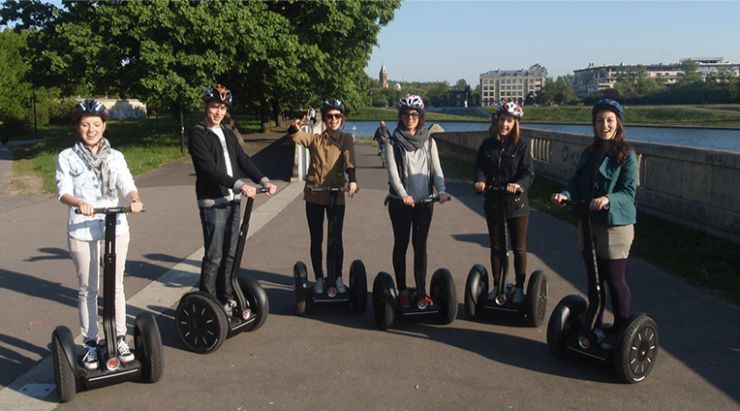 If you are going to be riding on a Segway for the first time, you have nothing to fear - each such trip is preceded by an instructional lesson, discussing the principles of the vehicle and giving time to calmly master riding it. The group goes sightseeing only after all participants feel confident!
The possibilities of this sightseeing tour are numerous: from short 90-minute rides around a selected part of the city (mainly the Old Town), through 2-hour routes along the Royal Route, to a half-day tour of the Jewish quarter which is full of cozy cafes, kosher restaurants and monuments of Jewish heritage. 
2. Weekend stay in Krakow - what to see when you spend 2 nights in the royal city?
If the royal city attracted you for a full weekend, in addition to the main points of the city, such as the Old Town and Kazimierz, be sure to choose something extra on the second day of your stay. How do you organize such a bike trip on your own to see all the attractions indicated?
For starters, there are bike rental Krakow services. That's right. You don't have to bring your bike with you. You can rent bikes anywhere in the city because Wavelo stations are scattered almost everywhere. The system includes as many as 168 unmanned stations and 1,500 bicycles. 
How to use city bikes in Krakow? 
To become a user, simply create an account on the website or mobile app. You can pay per minute or chose 12-hour billing packages. Unlocking a bike is based on the customer number and PIN entered on the keyboard on the back of the bike. So how does it work? Here is your checklist:
Register – choose the plan that suits you and register on the Wavelo website or via the mobile app.
Rent a bike by entering the 7-digit account number and the 4-digit PIN number on the keyboard on the back of the bike to unlock it.
Place the lock in the handle on the side of the rear wheel. To stop for a moment without stopping the rental, press the STOP button on the keyboard and fasten the bike using the lock.
Return the bike – to end the rental, simply attach the bike to a stand at any Wavelo station. You can also return the bike outside the station for a fee.
This is not the only way to benefit from bike rental. Krakow offers a number of points where you will find your dreamy two wheeler for a fair price.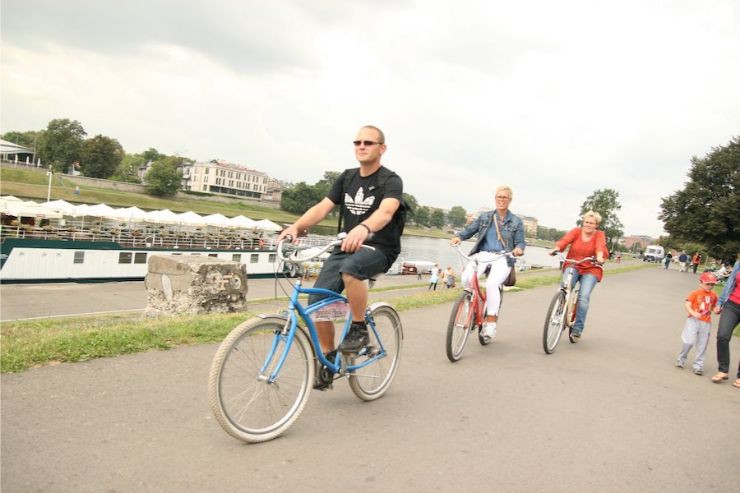 If you already have a bike in your hands, it's time for the must visit points list:

Benedictine Abbey in Tyniec – in this case it is not so much the destination of the trip as the road itself that is worth paying attention to. It leads along a specially prepared bicycle route, stretching along the Vistula embankments. The abbey sits at its end, on a Jurassic, limestone hill. You will find there not only the museum and a Guest House (where you can stay for the night), but also restaurants serving delicious dishes of Polish cuisine. We highly recommend the Benedictine products - honey, pate with rabbit and a hearty stew – Stroganoff.
Bronowice "Małe" - once a village, today it is one of Krakow's districts. Thanks to the monuments, the regional museum and the Tetmajer Manor you will discover real folklore in the heart of the city. And that's not all! There is also a small spring with crystal clear water. For a moment you will feel as if you were in the mountains!
 
Zakrzówek and Skalki Twardowskiego – it takes just 20 minutes by bike to find yourself in the place where the sorcerer Twardowski allegedly ran a school of magic and sorcery. One day the explosion in the laboratory elevated rock formation. That's the reason why it is named after the wizard. The lagoon was created after flooding the old limestone quarry. Unfortunately, that bathing in the lagoon is prohibited. However, you can sign up for diving. Any adventure lover may discover sunken treasures of the PRL such as a Fiat 125p or the entire vintage beach changing room.

Kościuszko Mound – this place holds the most beautiful panoramic view of Krakow. It is also a symbol of the Polish road to freedom. Every day from 9:30 am to 2:30 pm you can admire the Sukiennice, St. Mary's Church and Wawel at the same time. Some people claim that sometimes you can even see the Tatra Mountains! Don't forget about the historical exhibition in the former fort. It will help you understand why instead of a monument, the Cracovians decided to build a mound for Kościuszko. Ofcourse, you'll also learn how it was constructed. After all, it was a tremendous challenge. After many struggles mound's creators managed to elevate an earth monument with a height of over 34 m and a diameter of 80 m. Despite wars and attempts to raze it to the ground, it still watches the city.
Wolski Forest and the Zoological Garden – located in the western part of  the city can be reached by a bicycle. The route is about 9 km long. In the forest itself, you will find additional 40 km of paths!  In the zoological garden, you will have lots of fun and many new experiences – have you ever seen a dwarf hippo, snow leopard or lemurs? If not, this is the perfect place for you.
3. Or maybe you want to spend 3 or 4 days in Krakow? Bike tours around the city and the surrounding areas
Although Krakow is a historical city, it offers a large amount of interesting places in the open air. Therefore, a weekend stay in Krakow can be extended and varied by going beyond its borders. Remember that the longer the cycling route, the more traditional Polish delicacies you will be able to eat!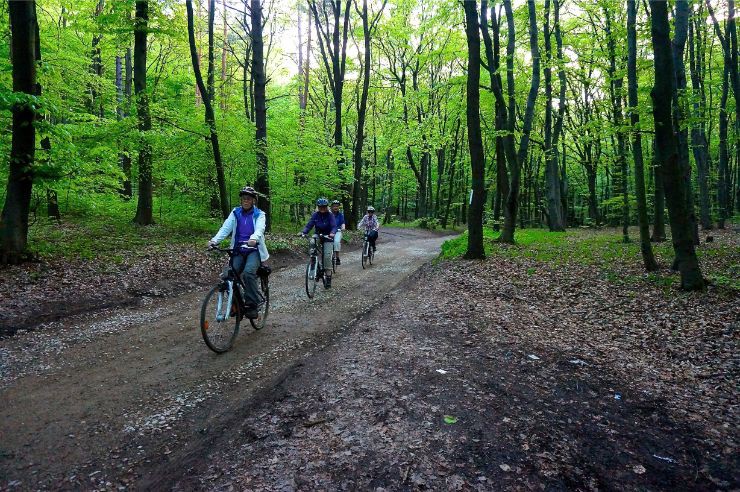 If you want to leisurely explore Krakow on your own, choose a bike rental with an audio guide. Rent-a-bike with Krakow Audioguide has its one-day, but also three-day option. Tour starts with renting a Wavelo city bike (you already learned how to do it) and downloading a completely free Krakow guide. Sounds easy? That's exactly how it is. You start your audio guide and wander around Krakow on one of the selected routes.
You can choose the Vistula route along Poland's most important river. The must visit spots will be:
Graffiti Park - a new spot on the map of Krakow.
MOCAK, i.e. the Museum of Contemporary Art.
Jewish cemetery.
Father Bernatek footbridge (where couples in love hang padlocks with their names and throw the keys into the river).
Forum Spaces, where you can drink a delicious beer.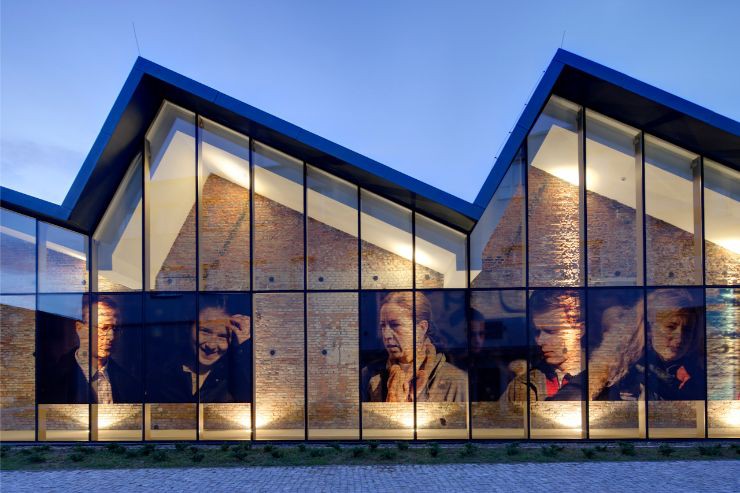 Or maybe you want to experience the academic atmosphere in Krakow? Start from Dolne Młyny! There is a bicycle station in this area. Then be sure to visit the Awaria Club and Moaburger – Krakow's best burger house. Those who enjoy culture are invited to the Barakah Theater.
For those who prefer nature, must visit spots are:
Botanical Garden at the Mogilskie Roundabout.
Błonia – a meadow in the city center.
If you have already visited Krakow with your audio guide, it's time to go a little further on day trips from Krakow. Do you want to feel like you are in Provence? Just 40 km from the royal city is the Lavender Garden, a perfect place for a picnic and photo session. For those who want to feel special, we recommend Kalwaria Zebrzydowska - a sanctuary inscribed on the UNESCO list and at the same time one of the most important places for believers. You can reach it by bike in just 1.5 hours. 
For those who want to experience an adventure in the belly of the earth, (as well as to take care of one's health), they will find this only 15 km away from Krakow Wieliczka, in the famous Salt Mine.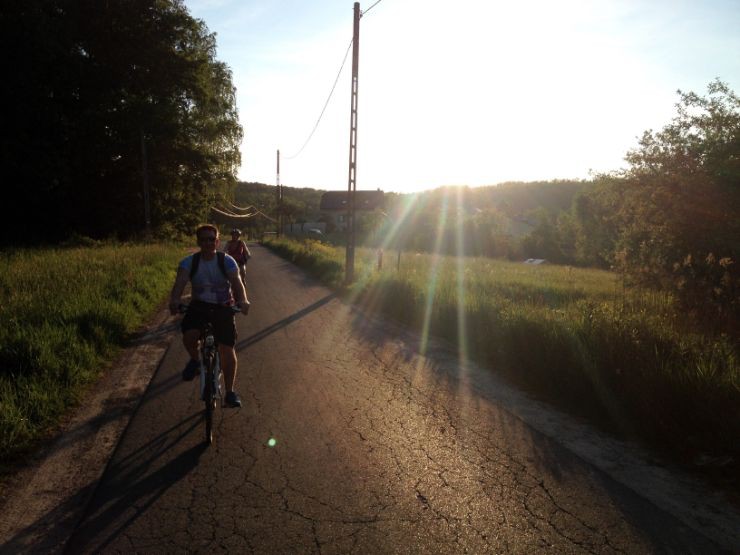 A trip to Ojcowski National Park grants the opportunity to escape from the hustle and bustle of the city to a real oasis of silence. It is only 24 km from Krakow along the Vistula River. However, if you prefer to take a break from pedaling, choose an electric bike or scooter and feel the wind in your hair!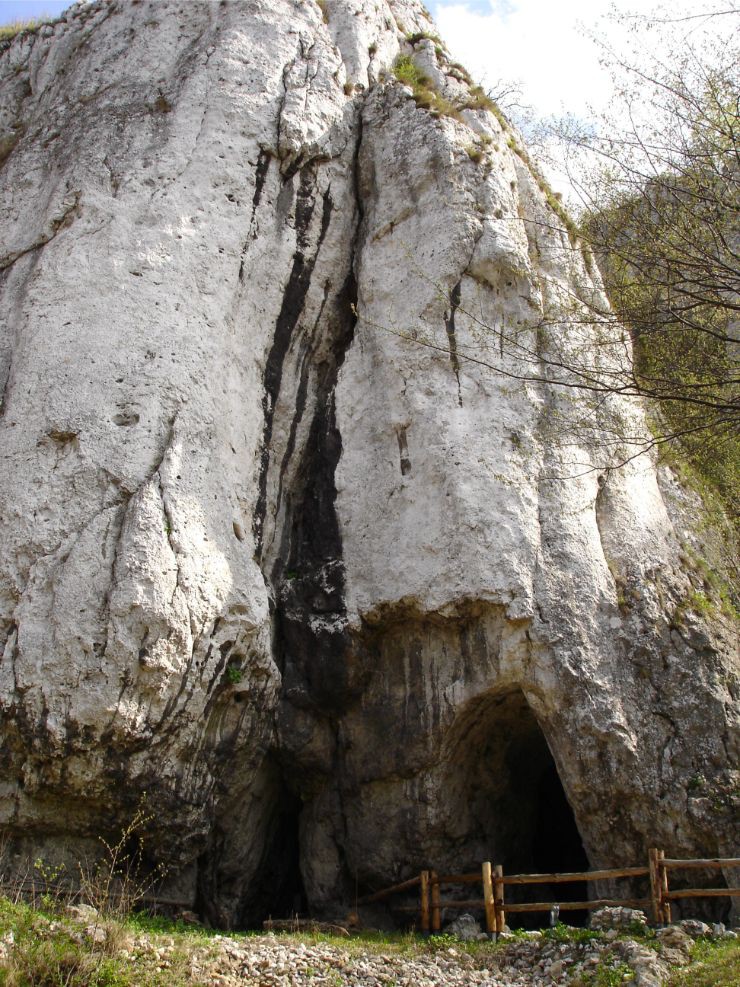 Entry to the Park is free. Once you come inside, the variety of plant, bird and butterfly species will dazzle you! After all your pedaling, also don't forget to sit down in a local café for delicious pancakes which are served in Poland with sweet, cheesecake-like filling. In case of any doubts just ask the locals – they will surely answer your many questions. Your checklist:
Rent a bike – a city bike or rental shop.
Check the best route on the map - all you need is Google Maps.
Purchase of an admission ticket (unless the entrance is free).
Hit the road and feel the wind on your face.
Try local delicacies and learn about the history of the place.
Return the bike to the rental shop or to one of the stations.
If you are going to spend a weekend in Krakow, most of all, spend it cycling!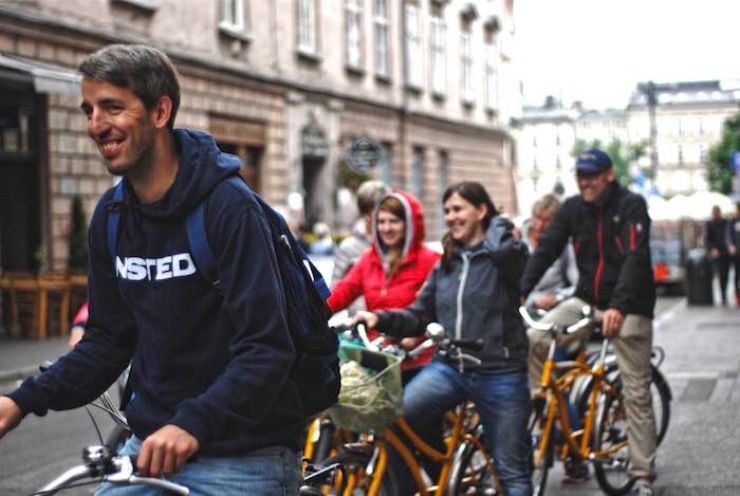 City bike with a basket, electric bike, trekking bike, tandem and even a Segway - Krakow is a paradise for two wheels lovers. Both for adrenaline addicted daredevils, and those who like less demanding activity. Krakow's extensive and constantly expanding bicycle infrastructure allows you to quickly explore a very large number of places both in the royal city and in its vicinity. So come, rent bikes (with or without a guide) and explore!
You can find more about these attractions at Discover Cracow - Tours and Trips. Or simply just book a City bike tour.