How to get to Energylandia?

Many ways to get to the famous Amusement Park

Energylandia is a world-class amusement park that promises an unforgettable experience for thrill-seekers and family fun enthusiasts alike
 
What makes it so special?
Located in Zator, Poland, one of Europe's most popular and attractive amusement parks, drawing visitors from all over the world. Energylandia is a vast amusement park that spans over 200 acres and offers an unparalleled array of attractions and entertainment for all ages. Since its grand opening in 2014, it has continually expanded and introduced new rides and themed zones, solidifying its position as one of the top amusement parks in Europe.
Attractions that make Energylandia so attractive
Roller Coasters: Energylandia boasts an impressive collection of roller coasters that cater to all levels of bravery. From heart-pounding, adrenaline-pumping rides like Hyperion, the tallest and fastest Mega Coaster in Europe, to family-friendly coasters like Dragon Roller Coaster, there's something for everyone. Be prepared to scream and laugh as you soar through the sky and experience thrilling drops, loops, and twists in the extreme zone. 
Themed Zones: The park is divided into themed zones, each with its unique atmosphere and attractions. Explore the medieval-themed Land of Legends, immerse yourself in the wild-western world of Western City, or unleash your inner adventurer in the Lost World zone. These themed areas add an extra layer of magic and excitement to the overall experience.
Family Rides: While Energylandia is renowned for its heart-stopping roller coasters, it also caters to families with a variety of delightful rides suitable for all ages. From classic carousels to gentle boat rides, families can create precious memories together in a safe and enjoyable environment in the family zone. 
Water Park: In addition to the amusement park, Energylandia features a fantastic water park, Energylandia Beach. With slides, pools, and splash zones, visitors can cool off and have a blast on hot summer days
Live Shows and Events: Energylandia offers captivating live shows and events throughout the day. From stunt performances to mesmerizing parades, there is always something entertaining happening at the park. 
Little Kids Zone: Specially prepared for smaller kids, therefore it is completely safe and extremely creative. There is a quiet place destined to change diapers and feed babies in the Little Kids Zone.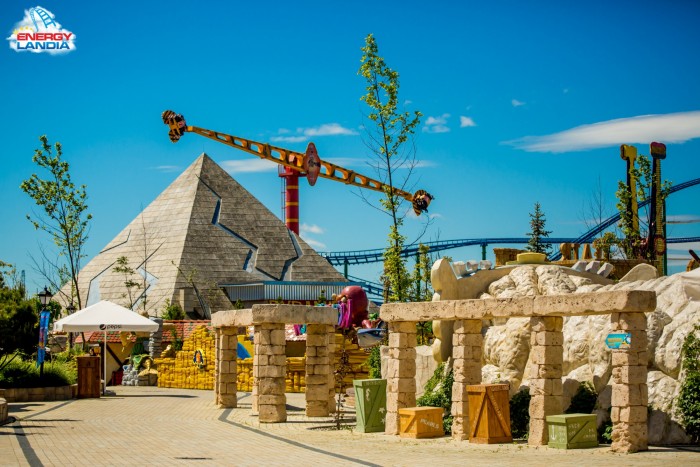 How to get there?
Energylandia is conveniently accessible by various means of transportation
By air: The nearest major airport is Krakow Airport (Balice, John Paul II International Airport), located approximately 50 kilometers away from amusement park. From the airport, visitors can take a taxi or hire a car.
By car: Energylandia has ample parking spaces available. It is well-connected by major roads, making it easily accessible from different cities in Poland, especially from Krakow. You can hire your own car, or you can book a ride with taxi.
By public transportation: The most economical ways from Krakow to get there are by convinient public transportation: Energylandia provides shuttle buses from Krakow. 
Visitors can also take a train to Zator, which has additional train station just for the Amusement Park - "Zator Park Rozrywki".  
When travelling to Energylandia by train you can choose one of several train stations with direct connections from many places in Poland.
Nearest railway stations to get to Energylandia: Kraków Central Station, Katowice Central Station, Oświęcim Railway Station, Wadowice Railway Station.
Buses timetable from Kraków, Katowice, Warsaw or Wrocław
Trains timetable from Kraków or Katowice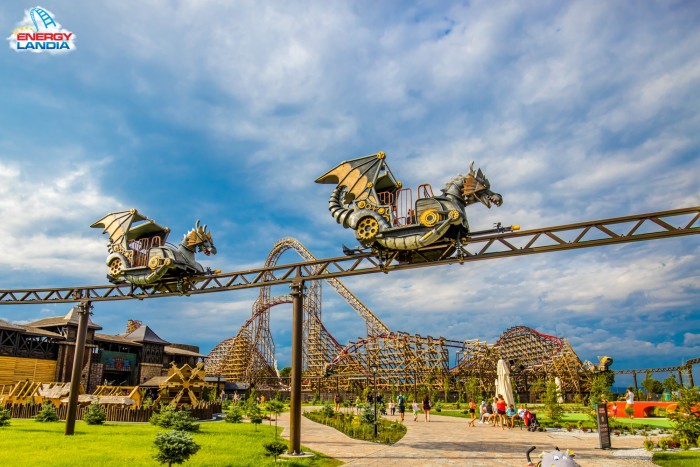 Frequently asked questions
How long is my ticket valid for? Entrance ticket is valid for all day so the best option is to enter the park at the morning (at 10:00am) and enjoy it till the evening. Closing hours changes over the year, check them at the official website -> https://energylandia.pl/en/plan-your-stay/calendar/
What special attractions happen there? Everyday there is something special organized at the park.
You can check all events online here.
Any hidden tips?
If it is your birthday - admission ticket is only for 1PLN!
Energylandia offers a thrilling and magical escape from the ordinary, promising an adventure that will leave you with lasting memories. With its incredible array of attractions, themed zones, and adrenaline-pumping roller coasters, it's no wonder that Energylandia has become one of Europe's most attractive amusement parks. Whether you're a roller coaster enthusiast, a family looking for fun, or a traveler seeking new experiences, Energylandia is a destination that should be on your bucket list. So, pack your bags, prepare for an unforgettable ride, and get ready to experience the magic of Energylandia!
You can pre-book your entrance in advance and get inside once you arrived at the spot without wasting time in lines to ticket office here!