How To Get From Krakow To Zakopane?

Listing all the possibilities for you
Krakow is not only a great travel destination in itself, but also a good hub for interesting tours around the Lesser Poland region. If you want to travel smart, make sure you don't miss out on other gems of this beautiful area! 
In this post I'd like to focus on the possibilities when it comes to taking a trip from Krakow to the beautiful winter capital of Poland – Zakopane.
---
How far is Zakopane from Krakow?
It's actually pretty close! The distance of just over 100 kilometres (less than 70 miles) makes it an easy, 2-hour(ish) car/bus ride.
---
What are your options?
 
1. Car
If you're travelling via your own (or rented) car, it's probably a no-brainer to you and although I do understand the appeal of having your private vehicle on the road, don't disregard the rest of your options before finishing this article – depending on your priorities, you may actually find a different mean of transport more suitable for your needs.
Anyway, here is the map that will take you straight from the city centre in Kraków to the very heart of Zakopane – Krupówki Street.
---
2. Train
This may be a good option for you if you value comfort over time, as the train journey will take anywhere between 3 up to 5 hours.
In order to check possible connections and the timetable, go to www.rozklad-pkp.pl. The website is easy to navigate and I believe you should be able to grasp how to use it in no time.
As you can see, there is an option to buy the ticket on the spot – if you decide to purchase it right away, you will receive your ticket via e-mail.
You can then either save it onto your phone so that the ticket inspector can scan the QR code directly from the screen (which is my preferred method), or print it out and keep it on you (sensible solution if you don't trust your phone battery!).
If you are travelling with a discount, remember to have some sort of document proving that you are eligible for that discount (e.g. your student ID).
---
3. Bus
There are a few companies that offer frequent, direct connections between the cities in question. The ride takes a little over 2 hours and in order to check the timetables of multiple companies at once, you can visit www.e-podroznik.pl, which gathers them together and conveniently displays them all which makes the whole ordeal much less confusing.
The main bus station in Krakow (Kraków M.D.A.) is quite big, so be sure to come there a little earlier in order to find the correct platform without stressing out!
This option is affordable and easy, so it's worth considering if that's what you're after.
4. Private transport
The less affordable, but much more comfortable option. You can either pre-book a transfer online or take a taxi. I strongly advise against the latter, as you can never be sure of the price, whereas going for the former, there will be no surprises as you already know what the fixed rate is. Feel free to check our transfer offer!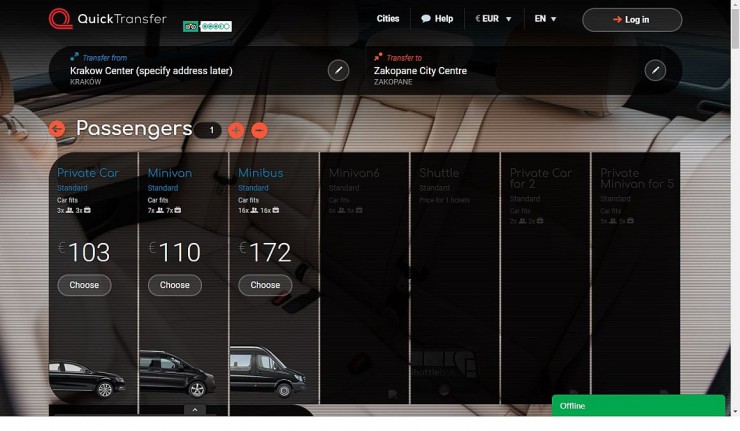 It is more expensive, but if you believe in comfort above all else – this may be just what you're looking for.
---
5. Organized tour to Zakopane
A great option for those who do not want to trouble themselves with planning all the nitty-gritty details. You can simply book a tour covering everything from start to finish, making you travel as stress-free as possible.
You can choose either a guided tour or a our DIY (which includes transport both ways, but doesn't limit your activities when you've already reached your destination). There are also some optional attractions that may interest you, such as a funicular to the top of Gubałówka (Tour) or a pass to the Thermal Pools.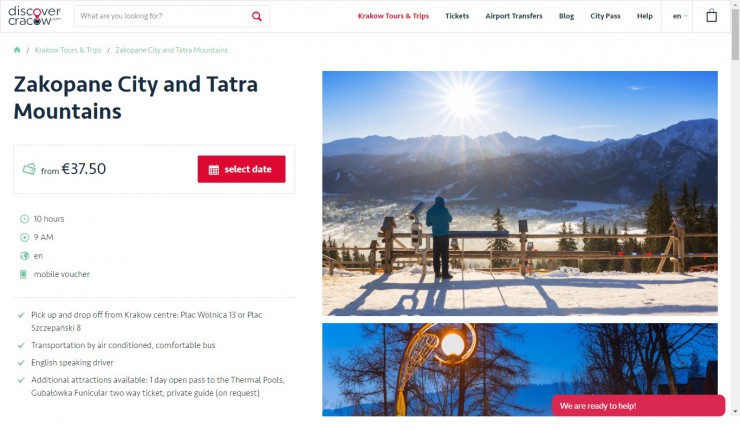 A breeze to book and fail-proof, choosing this solution completely takes the burden of logistics off your shoulders. If you simply want to relax and let the professionals figure everything out for you – this option was created with people like you in mind.
Great for those who want to enjoy their vacation to the fullest!
If any questions come to mind, you can always call helpdesk and ask. Anything for your peace of mind! :)
---
I hope this post will help you navigate your way from Krakow to Zakopane.
It's definitely worth taking the day off from the hustle and bustle of the big city and charge your batteries by reconnecting with nature in the beautiful Polish Tatra mountains.
Come and explore them for yourself!