Polish Food

Complete Guide That Will Rock Your Tastebuds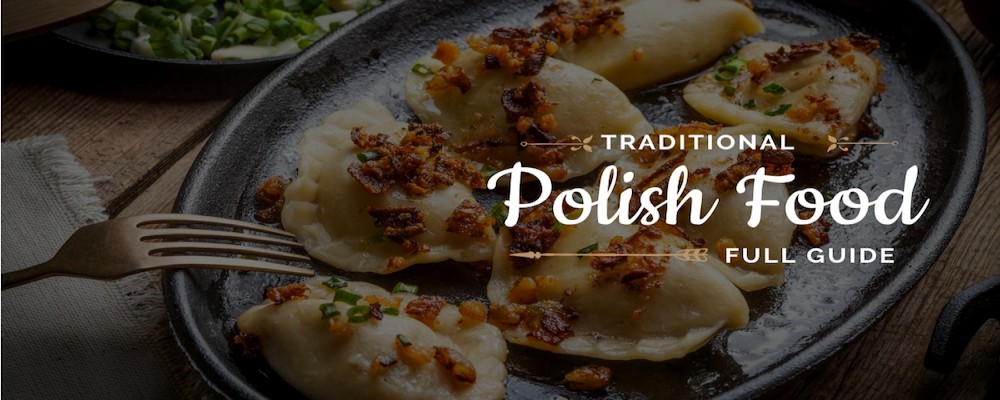 Have you already tasted Polish food? 
If not, change it as soon as possible!
To be honest, Polish food is one of the most delicious cuisines in Europe and the whole world!
Thanks to this post, you won't miss any specialty of the traditional polish kitchen and you will fall in love with it!
So if the Krakow Food Tour is not enough for you, find out what to try on your own while being in Krakow!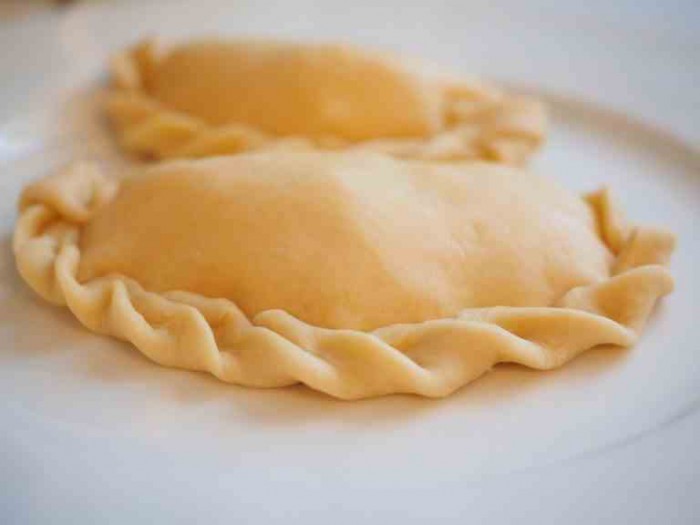 Secrets of Polish cuisine
If learning the culinary secrets of individual cultures is your passion, you will find some useful tips here. In the article I will present, among others:
facts about Polish cuisine
the culinary history of the country
the secrets of pickling vegetables
most popular Polish dishes
the extraordinary role of soups in local cuisine
delicious, traditional main dishes
tasty desserts
information on food prices in Poland
advice on where to find delicious food in Krakow.
Are you ready? So let's start our journey!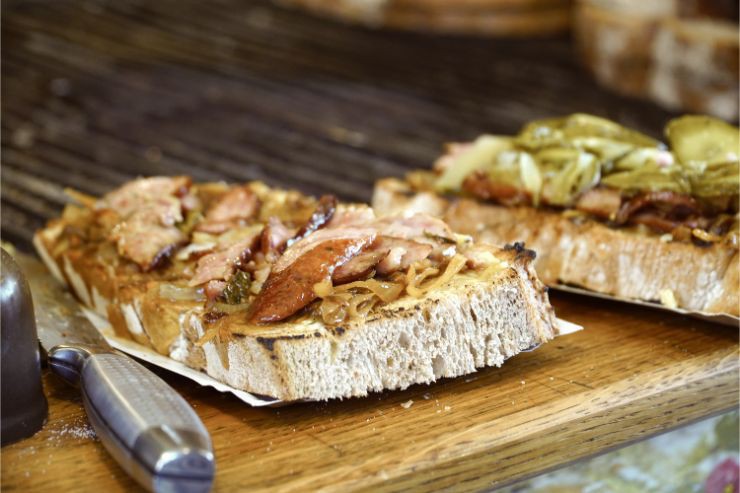 Polish food facts
Polish food is perfect for those who crave comfort foods. Traditional Polish cuisine isn't' very fit, but it tastes delicious! Do you want to find a place where you can try traditional Polish food? Krakow offers a number of restaurants that specialize in specific  main dishes or offer an entire menu consisting of both traditional foods and sweet delicacies.
But do you know, how to describe Polish cuisine?
What you will totally love about Polish food are:
big portions
extra adds like sour cream, butter, and roux (to almost every meal)
a lot of meat dishes with vegetables, mushrooms, and groats
surprising connections of seemingly mismatched ingredients (like herring and cream)
ingredients are usually fried or stewed, so dishes are full of deep, delicious taste!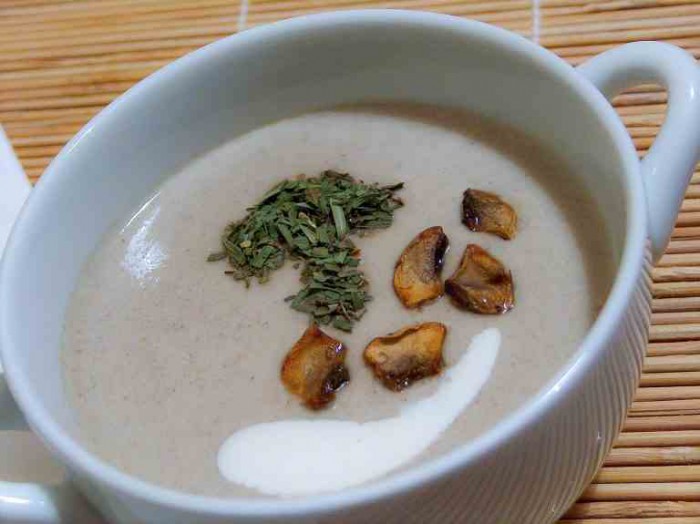 So be prepared for amazing dishes like delicious schnitzel, hearty cabbage stews and meaty sausages, famous polish doughnuts, crumpets, and pancakes. Either together or eaten individually, these dishes will enchant you with their taste and cause you to crave more!
Keep some free space in your stomach for kilograms of potatoes, cabbage, and pork which are staples of traditional Polish food (although they don't sound exceptional!).
"I was surprised how far Poles can go to create hundreds of satisfying dishes!"~Sylvia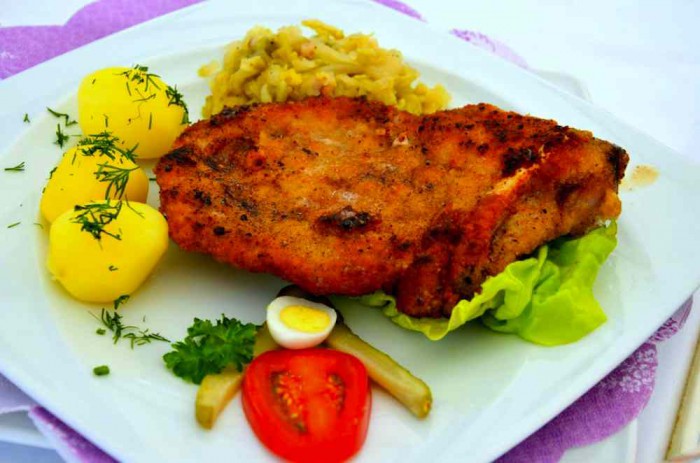 But do you know why Polish food tastes the way it does?
Let's go back in time and discover the Polish food's roots!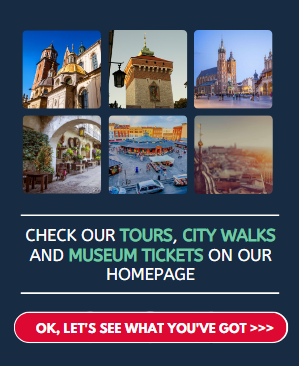 History of Polish food (in a nutshell)
A little bit of Polish history will help you to understand the phenomenon of Polish food.
In the middle ages, Polish cuisine based on wheat, meat, fruits, herbs, honey, and spices – everything was local and grew out of Polish soil. Those times Polish food was quite spicy and calorific. What's interesting, polish people were drinking a lot of local beer then (not wine as in most European countries). Flatware was not in use so everyone relished the food only with their hands.
 




Bronisław Abramowicz, Uczta u Wierzynka




 

The location of the country and its relations with other states had an impact on the final shape of Polish cuisine. A very strong tradition of hunting was also not without significance. Polish cuisine has a great respect for forest fruits and mushrooms, that is why Polish people are still organizing lovely family trips to the woods in their free time.
Meat, fish, and vegetables were preserved with salt or by the sundrying process. Polesoften used the fermentation and pickling process as well.
During the partitions, many accretions of other countries influenced Polish cuisine. Finally, Polish food is the effect of best cooking traditions of neighboring nations (like Czech, German and Austro-Hungarian).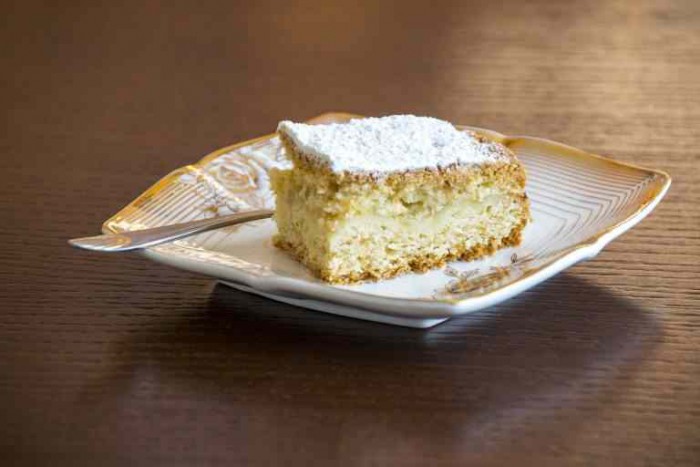 Are you wondering what pickling is?
You have to find out and try Polish pickles (at least once)!
The Art of Pickling
It can be said that most Polish people are obsessed about perfectly pickled cucumbers and cabbage. When the season for these vegetables begins, you can see people buying them by the kilograms and trying to perfect their pickling technique.
Do you know that delicious Polish sauerkraut in some countries is considered... food that is spoiled?
Poles definitely disagree with this theory and enjoy a variety of sour delicacies. Sauerkraut is found in various traditional dishes:
soups,
bigos,
pierogi,
baked foods
pasta (noodles with sauerkraut and mushrooms),
borscht (uszka, patties and croquettes),
salads.
In turn, pickled cucumbers accompany virtually every major occasion - they are never missing at family parties and dinners. In Poland food and drinks are very closely related. Bigos and pickled cucumbers are a popular appetizer to go along with chilled vodka. You can confirm this tradition even in pubs that offer alcohol with appetizers.
 
Probably not the best-known fact about sauerkraut is that the probiotics in it improve digestive health which gives us even more reason to enjoy it. This means that sauerkraut is not only tasty - it is also extremely healthy!
But what must happen to turn a fresh cucumber into a pickled cucumber?
We present you a little tutorial:
So: Cucumbers, water, salt, garlic, dill and horseradish are combined and left for a couple of weeks to make dill pickles (ogórki kiszone), while sauerkraut is made from cabbage, water and salt, sometimes with the addition of grated carrots.  There are endless possibilities when it comes to cooking with sauerkraut as can be seen by many traditional Polish dishes.
And the effect presents like this: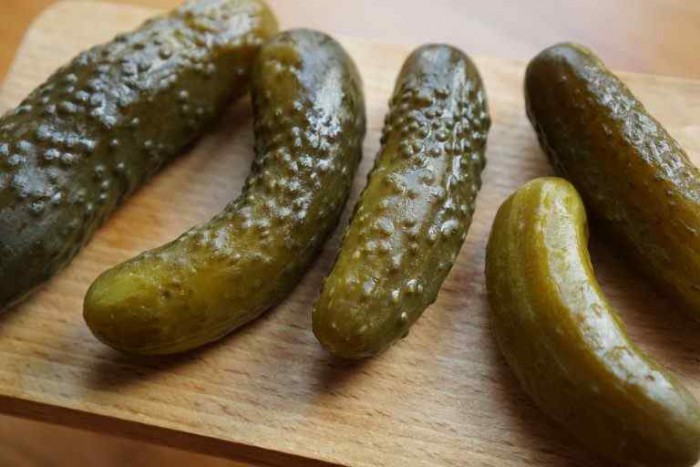 You have to try Polish pickles! Those "Polish tapas" are perfect together with cold vodka as a snack after fast shot! You can find them in many restaurants in Krakow. Without trying them, your picture of Polish night life will never be complete!
But pickles are not only one Polish food's specialty that you have to know closer!
Stay with us and continue a delicious travel trough Polish famous dishes!
The gems of Polish food
We are warning you! Don't continue reading unless you are full! 
There are dishes that can definitely be called the most famous jewels in the culinary crown of Poland. Usually, the recipes for them have been passed down from generation to generation. Some of the dishes come from the royal courts, where they were perfected by well-known and respected chefs. Most of them, however, are dishes that were eaten by the common people and that are now associated with the folk tradition of Poland. Don't even think of trying to leave the country without tasting at least a few of them!
(otherwise, we recommend joining folk show with dinner)
Bigos – Polish hunter's stew
In bigos sauerkraut acts as the main ingredient but in fact it is a combination of sauerkraut, mushrooms, sausage, bay leaf sometimes even dried plums.
Considering Polish Food, you probably heard about it often!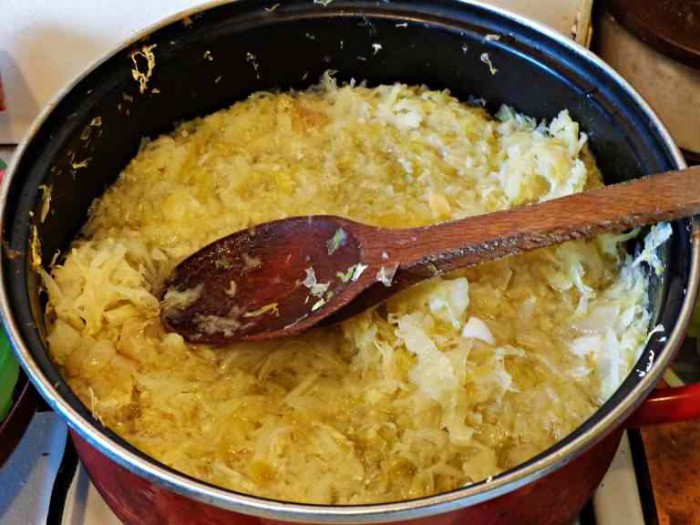 Preparing bigos is not easy, so be prepared for few hours of hard mixing with a wooden spoon.
Secret trick:  If you want to make bigos properly, put it aside to rest in the fridge for a couple of days for the richness of the flavors to be fully appreciated. Don't worry - thanks to the ingredients from which the bigos is made, there is no risk of it going bad!
According to the old Polish recipe, bigos is made of both sauerkraut and fresh cabbage, thoroughly chopped. The secret is that it is cooked on the lowest possible heat, with a tightly covered lid, even for several days. You have to admit that it's a lot of work! In restaurants today, you will find bigos that is prepared a bit faster, which is thanks to modern cooking methods. However, you will discover it is just as tasty as bigos prepared by the traditional method!
 
It is a hearty meal that can fill you up. It is not as famous as the pierogies, though.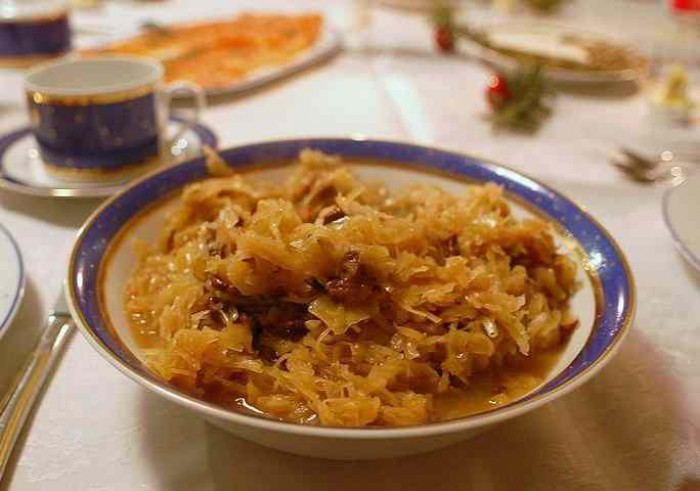 By far the best known Polish food is pierogi, delicious flour dumplings with a variety of stuffings can be found throughout the country and are also famous abroad.
Do not even try to miss them!
Pierogi [pyeh-Roh-gee] - the most popular Polish food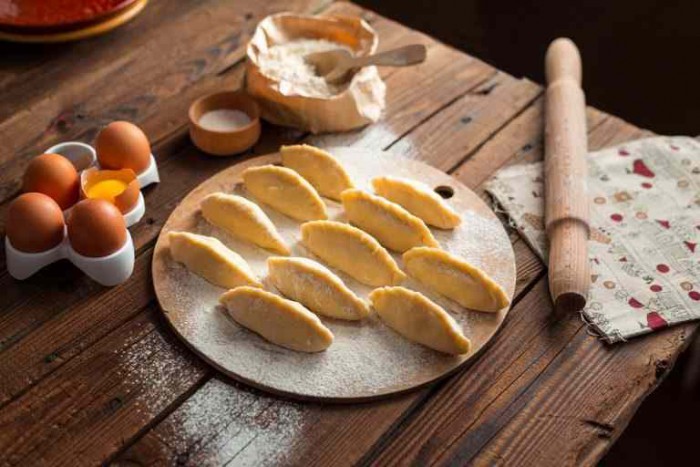 Do you recognize that shape?
The dough for pierogi is prepared from flour, water, and salt (sometimes eggs as well). Then it is rolled on the kitchen table and cut into the wheels with a glass.
The most common stuffings are:
ground meat
a simple combination of potatoes and cottage cheese
sour mix of sauerkraut and mushrooms
Most restaurants serve a wider selection of pierogies, for example with spinach, lentils or tomatoes and cheese.  Savory pierogies can be eaten straight from the water with the addition of several toppings of which the most common is a fried onion with oil, pierogies can also be fried to crispness. Fried pierogi filled with sauerkraut and dried wild mushrooms is one of the twelve traditional Polish Christmas dishes!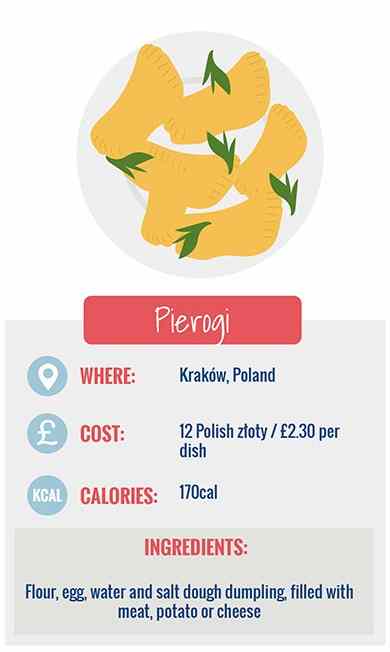 Sweet pierogies are not considered a desert! Those with a sweet tooth can pull off eating these for dinner! They are usually stuffed wild blueberries, strawberries or sour cherries. However, some restaurants specialize in serving them with other fruits - it's worth trying every offer.
These delicious little dumplings are served with sugar and cream. Wild blueberries are certainly a treat as they are a far cry from the mulberries that are known as blueberries in the west.
Do you want to try them right here, right now? (what does not surprise us!)
These two places serving pierogies in Krakow are highly recommended: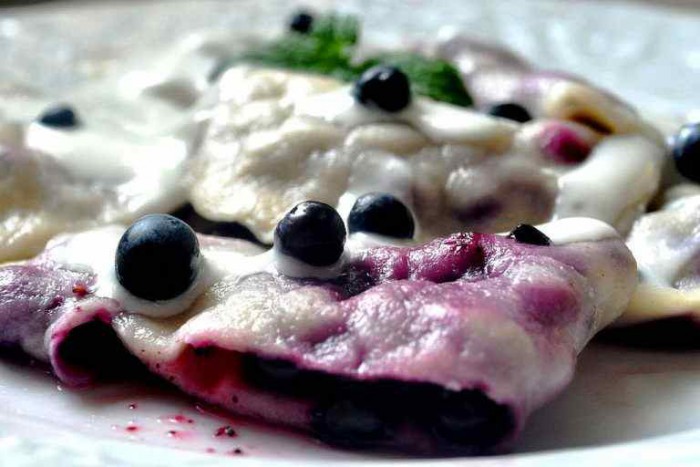 Remember! Trying pierogi is one of the best things to do in Krakow! Especially, in Poland food prices in restaurants are not so high - compared to countries in Western Europe.
Do you think that now you know everything about pierogi?
You fool! :)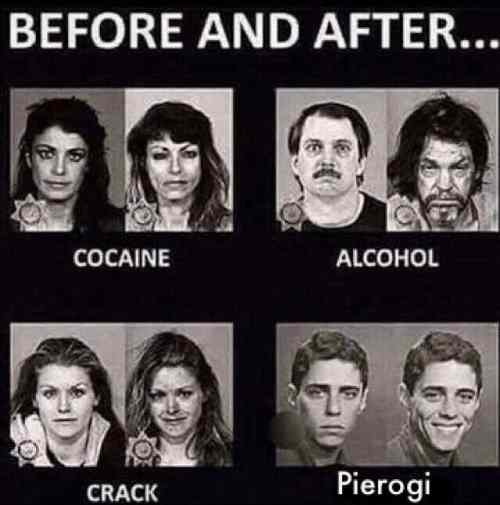 Tiny pierogi (uszka – [oosh-ka])
Classic pierogi have their smaller cousins, we call them "uszka". Loosely translated, the name simply means small ears, because these small dumplings look like small ears. Isn't that cute?
Molded in a way that resembles little ears, uszka are typically stuffed with sauerkraut and mushrooms and served in a sweet and sour beet soup called barszcz (borsch).
This dish is very popular during Polish Christmas Eve as one of twelve dishes. Barsz can be ordered "clean" without anything floating about, so don't be surprised if you get this soup in a cup! In this version it is often spicy and served, for example, with paszteciki (patties in the form of small rolls filled with sauerkraut and mushrooms).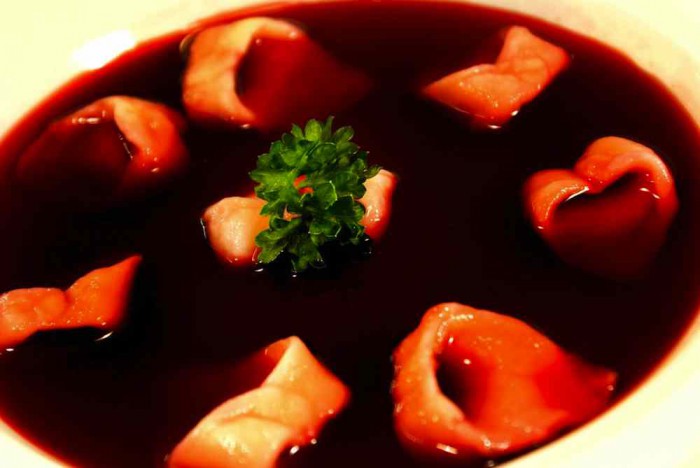 But most of the time there will be little "uszka" inside the bowl.
These are special crepe that is filled with sauerkraut and mushrooms, rolled up and cooked in boiling water. That dish is a great option for vegans. Especially since the dough for uszka is prepared like pierogi, usually without the addition of eggs.
Kiełbasa [keel-BAH-suh] (sausage)
Poland is also known for the best sausages! You will find white and baked kiełbasa, as well as well as kiełbasa smoked over different types of wood. You can choose whether you prefer the sausage fresher and moister or those hung in the air to dry for a long time – this type is quite dry and firm, but often have a more intense flavor. Many types are also suitable for grilling or... frying!
It was just a beginning! Are you ready for the next part of Polish food menu?
Soups are an important part of Polish food
You've already heard about barszcz, but there are much more soups you can discover, so get ready!
Polish dinner which is eaten around 3 o'clock usually consists of two courses – soup is always the first.
Interesting fact: In Poland, the word BAR does not necessarily mean the same thing as pub. Most often it is a cheap milk-bar that offers traditional Polish dishes. So, when ordering the meal of the day at an inexpensive 'bar' or restaurant you will most likely get one of many Polish soups. If you are looking for creamy soups Poland is not the place for you as almost all traditional soups are rather chunky.
Famous Polish soups that are unique and surprising when eaten for the first time are:
żurek
flaki
szczawiowa
kwaśnica
barszcz
rosół
krupnik
Of course you should try them all, but first, we will try to describe the taste of some of them!
Żurek – [zhur-ek]
Żurek is kind of sour soup and is made on a base of sourdough and meat with plenty of margery. It includes pieces of white sausage and boiled egg and is sometimes served in a bowl made of bread. Żurek comes in different local varieties. These include, for example, Zalewajka, which is popular around Kielce. It is often served with the addition of spirit and a fried egg.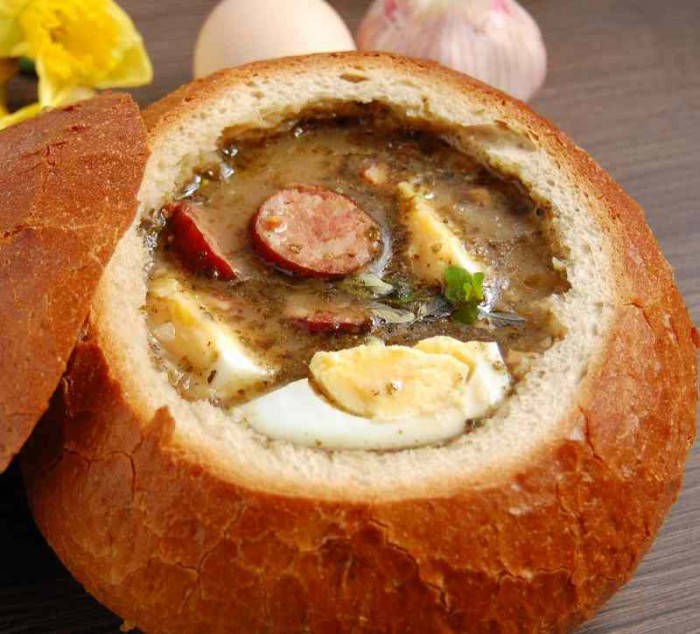 Flaki – [fla-kee]
Are you an especially adventurous person? If yes, flaki, which translates to tripe soup is highly recommended. This traditional soup is served hot and with a large portion of herbs.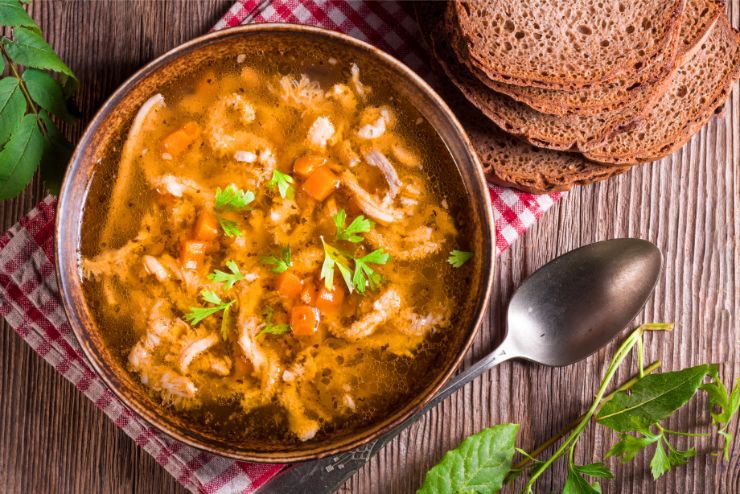 Szczawiowa
Szczawiowa is made of sorrel which makes the taste slightly sour. That soup is also served with a hard-boiled egg. Sorrell grows almost everywhere in the summertime and you can sometimes spot people picking it in the forest or around town to prepare a soup. One of the varieties of szczawiowa is chłodnik. This soup is served... cold! It is a great choice on hot days!
Kwaśnica – [kvash-NEE-tza]
Kwaśnica is made of smoked meat used for cooking the broth along with sauerkraut. Also smoked bacon and rib meat are added, which was previously used to make the broth. Adding a lot of cumin and pepper is a must, which gives the soup its specific sharp spicy taste. It is a traditional highlander's soup, which was previously prepared in a cast-iron pot over a fire by shepherds who guarded their sheep in the mountains. It has its own regional varieties. A similar dish served throughout Poland is kapuśniak and around Lublin it is called parzybroda.
 
Don't you have enough of soups?
Don't be surprised that in the most Polish cards you will find rosół (chicken soup) pomidorowa (tomato soup) or krupnik (groat and vegetable soup) as well.
Interesting fact: Polish chicken soup is definitely different than in other countries.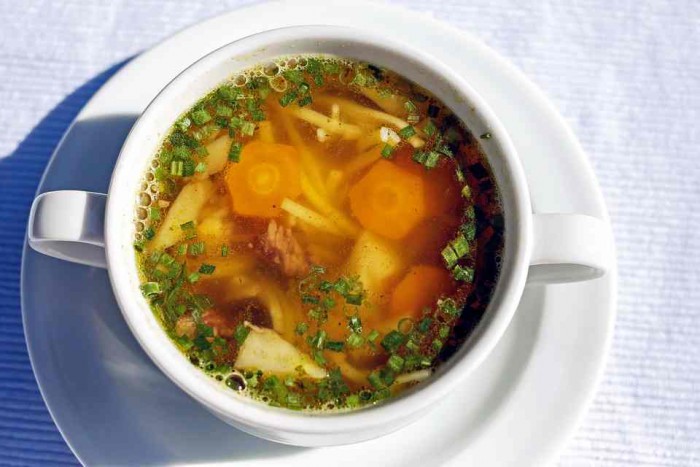 Secret trick: A fun trick often done in Polish homes is to take leftover chicken soup from Sundays dinner and turn into tomato soup for the next day :) Meat and vegetables from the broth are frozen and then used to prepare pâté for sandwiches.
Now it's time for Polish main dishes!
Main dishes - the pride of Polish food
Kotlet schabowy [kot-let s-hah-BO-vi]
The king of Polish food served in every casual restaurant in Poland is kotlet schabowy(schnitzel).
It's a simple breaded pork served with a side of boiled, mashed or fried potatoes and one or more salads called surówka. These salads are not the same as everywhere, they consist of different combinations of finely cut vegetables that are usually raw.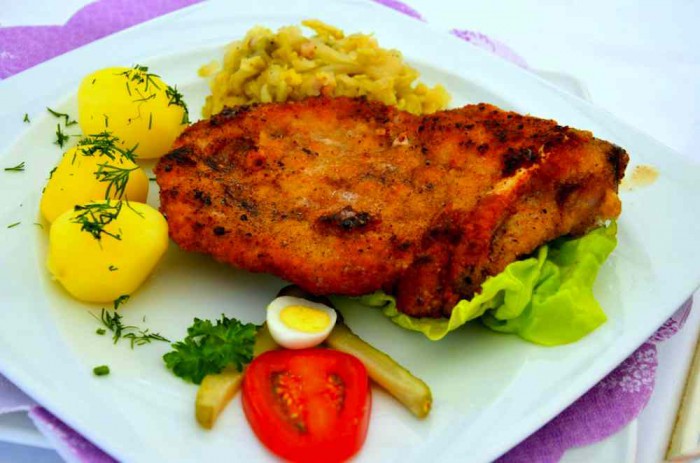 Typical polish surówka is usually made of:
raw cabbage
carrots and apples
cucumber with cream
sauerkraut
grated beets
Of course, schnitzel is not the only type of meat eaten in Poland!
Goulash, meatballs and chicken roulades
are also common and they are served in the same way as schabowe. Schabowy is dipped in breadcrumbs and fried in a pan. Goulash is prepared by long stewing and cooking over a low heat. Meatballs are usually cooked in a sauce and less often baked in the oven. Whereas chicken roulades often come with pickles inside and are baked or fried - depending on the recipe.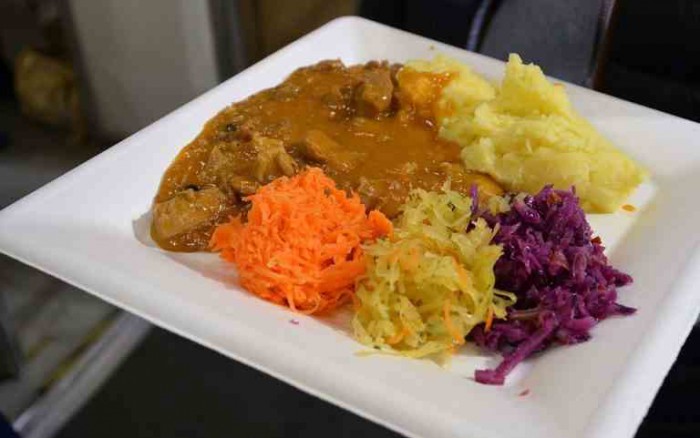 Golonka [goh-lon-kah]
Sounds funny? Golonka, in fact, is a pork knuckle and it's also worth a try. It's usually marinated in beer, and tastes the best served with… beer as well! Order this tasty dish especially when you are terribly hungry! The pork knuckle is usually very large and can weigh up to half a kilogram! Will you take up this challenge?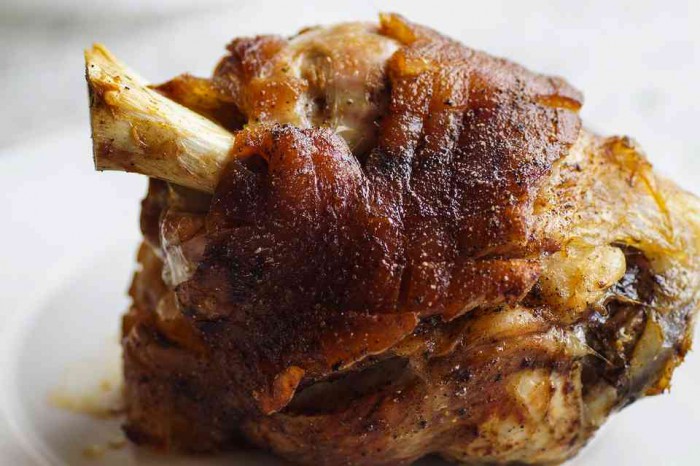 It's another dish that can be enjoyed by brave tourists.
Tatar [ta-tar]
Tatar is essentially made up of all ingredients that are required to make a hamburger, except they are all served raw and unmixed. Upon ordering tatar you receive a small pile of raw ground beef with an egg cracked upon it. Next to it you will usually find raw onion, pickles, spices and dill. It is not common in all regions of Poland, but you can still find it in many restaurants. Tatar is served as an appetizer in renowned restaurants. In turn, in bars which serve mainly vodka and appetizers, it is considered as the main course!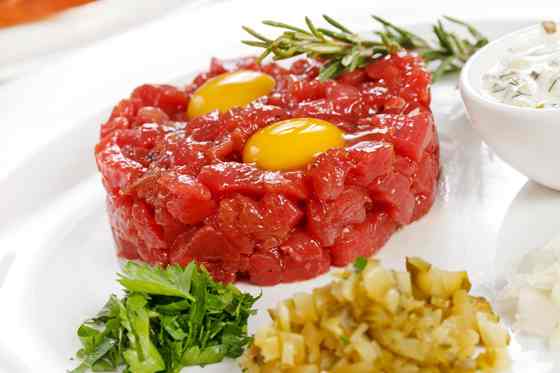 Potato dishes are also very popular Polish food.
Placki ziemniaczne [plah-tzkee zhiehm-nyah-CHAH-nah] 
When you will be in some restaurant, don't forget to order placki ziemniaczane. These are potato pancakes, usually served with sugar, sour cream or meat gulasz. They are very filling and usually spicy.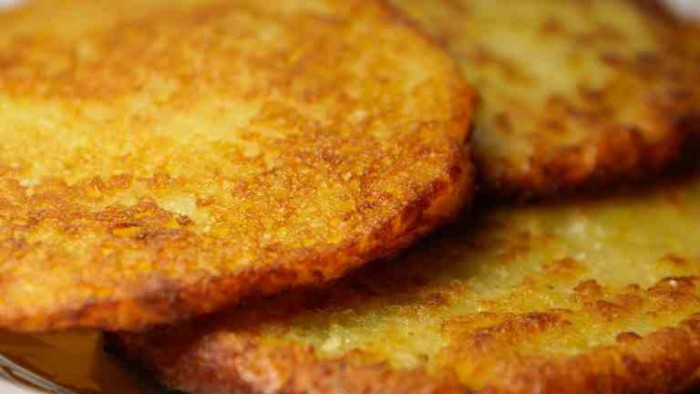 Kopytka [koh-PIT-kah]
Kopytka are kind of Polish gnocchi. The only difference is another shape (they look like a horse's hoof, what is kopyto in Polish language). Kopytka are often eaten plain or with butter and sugar or meat sauce. There are also colored varieties that are prepared by cooking potatoes with other vegetables, for example spinach or beets. However, this is a more modern version of this dish.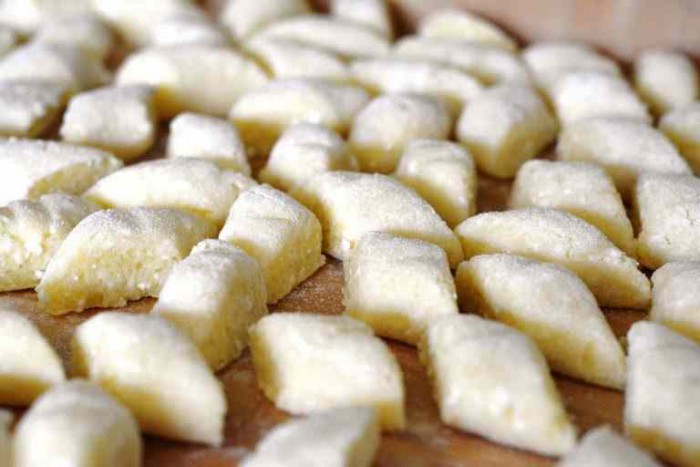 Ready for something sweet?
Delicious Polish desserts
Poles love cakes and pies! That is why you will find a variety of multilayer cakes and baked goods in every bakery. However, the fried desserts are the essence of Polish cuisine. They can cause distress for a person who is doing their best to follow a special  diet!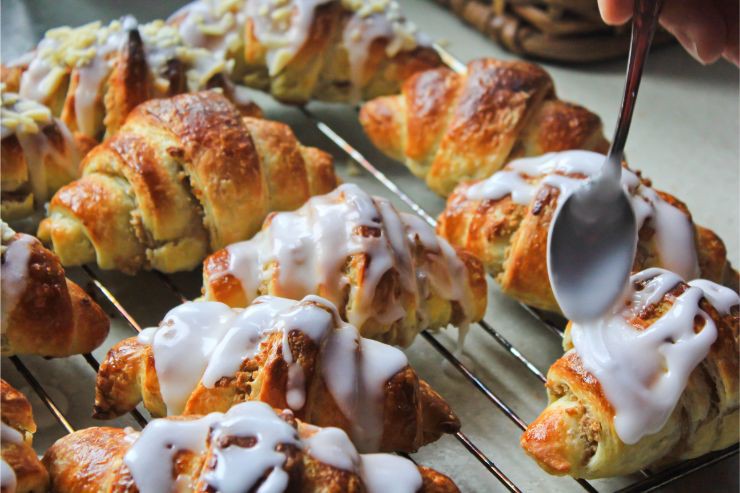 So, let's start with what everyone has been waiting for!
Pączki [pon-CH-kee]
Polish doughnuts called "pączki" are usually glazed with icing sugar and filled with different types of jams. The most common ones are made of plums and rose petals. They are absolutely delicious and cannot be missed! It is especially worth trying different flavor varieties of paczki on "Fat Thursday", a holiday during which the goal of every Pole is to eat as many paczki as possible! Will you join this competition?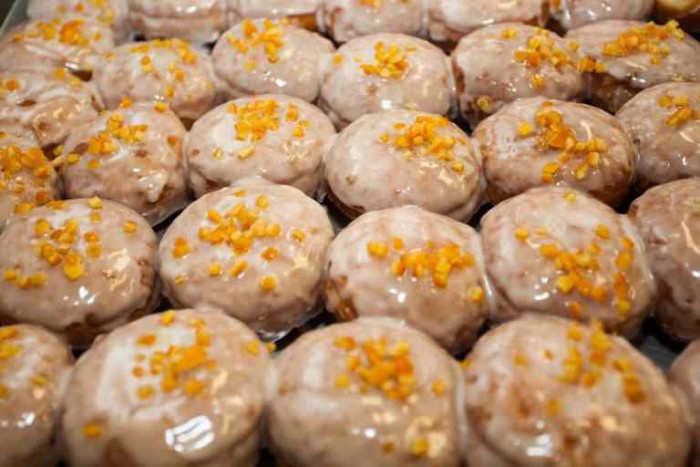 Faworki [fa-VOR-kee]
Angel wings, called "faworki" in Polish, are another fat treat that is eaten alongside doughnuts on 'Fat Thursday' (the Polish equivalent of Mardi Gras). They are bits of fried dough coated with powdered sugar. Even after keeping them for a few days, they are still delicious for lovers of sweets.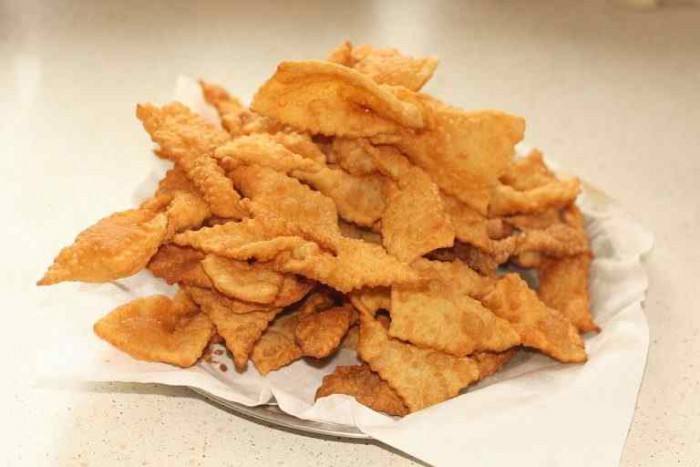 Racuchy [rah-SOOH-he]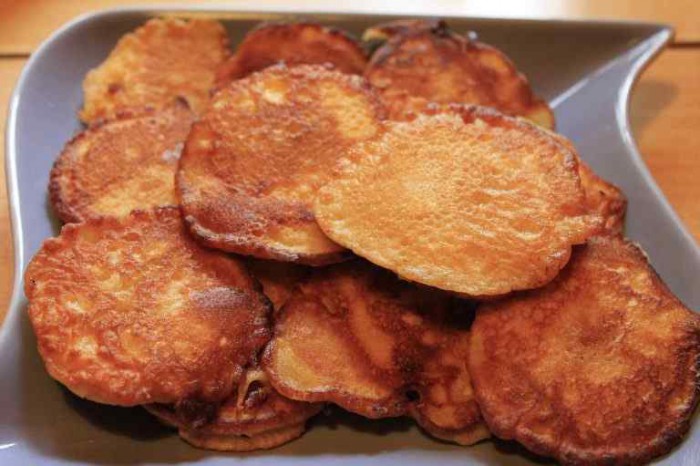 Another indulgent desert is Polish apple pancakes called "racuchy". They are puffy thick pancakes with a slice or small pieces of apple inside. . If you don't like apples, you'll be glad to know that racuchy are sometimes served without them. You can eat them with powdered sugar, which is how they are usually served or with added whipped cream on top. This dessert can be eaten hot or cold! Interestingly enough, racuchy are sometimes served as the main course.
Do not forget!
Polish food is a never-ending topic and must be experienced in order to be fully appreciated.
BTW, are you ready for Krakow Food Tour now?
Whether you're looking for comforting fried foods, warm soups and tasty schnitzel or new tastes that you won't find anywhere else – Poland is the place for you!
How much are food prices in Poland? 
Are you wondering how much are food prices in Poland?  It depends on where you go. If you want to try traditional Polish dishes for a low price, the best choice will be what is called a milk bar (bar mleczny). Ask local residents where you can find the best place of this type – such recommendations are always the best! In more elegant restaurants you will usually find modern versions of traditional Polish dishes although you have to pay a higher price. On the other hand, many snacks and desserts can be found in bars and cafes where they are served as an addition to drinks - both hot and cold, as well as with alcoholic drinks.
Traditional Polish food in Krakow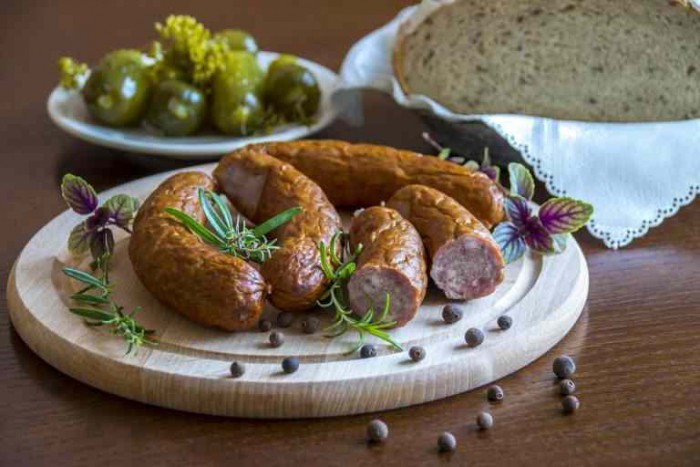 You can not leave Poland without Krakow walking tour and trying every dish from our list as well! You can do it on your own, but if you do not know where to look for the tastiest dishes, choose our tour. We will guide you to the most interesting places found on the culinary map of Krakow.
So at the nearest opportunity go to the one of the polish restaurants and be sure, that you are really hungry. Bigos, pierogi, żurek, schabowy and racuchy are waiting for you to try!
Just look for that happy couple who already did it!