Energylandia, Poland

What is it and how to get there
Do you like to have fun? Do you like extreme activities? Do you like to spend time with your family and friends? Combine all of this and you'll have Energylandia – the best amusement park in Poland!
In this post I will show you:
what Energylandia is

how to get there

the best attractions

frequently asked questions

most important information about the park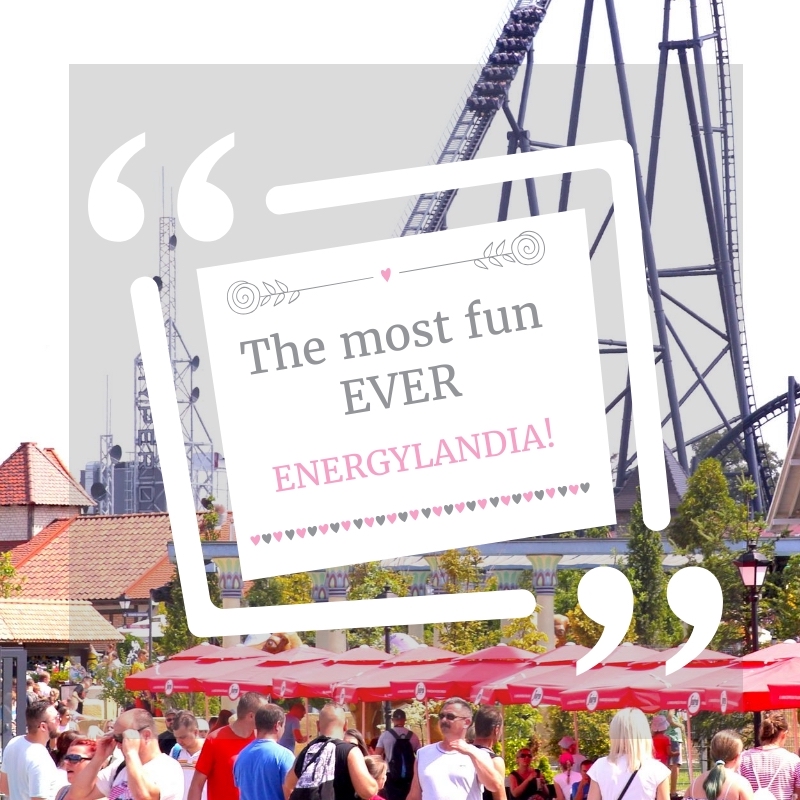 Energylandia, Poland - what is it?
Energylandia is the first full-fledged Amusement Park in Poland (opened in 2014), which offers world class, highest quality services for all ages: children, teenagers and adults. Not only does it have the best and most modern devices, but it has a lot of great shows and attractions, making your stay an unforgettable experience. Just in 2018 it was visited by over 1,4 million people!
Where is Energylandia?
Energylandia is located in the South of Poland, in the town of Zator, on the border of two largest agglomerations of the South: Silesia and Lesser Poland, less than a half hour drive from Katowice or Kraków.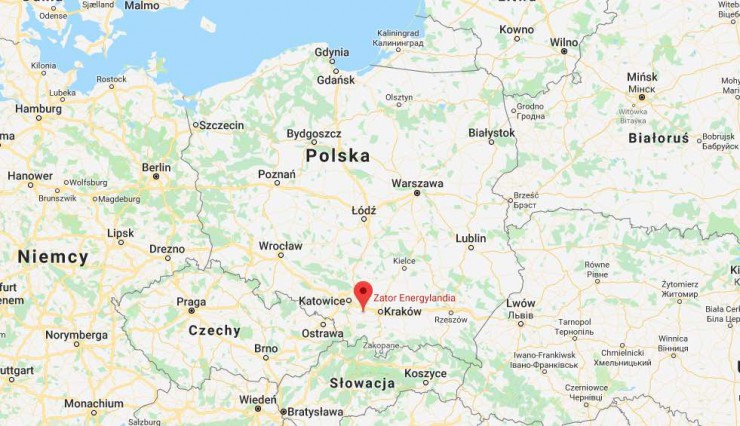 Energylandia – basic information
How big is it?
It is a huge complex with an enormous area of 26 hectares. It has a special layout of over 7 km of sightseeing paths, which gives an easy access to all attractions in the park.
Attractions
Energylandia offers over 30 various modern and advanced devices and attractions, starting from the extreme ones, through family ones, up to those for the kids. You can also be entertained by a special show.
The park is divided into zones, so that you can choose the best attractions and devices for yourself.
Little kids zone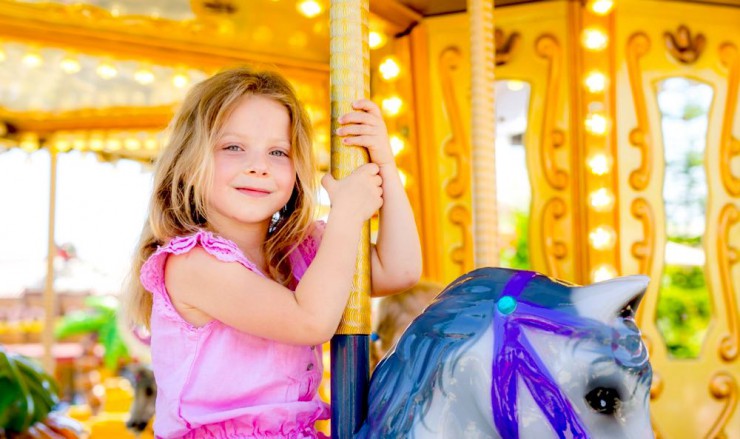 In little kids zone you can find:
''Energus" Roller Coaster

The Flying Swings Carousel

Jeep Safari

The Arctc Fan Slide

Dwarf Farm Carousel
and many more.
Little kids zone is specially prepared for smaller kids, therefore it is completely safe and extremely creative.

There is a quiet place destined to change diapers and feed babies in the Little Kids Zone.
Family Zone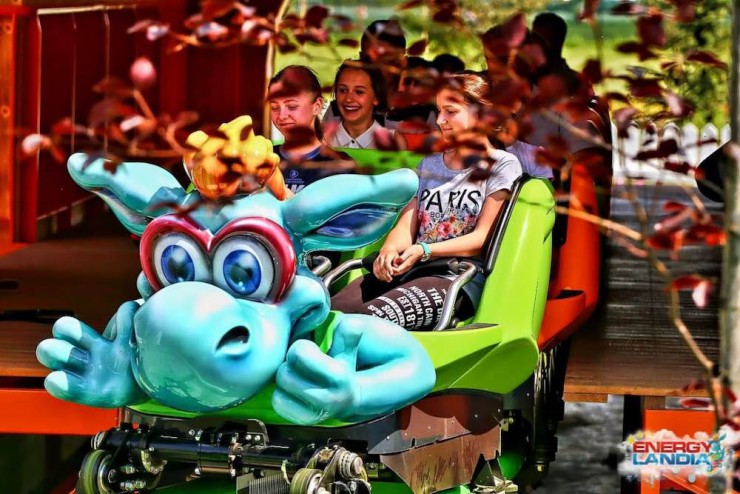 Attractions in the family zone are prepared for the whole family, so that everybody would find there something for themselves. The Family Zone offers not only devices, but a lot of attractions that you can see and explore with your family, feeling as if you were in a different world. In this zone you can find:
Mars Coaster

The golden Mine Ride

Swiss Village

Atlantis

The Formula Autodrome,
and more.
The Extreme Zone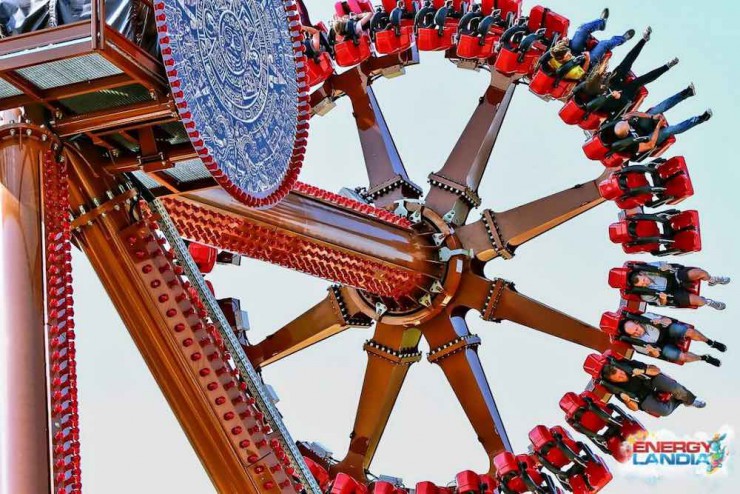 Now something for the brave daredevils out there. The Extreme Zone offers the most exciting attractions and devices. Get ready to feel some butteflies in your stomach :) The zone has a wide selection of roller coasters and original devices, like:
Mega Coaster Hyperion

Space Gun

Aztec Swing

Apocalypto

Tsunami Dropper.
I mean, just look at these names. An unforgettable experience guaranteed!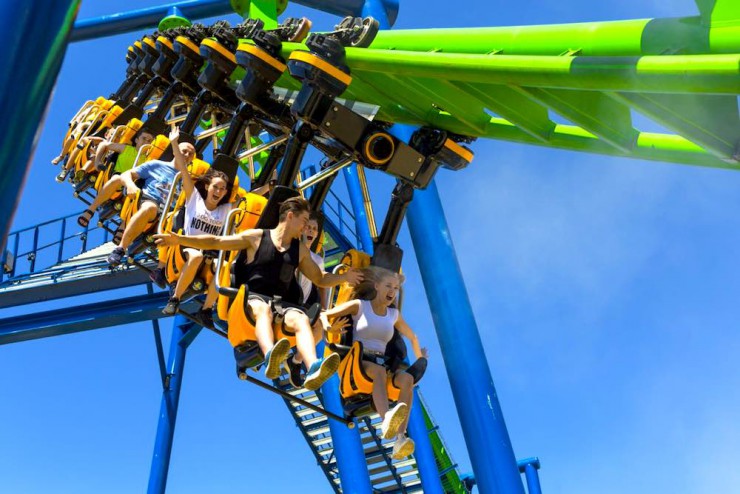 Water Park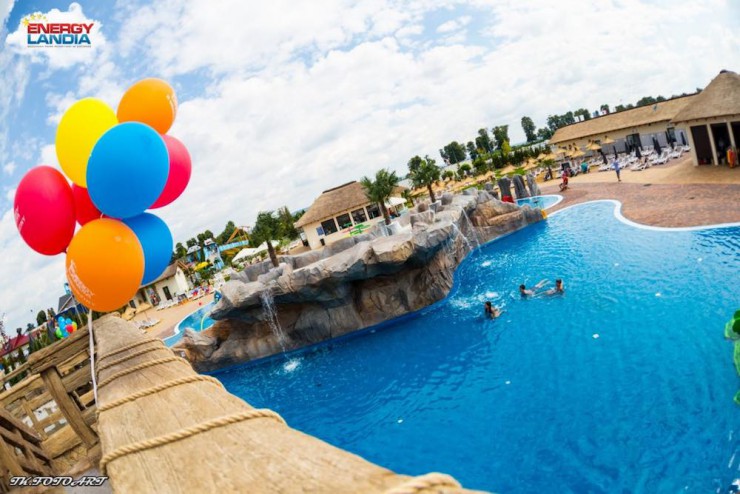 Maybe something to cool yourself on a hot summer day? There's nothing better than a water slide or relaxing on a sun bed under an umbrella.
The newly opened water park in Energlandia offers:
Adventure River

Aloha Slide

Tropical Slash Slide
And more watery attractions :)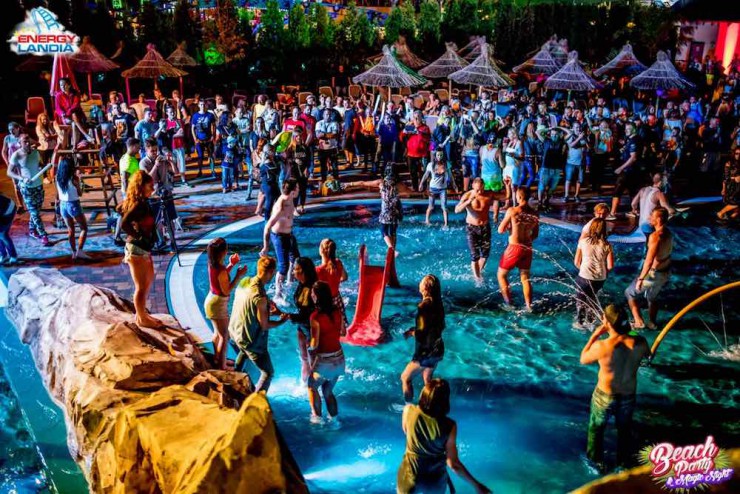 Shows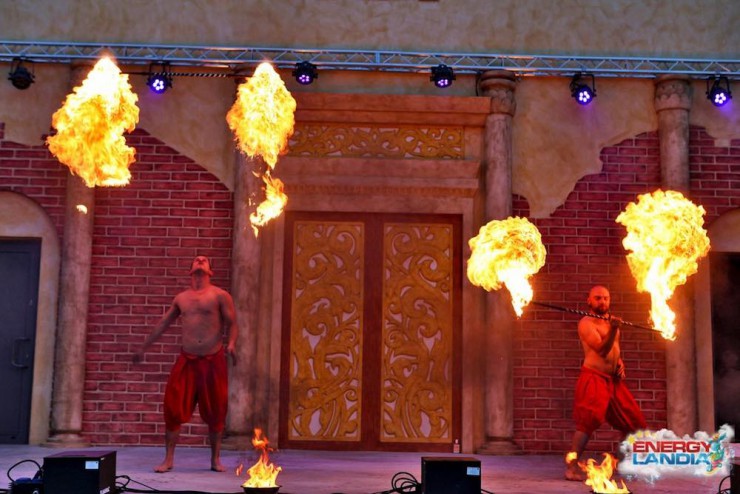 In Energylandia you can also see some interesting shows while taking a break form crazy rides. These shows include:
The Egypt Viewing Hall

Fire Show

The Colosseo Amphiteatre

Pyramid Illusion Cinema
Great entertainment guaranteed!
Opening hours
April – June
Everyday: 10 AM – 6 PM
July – August
Everyday: 10 AM – 8 PM
September – October
Tuesday – Sunday: 10 AM – 6 PM
From November to March the park is closed due to the winter season.
How to get to Energylandia to Krakow?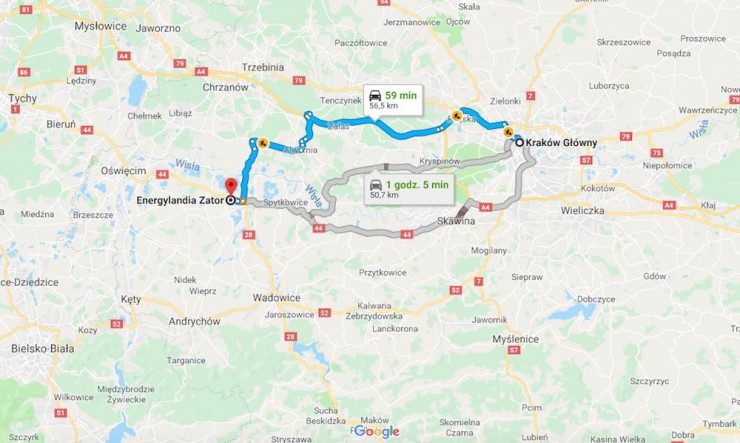 Energylandia is located in Zator, around 55 kilometers from Krakow. There are many ways to get there.
By taxi
You can choose any taxi to go there, for example:
This way can be, however, a bit pricy.
By bus
You can choose a bus to get to Energylandia and this is the cheapest way to get there.
By Energylandia Transport
You can also book your own transport to Energylandia, but it is only an option if you're travelling in a group (up to 55 people)
FAQ about Energylandia
Energylandia offers one ticket for one whole day, so you won't have to worry that you'll run out of money in a middle of sightseeing.
Adult ticket – 119 zlotys
Student ticket – 69 zlotys
Child up to 3 ticket – 1 zloty
You can buy the ticket online, on Energylandia website, but you can also buy it once you get there.
Are there any discounts or family tickets?
If you're planning to go to Energylandia on your birthday, you'll pay only 1 zloty! There are no family tickets, but tickets for kids are way cheaper.
How much time I can spend there?
There is one ticket for the whole day, so you can be there from the opening until it closes!
Can I go there and go back to Krakow in one day or should I stay for the night?
One day is enough to see and explore all of Energylandia's attractions, so you can definitely go back to Krakow the on the same day.
How long do I have to stay in queues?
It depends on the season. It can take up to 20 minutes.
Where can I leave my bags/belongings?
There is a cloakroom to use.
Is it worth going to Energyladia?
The park is a place where parents do not need to watch their kids. Instead, they can enjoy their time playing together and spend it on a journey to the land of fairy tales and fantasy—the world of magical and incredible experiences. EnergyLandia is a unique place in which everybody will find an enjoyable attraction.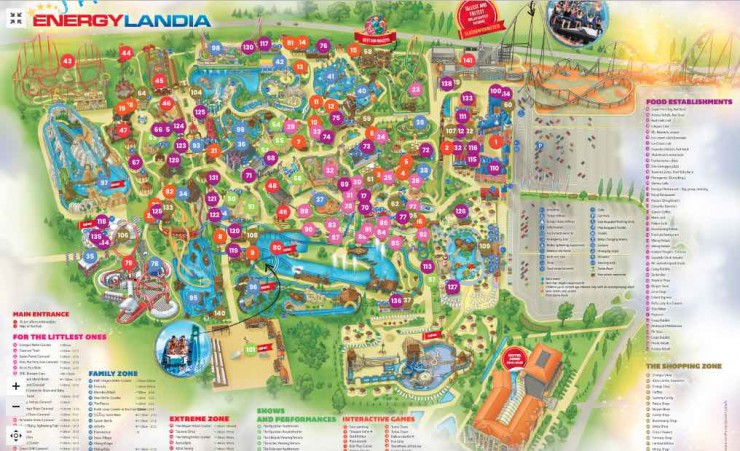 In EnergyLandia you only need to BUY ONE TICKET to be able to use all devices and attractions as much as you wish and without any limitations. You do not have to worry anymore that in the middle of playing you will run out of money for another ride for you or your kids. You can spend an entire day there, from the moment it opens, until it closes, and enjoy the attractions as many times as you want!
Here are some visitors' opinions from Tripadvisor:
There's not much competition in Poland when it comes to amusement parks - Energylandia is hands down the best one. – Wieslaw
It was a great fun to be there!!! I felt like a child, especially on "Majan" - rollercoaster, I'm sure I would visit that place again! – Aaron
One of the best theme parks we've been to. Really great value, even food/drinks in the park weren't really much more expensive than outside of the park. Hyperion in particular was fantastic, although there are plenty of other big rollercoasters too – Lucy
An amazing park for all age groups. Our youngest was 14 and our oldest was 70. Enough roller coasters to keep everyone happy. - Eleonor
So.. Are you excited to go there? I bet you are! Once you get to Energylandia, you'll indulge in the ubiquitous fun and forget all your worries! Have fun and don't forget to tell us about your experience in the comments!