Krakow Airport

Make Sure You Have a Smooth Journey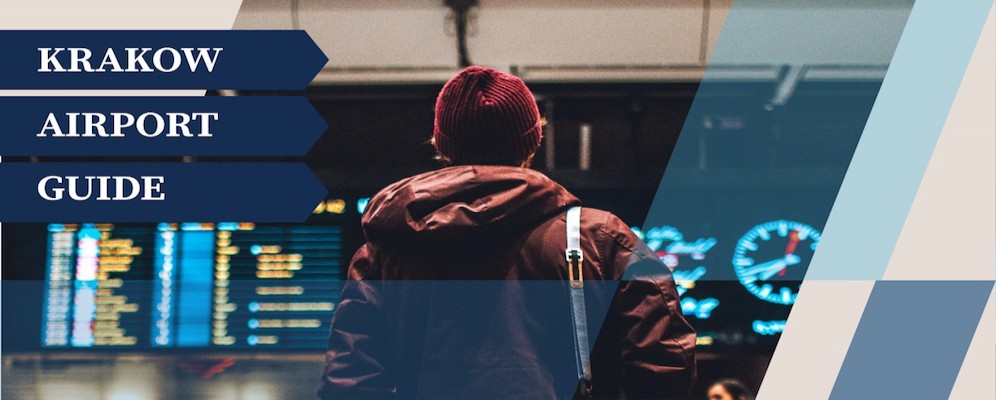 Traveling from or to Krakow by plane?
You must have lots of questions about the Balice Airport.
Right?
You're in the right place!
I will happily answer all of them.
Krakow's international airport may not be the largest, but there are plenty of things you should know before embarking on your journey.
Today, it's the second busiest airport in the country after Warsaw Chopin Airport regarding the volume of passengers passing it each year. On its busiest day, Krakow airport operated almost 21,000 passengers! In 2017, the airport listed 20 different carriers flying 5 million passengers over 101 different routes.
Here is everything you need to know about Krakow Airport before your trip.
And if you are in a pinch and don't have time to read the entire guide - you can quickly check out the Krakow Airport Transfer option - Krakow Airport Transfer.

Krakow Airport basics
Where is Krakow Airport?
 
Krakow Airport is located in the village of Balice near Krakow. It's about 13 km from the city center.
What is the name of the airport?
Krakow's airport bears the name of John Paul II – the most famous Polish person in the world and the beloved Pope.
How many terminals does Krakow Airport have?
Krakow Airport has a total of two terminals separated into domestic and international. The airport operates various carriers including low-cost ones such as Ryanair, EasyJet, Centralwings, and Germanwings.
In fact, in 2012 the well-known Irish low-cost airline Ryanair announced that they would open their second Polish base in the Krakow to increase the number of routes available to those traveling to and from Krakow.
 What are most popular destinations from Krakow Airport?
Last year, carriers flying to and from Krakow opened a record-breaking number of 28 new connections to the airport. Today, Krakow Airport offers direct flights to four continents: Europe, Africa, Asia, North America.
The most popular destinations to and from Krakow? As usual, London takes the first place. Warsaw and Frankfurt are the second and third most popular destinations.
The majority of passengers flying from Krakow choose United Kingdom, Germany, and Italy as their destinations with domestic flights taking the fourth place in popularity.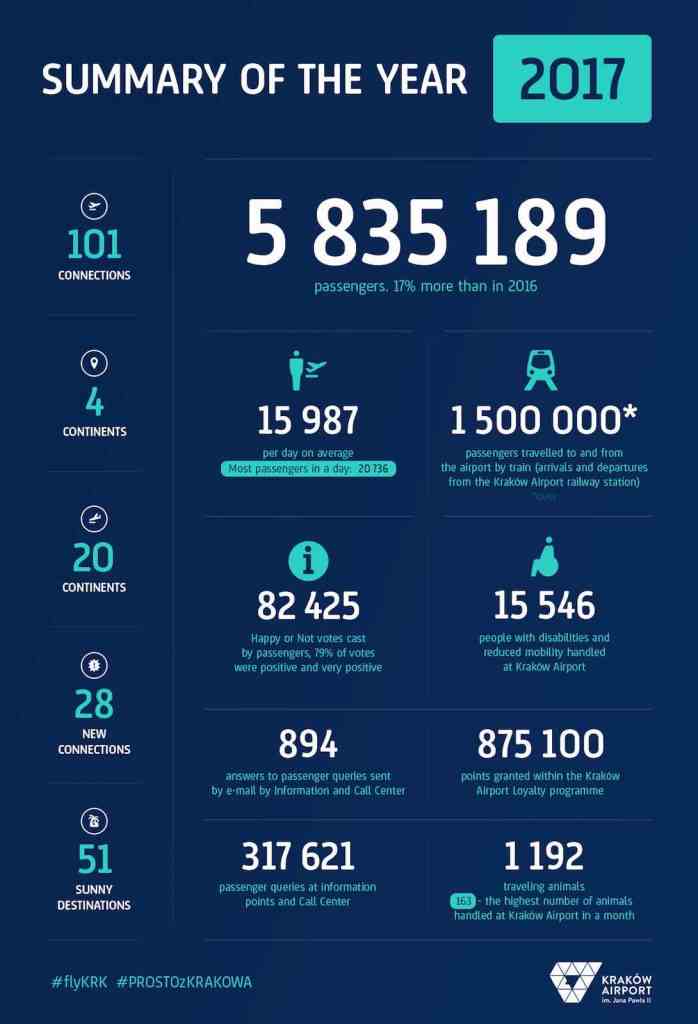 How far is Krakow Airport from the city center?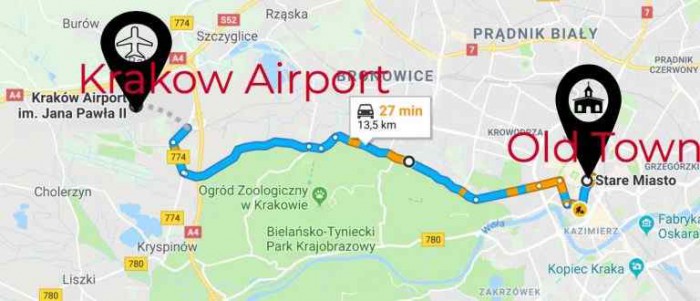 Krakow Airport is located 13 km (or 6.8 miles) west of the city center.
Depending on your means of transportation and traffic congestion, it may take from 20 to 45 minutes to get from the airport to the city center.
A typical bus ride takes around 45 minutes. If you pick the train, you'll get to the city center in 20 minutes. A taxi ride is only slightly longer and most of the time takes 25 minutes.
So let's have a closer look at the various transportation modes for getting to the Krakow Airport.
How to get to Krakow Airport from the City Centre?
Every Traveller has different priorities and there is no One-fits-All transport solution.
So we gathered all the transportation options and compared them to each other so you can make a decision as per your needs.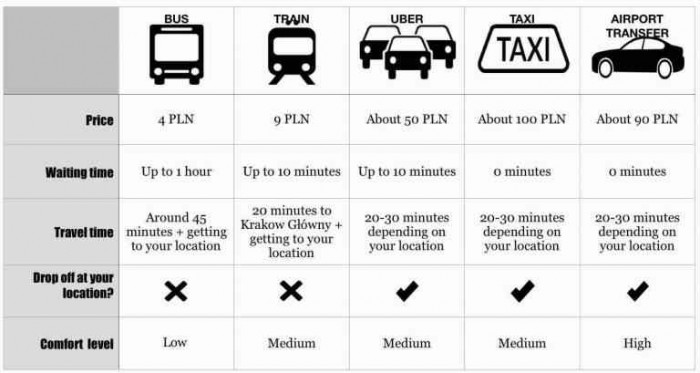 Get to Krakow Airport by bus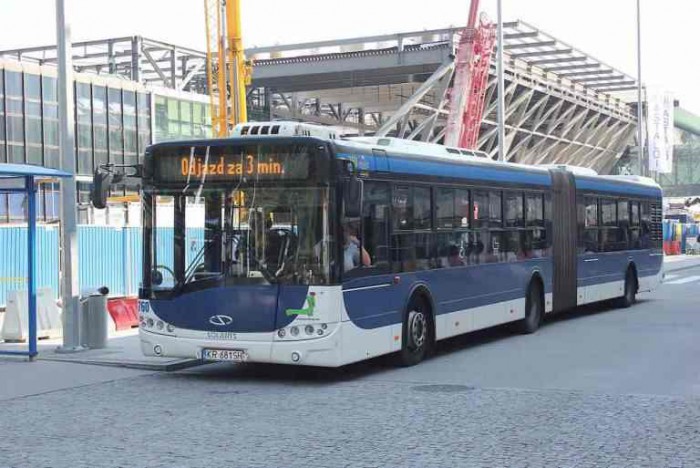 You can reach Krakow Airport with public transportation easily. The airport is served by two regular bus lines – 208 and 252 – as well as one night line – 902. (Note that if you're planning to take the night bus for a late-night trip, the route changes between stops Uniwersytet Jagielloński and Starowiślna.)
When you arrive in Krakow, you can instantly check the departures of the city buses on the screen located nearby the information desk in the main hall. Or just have a look at the timetable.
Taking a public bus is the cheapest way of getting to Krakow airport. Here's a table with fares for getting to and from Krakow Airport.
Where can you get a ticket? When arriving at the airport, you can buy one at the ticket machine located in the passenger terminal on level 0. There is another ticket machine at the bus stop itself. The machines accept payment by cash or credit/debit card.
Finally, if you fail to find a ticket machine, you can always buy a ticket from the bus driver. However, if you choose that type of purchase, you will be able only to buy a single ticket and pay cash. Make sure that you have the exact amount of money ready.
And don't forget to validate your ticket when getting on the bus!
Getting to Krakow Airport by train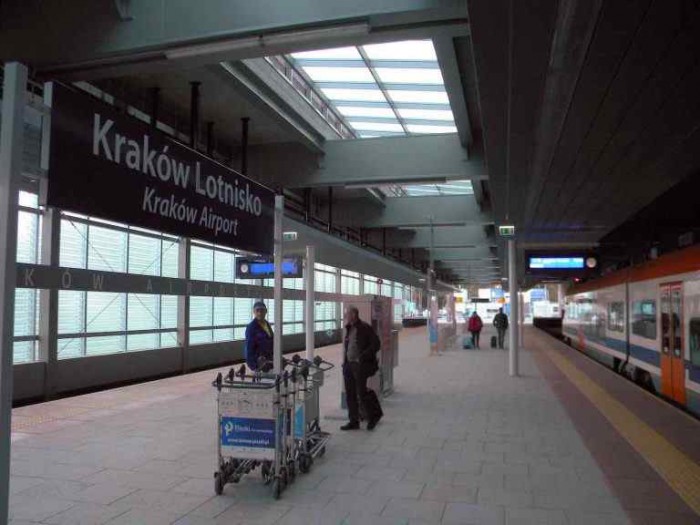 Another option for getting to Krakow Airport is by train. This is the best option for reaching the city without the hassle. The new Krakow Airport train station is located close to the passenger terminal, right at the back of the multistory car park.
All trains are equipped with air conditioning, power outlets, and a ticket machine, so you don't have to worry about buying the ticket beforehand. You can also benefit from a free Wi-Fi connection on all trains.
Note: From September 3, 2017, the Polish Railways are carrying out modernization works that affect the timetable of the trains coming to and from Krakow Airport. Make sure to check the schedule before your journey here. https://malopolskiekoleje.pl/index.php/pierwsza-strona
What about the tickets and fares? Train tickets to and from the airport are reasonably priced:
Kraków Airport – Kraków Main Train Station: PLN 9,00
Luggage: free of charge
Dogs: PLN 3,00
You can buy a ticket at a ticket machine located in the passenger terminal, at the train station, inside trains or simply buy the ticket from the train conductor on board. Note that if you choose the last solution, you can only pay in cash.
Krakow Airport Taxi service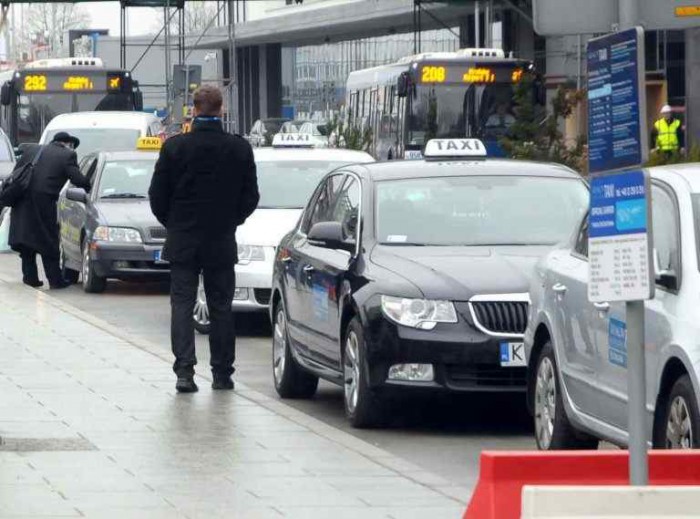 If you plan to catch a taxi, pick Krakow Airport Taxi – it's the only official taxi service at the airport. Their call center is open daily from 6 AM to 10 PM. You can be sure that the taxi drivers accept all types of payment cards from VISA and MasterCard to American Express and Diners Club International.
You can book a taxi by calling these numbers: +48 12 258 0 258, + 48 668 307 307
Or use the system for online booking.
How much does it cost to get from Krakow Airport to the city center?
In general, the charges within the zones are flat rates regardless of the duration of the ride, time of the day, and day of the week.
Here's a breakdown of zones and fares: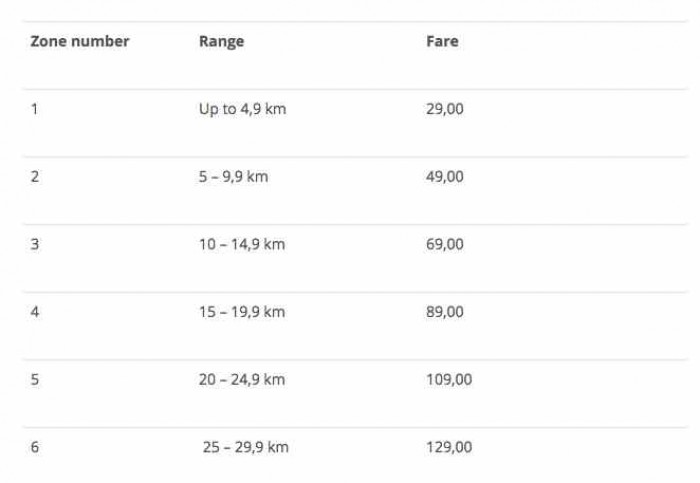 As you can see, most of the time it will cost around 70 PLN to get to Krakow city center from the airport.
Take an Uber to and from Krakow Airport
If you don't want to take a taxi, you can always get an Uber.
Uber operates in Poland, and many people choose this form of transportation over traditional taxi rides. Most of the time, you can get a ride to Krakow Airport from the city center at around 35 PLN with Uber X, or about 50 PLN with Uber select.
Private transport 
Do you want to experience a little luxury on your vacation?
If you do – here is a solution for you. (Byt the way, it's not as big of a cost! The price is similar to taking a taxi or an Uber, and you pretty much don't need to worry about a thing - a driver is waiting for you the minute your plane lands!)
Book an Airport Transfer in advance and worry no more about catching a cab or dragging your suitcases into a bus. A driver will wait for you when you land in the arrival hall carrying a card with your name on it and he will drive you exactly to your destination.
If you want to book your transfer – here is a link to Krakow Airport Transfers.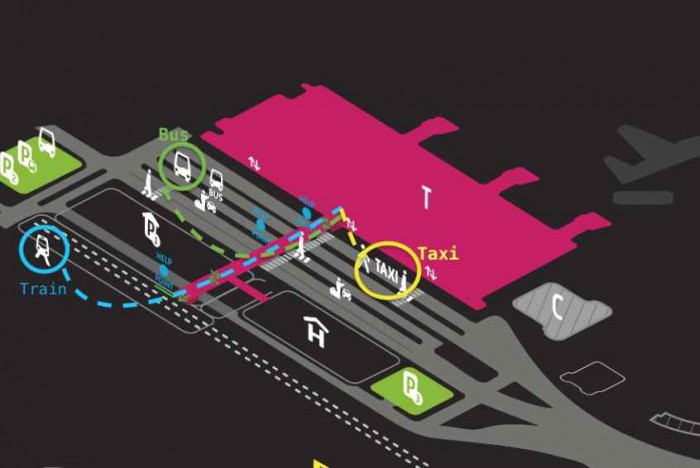 Getting to Krakow Airport by car
Reaching Krakow airport by car?
The airport is surrounded by regional roads and the A4 motorway that offers passengers easy access from various parts of the region and Poland.
You can get to or from the airport by car using the following directions:
Along ul. Armii Krajowej or ul. Conrada via Rondo Ofiar Katynia, ul. Radziszewskiego, and then along Krakow's ring road
along ul. Basztowa, from the side of ul. Armii Krajowej
via Wola Justowska, along ul. Królowej Jadwigi
from the side of Przegorzały, along ul. ks. Józefa, then along Krakow's ring road or through Kryspinów.
Parking your car at Krakow Airport?
Drivers who would like to drop off or pick up passengers can stop their car for a few minutes in the Kiss & Fly area. You can stay in the area for the first 10 minutes for free. If you park your car for longer than 10 minutes, expect to pay 10 PLN for each started 10 minutes. The Kiss & Fly area is designed for picking up or dropping off passengers and located conveniently right at the front of the main access road to the passenger terminal. Due to security restrictions, drivers are not permitted to leave their vehicles alone.
Passengers planning to leave their cars for a more extended period can use a multistory car park (P1) or the other two car parks located nearby the airport (P2/P3). Here's a helpful map of all car parks at the airport.
You can pay the parking charge in eight machines located at the exit of the multistory car park (P1), or the car park area itself (P2/P3), but also in the car customer service area and the Kiss & Fly area.
Here are the standard parking rates at Krakow Airport: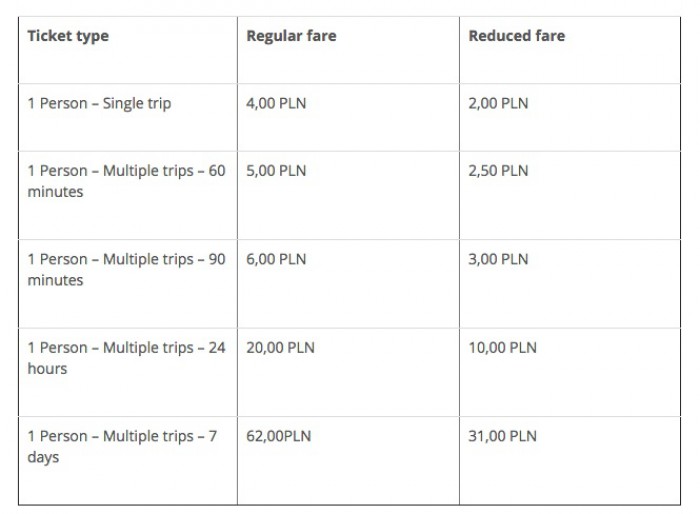 Drivers who want to park their car for a more extended period can take advantage of special discounts and offers – they're listed here.
Note: You can't park anywhere on the airport unless the area is designated as a parking area.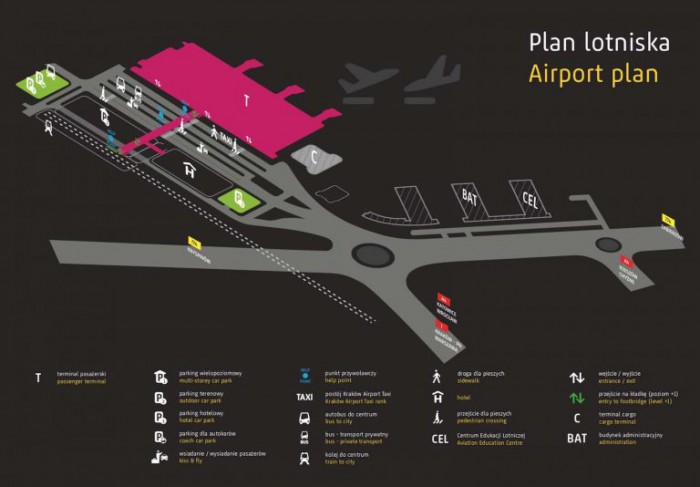 How far is Krakow Airport from Wieliczka Salt Mine and Auschwitz?
Kraków Airport is located around 25 km from the famous Wieliczka Salt Mine. You can get there by car or taxi– the ride will take around 20 minutes or more, depending on the road you pick and traffic congestion.
A taxi ride will cost you around 100 PLN. Another interesting option for getting to Wieliczka Salt Mine from Krakow Airport is taking an Uber – the fare should amount to no more than 60 PLN.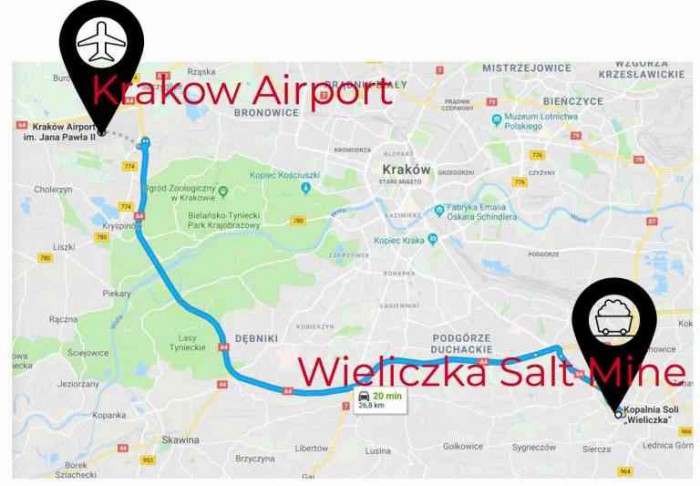 Consider taking the train as well – the train ticket to Wieliczka costs only 12,50 PLN and the ride takes around 50 minutes! However, be sure to check the train timetable first because there are relatively few trains that go directly from Krakow Airport to Wieliczka. Here's a helpful page from the regional railways where you'll find a timetable.
Auschwitz is located further away and not that easy to reach with public transportation. A train ride from Krakow Airport to Auschwitz takes almost 2,5 hours which is often way too long for travelers (and includes a change).
Reaching Auschwitz by car is easier and it takes around 40 minutes to get there. If you're traveling with friends, consider getting a taxi ride to Auschwitz – it should cost you no more than 200 PLN and is the most convenient way of reaching the museum.
Information points at Krakow Airport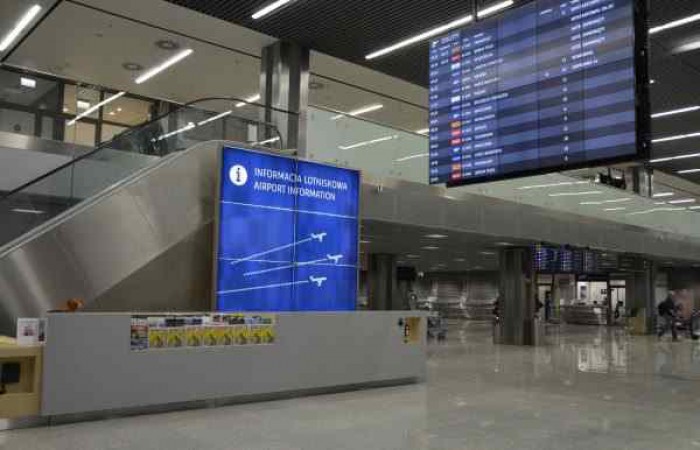 The InfoKraków Point is an information point located in the arrival hall of the passenger terminal. Head over to the section at level 0, and you will find a desk where you can get information about reaching the city center or get assistance in booking accommodation. Visitors can obtain tourist materials, guidebooks, and maps.
The point is open from Monday to Sunday, 8 AM – 12 PM.
Want to get in touch with the InfoKraków Point?
Krakow Airport has its airport information point well. You can find it in the check-in hall at the passenger terminal. It's open from 4 AM to 10 PM. If you need help, you can always reach out to the call center which operates 24h:
+48 12 295 58 00
 +48 801 055 000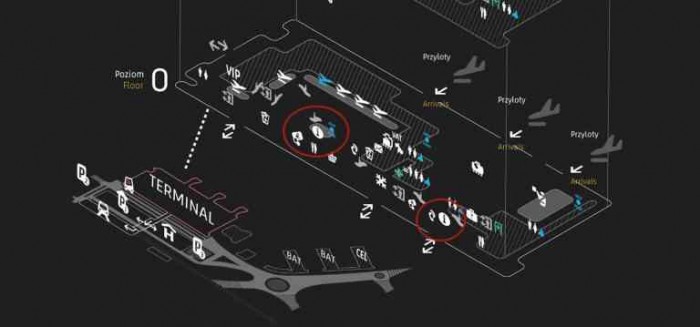 Smoking at Krakow Airport
Smoking is permitted at the airport only in front of the VIP Terminal.
 Using a telephone at the airport
If you need to use a telephone, you can find one right in front of the InfoKraków Point at level 0 of the passenger terminal. You can find another telephone level +1, located nearby the Premium Foodgate shop. You can use these telephones to call landline and mobile numbers in Poland.
 Is there free Wi-Fi available at Krakow Airport?
Krakow Airport provides free access to the Internet for 15 minutes. The name of the Wi-Fi is KRK free WiFi.
 Is there a post office at Krakow Airport?
If you forgot to send a postcard you've been carrying with you while exploring Krakow, here's your last chance. You will find a post office nearby the check-in desks on level 0 of the passenger terminal.
Here are the opening hours of the post office:
Monday – Thursday 09:00 am – 03:00 pm
Friday 02:00 pm – 08:00 pm
Saturdays, Sundays – Closed
You can throw your letter or postcard into one of the two post boxes located at the airport. You will find one in the departures hall. The second one is nestled right between the check-in zone and the airport information point at level 0 the passenger terminal.
 Food & Drink + Shops at Krakow Airport
The airport offers plenty of exciting gastronomy choices and duty-free shopping opportunities. Passengers can have multiple restaurants, cafés, and gastronomy shops at their disposal to get quality meals or buy wonderful souvenirs.
The airport has the duty-free area where you can purchase goods at reduced rates.
So get your boarding card ready and take advantage of cheap alcohol, souvenirs, community, tobacco.
Observation deck
Krakow Airport offers its visitors an amazing observation deck which is just perfect for plane-spotting aficionados. The deck is open 24/7. All it takes is paying a small entrance fee of 2 PLN at the payment machine.
Don't forget to bring coins – that's the only way can pay the entrance fee.
 Lost and found office – Balice Airport
Krakow Airport lost and found office is open every day.
You can find it right next to the security checkpoint on level +1 of the passenger terminal. If you need to get in touch with the lost and found office, here are some useful contact details:
 ATM
You will find 7 ATMs at the passenger terminal of Krakow Airport:
There are five machines located in the departures/arrivals halls,
There is another one in the departures hall right after security control,
another one in the arrivals hall located in the luggage claim hall.
 Chapel
Krakow Airport offers passengers a chapel located on the passenger terminal mezzanine. The chapel is open all the time, and you can attend Sunday masses or church holidays service at 8 and 10 AM. If you need to get in touch with the chapel administration, use this number: +48 664 404 484
 Currency exchange
Don't forget that exchanging currency at the Airport doesn't guarantee good rates.
You will find two currency exchange shop and Krakow Airport:
Currency Exchange, located at level 0 in the arrivals hall
Opening hours: 07:45 am – 12:00 pm
+48 602 765 454
Currency Exchange, level 0 in the check-in hall
Opening hours: 01:00 am – 09:15 pm
+48 692 179 342
If you want to learn even more about this subject, check out our blog post about Poland's Currency!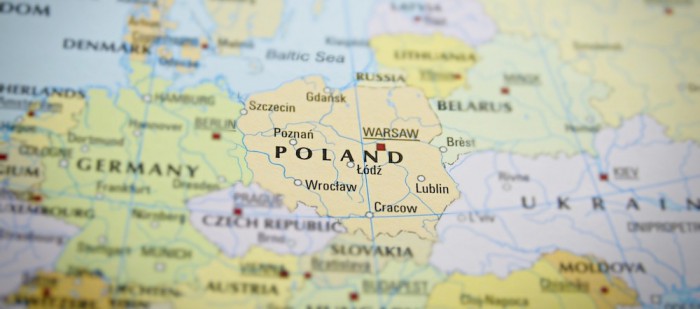 With all this information, you're bound to make your trip to Krakow Airport smooth and comfortable.
Have you been to Krakow Airport?
Share your experience in comments to help our community of travelers learn more about the airport.
(and book your Krakow Airport Transfer in advance!)