Krakow to Zakopane

How to Get There and So Much MORE
Since you clicked on this article…
…you probably know already that Zakopane is an amazing city worth visiting and you are trying to figure out how to get there. You've come to the best possible place! We've got you covered 
(And if you don't know anything about Zakopane – don't you worry, I will explain why is it so awesome later in this article – keep reading).
So let's begin with some basic and useful information about the city.
UPDATE: And if you don't have time to read the full guide check out the easiest way to get to Zakopane from Krakow: 
Zakopane, Poland – Basic Information
 
 Where is Zakopane located?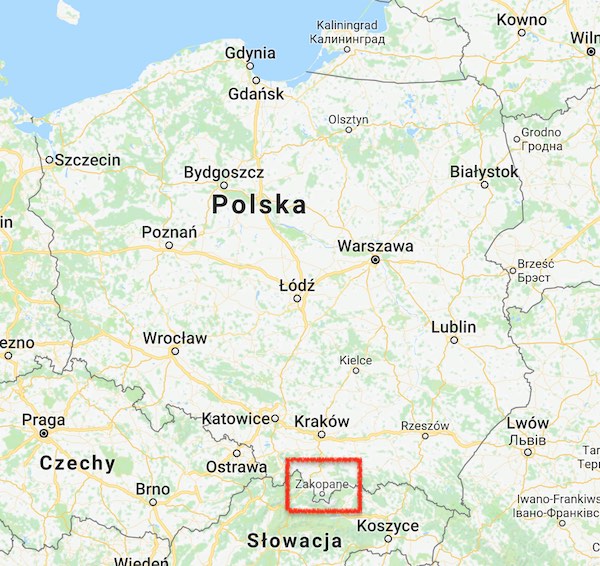 The city of Zakopane is located in the Southern part of Poland (in Lesser Poland Province).
It is the largest city in the immediate surroundings of the Tatra Mountains (mountain range separating Poland and Slovakia).
 How far is Zakopane from Krakow?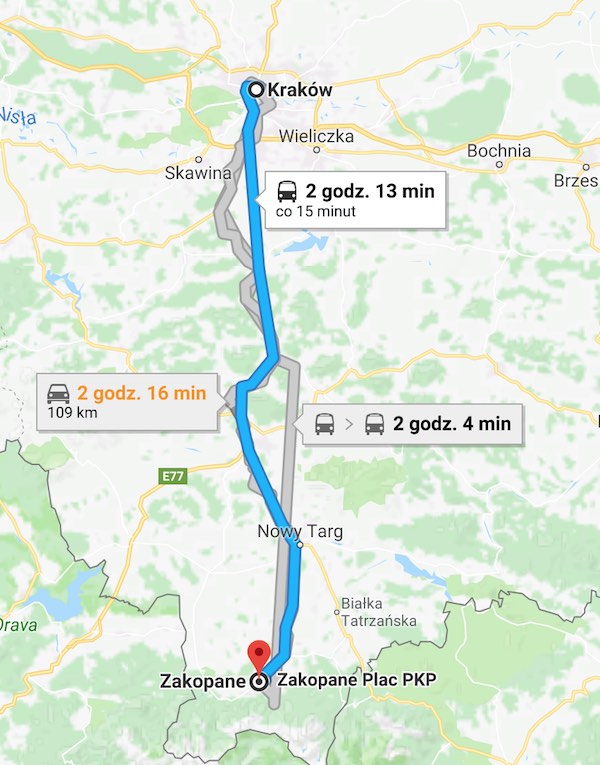 Zakopane is located about 110 km from the city of Krakow,
it takes approximately 2 hours to get there by bus or a car.
Because of the close proximity to Krakow, Zakopane became the favorite destination for weekends and vacations.
 What does "Zakopane" mean in English?
It might be interesting for foreigners to learn that the word "Zakopane" is an actual word used in everyday speech and it means: "buried".
Why?
According to the folk legend:
"a shepherd who, staying with his sheep on a loincloth on the southern slope of Gubałówka, beautifully sunny and warm, with a beautiful view of the Tatra Mountains on the horizon, decided to check whether this place is suitable for a permanent settlement. He buried an oat seed, and after returning there later he saw that the seed had grown up beautifully and gave off a good crop. And from the burial of this grain, this place was called Zakopane."
In every legend there is a seed of truth, right?
 
 What is Zakopane famous for?
 
1.  Unique Highland culture
The inhabitants of the Tatra mountains, called Gorals, have a distinct culture that can be discovered in the town of Zakopane. Gorals are famous for their energetic folk dancing and singing as well as their vibrant and intricately embroidered clothing that can be best admired at traditional weddings. The Highlanders folklore is cultivated to this day and passed on from one generation to the next.  The dances are usually very dynamic with male dancers taking on an energetic role that exemplifies power in contrast to the women who play a quieter slightly more decorative role in the choreography.
2. Beautiful views (like Morskie Oko) and surroundings of Mountains
What can I say… Just look at those pictures…
3. Great, traditional cuisine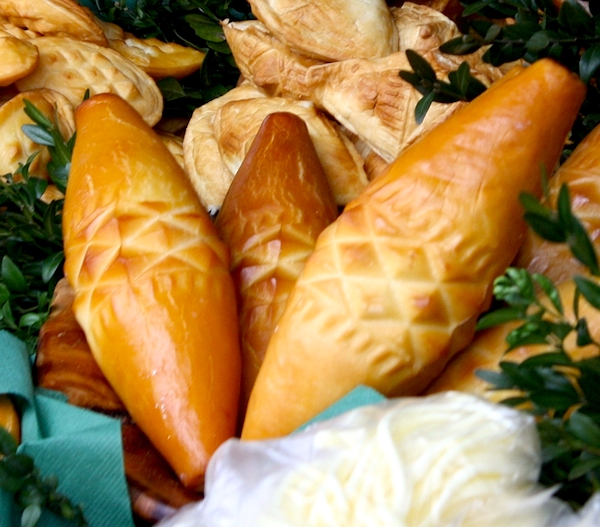 A smoked cheese called oscypek made from sheep milk can be sampled at every corner. It is served warm or cold, with or without cranberry jam. Other dishes that are also popular throughout Poland but that originated from there is kwasnica and golonka.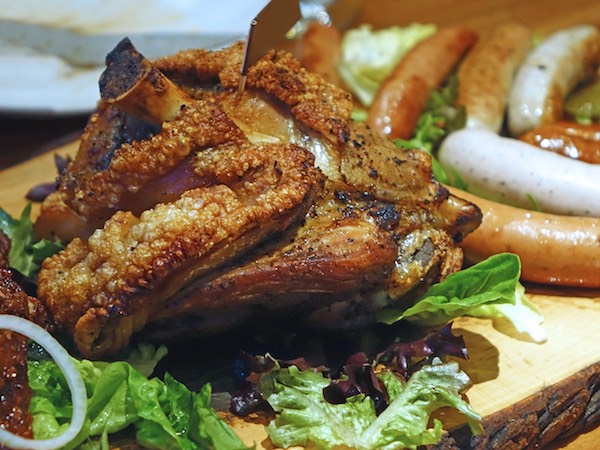 Golonka is a specially prepared pork knuckle, while kwasnica is simply sauerkraut. Interesting fact:  the traditional way it is prepared is by being stomped on with bare feet in a barrel (yum…)
4. Exceptional Architecture style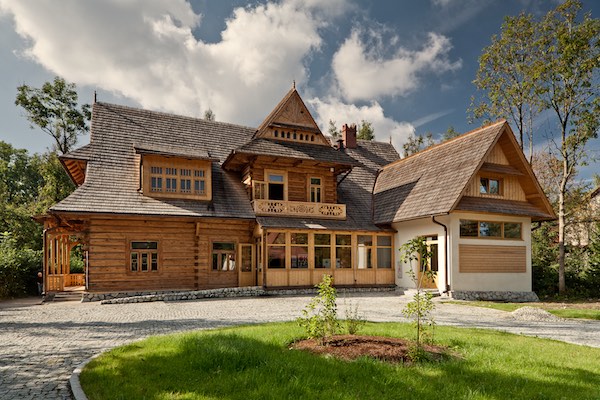 When strolling through the streets you are sure to notice the unique building style that Zakopane is so well known for. Wooden villas built at the turn of the 20th century are icons of Zakopane-style architecture. The inspiration for these buildings came from Highlander art and their traditional huts.
5. Krupówki street…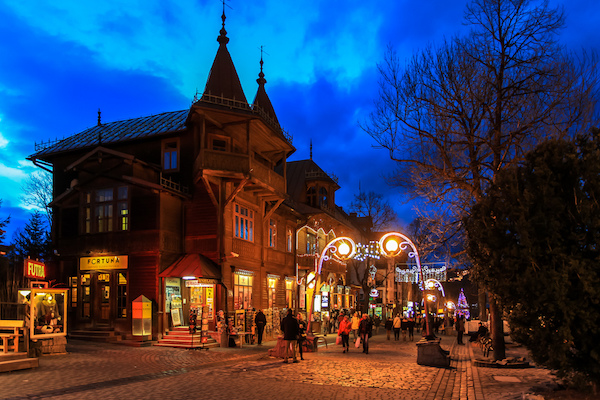 …one of the top five famous Polish streets, is the main pedestrian zone of  Zakopane. Full of shops, restaurants, and banks. Long street can get very crowded in the high season especially in bad weather. Street performers, portrait artists, horse-drawn carriages combined with elements of highland culture and local cuisine make Zakopane a mesmerizing and unforgettable town.
6. Winter Capital of Poland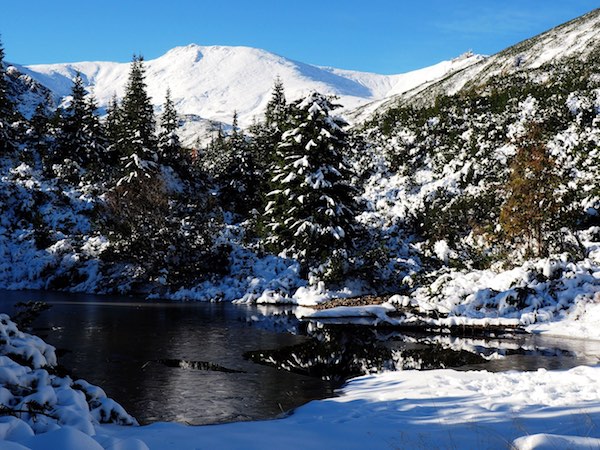 When the snow falls Zakopane becomes the Polish hub of winter sports, the snow-covered mountains provide amazing slopes for skiing and snowboarding.  Cable cars and lifts run for long hours to high slopes while calmer routes in the lower mountains are available for those who enjoy backcountry skiing.
This is just a tradition: all people who know how to ski (or not) take a leave in the middle of winter to go for a week to Zakopane to enjoy the pleasures of winter sports in the Mountains.
If you are interested to organized tour to Zakopane, feel free to check our ideas for you!:
By the way: it's it awesome that Poland has an access to the sea (summer destination) and Mountains (winter destination)?
Pick and choose as you wish :)
Getting from KRAKOW to ZAKOPANE – your options:
TRAIN to Zakopane
What are the steps you need to take in order to book a ticket and have a stress-free journey?
 Go to www.rozklad-pkp.pl – the online timetable of Polish State Railways (the website is translated into English)
 Pick a date, time and destination
 Buy a ticket online (consider purchasing two-way ticket, that way you won't have to worry about it during your trip)
 You will get your voucher via email (download it and save on your phone – you will have to present it on the way. Also if you  got a ticket with a discount prepare a document confirming your status)
 It's always best to double check the starting point and be ready a few minutes early just to be on the safe side.
Overall taking a train to Zakopane might be a little tricky right now- Due to changes in the organization of train running, some of them run to the Kraków Płaszów station, bypassing Kraków Główny. So there is a possibility of a change which is a little uncomfortable. Also please be mindful that the train will stop at several stations on the way which will extend the travel time.
BUS to Zakopane
This is even easier than taking a train. Here is a step-by-step instruction:
 Go to www.e-podroznik.pl (the website is also translated into English). It is an online ticket platform, very easy to use.
 Pick a date, time and destination.
 Buy a ticket (one-way or return)
 Download your voucher.
 Also, it's important to check where the bus is leaving from – this information can be found at the Bus Station on the timetable, so please arrive at the Station a few minutes early just to be on the safe side.
This is a possibility that in my opinion is the easiest and the most efficient.  Cheap, fast, direct, reliable – what can you want more? It's not the private luxury transfer of course, but it should be good enough for most tourists.
Organized TRIP to Zakopane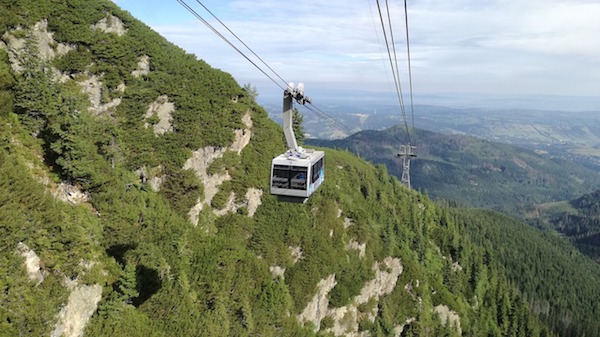 This is a perfect suggestion for someone who doesn't want to think too much about planning on organizing everything by themselves. You can book a tour that will cover the transportation and will structure your time in Zakopane.
There is a variety of different possibilities here:
guided tours,

DIY tours

 (a transport +  hours of free time in Zakopane + transport back to Krakow)
Additional attractions: ticket for the cable car to 

Gubałówka 

or open pass to 

Thermal Pools

.
You just book your tour and let professionals take care of everything.
Here are the steps that you need to take:
 You can book your seat online: DIY tours
 You will get your voucher through email – download it.
 It's always a good idea to call the Support Center to ask additional questions and confirm the booking.
Zakopane – Frequently Asked Questions
 
 When to go to Zakopane?
The beauty of this city is that it's beautiful every possible season: in Winter you can enjoy winter sports and all the Mountains are covered with snow. In Spring you can take walks and admire the nature that is slowly waking up after the winter nap. In Summer you can go full-on hiking, reach mountain tops and see the nature blossoming. And Fall will surprise you with all the reds, yellows and browns – all the forests covering Mountains look like they are on fire. It's just breathtaking view.
 What is the weather in Zakopane?
Essentially the weather in Zakopane does not differ that much from the weather in for example Krakow.
The rule you need to remember that the weather in the mountains changes very rapidly(don't be fooled by the perfectly blue sky, it might change in minutes), so you always need to be prepared for that.
Also, the average temperature is indeed a few degrees lower than in the northern cities. So just keep that in mind.
 What are top attractions of Zakopane?
What you might want to check out are:
 Where can I find Tourists Information Point there?
You can find lots of helpful information on the Zakopane.pl website.
The closest Tourist Information Point is located about 6 minutes walking from the Bus Station.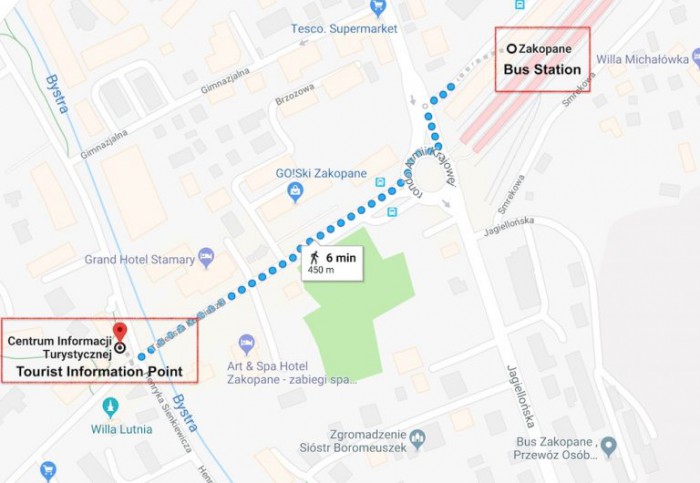 So are you convinced…
that Zakopane is awesome?
Hopefully, you found this article helpful.
Please let us know if there are some other things that we should include here to help you plan your trip. And if you have been to Zakopane already please tell us in comments below how did you like it and what was your favorite thing about this city.