How to get to Auschwitz from Krakow (Updated 2023)

Choose the best way for yourself!
Getting to Auschwitz from Krakow
Do you wonder how to get to Auschwitz from Krakow in the way that the most fits your needs? We can imagine your doubts. Auschwitz Tour is treated as Krakow Tour but Oświęcim is actually a different city, where you can use a certain transport to get to. You can choose several ways to get from Krakow to Auschwitz.
We'll make it simple to you to arrange your trip and get essential information. In this article you will find out how to visit Auschwitz with different options of tours, as well as how to get there without an organized tour. 
Find out what thrilling discoveries await you at the museum of Auschwitz-Birkenau and check the possibility to travel to the former concentration camp of Oświęcim on your own.
How far is Auschwitz from Krakow?
The concentration camp of Auschwitz and Birkenau is located in the city of Oświęcim, about 66 kilometres west of Krakow. Auschwitz is a German name of the city and also a component of the name of the infamous concentration camp that was established outside of then-obliging town boundaries in the 1940s.
Nowadays, the "Arbeit macht frei" entry gate is located about 2,5 kilometres from the city centre of Oswiecim.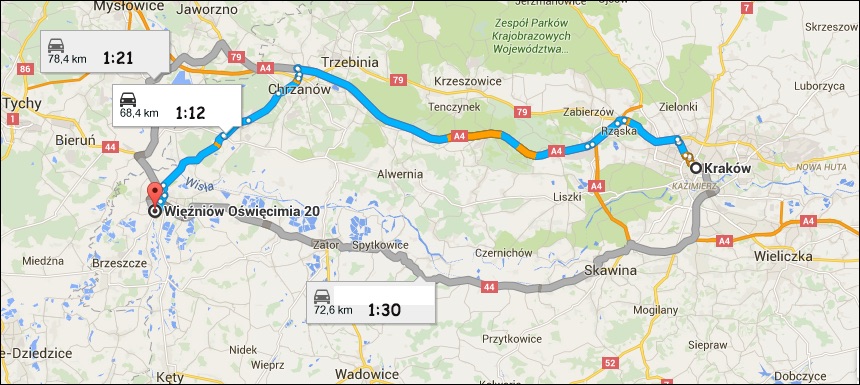 Buses from Krakow to Auschwitz and return
The bus is the best way to get to Auschwitz. There is an option to book a bus ticket directly to Auschwitz Museum from Krakow Bus Station. It is the easiest way to travel to Auschwitz Museum on your own. If you would like to travel independently by a public bus, this is the solution for you. We provide return tickets for the official carrier - Lajkonik. If it's something you are looking for, check Shuttle Bus to Auschwitz and return.
 Connection from Krakow to Auschwitz by bus is presented below:
From: MDA Bus Station Krakow (Upper floor)
Price: 20 PLN for one way ticket
Travel time: 1:30-2:00h
Distance to Museum after stop: 1 min by foot
Current departure times: 6:20, 8:40, 9:40, 11:10, 12:30, 14:45, 15:50, 16:55, 19:05
Please note that if you don't prebook your ticket to Auschwitz Museum your entrance will not be secured.
It is possible to purchase tickets to Oswiecim at the stationary ticket offices of Dworzec MDA on the day of departure, while the drivers of certain carriers also sell them directly if the buses are not crowded.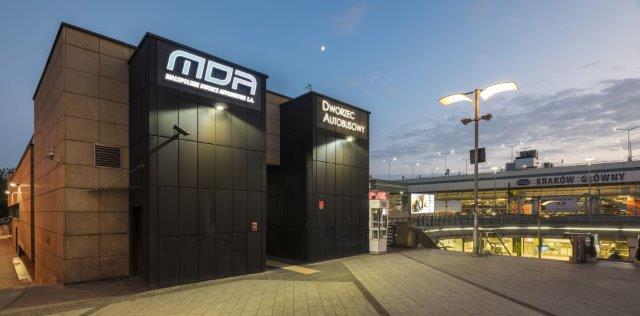 ATTENTION: The easiest and most efficient way to get to Auschwitz and make the most of it is to book an organized tour. Take a closer look at these 4 options:
Train to Auschwitz: the most reliable, yet not direct transportation
Getting to Auschwitz from Krakow is not that difficult after all :)
There are direct railway connections to the city of Oswiecim that leave from Krakow once an hour or two, with a standard journey lasting 1 hour and 40 minutes.
From: Main Train Station Krakow
Price: 12,50 PLN for Adult one way ticket
Travel time: ~1:50h
Distance to Museum after stop: 20-30 mins by foot, 5-10 mins with bus
Check Auschwitz Birkenau Train Timetable.
The railway agency that operates on this route requires having it purchased at a stationary ticket office or on the Internet (such bought ticket may be printed or downloaded to a mobile device).
Once you get off, you will find yourself at the railway station of Oswiecim, about 1,9 kilometres away from the concentration camp of Auschwitz.
You may take a walk (with 25 minutes expected to cover the distance) or decide to use the transportation company of the town – an urban bus line which has its stop near the railway station and includes the "Muzeum" stop in its timetable (the price for a single ticket is PLN 3,5 and you will pay PLN 2,50 for a reduced one).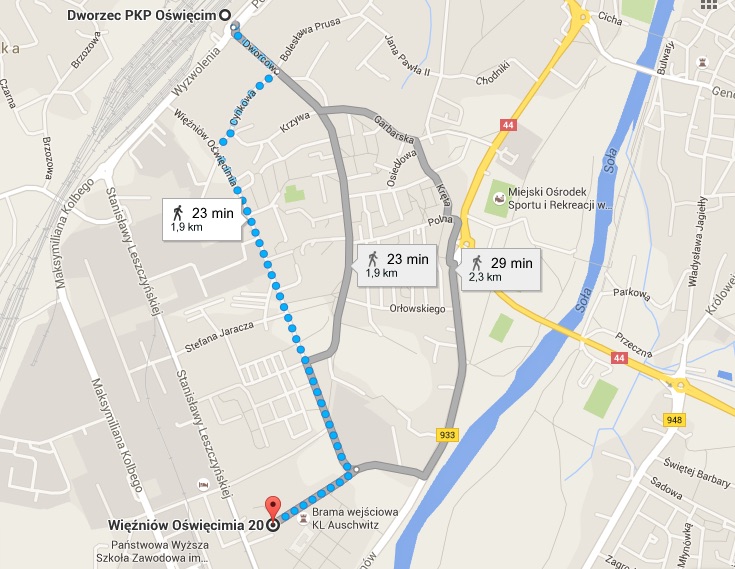 How to return: Walk back to Oswiecim railway station or take a return bus to Krakow. If you are also interested in exploring the town itself, check the local places that are worth a visit here.
---
Tour to Auschwitz with transportation
If you find all those options too complicated, don't hesitate to ask us for an organized trip with the transport from Krakow to Museum and back. This is the easiest way if you want to get to Auschwitz. 
Tours include pick-up service which means that you will be picked up from the pick-up spot in the city center:
After the tour, you can choose where you want to be dropped off, in one of the above pick-up spots or just in the city center. You can also choose the option with direct pickup from the hotel where you are staying. This solution ensures convenience and a worry-free experience. 
English speaking driver will help you throughout the whole trip assisting you and answering all the necessary questions. You can book such a tour HERE.
From: One of the above pick-up points in the city center or hotel pick-up (if particular offer chosen)
Price: From 69 €  for the tour with ticket, live guide, transportation and hotel pick-up (Check here available options)
Travel time: 1:00h-1:30h (one way)
Distance to Museum after stop: Direct connection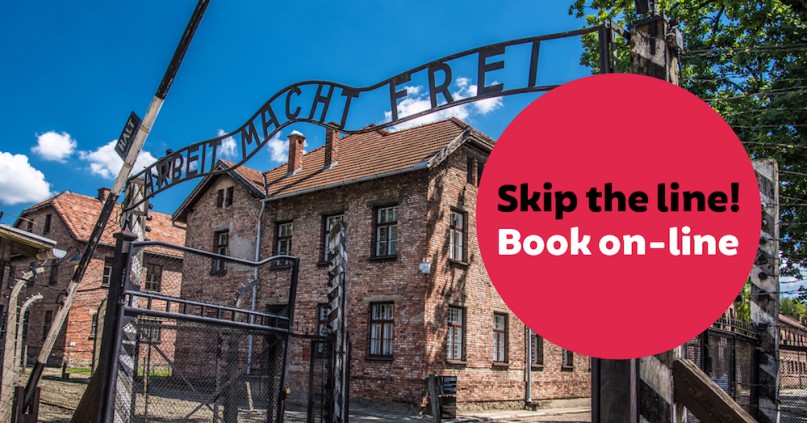 When to visit Auschwitz?
After you found out a way to get from Krakow to Auschwitz, you need to be sure its open. The exhibitions of Auschwitz-Birkenau Concentration Camp are open to visitors daily, with the exceptions of January the 1st, the first day of Easter and the 25th of December, as well as on certain days or hours when official diplomatic delegations are to be hosted there (you may check these special dates when Auschwitz isn't open).
It is possible to visit the museum between 8 a.m. and 2 p.m. (December), 8 a.m. and 3 p.m. (January, November), 8 a.m. and 4 p.m. (February), 8 a.m. and 5 p.m. (March, October), 8 a.m. and 6 p.m. (April, May, September) or 8 a.m. to 7 p.m. (June, July, August). The closing hours mentioned above are when the last groups of visitors are admitted inside, having one and a half an hour to complete their visits.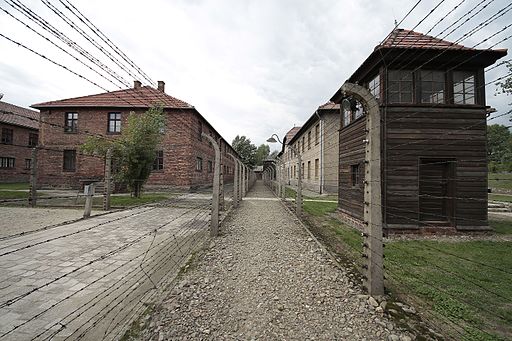 What should I choose?
As a Local, I would say "it depends". But to make it easier for you to choose a way of transport from Krakow to Auschwitz:
If you enjoyed my guide please share it and gratitude my work. I will really appreciate it, thanks!