Krakow with Kids

Helpful Tips and Tricks for Families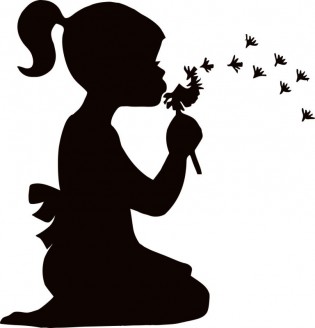 Where to take kids for holiday?
I want to visit Krakow but will my kids enjoy it?
What can I do in Krakow with my kids so they are not bored and make awesome memories?
Ater reading this article you will know the answer to all those questions 
If you're looking for a perfect destination for a family holiday, you should definitely consider Krakow. The cultural capital of Poland, Krakow has everything it takes to make an unforgettable holiday for your kids.
(And even if the beautiful Gothic churches don't seem that interesting to kids, the city offers a broad range of activities that will delight younger visitors.)
Here is the complete guide to taking your kids on holiday to Krakow.
Ready?
Let's go!
Why visit Krakow with your kids?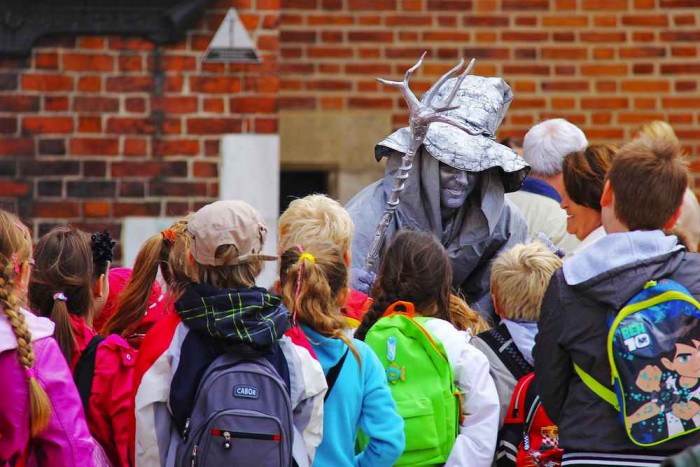 Here are a couple of reasons that make Krakow an excellent destination for a family holiday:
The city is important to Polish history – granted, that type of argument might not resonate with young visitors, but the opportunity of learning more about the region or country is always something parents should take into account when organizing holidays.
It has diverse offerings – Krakow is a city where everyone will find something enjoyable. It might sound like a cliché, but that's the way it is.
Just come to visit, and you will see for yourself.
It's beautiful – Krakow is a wonderful city full of art and nature.
And what's better than collecting holiday memories in beautiful circumstances?
It's never dull – to put it simply, Krakow is one of the most exciting cities in the region because it offers something to every type of tourists, including kids.
Now you know why visiting Krakow with your children is a great idea, here are some tips to help you organize a fantastic holiday your kids will remember forever.
Essential tips for traveling with kids
 
Krakow isn't only an exciting and fun destination to visit with kids that delivers impressive history and culture. Krakow is also a great destination because of practical reasons:
 First of all, transportation is reliable and stroller-friendly. Most parents visiting Krakow notice that the city itself seems to be very kid-friendly too.
 When to go to Krakow? To make the most of your visit to Krakow, it's a good idea to explore the city during the warmer months. A family holiday between April and October is the best idea. That way you will be able to take advantage of more attractions such as the cruise down the Vistula River.
 Since Krakow is located in Poland, remember that it has a local Polish currency. That's why you should make sure that you know where to exchange money in case you need some cash.
In general, card payments are very popular in Poland, but there will be situations in which you simply need cash. Have a look at this article for more information about the best ways to exchange money in Krakow.
 Another important issue is what to do in case of emergencies.
In general, the emergency number is 112. If you need assistance, you can call this number, and you will be provided with help immediately.
 To make your journey to Krakow as smooth as possible, book your accommodation in advance and make sure to prebook all the train tickets, as well as tickets for the attractions you want to visit.
That way you will avoid wasting time in queues. And while adults handle waiting relatively well, the same cannot be said for children.
 Take extra care to organize transportation from the train station or airport to your accommodation as well. For a family, a taxi will be the best option – it's quick, easy, and cheap. And just in case, learn all about Krakow Airport beforehand.
Where to stay in Krakow with kids?
 One of the best locations to stay in Krakow is the Old Town. For example, the Sheraton Hotel has an amazing location right at the base of the Wawel Castle.
It only takes around 10 minutes to walk from the hotel to the famous Jewish districts of Kazimierz and the Main Market Square. Larger hotels are family-friendly and offer various room configurations to help families find the option they need.
 Another interesting accommodation option you can consider is renting out an apartment. Children generally feel better when they can eat their breakfast while still wearing pajamas in the morning.
Moreover, apartments are equipped with everything a family needs to survive including a washing machine which can be a real lifesaver after a couple of weeks of traveling.
 Try websites like HomeAway or Oldcityapartments.eu – the latter specializes in Krakow. Renting an apartment, expect to pay something between $600-1300 per week for a place that sleeps six people. Naturally, pricing depends on the time of the year when you visit Krakow and the level of accommodation you're aiming for.
Kid-friendly restaurants in Krakow
Krakow's restaurants are mostly very friendly to children and include all types of facilities that ensure that both parents and kids have an amazing time.
For the last couple of years, the local newspaper and Internet portal Gazeta.pl has been holding a contest among Krakow's restaurants, cafés, and cultural institutions called Krakow Friendly to Children. The journalists visit places and test their level of child-friendliness before adding them to the list. When picking one of the places from that list, expect:
a play area for children,
special kids menus at restaurants,
and feeding and changing facilities,
Kid-friendly spots are additionally marked with a special sticker to help parents find precisely what they need.
Here is a selection of some of the best kid-friendly places in Krakow: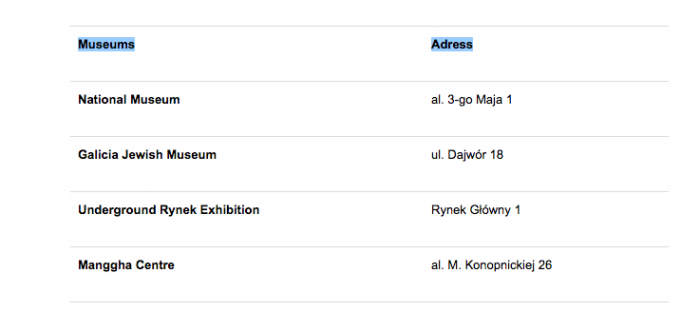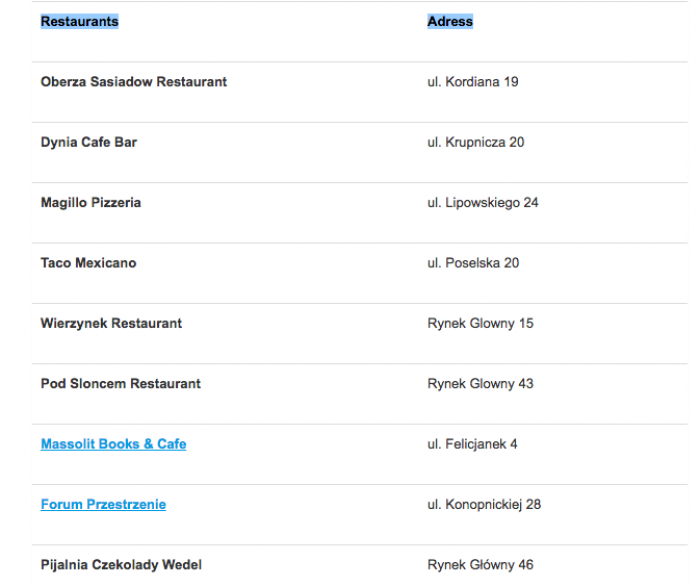 Kid-friendly attractions in Krakow
Now that you know where to stay and eat on a family holiday and Krakow, it's time to take a look at some of the most exciting kid-friendly attractions in Krakow that are often just as enjoyable for parents as they are for children.
 Wawel Dragon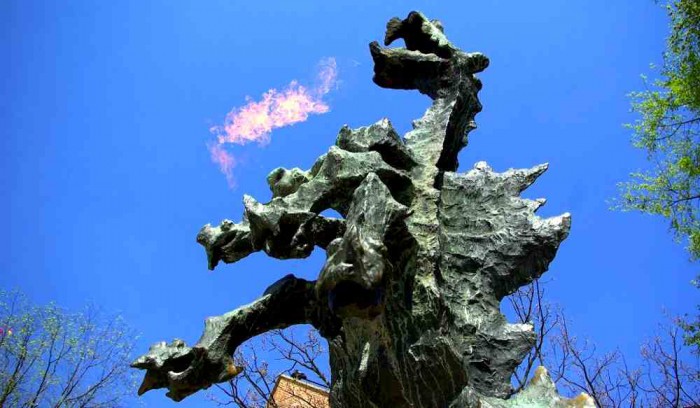 First of all, check out the Wawel Dragon! If you want to see how the Dragon breathes the REAL fire, check out our blog post dedicated to Wawel Dragon and its Legend.
Museum of Polish Aviation
Kids who just love machines, vehicles and planes will be more than happy to visit this museum. At the Museum of Polish Aviation, kids will have the chance to see old airplanes from the past as well as some modern ones.
What's more is that they can sit at the helmet, look into the engine, and run as much as they want around the large area that surrounds the museum's building.
Since a part of the museum's collections is outside, make sure to visit it on a beautiful day.
Still having doubts about Krakow with Kids, keep reading!
Museum of Municipal Engineering
Another amazing place for technically-inclined boys and girls is the Museum of Municipal Engineering in Krakow. The museum's rich collection of vehicles from different eras is just stunning.
Your kids will get to see old cars, trams, motorcycles, as well as various amazing inventions. A part of the museum that appeals to all children is the Garden of Experiments named after the famous Polish science fiction writer, Stanislaw Lem. This garden is a real paradise for kids. You will find a labyrinth, a sensory and geological exposition, a selection of physical phenomena kids can interact with and experiments shown on a regular basis.
This museum is just perfect for a family outing with an educational value – and a lot of fun!
Krakow Main Market Square
 
The Main Market Square in Krakow is a mandatory point of every visit to the city. However, there are plenty of attractions that will appeal to your children.
First, it's worth to visit the market around a full hour – that's when your kids can raise their heads up and listen to the bugle call.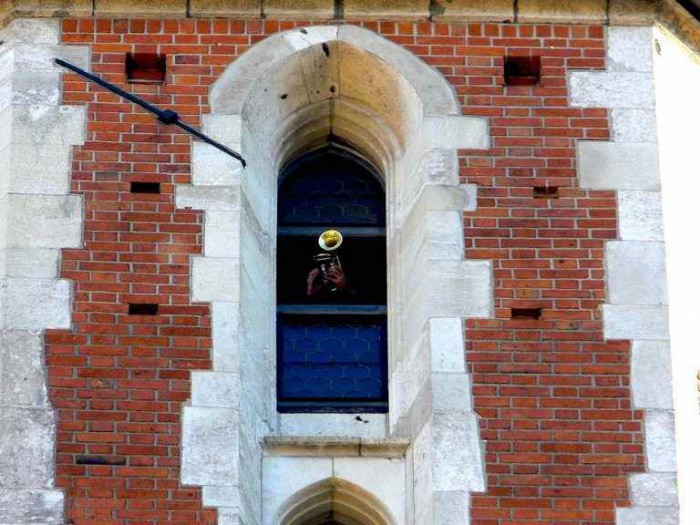 Have your kids have fun feeding the pigeons too – they are a traditional element of Krakow's Market Square as well!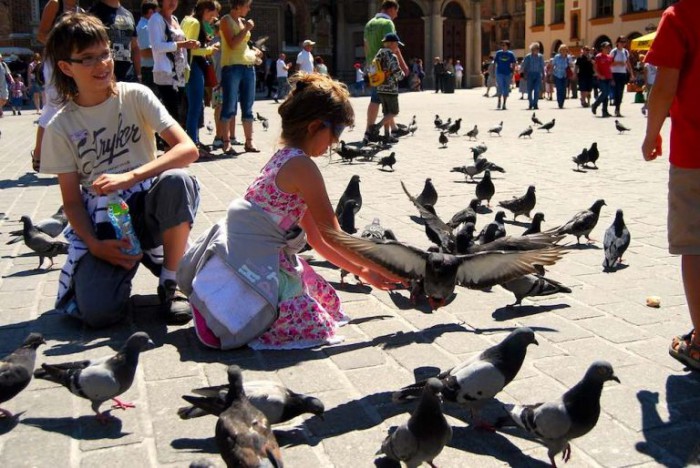 Since you are already on the market, find a place to buy your kids a bagel called obwarzanek – that's the Krakow tradition.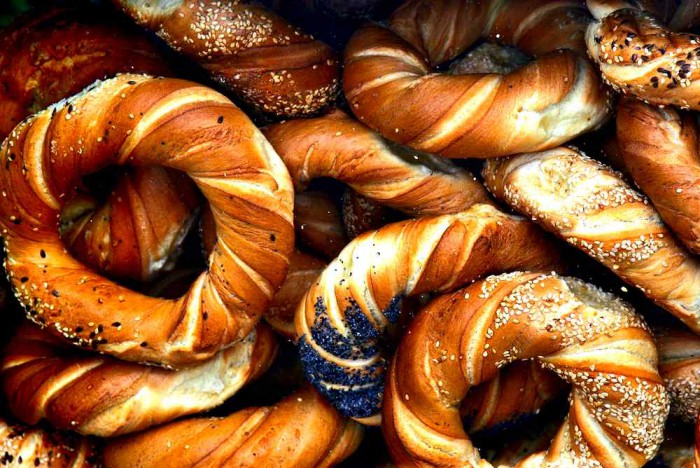 The square always full of street performers and your kids will get to run free in the safe pedestrian-only zone. Huge soap bubbles are kids fav!
Getting lost in Krakow's Old Town is probably the best way to explore it and your kids will have a lot of fun running around the cobblestone streets and peeking into fascinating shops and cafés.
Blonia Commons and Jordan Park
 
If you are interested in spending the entire day outdoors with your kids then Jordan Park(located right next to Blonia Commons) is perfect for you.
The main attraction is an artificial lake with canoes and paddle boats for rent, children also love the colorful train that goes around the park (and costs only a couple of zloty). The park also offers plenty of playgrounds, the best one includes a wooden castle. Apart from all these amazing activities, you can just enjoy the many paths that are perfect for walking or biking.
Krakow Zoo as the perfect spot for kids in Krakow
Located at the edge of the city, Krakow Zoo is home to a wide range of wild animals the kids can also enjoy the petting zoo and large playground. You can spend more time in the area as the zoo is situated in the large Wolski Forest which is a great place for long walks and biking with many footpaths and nice scenery.
Take your kids to Krakow!
Krakow makes a fantastic destination for a family holiday. Filled to the brim with attractions that captivate children of all ages – as well as their parents! – Krakow is a perfect place for spending some memorable family time.
Do you have any questions about visiting Krakow with kids? Let us know in comments; we're always happy to help out visitors make the most of their stay in this amazing city.