New Year in Krakow

Welcoming 2019 with a bang!
Ahh, the New Year!
Clean slate, fresh start and the feeling that everything is possible. Also – the best parties! Christmas joy is still present and it mixes with the excitement for new beginnings. Friends gather together to celebrate and start the new chapter on the right foot. If you are planning on spending that magical time in Krakow, you will definitely fall in love with the atmosphere!
Although to be fair... it's extremely easy to fall in love with Krakow at any time of the year.
What can you expect from Krakow as far as the New Year goes? In this post I will tell you all there is to know.
UPDATE: We are happy to announce that the New Year's Eve in Krakow 2018/19 (main celebration at the Main Market Square) will take place. The official list of the artists performing include Quebonafide, Otsochodzi, BOKKA and CAMP - stars of rap, hip-hop and electronic music. The entrance is free!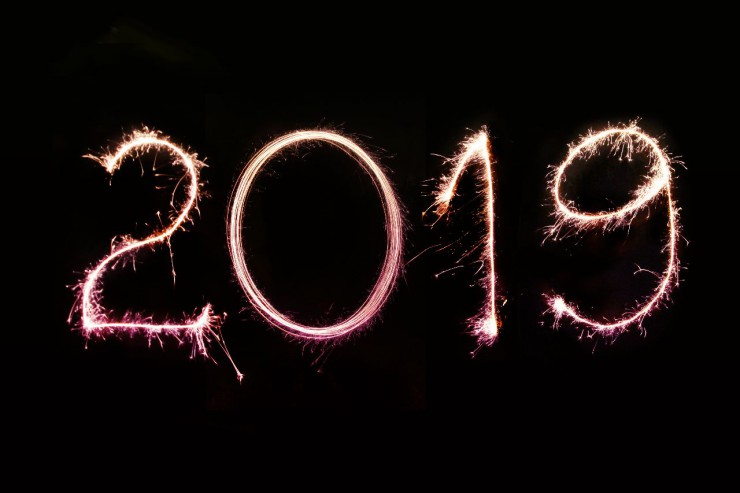 ---
What is 'sylwester'?
The word you will hear and see everywhere is a Polish version of the well-known name Sylvester.
But why does Poland go bananas over Rocky Balboa at the end of every year?
The answer may disappoint you (if you are a Rambo fan wanting a fun anecdote, that is). It's quite simple, really: 31st December is a name day for Sylwester, therefore it has become a commonly used term for New Year's Eve in Poland.
By the way, it's also a name day for Barbacjan, Saturnina and Tworzysław, so let's be glad that Sylwester is the one that stuck – it's a lot easier to pronounce for foreigners!
If someone asks you 'jakie masz plany na sylwestra?', it means 'what are your plans for the New Year's Eve?' :)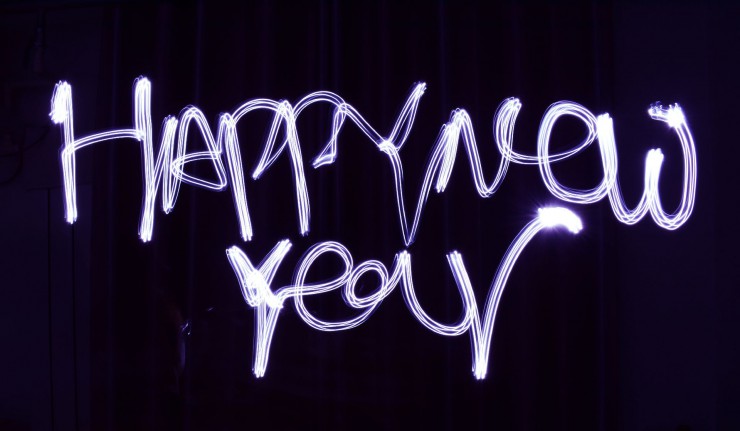 ---
Before the New Year's Eve
Krakow is exceptionally beautiful during the Christmas period, so we encourage you to start your visit it a few days before the New Year. We have an entire blog post about Christmas in Krakow and reasons why you should visit our Christmas market, so check them out to get more information on the topic!
The city centre looks as if taken out of a fairytale with all the lights and (hopefully!) snow. It's the perfect scenery to do some sightseeing and take tons of breathtaking photos that will make your friends back home drool with jealousy, while the Christmas market is a great opportunity to try a variety of Polish dishes and get some mulled wine in your system. 
Sounds like a good warm up before the party, right?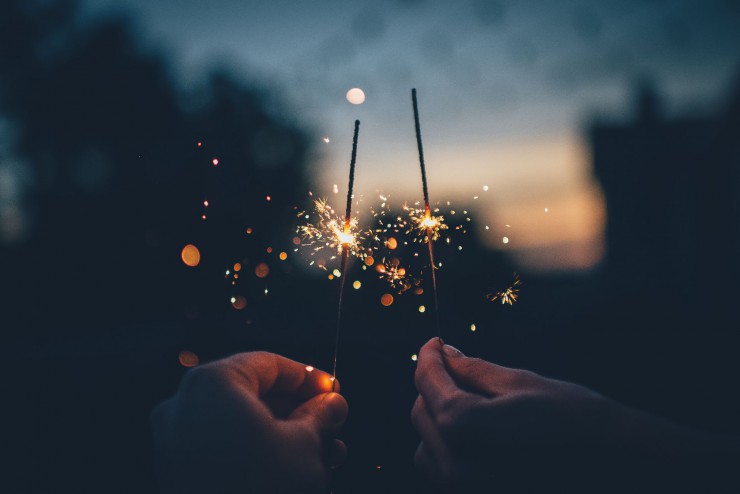 New Year's Eve in Krakow Main Market Square
Get ready for the biggest and the loudest party in the city! It will have three locations! Although the biggest scene will be built next to the Town Hall Tower in the Main Market Square, there is also going to be one in Nowa Huta District, and another one in Kazimierz District. 
The party in the Main Market Square will present you the best Polish hip-hop, rap and electronical music - Quebonafide, BOKKA and CAMP. It will not be any television broadcast - the party will be just for locals and visitors. At the end the city offers an incredible light show! It will start at 8:15 PM and will last to 2:00 AM.
In Kazimierz and Nowa Huta District you can go dancing! The party wil take place in heated tents. On Plac Wolnica in Kazimierz there will be an etno-style party, and in Aleja Róż in Nowa Huta there will be an 80's-style party! Both of them will start at 9:00 PM and end at 1:00 AM.
The entrance is completely free!
As in the previous years, there won't be any firework display - the city is taking safety of people and animals into consideration.
You are not allowed to enter the party under alcohol influence
You cannot bring any glass bottles with you
Bringing any pyrotechnical articles is forbidden
New Year's Eve parties in Krakow – our picks!
There will be countless events on that special night and everyone will be able to find something for themselves. We wanted to let you know about the parties that seemed particularly interesting. Without further ado…
Let's jump right into it!
1. Disco fever
70's, 80's, 90's… throwback to the simpler times!
If Stayin' alive, La Isla Bonita or Smooth criminal are your jams and you looove rocking flared jeans, this is THE party for you. It will be colourful, fun and… Groovy.
Don't let the sequins blind you, this will be your night for sure. Prepare to rock the dancefloor! Also worth mentioning – vegetarian food options will be available.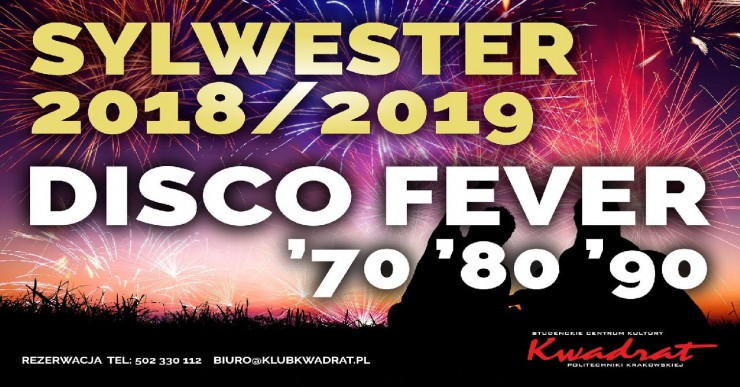 ---
2. Monte Carlo Night
If you want to start 2019 in a luxorious atmosphere, this may pique your interest.
Inspired by the glamour of oldschool casino de Monte-Carlo, this party will let you see 2018 off in style. Spoil yourself with some fancy drinks and enjoy your night.
Vive la vie!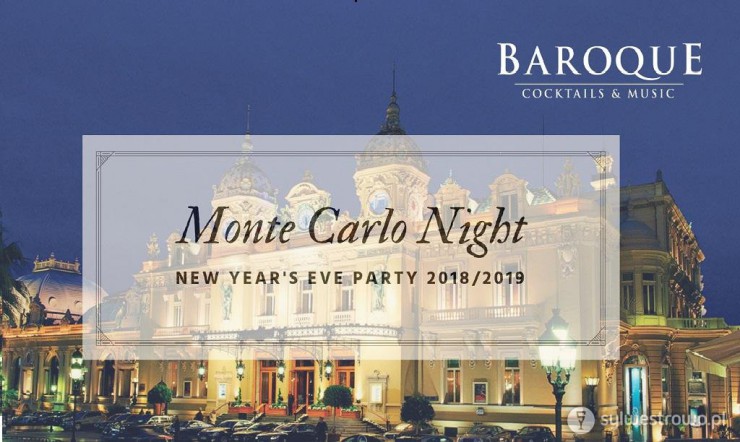 ---
3. Underwater world
This one is so cool!
It offers a marine coctail (we are curious what that might be), a 4-course meal and a lottery in which you can win treasures. Of course beverages, DJ, buffet and other standard elements are included in the price as well. 
We are wondering if they will hire real mermaids for the party. Now that would be something!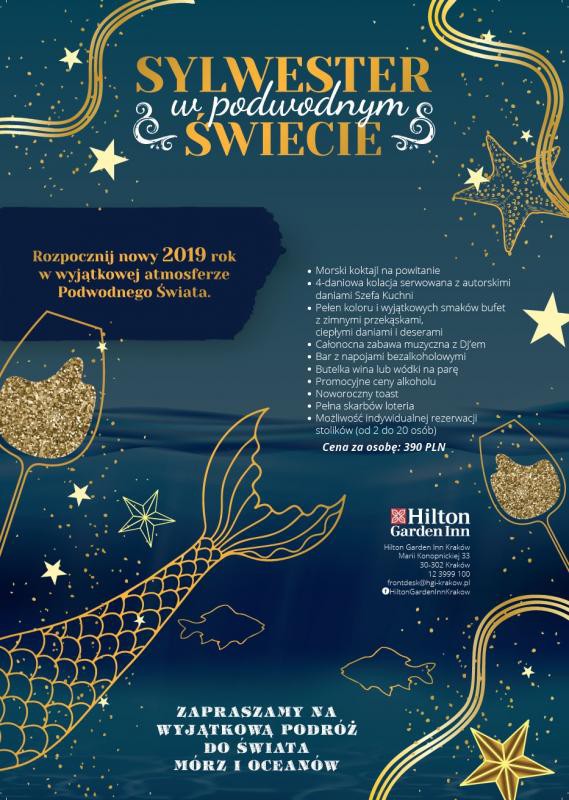 ---
4. Black and white party
That's a rather self-explanatory concept, isn't it?
A black and white-themed party. Simple, elegant ambience, mouth-watering food... what more could you possibly want?
Great option for all the folks who are into the insta-friendly monochromatic vibe.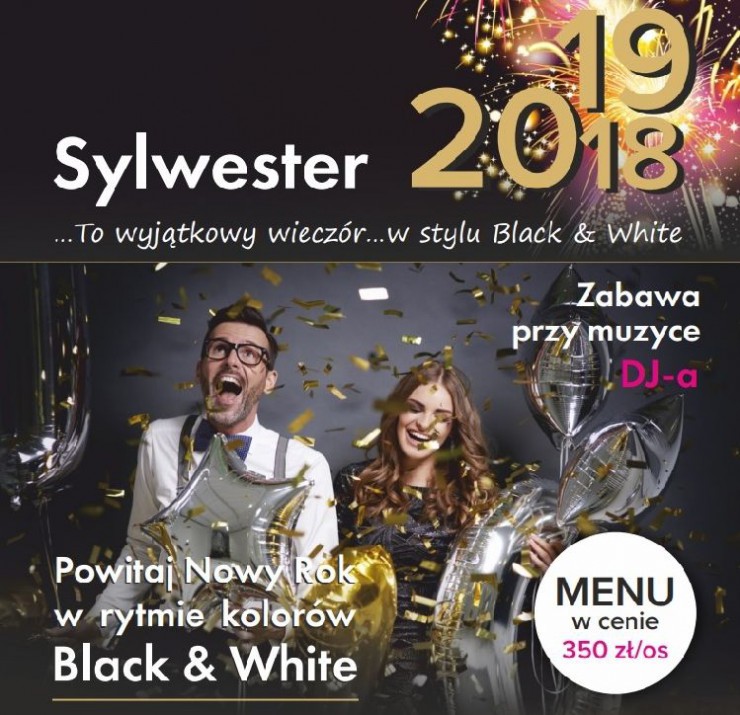 ---
5. 20's, 30's...
We have already used a time machine to go back to the disco era. What if we go even further back?
Here is a treat for all the fans of swing, tango, jazz and all things vintage. Wear your favourite flapper dress, a cool headband and join the party in the heart of stunning Jewish quarter in Krakow!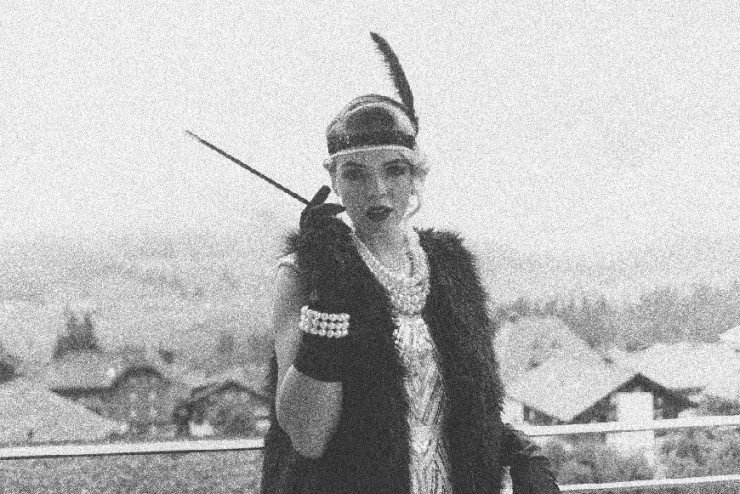 ---
6. Journey through the decades 
It's the last time we're going back in time, we promise.
This party combines it all, so if you can't decide which decade is your favourite, no worries - they've got you covered. There will be a singer, a DJ and even a revue! 
So if you're torn between charleston, disco, jazz and twist, don't sweat it: turns out sometimes you can have it all.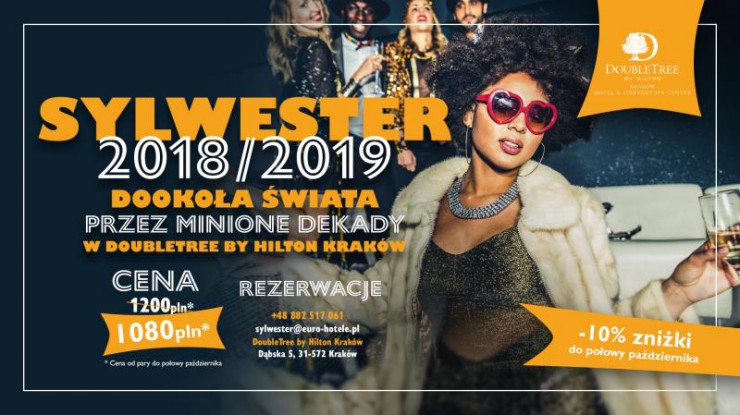 ---
7. Chicago - the musical
Ok, but what if you're not into partying? 
Well, if you prefer seeing a good show, Krakow has something to offer as well (which is a common theme - it really is a city where everyone can find something for themselves!). 
How about seeing the classic - Chicago - on this special night? If you choose the showing at 20:30, a glass of champagne will be included.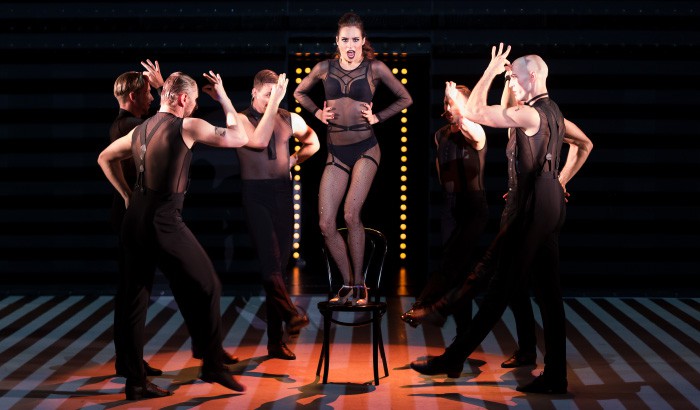 8. Concert hall
Philharmonic orchestra in Krakow has their own unique proposal. If classical music tugs at your heartstrings (pun intended), this will probably be a great way to start the New Year on a good note (wow, I'm on fire!).
Seriously though, Bernstein's and Strauss's masterpieces in the programme are something everyone can enjoy and if you don't feel like dancing that night, maybe listening to some soothing tunes will be the perfect way to enter the New Year.
---
9. Once upon a time - Disney style!
I tried not to be biased while compiling this list, but this has to be one of my favourites.
A room full of Winnie-the-Poohs, Bellas, Elsas, Mickey Mouses and Peter Pans? That sounds like an absolute blast! All that accompanied by 70's, 80's and 90's music... and classic Disney hits, of course :)
If you feel like being a princess, I don't think you can find a better opportunity. 
Plus - the venue is at the Main Market Square, you can't really beat that!
---
10. 'Sylwester station' in Stara Zajezdnia
Stara Zajezdnia is one of the most impressive venues in Kazimierz (the Jewish Quarter) and every excuse is good enough to attend a party there and try some of their amazing craft beers!
If you have a soft spot for furry little creatures - it's worth mentioning that part of the revenues will be given to KTOZ, which is a local charity organization taking part of animals. 
---
Honorable mentions
Other parties definitely worth checking out!
---
New Year in Krakow - what to expect?
Take weather into consideration. Polish winters can be unpreditctable and it's good to be prepared for all occasions. Check the forecast a few days prior to your trip, pack accordingly and throw in an extra piece of clothing for different weather conditions anyway. Better safe than sorry!
1st January is a bank holiday, so shops are closed and public transport has different timetables than usual. Remember about it when preparing your outing on the 31st!
Prebook your activities before coming to Poland. The Christmas period is a busy time tourist-wise and booking tours and tickets in advance is the smart thing to do.
I hope you will have a great time visiting Krakow during this magical time.
Happy New Year! :)