7 Reasons You Should Visit Krakow Christmas Market (Updated 2022)

Is It Worth the Hype? Heck YES!
When the festive season arrives, Krakow becomes a beautiful wonderland as its historic streets and houses get wrapped in the snow for visitors to enjoy.
If you are thinking of visiting Krakow during winter – this article is for you!
You will learn all about Krakow Christmas Market:
Why is it so special?
All the helpful details
Get inspired to visit Krakow during Christmas
You can only imagine how beautiful Krakow Christmas Market becomes in that kind of scenery. Located on the Main Market Square and the Old Town's center, the wooden stalls of the Christmas market offer a variety of gifts, treats, and beverages that are best enjoyed out in the cold air, while exploring all the best that Krakow has to offer.
And in the meantime check out our blog post specially dedicated to Christmas in Krakow 2018!
According to the Irish Times, Krakow Christmas Market is one of the top ten Christmas markets in Europe. If you're planning a special December holiday, consider Krakow as a potential destination – naturally, it has much more to offer than the Christmas market, but the festive event takes the city's unique atmosphere to the next level.
Before we start: book your seat for Christmas Music Concert now and enjoy a little Jingle Bells while in Krakow.
---
Krakow Christmas Market  2018 – dates
Krakow Christmas Market usually starts towards the end of November and lasts until December 26, although it is often extended to early January (last year it started on the 25th November and lasted until 8th January 2018)
Here is the review of the Christmas Market:
We visit a different European market each year and chose here in 2014 as we had never been to Poland before. Krakow itself is a lovely city with plenty to see and do and has a few excursions which I highly recommend; Auschwitz and the Wieliczka Salt Mines. We did both in one day and they were excellent. The market is on the main market square in the centre of Krakow old town. The square was decorated with hundreds of fairy lights and a massive christmas tree. There was a stage with live performances of plays and choirs singing which added to the festivities. There were quite a few wooden stalls selling a variety of items from wooden gifts to decorations to chocolates and candles; there was plenty to buy! There was traditional food for sale along with hot gluhwein or other hot drinks and the atmosphere was very Christmassy. We were in Krakow for 3 days and 4 nights and we found we had plenty of time to see and do everything.
TINYLASS – www.christmasmarkets.com
(Just a quick tip – if you are planning to visit Auschwitz Birkenau Museum in winter months it is a good idea to book the tour right now. The seats for the around-Christmas-season will sell out very quickly. We still have some available seats for 24th and 26th of December)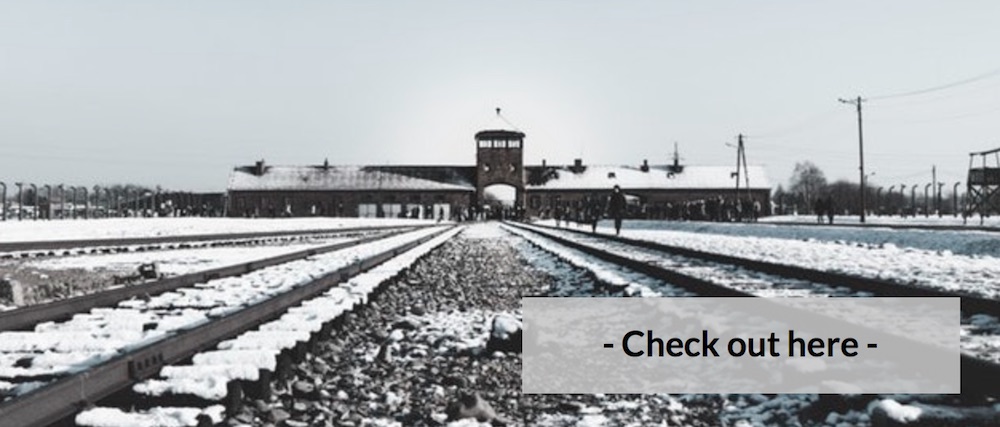 ---
Krakow Christmas Market – basic information
You can expect it to be bustling with life throughout the entire Christmas season.
The market is usually open from the early morning until late at night.
It often features performances from local schoolchildren or churches.
Update: You can taste all the Traditional Polish Dishes at Krakow Christmas Market.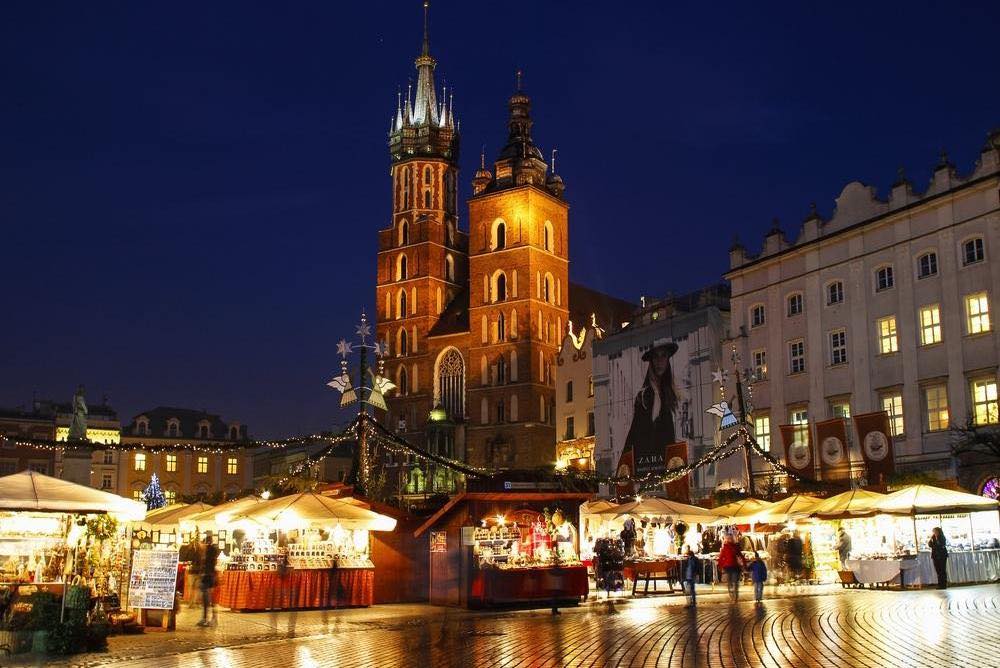 Looking for a Christmas adventure? 
Visit Krakow and its fantastic Christmas Market to get a first-hand experience of Polish Christmas traditions.
---
Here are 7 good reasons why you should make a trip to the Krakow Christmas Market this year.
1. Beautiful location
The Christmas Market is located right in the middle of Krakow's Old Town, next to the majestic Renaissance Cloth Hall and the towering St. Mary's Basilica.
The Market Square dates back to the 13th-century and provides a perfect backdrop to the rows of wooden stalls that occupy the space throughout December.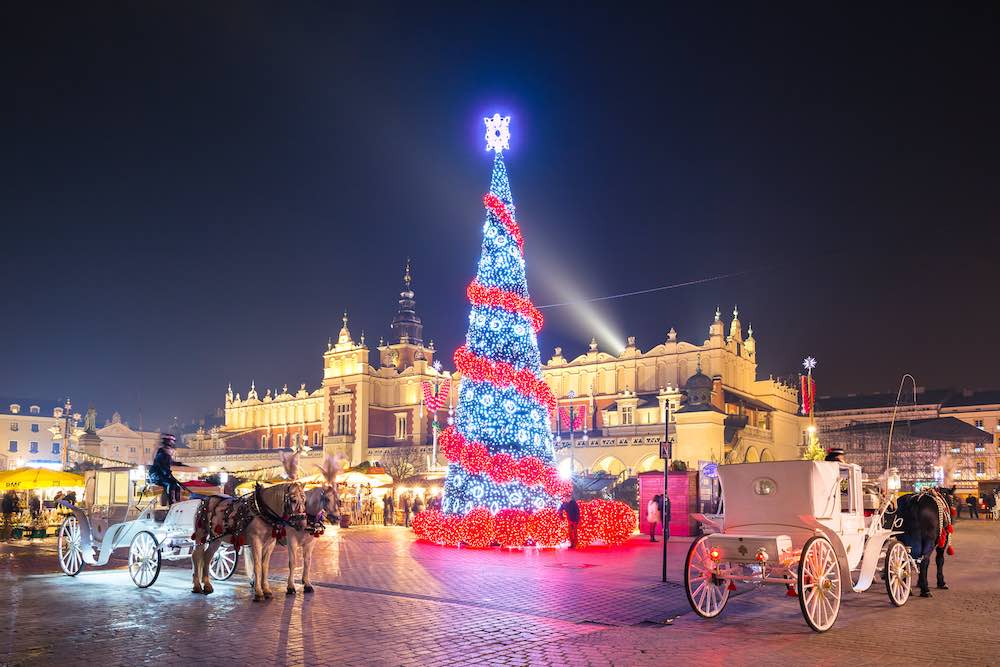 The Christmas Market is a traditional affair, and it blends in perfectly with the maze of medieval streets that make up Krakow's Old Town.
It's worth to make it to Krakow during Christmas because the city center is just made for walking and looks quite magical when covered in snow.
And if you get cold while exploring Krakow streets, you can always hide in one of the cozy cafés and restaurants scattered all over the Old Town – or head over the Christmas Market for some delicious spicy mulled wine.
---
2. Things to see and to do on Christmas Market
Enjoying the tradition
Krakow Christmas Market is firmly rooted in the city's tradition and history.
In the past, local traders would set up their Christmas stalls to sell Christmas trees, decorations, and ingredients for traditional Polish dishes that are served on the Christmas Eve.
And mind you, we're talking about 12 different dishes!
---
Christmas Shopping
Today, the Christmas market in Krakow provides a huge variety of goods to buyers that extend way beyond Christmas decorations. Each year, the beautifully laid out wooden structure of Christmas stalls occupies the center of the Main Market Square to bring to all its visitors, be it, adults or children.
The market is a favorite among the locals, just as it is among tourists. And there's one good reason for it: the stalls are carefully selected by the organizers and their number is limited to around 80.
That's why you can be sure to get the highest quality of drinks and treats together with gifts and souvenirs.
And the atmosphere in the midst of the stalls is simply unforgettable.
---
Performances and Nativity Cribs Contest
Visitors get to discover the beautiful Polish Christmas traditions like Christmas carols sung by performers on the market. Another interesting local tradition you get to witness if you visit Krakow during Christmas is the famous Krakow Christmas Crib Contest held annually in the city at the beginning of December since the 19th century.
The decorated nativity cribs are shown to passersby during a unique procession, and then they are put on display under one of Krakow's most famous monuments nearby the market stalls. These handmade recreations of Krakow's baroque churches and Gothic cathedrals are just incredible.
Some of them reach 2 m in height! They are made by everyone interested in competing – from schoolkids to pensioners who all spend months working on them. The winners are shown in Krakow's Historical Museum. You will also find wooden and ceramic nativities available at the Christmas market to take home as souvenirs.
---
3. Mouthwatering treats
Every Christmas market should cater to the tastes of its visitors, and Krakow's Christmas Market is no exception.
You won't be disappointed with the wide choice of delicious treats available all over the market.
Visitors can try Polish dumplings, special sausages carefully selected smoked hams and local varieties of cheese such as oscypek made from sheep milk.
Grilled deliciousness
The smell of grilled meat envelops the markets so you can be sure to develop quite an appetite as you stroll around the stalls and admire local produce.
Next, to the meats, you will find a typical Polish appetizer called smalec – a traditional spread made of lard mixed with various spices. You can find it in the market stalls where it is sold on top of hot slices of fresh bread and topped with anything ranging from sausage and bacon to fried onions and the delicious Polish pickled cucumbers.
Cheese you need to try
Don't forget to try oscypek, the smoked cheese made from sheep milk by the inhabitants of the Tatra mountains located in the south of Poland. You will find this cheese among vendors huddled over tiny grills who sell small pieces of hot cheese with cranberry jelly.
You might even find the cheese wrapped in bacon or combined with a plum!
All these versions are delicious, so be sure to try this salty treat.
(And if you are curious to learn more about Polish traditional food check out our POLISH FOOD blog post.)
Satisfy your sweet-tooth
Krakow Christmas Market is the perfect place to try all the best specialties of the region. Take gingerbreadas an example.
Sure, you can find gingerbread cookies all over Germany, but Poland is famous for its special kind of gingerbread that comes in various shapes and sizes. Just walk around the stalls, and you will see that sometimes gingerbread comes in the shape of cake, and other times it is sold as harder cookies.
It doesn't matter which type of gingerbread you opt for; you surely won't be disappointed.
Candy, candy, candy…
If you're visiting the Christmas market with children, be prepared to see plenty of mouthwatering candystalls that offer local sweet treats such as:
the cream fudge,
homemade Polish cookies,
various Christmas-themed candies,
typical Polish donuts,
chocolate-covered fruit,
jars of marmalade and jams,
or locally made chocolate.
Be sure to look for a stall that sells chocolate shaped like various unlikely items such as cotton reels or hacksaws – they will make an amazing gift for both adults and children. And you can bet that the chocolate is delicious.
Needless to say, Krakow Christmas Market is a perfect place if you're suffering from a serious case of sweet tooth.
4. Drinks are to die for
Wine, please!
Walking around the market surrounded by December chill, you will need nourishment in the form of a hot drink. Some of the most popular features of the market are the giant wooden barrels.
Inside, you will find small shops where you can buy a delicious local mulled wine called Grzaniec Galicyjski.
Sip on the spicy wine and listen to Christmas carols performed on the market – that's probably the best way to enjoy the festive season.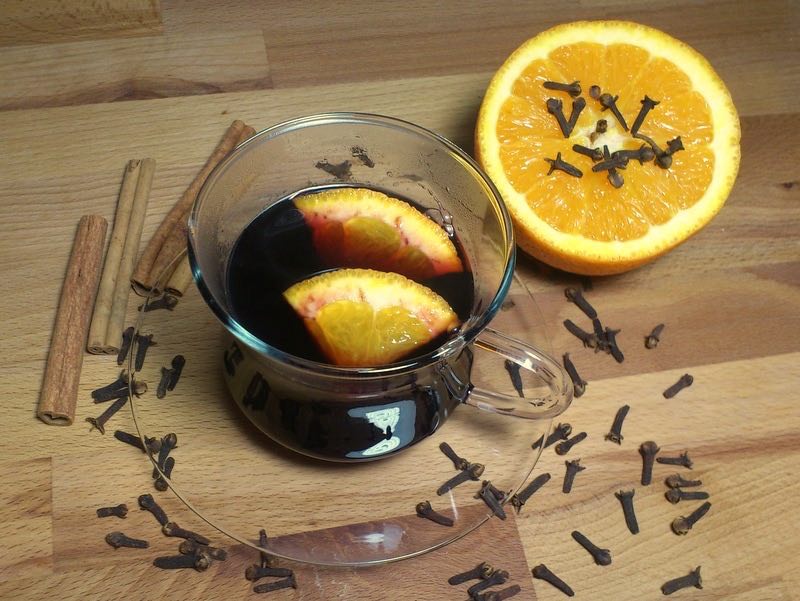 Beer for me!
While hot wine is the most popular beverage available on the market, you might be able to find another interesting and very Polish drink – hot beer.
It's is usually a regular beer combined with a sweet syrup that comes in various tastes such as raspberry, cranberry, or ginger.
It might come as a surprise, but hot beer can be really good!
Finally, you should take a look at the market in search of bottled meads. Poland is famous for its strong alcoholic beverages, and the meads are going to make an amazing gift for your friends and family back home.
---
5. It's the best place to shop for unique gifts
While walking around the beautiful stalls of the Krakow Christmas Market, you're simply bound to find amazing gifts and souvenirs for all your friends and family back home. You can be sure that items sold at the market are of high quality and are all produced locally.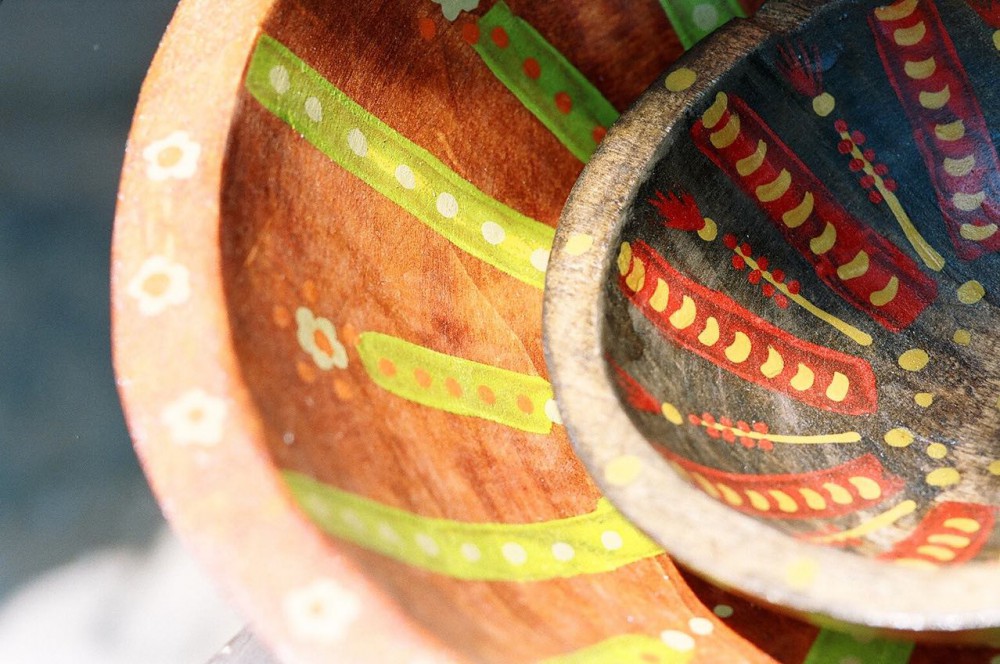 Slippers for guests
Did you know that every Polish home is equipped with special slippers that to be worn inside the house? You will find such slippers made of wool at the market together with furry hats and rugs. Pick up a pair to keep your feet warm during cold winter nights.
Handmade crafts
The market is full of handmade items that will make for a perfect souvenir. You can pick up handmade plates, Christmas decorations, and ornaments, beautiful pillowcases, ceramic figurines, or serving dishes.
Look around, and you will spot an entire stand dedicated to wooden items like spoons, forks, plates, and serving dishes. These wooden utensils will add a cozy, rustic feel to every kitchen.
You've probably heard of the beautiful and famous Bolesławiec Pottery. It usually comes in blue and white, decorated in traditional Polish designs. You can be sure to find some cute ceramic Christmas trees or decorations to bring home.
They aren't cheap, but they are well worth their price.
Since we're talking about souvenirs, don't forget to have a look at the artisan stalls inside the arcade of the majestic Cloth Hall. Navigating this crowded place isn't easy, but with some luck, you will find fantastic jewelry made of gold, silver, but also amber.
---
6. Amazing Christmas decorations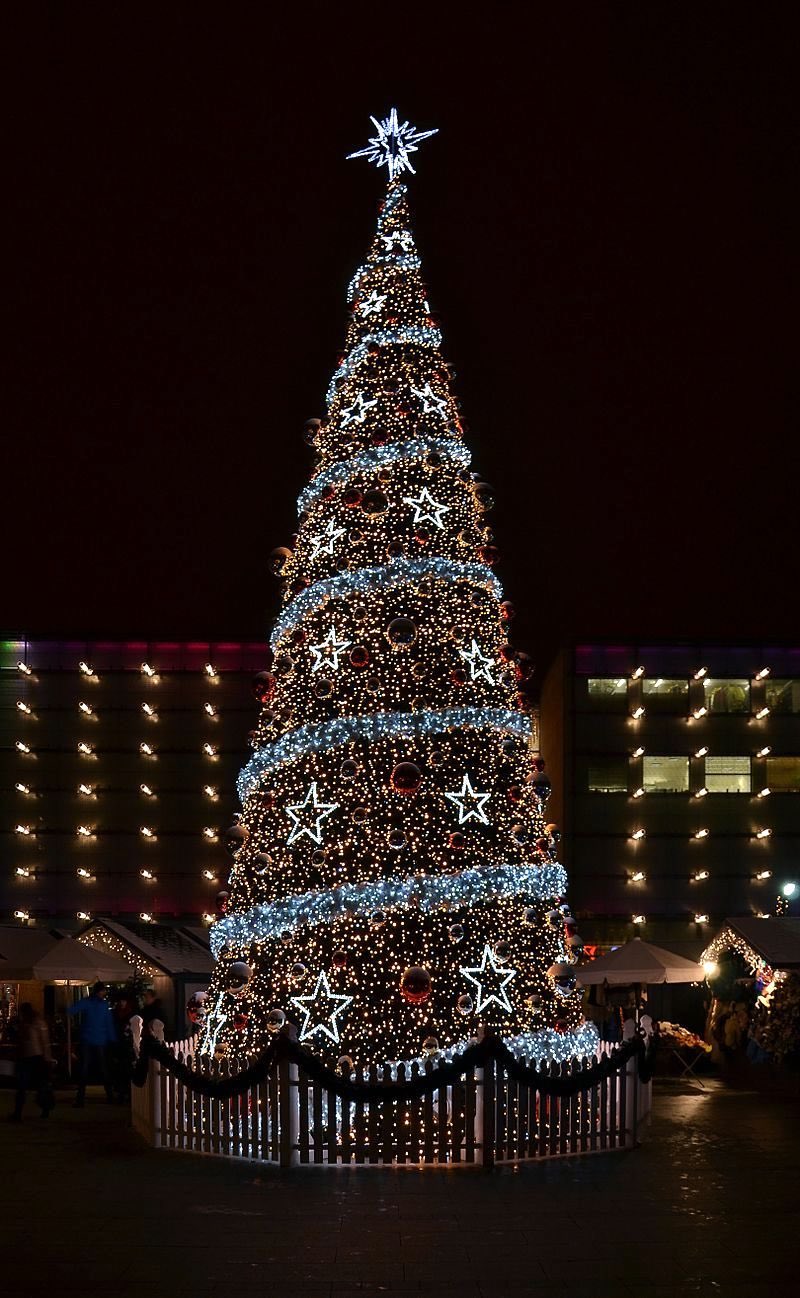 Mistletoe for everyone!
If you come from a Western country, you're probably no stranger to mistletoe. Well, if you would like to mistletoe to decorate your house, the Krakow Christmas Market is the right place for you.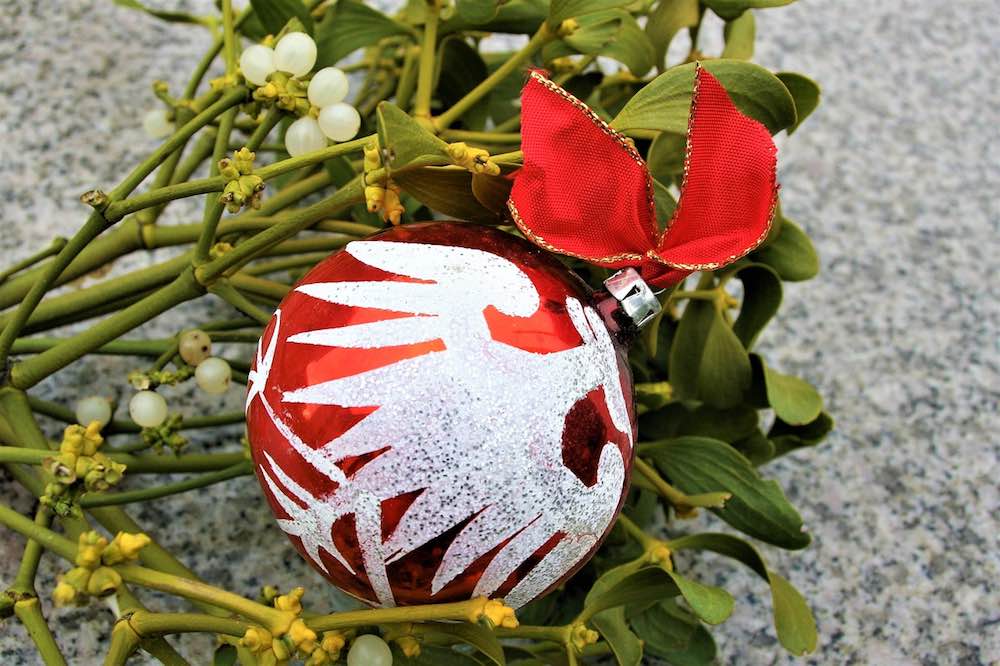 You will find many vendors standing under yellow tents selling fresh bundles of mistletoe. You can pick some of that to put on your door frame to encourage people to kiss or simply for good luck.
Christmas wreaths
Vendors in these yellow tents also sell beautiful handmade wreaths made of fresh pine. If you're headed to a Christmas party, you can easily bring that is a gift. You can also use it to decorate your own Christmas table – after all, that's how Christmas is supposed to smell like.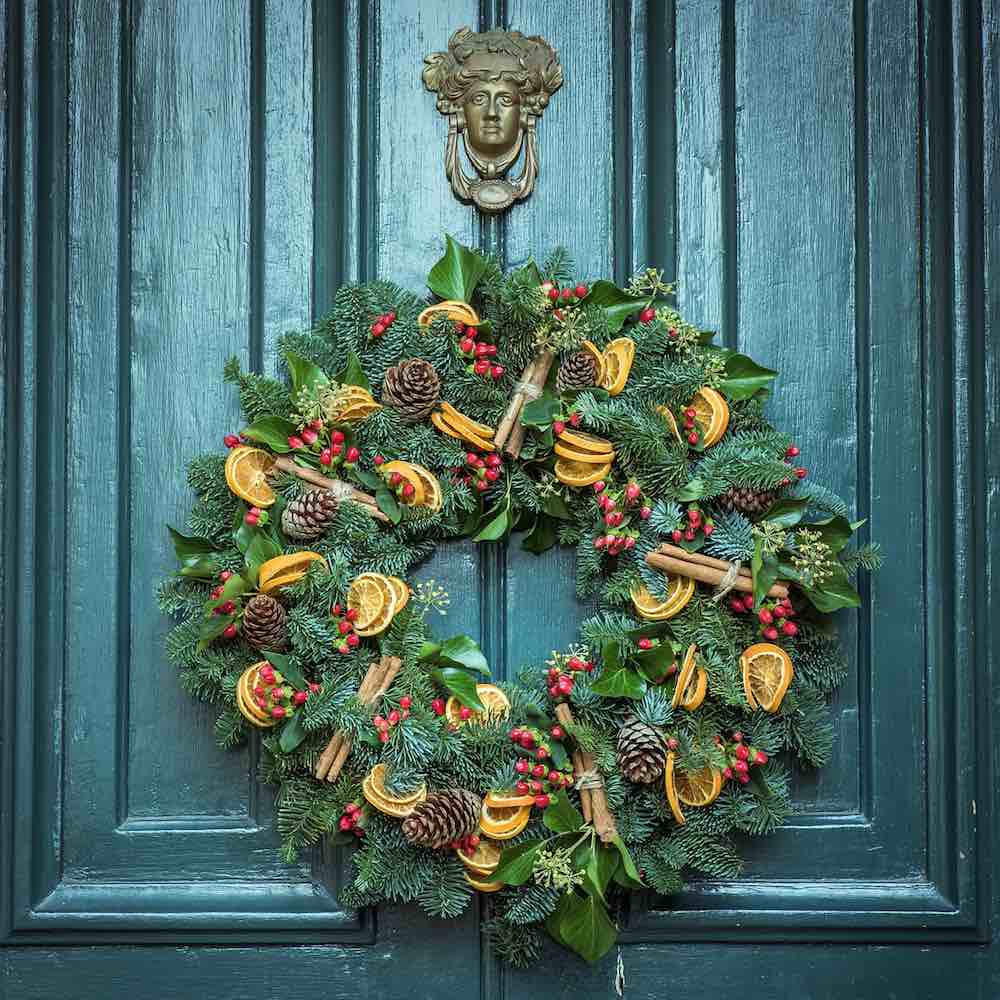 Krakow Christmas Market is a perfect place if you're looking for unique Christmas decorations that will transform your home to reflect the real spirit of Christmas. You will find not only floral Christmas tree decorations, but also other items like candles decorated with winter or religious motives, illumination structures or enormous socks you can hang at your mantelpiece to store gifts.
You will also find a great selection of Christmas baubles that are often hand-painted and make for unique decorations for your Christmas tree.
---
7. Krakow Christmas Market is the place to be
Visiting Krakow during winter is a smart move.
You can also try some Krakow tours during your stay.
Christmas time is really special in Poland because it is still more about tradition and history rather than blind consumerism. And the Krakow Christmas Market reflects the idea perfectly.
Continuing the tradition started centuries ago, the wooden stalls that appear on the Main Market Square in December embody everything we love about Christmas:
friendly warmth,
delicious food and drinks,
the beauty of gifting,
the pleasure of sharing these beautiful moments with countless other visitors who are happy to celebrate Christmas.
Krakow Christmas Market might be a big affair, but once you arrive, you will discover that its welcoming atmosphere makes everyone feel like at home.
5 scrumptious reasons for every foodie to visit Krakow Christmas market
Do you consider yourself a real food lover? If the answer is 'Yes!', you must visit one of the most beautiful Christmas markets Europe has to offer.  And, of course,  taste its delicacies. The unforgettable atmosphere of Krakow will engage all of your senses to experience its magic.
A sensual feast at the Krakow Christmas market
Food is not just a taste. Researchers have proven that its smell is responsible for a large part of our food-related experience. Equally important is also its consistency, but also the atmosphere and company in which we eat a meal. Krakow Christmas market allows you to touch all these elements and thus complement the sensory experience related to eating.
Vision: A view of the baroque splendor of stalls on the Krakow Christmas market
The Krakow market is a real eye candy. It is one of the biggest and best christmas markets in Europe and hence the most beautiful! Just close your eyes and imagine the amazing atmosphere of a perfectly preserved medieval market. Picture a majestic St. Mary's Church and a unique, stationary fair in the middle of the Main Square, Sukiennice. It is decorated with Christmas fir branches, rods and dozens of golden, flickering lights. Fun fact: rods are tradtional Polish gift for the naughty children. 
Entering the Main Square, walking the narrow streets of cobblestone, strolling between the traditional traditional, folk-ish wooden stalls, you have the impression that you are visiting the extraordinary world of fairy tales and magic. You can bargain with the well-dressed Krakow street vendors. Women wear traditional red beads that shine from beneth the natural sheepskin coats. Men often dress like rich merchants. All of this complets the picture of the colorful, ornamented, flamboyant Krakow Christmas market. Just look at it:
Hearing: The din of delighted passers-by on the one of the best christmas markets in Europe
Another delicacy for your senses will be a joyful buzz of passers-by delighted with the traditional Polish food. Krakow attracts hundreds of thousands of tourists from all over the world every year. No wonder that you can hear dialects from every corner of the globe near the wooden stalls of the Christmas market.
Christmas market in Krakow usually starts around the last weekend of November and lasts until the 2nd day of Christmas. The carols flowing from the loudspeakers and friendly chats between the buyers and vendors make you feel the festive mood. It takes over the Main Square and the rest of the Krakow. People become more friendly to each other, stopping for a moment to stay together in this magical atmosphere. The secret ingredient that puts them in high-spirits is, perhaps, the warm and spicy Galician mulled wine.
Smell: The aroma of delicious Christmas market food 
Strolling through the historic streets of Krakow's Main Square, your nose will draw you to the heart of the city – a vibrant Christmas market. Above the stalls you can almost see a scent of the famous, grilled Polish sausages accompanied by the aromatic onion, scrumptious black pudding or baked potatoes seasoned with rosemary and other fresh herbs.
The savory dishes and their bouquet are only a part of the olfactive pallete of the Krakow Christmas market. Your sense of smell will be also delighted by the exquisite scent of oranges mixed with warming spices. It comes from characteristic booths shaped like the large, wooden barrels. You can get there… yes, you guessed – mulled wine. 
Intriguing, spicy fragrance envelopes the stalls with sweets. It's because of the gingerbread made by the confectioners. As you know - the older the gingerbread, the better, so buy yours at least 1-2 weeks before the Christmas! Sweet, warming fragrances will also lead you to stands with candied apples and various kinds of nuts.
Touch: Warmth in the winter afternoon
Nothing can warm up the crisp December afternoon in Krakow like the hot atmosphere at the Christmas market. When you start wandering around the streets you feel the incredible warmth and homely atmosphere of the Krakow Main Square. Choosing gifts for loved ones, tasting unusual sweets and hot, traditional dishes such as dumplings or grilled oscypek (sheep cheese), trying on warm woolen sweaters or socks – you feel warmth in your heart.
And when the silver fluff flies down from the sky, and the temperature on the thermometers falls below zero, you can always warm up with the more conventional methods. Try some traditional hot beverages, like warm mead. It was present on the tables of the Polish nobility for centuries. 
Taste: The unique taste of the Christmas market food
The last, but not the least important reason why you should visit the Krakow Market Square in December is absolutely delicious, traditional Polish food. Krakow Christmas market  is  perfect place to taste some new dishes
The highlight of the program are Polish dumplings, stuffed with sauerkraut and forest mushrooms as boletus, scaber stalk, or bay boletes. They appear on every Polish Christmas table. If you prefer other stuffing, try the one that is made of curds, potatoes and onions. They taste best with bacon cracklings or caramelized onions. 
Meat connoisseurs will stumble upon a grate filled with juicy, sizzling delicacies like pork neck chops, Polish sausages or black pudding. They are usually served with a slice of sourdough bread and pickled cucumber. Somewhere between aromatic stalls with grill, you can also try the unique sheep cheese, usually served with cranberry jam.
The festive atmosphere of the Christmas market will stimulate all your senses. If you love food, it is a hidden treasure to be discovered on cold, December days. Many foodies followed this path. You can even book Krakow Christmas Food Tour if you don't want to miss any part of this experience. During the trip, the guide will show you around the Krakow Christmas market. What's more, he will wrap exquisite delicacies with a pinch of history and a handful of stories about the magical Polish traditions associated with Christmas. So don't hesitate and give it a try today! 
 
---
Would you like to experience it yourself?
Tell me in the comment section below!