Christmas in Krakow 2018

Ho, ho, ho...pefully you will find this useful! Guide to Krakow's winter wonderland.
Krakow is stunning regardless of the season, but everything is more magical in Christmas time - including our beautiful city!
If you're planning on visiting Krakow this winter, I have a few helpful bits of information for you!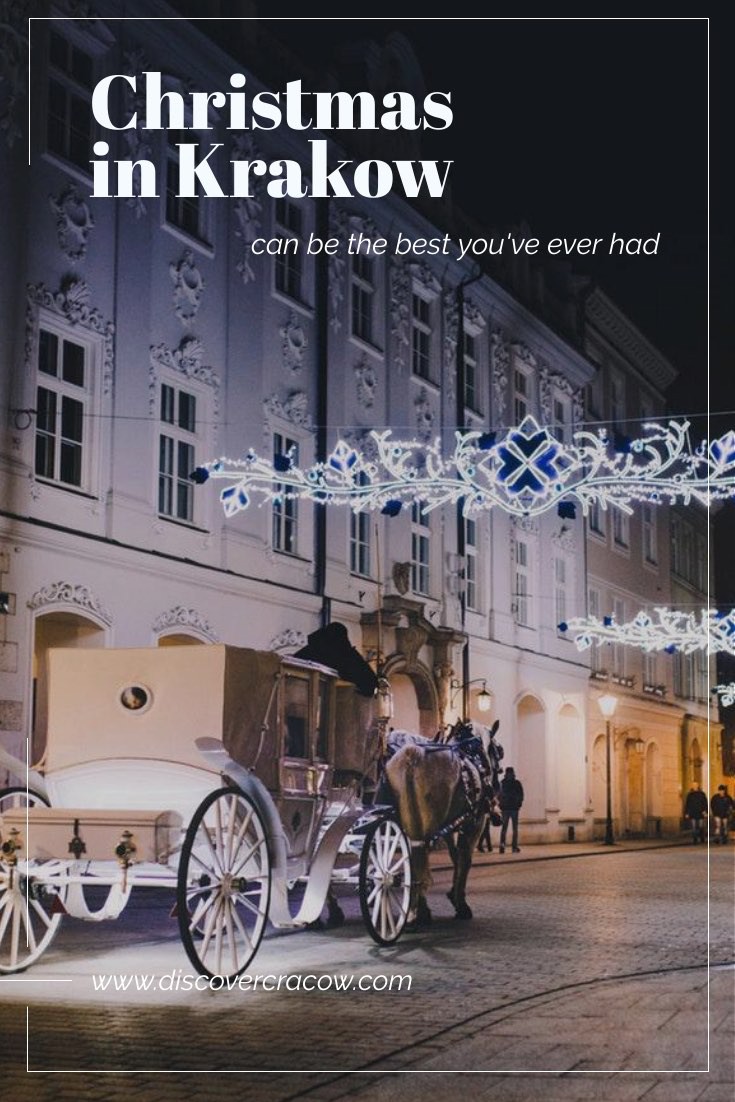 You will find out:
what kind of weather to expect,
why is Krakow Christmas Market worth visiting,
where does the live nativity scene take place,
when do Poles open their Christmas presents...
...and many more!
1. Krakow Christmas Market
The absolute crown jewel of all the holiday-related wonders of Krakow. You will get lured in by appetizing scents, get hooked by the taste of grzaniec (mulled wine) and get broke by buying all the beautiful trinkets!
Christmas market in Krakow takes up a big portion of the enormous Main Market Square, giving you many opportunities to find hidden gems among many stands.
Are you a foodie? Try roasted chestnuts or oscypek (traditional Polish smoked cheese made from salted sheep milk).
Are you looking to buy some souvenirs from Poland? Look no further, the artisans at the market sell all kinds of knick knacks, jewellery, home decorations, Christmas tree ornaments and anything else you can imagine.
Everyone will find something for themselves here, and if you want to experience Christmas joy - you simply have to visit the market!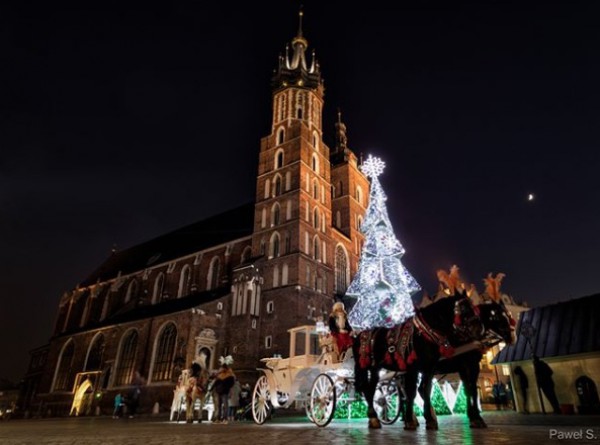 ---
2. Live nativity scene
A tradition that has been alive for 25 years! 
Right by one of the most famous churches of Krakow, the Church of St. Francis of Assisi (side note: the church itself is worth visiting as well, due to the number of beautiful works of art inside - some of them created by Stanislaw Wyspianski, a household name in Polish art and culture!), a live nativity scene is taking place during Christmas night every year.
You can watch the actors, listen to the bands and carolers, and - children's favourite - meet animals, such as sheeps, goats and donkeys.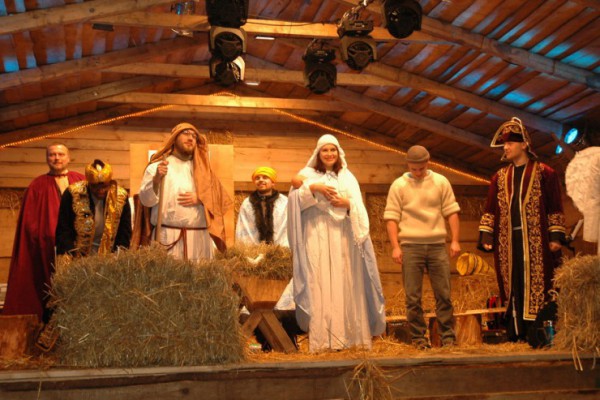 ---
3. Christmas crèches exhibition
The crèches, also called cribs (in Polish - szopki) are a Christmas tradition here. They were introduced to Poland by Franciscan monks of the thirteenth century. They are small works of art representing the birth of Jesus while also resembling Cracow architecture - the typical crèche doesn't look like a stable, but rather like a palace with pointed towers.
Every year, crèche makers swarm to Kraków's Market Square on the first Thursday of December in order to participate in a competition. There are different sizes of crèches by which they are categorised. There is a jury that selects the best one, which is not easy at all, as there are hundreds of them to choose from!
All of the Cracovian crèches can be seen later in Celestat (a division of Historical Museum of Kraków).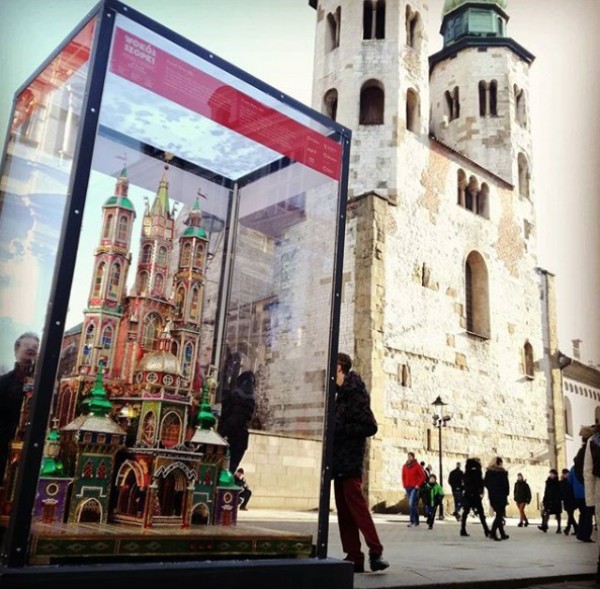 ---
4. Ice skating
Ok, you've had your fair share of art. Would you be interested in doing something a bit more active? 
How about some ice skating?
There are a few ice rinks in Krakow - both indoors and outdoors. All of them rent ice skates - just make sure you're wearing comfy socks underneath! The prices slightly vary, but you should be able to skate for 45-60 minutes for less than 15PLN (including the rental fee for skates).
One of the rinks is in front of Galeria Krakowska, but other locations worth mentioning include: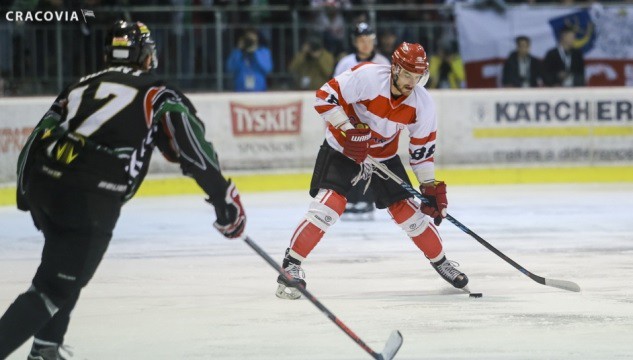 .
5. Sleigh rides
Polish winters can be harsh - cold and very, very snowy.
Why not take advantage of the weather? When the world becomes white and you want to feel like Santa Claus - hop on a sleigh ride! 
Bear in mind that they are not organised in the city centre, as the traffic and narrow streets are not exactly the perfect circumstances, but you can easily find one in the outskirts of the city by simply googling 'Krakow sleigh ride'. You will not be disappointed!
(Unless you are hoping for reindeers... Then you will be, as we don't have them in Poland. But hey, horses are amazing too!)
Most sleigh rides include a bonfire and a meal, so you can get all warm and cosy.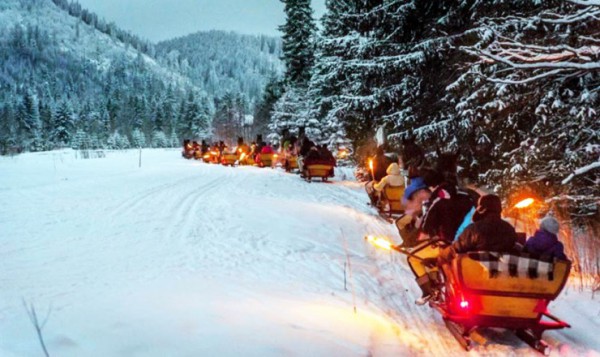 ---
6. Concerts
If you're a music fan, there are some concerts which take place during Christmas that you may find interesting.
For example, the Royal Chamber Orchestra Hall hosts Christmas Music Concert very often in December. You'll be able to hear some of the most popular Christmas hits and carols including: Jingle Bell Rock, Let it Snow, Holy Night, Silent Night and We Wish You a Merry Christmas.
Learn more about the Christmas Music Concert - you won't regret it ;)
Oh, and did I mention that they also serve wine there?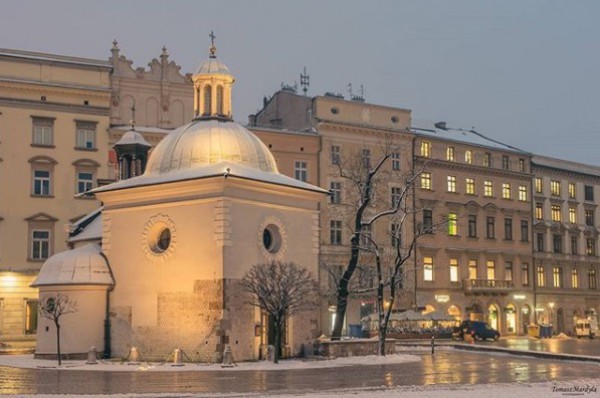 ---
7. Christmas Eve
Since you are reading this, you probably plan to spend Christmas Eve in Poland - how about taking part in some beautiful Polish traditions?
Our nation has a lot of customs revolving around the holiday season, such as decorating Christmas trees with sweets and different kinds of ornaments, singing carols and praying with families or close friends and going to a mass at midnight.
Wigilia is a Polish word for Christmas Eve, which is equally as important as the holiday itself! On this special day families gather together for a very festive dinner. The tradition says that it's essential to place some hay under a white tablecloth to symbolize the fact that Jesus was born in a manger; we also prepare one extra seat at the table for an unexpected guest.
And then... the feast begins. Beware - you are likely to gain some weight! The traditional Polish Chrismas meal consists of twelve different dishes. Don't forget about the presents for those you love, as we open them right after the Christmas Eve dinner.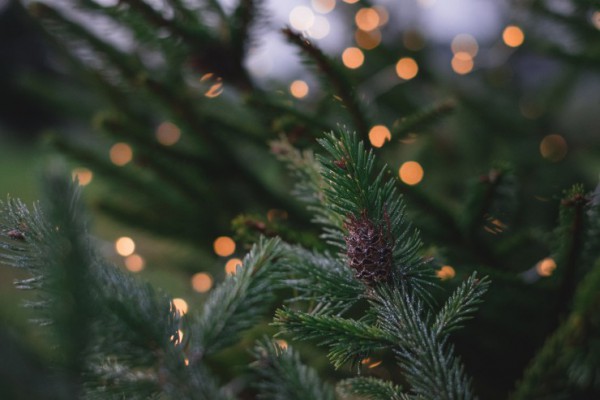 Restaurants open on Christmas 2018
Most of shops and restaurants are closed for the Christmas period, but we have found a suggestion for you.
Andromeda offers a festive dinner on the 24th of December at 6:30pm, costing 190PLN per person. Remember to make a reservation!
Besides that, they are open:
Christmas Eve (24.12) - 12:00 - 4:00pm
Christmas Day (25.12) - 12:00 - 5:00pm (+ festive dinner once again at 6:30pm, 130PLN per person)
Second Day of Christmas (26.12) - 12:00 - 11:00pm
New Years Eve (31.12) - 12:00 - 4:00pm (+ a dinner and a New Year's Eve Party from 8pm to 1am, 449PLN per person) 
New Years Day (01.01) - 4:00pm - 11:00pm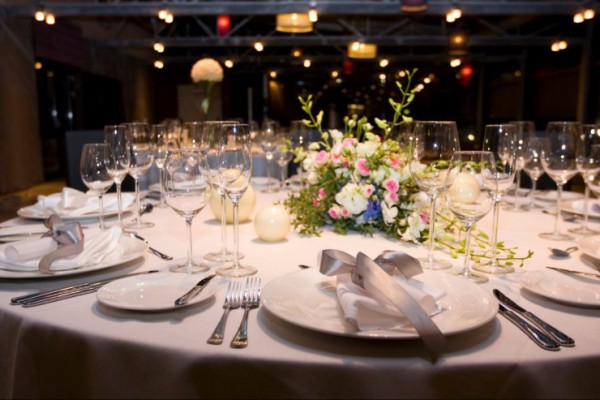 Another great place where you can spend Christmas-time enjoying great cuisine is ALBERTINA Restaurant & Wine. Opening hours are:
Christmas Eve (24.12) – Restaurant closed
Christmas Day (25.12) – 12:00 - 11:00pm
Second Day of Christmas (26.12) – 12:00 - 11:00pm
New Years Eve (31.12) – 12:00 - 11:00pm
New Years Day (01.01) – 12:00 - 11:00pm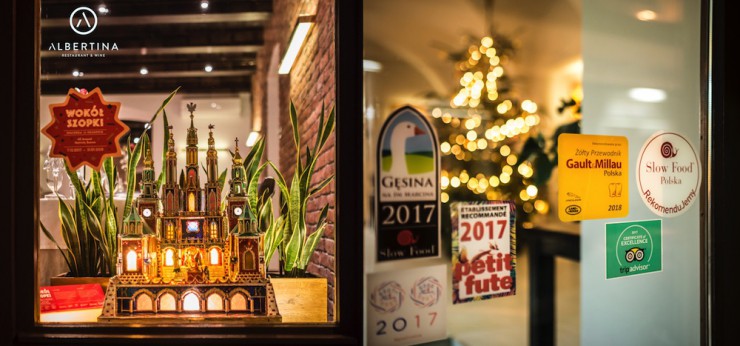 ---
8. Useful tips
The weather can be very unpredictable. Take that into consideration when packing!
Pre-book your activities! I can't stress this enough. During the Christmas season all the touristy spots are jam-packed with people, so the smartest thing you can do is plan your trip and book everything in advance. Whether you want to visit Auschwitz-Birkenau, Wieliczka Salt Mine, Wawel or any other popular place - pre-book! It's your safest bet.

Familiarize yourself with the public transport system in Krakow by checking the timetables online or talking to a knowledgeable local. During holidays the buses and trams usually have a different schedule, it's important to keep up with it!
I hope you found this information helpful.
What would you add to the list?
Keep warm, be joyful, and merry Christmas! :)