Krakow's market square is a hot tourist spot due to its amazing architecture, history, bars and restaurants. However, a place that is of equal historical and cultural importance is Krakow's well known Jewish quarter called "Kazimierz" or Jewish district. Located only a few steps away from the main square, between the Wisła River and ul.Dietla.
Kazimierz offers a place to get away from the crowds and experience a different side of Krakow one that is full of historical sites, laid back cafes, art galleries and that offers a nostalgic look into its vibrant past.
The History of Kazimierz Jewish Quarter
Before World War II approximately 3 million Jews lived in Poland – the largest population in Europe.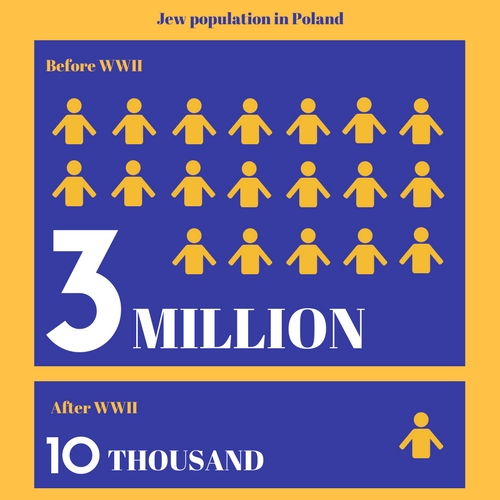 For about 500 years prior to the second world war, the Jewish population in Krakow was prospering, merchants, rabbis, and commoners could be seen bustling around town. Plenty of synagogues, markets and schools functioned alongside Polish ones throughout the city as well as in the Krakow Jewish quarter. As is well known, the second world war brought upon tragedy for both communities even more so for the Jewish.
It was then that Jews were forcibly removed from their homes and relocated to Podgórze which became a ghetto that was completely closed off from other parts of the city.
Starvation, death, and misery followed, most who survived were killed during the liquidation of the ghetto or moved to concentration camps where the chance of survival was close to none. Only 3,000-5,000 survived the Holocaust, a large part of whom were saved by Oskar Schindler.
Ethnic cleansing of Jews, gypsies and other minorities in Poland, performed by the German Nazis, left Poland's population heterogeneous which was truly a great loss for the country.
It is interesting to see how the now very small population of Jews in Kraków have revived their cultural identity within the city and how Kazimierz has become a place of cultural significance in which its Jewish heritage clashes with modernity
Eastern European Jewish Culture
Outside of Europe, Jews sometimes refer to Poland as the Old Country, a place where villages had their own synagogue, where Kosher butchers could be found on every street corner and where Yiddish newspapers were readily available. Unfortunately, these memories are closely related to the trauma of the Holocaust
Eastern European Jewish culture is different from that of Israel and other parts of the world, especially in terms of language and food.
Instead of or alongside Hebrew the main language spoken by European Jews was Yiddish, a hybrid of Hebrew, German and other Eastern European languages. Cuisine in this region was strongly influenced by Russian, Polish and German foods rather than those of the middle east. Many Jewish dishes are eaten in Poland today so the influence really goes both ways. Some popular foods include potato latkes, cabbage rolls (both of which can be eaten at almost any Polish restaurant), a type of beef-stuffed dumpling, stuffed fish, turkey roulades, turkey filets in honey-orange sauces, white cabbage borscht etc. The biggest differences between Polish and Jewish cooking is the lack of pork and strong use of seasonings as well as sweet sauces eaten with savory foods.
A sweet Jewish bread called challah, eaten on Sabbath and holidays, can be bought in most Polish bakeries.
Jewish Quarter – what to see?
A good place to start is the top of ulica Szeroka, as the name conveys it is very wide and resembles a square rather than a street. It is on Szeroka street that the first merchants settled, the cities most significant synagogues can be found at the very end – the Remuh Synagogue which is surrounded by a historic cemetery and the Old Synagogue. At the entrance of the former stands a monument of Jan Karski, commemorated for his efforts to notify Western Allies of the Nazi genocide during the second world war. Next to the Old Synagogue is the High Synagogue, named after the praying room which is located on it's second floor.
Now ul.Szeroka is lined with Jewish restaurants and businesses aimed at tourists.
At Jewish Quarter you can enjoy many of the hip bars and restaurants that have a completely different vibe (and lower prices) than the ones in the old market square. A central place of Kazimierz known as the "New Square" is a unique place that offers inexpensive local fast food into late hours of the night, cheap alcohol, and occasionally a local market. A round building called "Okrąglak" is the epicenter of the new square. Originally a central trading destination then a poultry slaughterhouse, it now sells mostly zapiekanki a Polish mini pizza made on bread instead of dough. Its surroundings occasionally act as a marketplace with local merchants setting up to sell their goods.
Plac Bohaterów Ghetta which translates to The Square of the Ghettos Heroes, during the war it acted as the center of the Jewish ghetto and prior to that as a busy marketplace. It was here that the selection and execution of thousands of victims took place. Now the square is a place of commemoration of the tragedy that occurred during the war.
33 monumental chairs and 37 regular chairs made from iron and bronze are lined up in rows to symbolize the tragic death and the "empty seats" that the residents of the ghetto left behind.
Schindler's list was largely filmed in Kazimierz (despite very little of the historical action taking place there), this is what brought the most international attention to Kazimierz.
Usually, tours of the Jewish quarters include visiting places in which the film was shot. Of Course, there are many other significant places to visit, such as cemeteries and Synagogues.
Revival of Jewish Culture in Kraków
Communist authorities neglected Kazimierz, however, after 1988 an annual Jewish Cultural Festival has been drawing tourists and Cracovians back to the area and has re-introduced Jewish customs and culture to a generation who has grown up without the influence of the Jewish community. Partly due to the popularity of the festival as well as the filming of Schindler's List by Steven Spielberg, renovation and reconstruction efforts of historic sites have been in place since 1993. This has also led to an increase in Jewish-themed bars, souvenir shops and restaurants which increased tourism and interest in the area. Some American and Israeli Jews have moved into the area so Krakow is seeing a small growth in the Jewish population.
Yiddish and Hebrew lessons are available to all interested and a Jewish youth group meets every week in Kazimierz.
A functioning Synagogue is the Remuh Synagogue serves a small congregation of Cracovian Jews. Synagogues can be found in 6 Polish cities, although not many play a religious role as there are only two Rabbis serving the Polish Jewish community. Foundations that work towards the revival of Jewish culture sponsor Jewish periodicals and book series. There are Jewish summer camps and schools and major Universities offer Jewish studies as majors. The Union of Jewish Religious Communities in Poland's promotes and organizes cultural and religious activities in Polish communities.