Summer might be over, but here comes September!
The scenery is beautiful, especially if you are staying in a city as stunning as Krakow.
No idea what to do there?
No problem! In this post, I'm going to tell you everything you need to know about the weather in Polish September, how to prepare for a trip and share my ideas how to spend September in Krakow and have the best time!
Ready to feel the atmosphere of autumn and some fun things?
Let's go!
Krakow in September – how does it look like?
September is one of the most beautiful months in Poland. It's the beginning of autumn. Golden leaves start to fall from trees, apples are in season, so they are everywhere, heathers are more amazing than ever (the Polish name for September comes from heather). You can feel this special, cozy atmosphere in Krakow. You just can't miss it!
Krakow in September – the weather
Septembers in Poland are usually warm and sunny, but the days are not so scorching hot anymore.
Krakow in September has an average temperature of 14°C (about 57°F),  fantastic for getting out and exploring this area in the south of Poland.
Small rains happen, but they are usually warm and quick.
It's not a very windy month, winds are gentle.
Before you decide on doing anything, I highly recommend checking the weather forecast, because you can never be sure about the weather.
What to pack and wear while visiting Krakow in September?
You should definitely pack a light jacket – the nights are getting colder and colder.
During the day, long pants and long-sleeved shirts should be just fine. But don't worry, there are still a few warm days, so you can rock your mini skirt or shorts!
What is also essential is an umbrella, you may also consider a poncho or a raincoat – you don't want to get wet while sightseeing.
Make sure you take comfortable, closed shoes that are easy on you're feet.
Pack your camera, your selfie stick, a positive attitude and you're good to go!
What to do in Krakow in September?
Eat apples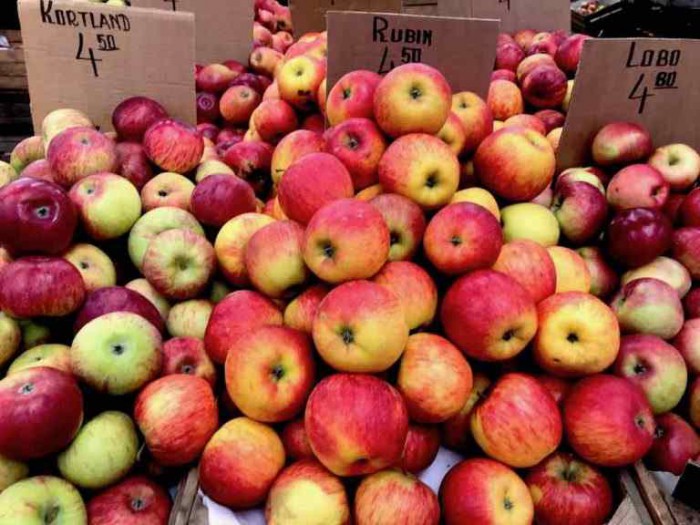 There is nothing better to eat in September in Poland than apples.
Polish apples are the best and are known all around the world. And September is the best month to indulge in their variety because it is the month when the apples are in season. The best way to get these delicious apples is to visit a local market in Krakow.
Stary Kleparz is one of the biggest and most famous markets in Krakow. It is definitely worth visiting. Not only to buy things but to feel the atmosphere of a traditional Cracovian market!
Go cycling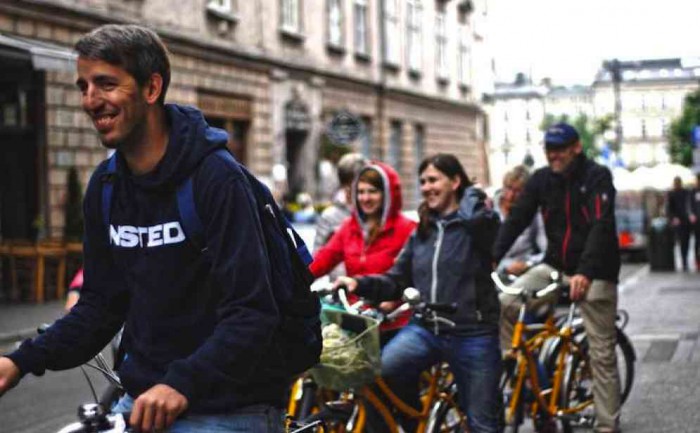 If the weather is nice, how about renting a bike and going on a trip?
There are so many bike trails in Krakow, but you should choose one with a special view! Admire the sun sparkling in the Wisla river water, see the beautiful view of Zakrzowek or explore the urban landscape of Krakow.
All of this while burning a whole lot of calories!
Go for a walk
September is the perfect month for long walks. It's not so hot anymore and the feeling of autumn in the air is to die for! We all know the best places to go for a walk are parks. And it just so happens to be a lot of amazing ones in Krakow.
Park Jordana is a great choice if you want to actively spend the day,
Park Strzelecki is perfect for people with kids,
Park Lotników is good for people who get bored easily because of its original and irregular paths. Take your family, your significant other, your dog, your friend, anyone you want or even go alone.
Breathe fresh air and admire the changing colors of Autumn!
Have a piece of Polish apple pie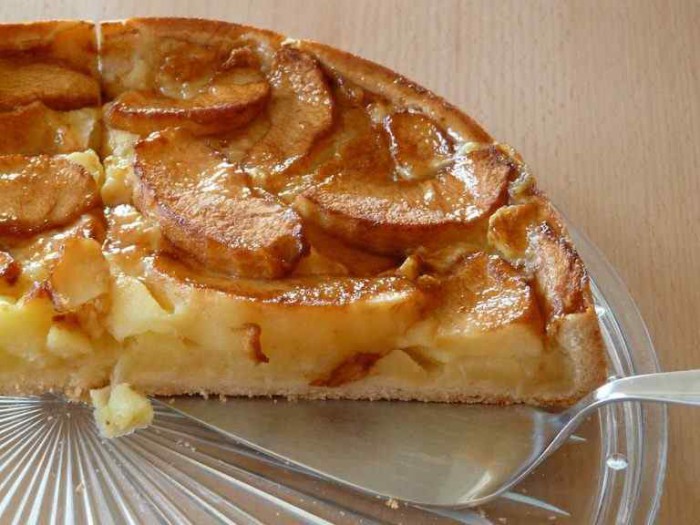 Since Poland has the best apples, its apple pies just cannot be worse.
And they certainly aren't.
Furthermore, they come in all shapes and sizes. On a colder day get a cup of coffee, order a piece of polish apple pie, fall in love with it and … have another piece :)
There are so many places to taste the amazing apple pies in Krakow. September is a good time to visit them. The best apple pie in Krakow you can find at:
Have a Harry Potter themed meal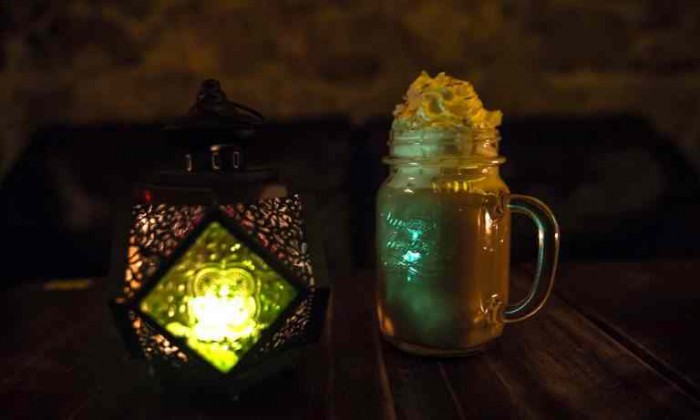 On a gloomy, rainy, grey day, instead of watching a Harry Potter movie again, you should definitely visit Krakow's "Leaky Cauldron".
Take your friends there and I swear you'll have a great time. Feel the atmosphere of the Wizarding World of Harry Potter, imagine that you are a Hogwarts student, have a butterbeer and feel the magic!
Go sightseeing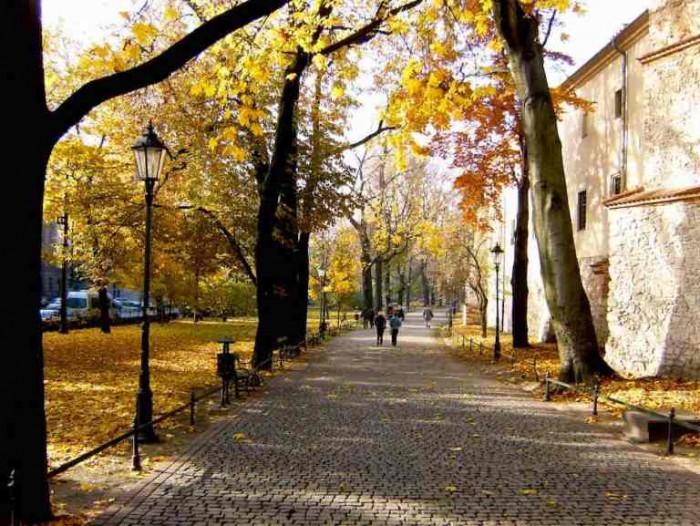 There is nothing better to do in Krakow than going sightseeing.
This city has a historical building on every corner! Not only can you get some information about the city, but you can admire the stunning elements of architecture.
September is a perfect time to do that, because of the great weather, gentle sunshine and beautiful scenery. Do not forget to take your camera – so many beautiful things just have to be captured!
Drink some chocolate
Feeling blue? This one is for those colder, sadder days in September. And what is a better solution for a gloomy day than chocolate?
I can't think of any.
Take a friend and have a chat while drinking the best chocolate in Krakow. Its sweet and gentle flavor can improve even the worst mood. And if chocolate place, then the best one in the city. Wedel's place on the Main Market Square (Rynek Głowny 46) is iconic and definitely worth visiting!
Explore Wawel
Even if you're not a history freak, this one will be interesting for you. Wawel was a residence of most of Polish Kings and one the most important places for Polish history.
Beautifully located, Wawel charms with its stunning architecture and one of a kind atmosphere. It is especially worth seeing in September when a lot of important anniversaries take place (coronations, taking the castle by German powers in World War II).
If you want to make the most out of a trip to Wawel, you should book a Discover Cracow trip!
Taste some beer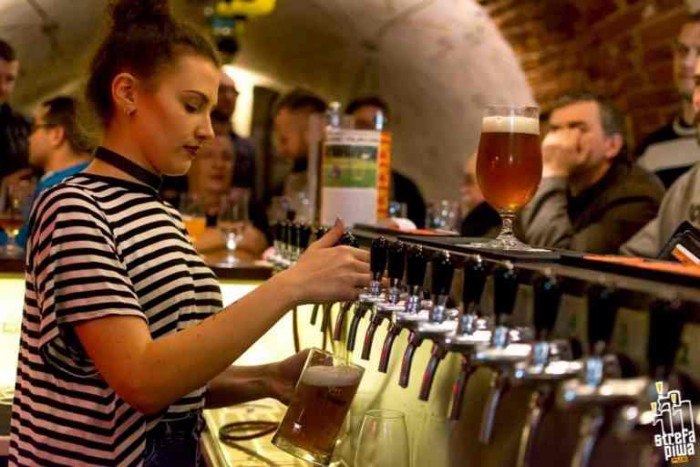 September evenings are the time to sit, relax and taste some good beer. While dark, strong beer seems to be the perfect choice for autumn nights, the choice of beer in Krakow is so wide that you are open to experimenting with all kinds and flavors.
Stronger or weaker, lighter or darker, fruit flavored or not, you will find something for yourself for sure. And Krakow's beer places will help you indulge in the flavor. Go, taste and have fun! Best beer in town? –  Strefa piwa
Phone number: +48 12 426 42 54 Email address: INFO@STREFA-PIWA.PL
Why should you visit Krakow in September?
Beautiful city, amazing weather, cozy atmosphere, interesting places, stunning views, friendly people… You can't ask for more. Visiting Krakow in September is truly worth recommending.
I promise that you won't regret spending time there.
No time to waste! Go and see it for yourself!
If you'd like some more information, check out our other post about activities in Krakow.
What month have you chosen to visit Krakow? Tell me in the comments down below :)