Everything you need to know about the Bochnia Salt Mine

A comprehensive guide packed with useful information
The salt mine in Bochnia, together with it's more famous sister – the Wieliczka Salt Mine, used to be a part of Żupy krakowskie – a very profitable Polish salt mining company operating in the past centuries (XIV-XVIII, to be exact).
What's up with Bochnia today? It offers a wide variety of attractions directed to people of all ages and interests and can easily become the dark horse of your trip to Lesser Poland.
In 2013 it made the UNESCO World Cultural and Natural Heritage List.
 
Not too shabby, huh?
Come and check it out for yourself – you won't regret it!
We have compiled a comprehensive guide for your convenience – we hope you'll find it useful for planning your trip.
Without further ado, here is everything you need to know about the Bochnia Salt Mine.
Enjoy :)
---
But... let's start from the very beginning.
Why is Bochnia Salt Mine worth visiting?
Contrary to the ever so busy salt mine in Wieliczka, Bochnia is not as crowded and filled with tourists at all times. If you value peaceful atmosphere and want to comfortably visit the magical world hiding underground - Bochnia is the way to go!
Bochnia also offers some unusual attractions that are not to be found elsewhere, which is definitely an added bonus!
---
Tours
 
A universally interesting tour taking the tourists through the maze of chambers and chapels. Visitors can look at many salt sculptures and mining tools on their way.
The last stop on this journey through the magical underground city is the biggest chamber of the mine - Ważyn. There's a restaurant, a gift shop, playground and even a sports field there!
The multimedia exposition is a one-of-a-kind opportunity to time-travel, which makes it much easier to imagine and understand how the mine used to operate in it's glory days.
The route is almost 3 km long, leading the brave tourists through narrow galleries and ladder sections. Before deciding to take on the challenge, make sure you're in good physical condition!
All that effort is definitely worth it because of the sights and rock formations uncovered by miners - they are simply breathtaking. You will also get to see some interesting geological exhibits that illustrate the structure of the Bochnia salt deposit.
Additional attractions 
Underground mine train
140-metres long wooden slide
---
Brief history of the Bochnia Salt Mine
The current area of Bochnia Salt Mine began to be mined during the XIII century under the reign of Duke Bolesław V the Chaste and his wife, Kinga.
But the history of this hidden gem dates back to 3500 years B.C. That's when the salt was acquired by from brine wells that slowly gave way to excavating salt with the use of emerging mining methods. Bochnia became an excavating plant in 1248. As a royal facility, it generated a massive income for the Polish kings.
The mine developed more rapidly in the XV and XVI centuries as more shafts were constructed and the existing ones were being expanded. The mine was also a site of technological innovation as new extraction techniques were introduced and developed for the benefit of the miners.
However, the XVII century brought political and economic turmoil, and the mine's development slowed down significantly.
Following the 1771 partition of Poland, the mine became part of the land that was occupied by the Austrian Empire. In fact, the mine remained under the Austro-Hungarian Imperial control until 1918, the year that Poland gained independence.
During the XX century, salt mining, in general, decreased due to its relatively small profitability. By the end of the century in1981, Bochnia salt mine was listed in the Polish Register of Historical Monuments and soon opened to the first visitors curious about the history of Polish salt mining.
Today, the Bochnia salt mine is considered the greatest treasure of the region that contributed to its rich history and economic prosperity throughout the ages.
---
Saint Kinga of Poland - the legend
Legend has it that Kinga - the Hungarian princess who got engaged to Duke Bolesław V the Chaste - didn't want any expensive gifts for their wedding. Her only wish was to get salt for the people of her new country. Her father gave her one of the biggest salt mines in Hungary, where she threw her engagement ring into one of the shafts. 
When travelling to Poland, she took some experienced miners with her to help her look for salt. They found it in Lesser Poland, and her ring was miraculously found in the first lump of salt they've excavated - that's where they've decided to build the mine. 
---
Bochnia vs. Wieliczka - comparison
If you're wondering which one to choose as the destination for your trip, I have good news - there are no losers in this competition :) 
Both have state-of-the art infrastructure, are absolutely magical and beneficial for your health (due to the properties of the air).
If you absolutely need to choose though and struggle with it, take the following into consideration:
Wieliczka Salt Mine is closer to Krakow, so if the commute (more specifically - it's duration) is important to you - bear that in mind. 
Tourists seem to love both just as much - both Wieliczka and Bochnia are rated 4,5/5 stars on Tripadvisor 
In Wieliczka you can choose the tour based on the hour that suits you best; in Bochnia there is only one English tour per day and it's at 10:30am
Bochnia is way more quiet and less touristy, so if you don't feel great with crowds and queues, it's definitely going to be a better choice for you.
How to get to Bochnia Salt Mine from Krakow?
By train
A direct connection between Bochnia and Krakow is an easy, comfortable and affordable option - the train takes you there in ~40 minutes and the ticket costs 6-10PLN.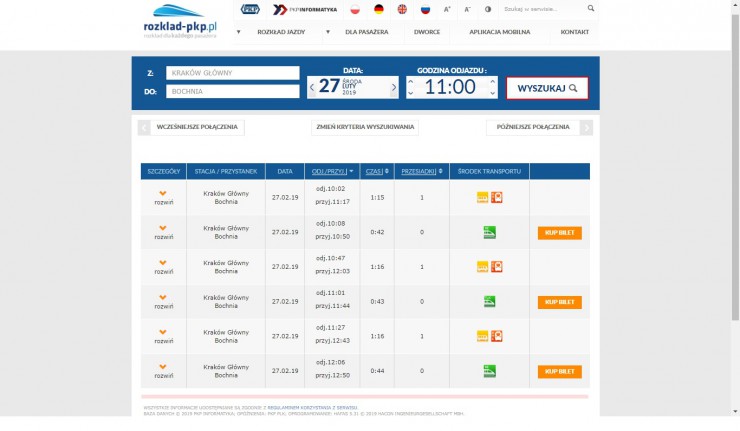 By car
It takes somewhere between 40 minutes up to 1 hour to drive from Krakow to Bochnia by car, depending on the route you choose and, of course, the traffic.
By bus
There are private companies that offer bus connections from Krakow to Bochnia - costing a few PLN, it can be a good (although probably slightly less comfortable) alternative for a train. You can check out  AB BUS or SK-BUS for example, bear in mind though that to find the best deal possible at the time you're planning your trip, it's a good idea to google current options along with price lists and timetables.
---
Opening hours
The regular tour 
You can take part in the regular tour in English every day of the week at 10:30.
Historical Route - The Old Mountains Expedition
There are no fixed hours for this tour - if you're interested, you have to contact the mine directly.
Stay in the Ważyn chamber
The lift takes tourists down there each day at 3:00 PM.
---
Prices and tickets
 A regular ticket for the English tour costs 70 PLN, discounted - 60 PLN.
Where to buy the tickets?
The tickets are available in the mine.
---
A handful of useful information
Wear something warm and comfortable. The temperature in the mine is always 14-16 °C - bear that in mind during hot summer!

Medical counterindications for going down into the mine: circulatory and respiratory insufficiency and claustrophobia.

Wear comfortable shoes - absolutely crucial, as you will have to walk over 700 steps! 

It's a good idea to but the ticket online, but if you want to buy it on the spot, it's recommended to be at the mine ~30 minutes before the planned beginning of the tour.

To go down the slide, you will have to wear long trousers and closed-toe shoes.

Free stays are available for children up to 3 years of age.

Discount tickets are available to school children and students up to 26 years of age upon presentation of a valid school or university ID card.

You can take photos and videos in the mine without paying any extra fees.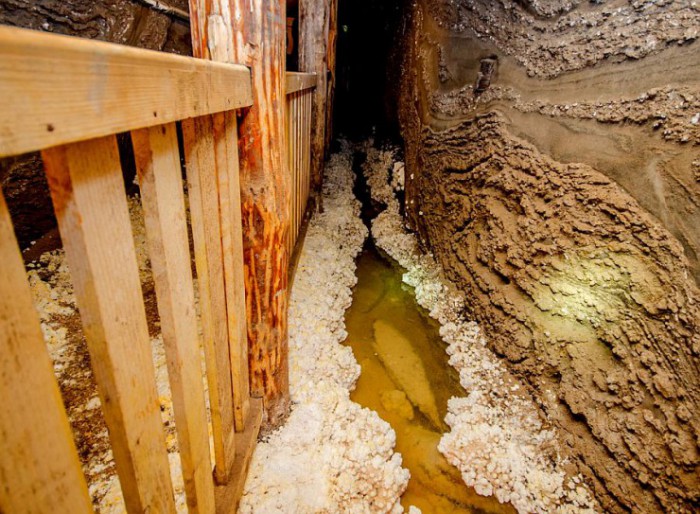 ---
Peter F:
Bochnia salt mine is much, much quieter than Wieliczka salt mine and just as good. There is just one English-language tour each day (now at 10.30 am). There were just the two of us on the three-hour tour and we had an excellent guide. A marvellous experience. We travelled from Krakow to Bochnia by train (10 zl.) and returned by bus (6 zl.) 
It is very odd that Wieliczka is widely advertised in Krakow, but Bochnia not at all.
Moloko2:
It's a great place to visit. The oldest mine in Poland, even older than more famous Wieliczka mine. Three different routes, underground boat trip optional. One can eat, play, sleep ca. 300m below ground. Ride with mine train is exceptional. During march weekend spot was not overcrowded so quite convenient for sightseeing. Didn't try a possible slide ride but looked interesting (polished wood in descending corridor).
hghani86:
Very interesting and historical place. Definitely worth a visit even though it's not as popular or as its sister mine Wieliczka, although it is around 40 years older. We also got to slide down a massive wooden slide!
happyincumbria:
It's the first time I have ever done a mine tour. And believe I couldn't have picked a better one to start. Our English speaking guild was so good, she spoke with great passion about the history of the mine.
I was so surprised to see how clever the miners were, with the great things they carved out of salt rock. And how big the mine was. And that's with us only seeing 3 of the 9 levels they worked in. If you have a chance to visit do you will not be disappointed.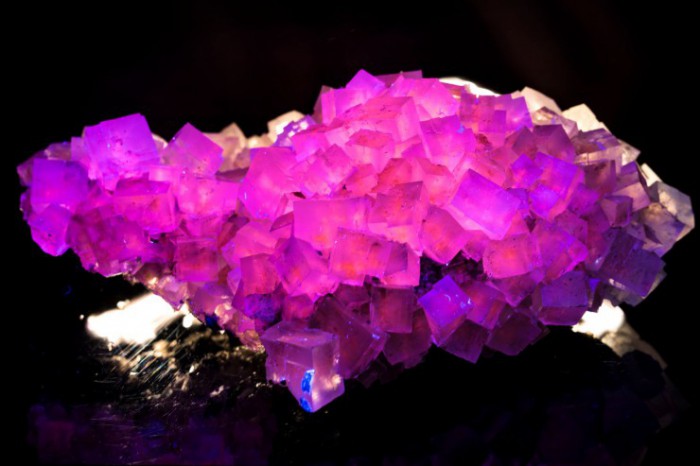 ---
I hope that by now you feel encouraged to experience the Bochnia Salt Mine by yourself!
It's definitely a great trip destination for a family trip - both the kids and adults alike give in to the magic of the mine and become enchanted by it's unique atmosphere. And of course, they all have lots of fun while doing so :)
See you there!