Living in UK? Here Is Why YOU Should Visit Krakow!

If you need convincing, keep on reading!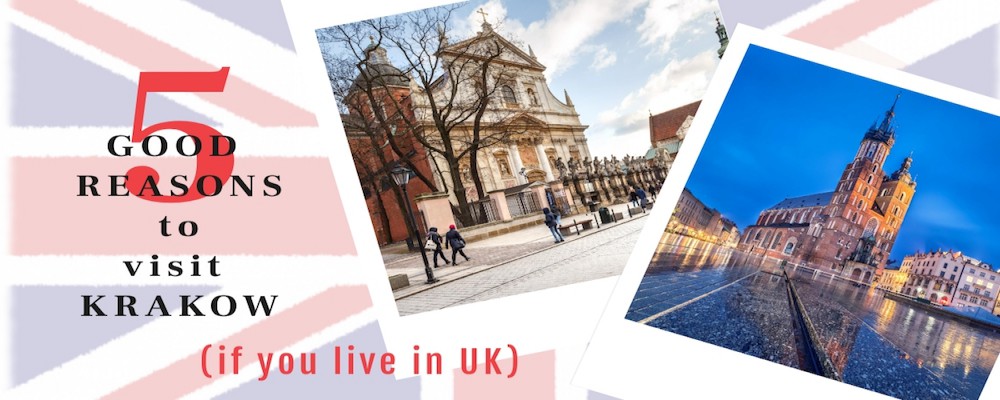 As the summer months roll in, we all feel the desire to travel and explore. If you'd really like to do something new and exciting but you're short on cash right now, don't worry! An amazing weekend trip is still within your reach. 
Have you thought about visiting Krakow?
Trust me, in the era of cheap flights and affordable accommodation, you can spend next to nothing and have a fantastic holiday.
And that's especially true if you choose an affordable destination like Krakow.
Here are 5 good reasons why you should visit Krakow if you live in the UK and want to spend an unforgettable holiday without breaking your wallet.
---
1. It's full of possibilities!
It doesn't matter who you're travelling with... Everyone will find something to enjoy. It's the ultimate destination for family trips, romantic getaways, stag nights and solo city breaks.
I could go like that for much, much longer - just check out the tour section on our website to explore all the exciting options and activities you can participate in.
Feel invited!
---
2. It's so close!
If you live in the UK, you're in luck – thanks to the incredible number of Polish people who now live in the country, there are plenty of affordable travel options to choose from. Flights from London to Krakow usually take around 2.5 hours which is a short and comfortable trip. In general, a typical flight time to Krakow from practically any spot in the UK will be around 2 to 3 hours. You can be sure that most large airports offer a direct connection to Krakow.
If you're looking for direct flights to Krakow from London, you can choose between three carriers: British Airways, EasyJet, and Ryanair. The last two usually offer cheap traveling options, especially if you book in advance and out of the holiday season. British Airways offer flights around 70-200 GBP, depending on season. With Ryanair, you can find flights as cheap as 35 GBP. Finally, around 50 GBP will surely take you to Krakow with Easyjet.
You can learn all about the Krakow Airport in our blog post. And if you value comfort - book your Krakow Airport Transfer in advance!
---
3. It's so cheap!
Even though it's a large and vibrant city, Krakow still offers amazing value for money. If you're traveling on a budget, choose from hostels or cheap hotels located right in the city center or nearby.
You can get a decent continental breakfast for 1-4 GBP. Have lunch at one of the traditional milk bars that serve delicious local cuisine for not more than 2-5 GBP. There are plenty of amazing dinner options as well, for example, a traditional dish of pierogi will cost you 4-5 GBP.
And how much is beer in Krakow? Most of the time you'll pay something around 2 GBP, but some pubs serve beer for as little as 1.5 GBP. If you're still asking yourself 'Is Krakow cheap?', consider the pricing of public transportation and taxis. An average taxi drive will cost you around 2-4 GBP.
If you're on a tight budget, travel to Krakow outside of season - during autumn or winter. Also, do some research beforehand to avoid losing money in currency exchange. Unlike most countries in the European Union, Poland has its own currency which is zloty (PLN). All the prices you see in restaurants and shops are given that currency so it's best to head over to the nearest currency exchange and get some cash. Here is a detailed guide to everything you need to know about the currency you need to use in Krakow.
---
4. It's the best place to party!
If you're considering a trip and still wondering where to go out in Krakow, don't worry – we've got you covered.
Krakow is famous for its nightlife for a reason. Take full advantage of this amazing, vibrant city that never sleeps.
You will find all kinds of nightlife entertainment here – whether we're talking about bars with live music, clubs, pubs or traditional establishments where you're served a shot of vodka with a snack.
To see what Krakow's famous parties that lasted until dawn look like, head over to the Old Town. That's right, the city's historical center houses some of the most incredible bars and clubs and you can get a nice look the nightlife by taking a walk along Floriańska or Szewska Street.
If you're fond of clubbing, try clubs like Prozak 2.0, Frantic, Lokal Krakow or Shakers – they're all popular and offer the highest quality of service combined with impressive sound systems. If you're more into cozy pubs, you simply can't leave Krakow without visiting Alchemia, Strefa Piwa (Beer Zone), and Klub Pod Jaszczurami.
What about the famous vodka + snack places? Drop by Zakąski i wódka or Ambasada Śledzia (The Herring Embassy) to have a shot of vodka, a pint of beer, or glass of wine paired with local delicacies such as meat jelly, herring, boiled white sausage, lard-covered bread, and homemade bigos. These are definitely the cheapest places to get drunk in Krakow.
---
5. It's full of free attractions!
There are plenty of cool things you can do for free in Krakow. Climb the Krakus Mound for amazing views of the city. Stroll along the picturesque Vistula boulevards to admire Krakow's panorama. Enjoy the open-air market on Plac Nowy located in the heart of Kazimierz, the Jewish district.
And take advantage of free admission days at Krakow's most famous museums:
---
Krakow is the place to be
If you live in the UK, Krakow is just one short flight away. Now that you know how many treasures it hides for visitors to explore and enjoy, booking a ticket is a piece of cake.
Krakow is interesting, fun, and affordable – a perfect travel destination for every season of the year.
Have you got any questions about visiting Krakow from the UK?
Give us a shout-out in comments, we're happy to help you plan your travel and see the best of Krakow.