Night out in Krakow – do it!

What is it like? Is it Good? FIND OUT HERE!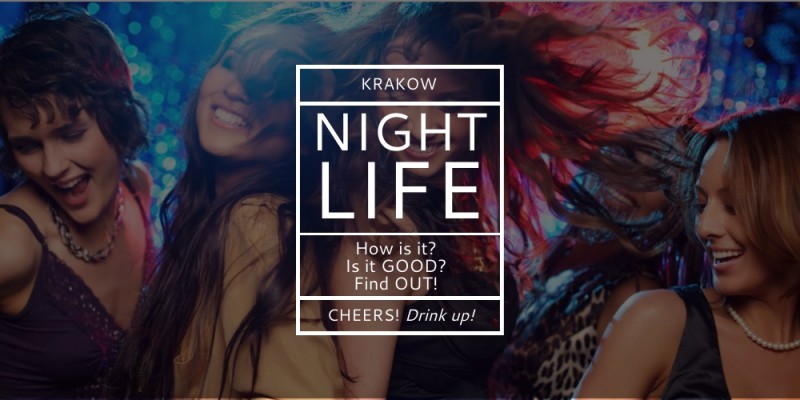 A nice time is not only the moments you spend exploring or tasting the local cuisine. It is also the nightlife that can be as attractive as daytime activities! If you want to get to know the local culture and also make new friends outside of your country, get to know Krakow from this side. Nightlife in this city never stops, also due to the large group of students who in the academic year willingly participate in parties and organized events. Check if you like such activities as well!
Krakow nightlife should definitely be on you "to do in Poland" list!
Become a Krakow nightlife expert!
In this article, I will show you:
best parties and happenings that take place in Krakow so enjoy them to the fullest
best clubs and bars in the city – you'll find there tasty drinks and greatest music
some useful tips about Krakow nightlife, which will also help you choose an interesting place yourself. 
Let's go!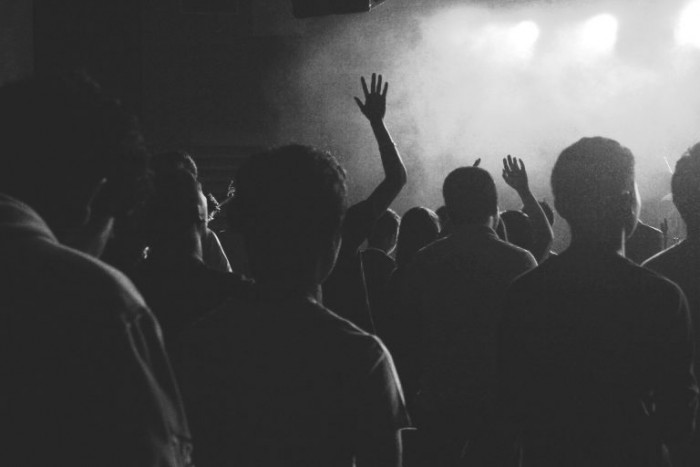 ---
If you don't want to do the reaserch yourself, you should definitely take part in our Krakow Pub Crawl.
Not only is this a way to see the most interesting and fun bars in Krakow, but you can also meet a lot of great people from all around the world! Additionally, it is a great way to save money, for instance, in every pub you visit you get a free welcome shot. In this way you will learn about Krakow's nightlife and the hospitality of the city from the inside out thanks to knowing the best clubs and the most interesting events!
Isn't it amazing?
Check out the offer here: Krakow Pub Crawl
---
What is Krakow nightlife like?
Krakow nightlife is very intense. In the nightlife of Krakow you will find the way to spend your time exactly as you like. It can include the best night clubs in Krakow, along with interesting trips and organized events.
You can be sure that you will find every kind of evening entertainment here, whether it's a bar with live music or a party with a DJ.
Other options are pubs (also with food), karaoke or "vodka and snack" bars with really nice prices.
You do not have to worry what to do in Krakow nightlife, because according to some sources:
Krakow can boast the highest density of bars and clubs in the world!
But before leaving your apartment or a hotel room, find out some useful facts about Krakow nightlife. This will help you plan activities that you like and which will provide you with unforgettable life-long memories.
Krakow is a city often chosen by young people, students and those who like unusual, colorful life, like artists. This is a great opportunity to meet new people who are open to other cultures. I guarantee that you will find some common topics in no time. They will certainly be happy to show you their favorite bars and spots not mentioned in the official guides.
That's why Krakow is open for crazy parties which usually last until the morning. 
---
Where is Krakow nightlife?
The greater part of Krakow's parties takes place within the old town. This is where you will find the best clubs in Krakow. They offer different drinks and attractions, they vary if it comes to overall atmosphere and theme and they play different music genres.
So if you want to find some nice bar quickly, take a walk along Floriańska or Szewska Street. You'll easily find an interesting place that will delight you with its atmosphere.
You can be sure that there will be a lot of different people in all those places and – for sure – you won't be the only foreigner there! The Old Town usually attracts the majority of tourists seeking interesting entertainment and new acquaintances. Here you will definitely find Poles who speak English who will be happy to make friends with you.
But if you want to find some less popular places with some local people, it's also a great idea! These spots usually lie outside the Krakow nightlife area, but this does not mean that they are any less intense or interesting. You will find more space and less people in them, which can be an advantage on a Saturday evening, when the streets are full of people looking for entertainment. If you want to decide on a club or pub yourself, you'll find some valuable tips at the end of the guide. Thanks to these tips you will learn Polish customs and make the right choice.
But where to find them?
People living in Krakow really like to visit pubs in Kazimierz – a historic Jewish district. They are a great place to encounter a party atmosphere which is slightly calmer than one at a club. They are also great places to sample local Polish beer, often coming from small breweries. If you're a fan of this type of drink, check out some of the pubs in this area. There you will find:
•    rich and tasty, stout and Baltic
•    creamy porters
•    refreshing IPAs
•    intriguing Rauchenbocks.
You will definitely have a nice time here.
As you can see on the map above, there are plenty of pubs on every street. All you have to do is choose the one that suits you best!
I love pubs located in Kazimierz because of their cozy ambience and different interiors - Łukasz
 
We're sure that now you only want to know what place to choose.
Here are some propositions.
---
Top 5 clubs in Krakow
Looking for some nice music, big dancefloor and crazy party-people? You are not alone in this – it is the goal for many people, both tourists and residents of Krakow. In many clubs you will find international music, but some of them also offer vintage Polish hits. Remember that some clubs in Krakow have a nightlife dress code. You may not be able to get into a great party without proper clothing! It is better to avoid sports styles. The safe choice is casual and semi-casual styles.
Choose one of those clubs:
Prozak 2.0 - three-levels, oldest club in Krakow
Prozak 2.0 is a reactivation of one of the oldest clubs in Krakow. This underground-style place can be proud of fantastic sound system and the highest quality of service. This club is adored by the best producers and DJs from around the world, that's why their sets often end with sunrise. The club has 600 square meters and extends over three levels of historic building.
Lokal Krakow - dance, three bars and pizza
Three bars, two dancefloors, a different DJ every day, great music and… pizza – everything in an old tenement house. If your favourite kind of music is r'n'b, hip-hop and dance music, you're gonna love this place. Brick walls and a lot of mysterious corners make this place unique. Another advantage? It's located on the main square of the old town, so you're close to everywhere.
Frantic - theme parties and famous DJs
Frantic is known to every party-goer in Krakow. Probably because it's one of the first clubs in the city. Advantages of Frantic are: selected clientele, excellent service at four bars, air-conditioned interior, minimalist decor, VIP room and high-level music. The club offers regular themed parties from every Wednesday till Saturday. Frantic is also regularly visited by famous DJs.
Shakers - modern design and Fridays for ladies
If you don't like Frantic, you can just enter the next door and visit Shakers club. The club stands out with a modern interior, cosy leather sofas, screens on the walls and energetic music. You can go crazy there almost everyday. On Mondays you can feel like at a house party, on Tuesdays you're gonna enjoy lower prices and Fridays have special offers only for ladies. Sounds like fun!
Społem Deluxe - partying in Polish retro style
Looking for some Polish style of partying? Społem Deluxe will be really exotic for you thanks to its old-style, retro interior taken from Polish Republic times. Colorful lights and walls, nice drinks and a lot of Polish and disco music can be a perfect plan for the night! Visit Społem Deluxe as soon as it's possible and take an amazing journey back in time. And don't look for a DJ – he hides in an old car called Nysa.
---
Top 5 bars in Krakow
If you prefer siting, talking and drinking good beer or drinks with a group of friends, visit one of the best bars in Krakow. This is a good place not only to meet locals, but also to make friends with other craft beer fans. If you want to get to know the beer life of Krakow from the inside - you should start here!
Here is our list:
Alchemia - bar with entrance through a wardrobe closet
Alchemia is one of the famous bars located in Kazimierz. It's a magic place where you can meet local people and other tourists interested in the nightlife of the city as well. Alchemia consists of many tight rooms filled with old furniture. The entrance to one of them leads… through the wardrobe! You won't forget this place.
Strefa Piwa – Beer Zone – for people who can appreciate a good beer
Beer Zone is the perfect place for all beer lovers. They offer an amazing selection of craft beers, so everyone can find this perfect one. The bar is rather small but has it's own ambiance. Staff has really big knowledge about beer and is really friendly. It can be your favourite bar on Kazimierz really soon!
Klub Pod Jaszczurami - the atmosphere of old Krakow 
Pod Jaszczurami is an excellent place to visit for a drink or two. Here you can feel real atmosphere of Krakow nightlife also "as in the good old days". This pub is located in the heart of the city so you won't miss it. Amazing parties start here in the evening – you can chose between karaoke, dancing or concerts as well. Brilliant place, great atmosphere and friendly people guaranteed!
Sababa - best cocktails served in several rooms
Sababa is a quite new place on Krakow's bars map but already has a lot of fans. This great cocktail bar has several rooms including one with a DJ. The staff is very friendly, professional and ready to prepare for you one of the best coctails in your life! We highly recommend Sababa to anyone who loves high quality of service and unique atmosphere. Definitely one of the best places in Krakow!
Harris Piano Jazz Bar - jazz relaxation at night
If you are looking for some jazz music experience you have to visit Harris Piano Jazz Bar. This popular club, located on the market was appreciated by the British Guardian and ranked among the best jazz clubs on the old continent. Wonderful music, professional service, inviting colors combined with wood and proper lighting make this place extraordinary, special and original. Check out upcoming events!
---
Top 3 "vodka and snack" bars in Krakow
If you want to party in the real Polish style, visit one of "vodka and snack" bars. They are perfect for fast and cheap drinking before going to some club. You're gonna love that way of partying! In this kind of places you probably won't meet many foreigners but visiting them should be on your "to do" list if you want to get to know Polish culture. A night out in Krakow cannot go without them! 
Zakąski i wódka – bar for partying in Polish style
The rules are simple: food and alcohol should be really cheap, so you can drink a lot and have fun. What will you find in the menu? Meat jelly, herring in oil, boiled white sausage, bread with lard and homemade bigos (Polish dish based on cabbage) – all Polish snacks that are usually eaten with alcohol. Something to drink? Vodka, beer, white wine, red wine, coffee – everything for 1 Euro only! Feel like in Poland few decades ago.
Ambasada Śledzia – alcohol and... herring appetizers
"Ambasada Śledzia", which means "Herring Embassy", is a place with "Polish tapas", usually prepared from… herring! The formula of "Polish tapas", well understood by many tourists visiting this place based on excellent, traditional Polish appetizers accompanied by alcohol, low prices and a casual atmosphere. Another good news? Beer costs only 6PLN here so it is one of the cheapest places to get drunk in Krakow. Of course served with a typical Polish snack!
Zlew – the oldest "vodka and appetizer" bar with darts
Zlew is one of the oldest "vodka and snack" bars in Krakow.  It tempts with over a hundred types of alcohol and tasty snacks as well. It's a great bar with amazing people. Perfect place if you wish to socialise with locals and tourists. English speaking staff is very helpful here. What else can you do here? Play some darts or watch some TV transmission of various sports events so you can feel like home!
---
Top 3 karaoke places in Krakow
If you like not only dancing but also singing, karaoke bars will be a great choice for you. Check out where you can find the best clubs in Krakow that organize parties for wanabe-singers.
Coyote Bar – music from the 70s, 80s and 90s
Coyote Bar is one of the most interesting places on the map of Krakow nightlife. It encourages guests with attractive promotions and a nice atmosphere. Every day you can sing karaoke or dance to the music from the 70s, 80s and 90s. Another advantage is the cosy garden, perfect for pleasant meetings. Beer, shots and songs – sounds good, right?
Cocktails & Songs – karaoke with strangers... or just with friends
A really climatic place to spend a nice evening with friends tasting delicious coctails. One of the best karaoke in whole Krakow. Very nice atmosphere and lovely owners. You can organise here also a private karaoke party. Just follow the Facebook profile and look for some special offers and events. This is an interesting option if you came on vacation with friends.
The Legends Music Club – four days of karaoke with all-time hits
The Legends Music Club is a place where low prices and the greatest hits of the past decades meet in one place, making a legendary party everytime. This is the only place on the map of Krakow nightlife, where fans of The Beatles, Elvis Presley, Boney M and Ace Of Base can meet in a nice atmosphere and party until the early morning. You will find karaoke here on every Sunday, Monday, Tuesday and Wednesday. Choose this place if you like to sing some famous hits.
---
Untypical options for a party night out in Krakow
Krakow nightlife can also surprise you with interesting party-alternatives. If you are not interested in typical clubbing, your voice is more suitable for frightening children, and you can drink beer in a pub whenever you like, these options may interest you.
What kind of?
Tram or boat party in Krakow – partying in an unusual style
Yes, that's true – you can join a group of young, crazy people partying on the tram or board of the boat. Look for some tickets online!
Watch some amazing video of a tram party here:
Krakow nightlife tours – nightlife in the form of... tours!
If you are still not sure where to go or you just don't want to waste your time for research, join one of the Krakow club tours. This way you will get to the most interesting places without having to search for them.
As you can see there are many nice options of nightlife in Krakow. Most places are really friendly and open to tourists.  If you want to be sure that you will find yourself in such a place, stick to our Krakow nightlife areas. Remember – the closer to the center, the greater the chance that you will have fun among local residents, as well as other tourists. The language is not a barrier – service in most bars, clubs or pubs communicate in English.
Krakow bars to avoid
Krakow nightlife is really great, but it also has some places of bad fame.
First on the list are strip clubs. Their main purpose is to take from you as much money as possible, especially when you're drunk. Strip clubs in Poland aren't nice and friendly places so better say "no" if someone will try to invite you there.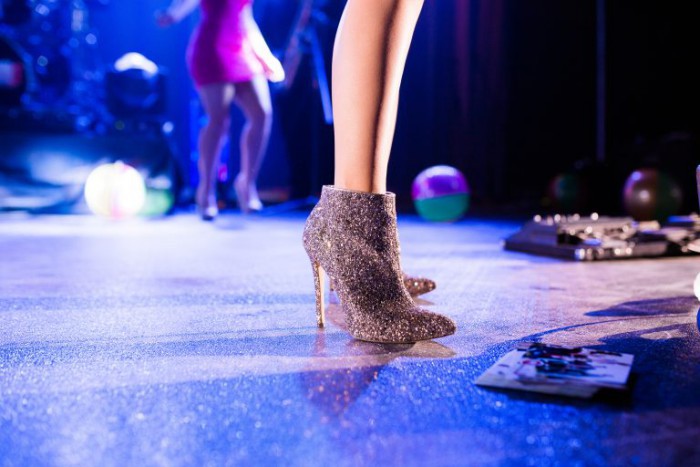 If you find some bar with Polish teams football match transmission – be careful. Polish fans of football may be hooligans, especially if they are in a big group. If you see that they are drunk, better get out of their way as they can be quite aqressive and try to start a fight.
What else?
Better don't try to enter some bars and pubs located far away from the old town. In the middle you can meet only local people from the neighborhood, which may be not so friendy to tourists.
Once I visited some bar in the middle of the block housing, far away from the city centre. I felt very strange because everyone was watching me - Caren
And the last tip:
Avoid bars without security and bodyguards. You never know when you can meet someone unfriendly, so it's always better to have some external support.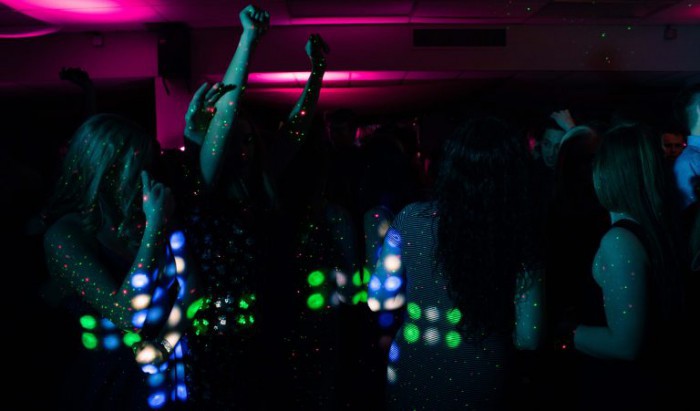 If you follow these steps you will have a really nice party!
---
Useful tips before you start to party
You can pay by card in almost every club and bar but always check the amount displayed on the terminal before you enter the code. Some bartenders may try to cheat you.
It's good to have some coins inside the pocket for tips if you are very satisfied with the service.
A lot of clubs offer free entrance before 11:00 PM. It's also a good time to find some place to sit and make yourself comfortable.
Parties in Poland usually start at 10:00 PM and finish at 4:00-5:00 AM. Most people appear in the club around midnight.
It's a good idea to order a taxi to the club and back home. But if the weather is nice, you can have a lovely walk trough the old town as well.
Some clubs expect special dress code. Smart-casual style of clothing is the best option but a lot of clubs will let you in also wearing sneakers.
---
Krakow nightlife in a nutshell
Now we are sure that you already know what to do in Krakow nightlife.
Just like this guy:
Huge variety of Krakow's dance clubs, pubs and "vodka and shot" bars will impress you and make your night unforgetable.
Krakow will become your favourite party city if you use our list of recommended places and apply all tips.
However, if you have enough strength after the crazy night join some Krakow tours to know the city even better!