Prices in Krakow – Full Guide!

Read on to find out how to plan the finances for your trip to Krakow!
So you're planning a trip to our beautiful city and are a bit worried about the prices in Krakow? Fear not! Krakow is quite affordable for most types of travelers. Especially in comparison to Western Europe, not to mention Scandinavia.
Since it is one of Poland's biggest cities, prices in Poland Krakow such as living and travel are slightly higher than in the rest of the country. However, this is more noticeable for those moving to Krakow rather than if you are just visiting.
Here I'll try to provide you with a brief overview of the Krakow restaurant prices, accommodation, transportation and tourist attractions in Krakow so that you can plan your trip and budget with ease.
Although compared to other large cities in Poland, Krakow is one of the more expensive cities. Krakow food and drink prices are practically the same as in the rest of Poland – of course, if we consider the prices in medium-sized and large grocery stores, not restaurants or bars. In general, prices in Poland are on a similar level and in places popular for tourists they are slightly higher – the same as all over the world.
What's more, when planning your stay in Krakow, remember that during Easter and Christmas, long weekends and during summers and winter holidays – prices in Krakow can be very high, especially regarding accommodations. If you want to spend less, it is best to plan your stay at a different time or book accommodations well in advance. This strategy can save you a lot of money, and guarantee a wider choice of accommodation.
---
Krakow Alcohol Prices (Price of a Pint) – One may say first things first
The easiest way to compare European cities to each other is by the price of beer (price of a pint in Krakow). If the alcohol is cheap, chances are you're going to have a good time. Krakow is an extremely popular place for Western tourists looking to have a fun night out. I believe this is partly due to the lower prices that the city offers. The main reason, however, is probably the atmosphere of the old town and the beautiful architecture.
So let's get down to business. The average price of a beer in the market square is around 7 zł or 1.70 €, this is about 30% of the cost of a beer in London which averages at about 5.00 €. Check out this handy chart, Krakow scores as one of the cheapest cities in the world in which to buy a beer in. Krakow vodka prices? It is possible to get a shot of vodka for 1 €, although most places will probably be slightly more expensive. Let's be honest, prices of alcohol in Krakow aren't big.
---
Krakow Shopping Prices
So if you are interested in having a day in galleries buying new clothes etc., check Krakow prices below. I think shopping in Poland may be slightly cheaper than in some other countries!
If you are interested in inexpensive shopping in Krakow and the surrounding area, it is worth visiting the large-sized outlet mall located outside the city, more precisely in Modlniczka. There you will find mainly designer clothes and shoes at low prices, including home items as well as tourist and sports equipment. Everyone who loves shopping - especially at low prices – should visit this place while in Krakow.
An overview:
A price of a pair of shoes from Zara or other similar chain store – from 30€ to 80€ on average (65€ or sneakers)
A pair of jeans price  – from 30€ to 40€
T-shirt price – from 7€ to 15€
Jacket price  – from 50€ to 100€
---
Krakow Hotels Prices
If you are looking for cheap accomodation you might opt for a hostel. The prices for a dorm are around 10 €. This may not be as low as the prices in Ukraine or Georgia where you can easily find hostels for 4-6 €, however it is still a lot cheaper than the prices of rooms in London, Paris or Copenhagen which are all more than double than those in Krakow.
There are plently of options if you prefer to have your own room or a more luxurious experience. Lower end hotels and gueshouses offer private rooms for about 20-25 € per person. Apartments are very popular and start at about the same price. Of course there is a variety of places to stay at and like in any city the more luxurious options can cost upwards of 100 €.
To sum up Krakow prices for accommodation:
Hostel prices – From 10€
Basic Hotel Prices – From 30€ per double room
Good/Medium Hotels – From 50€ per double room
Premium hotels – From 100€ per double room
---
Krakow restaurant prices
In Krakow, eating out prices are quite affordable. Of course, the further away from the Main Square, the lower the prices are, so if you want to save or simply do not want to overpay, it is worth checking if a few streets away you might find a better offer. 
If you are looking for traditional Polish food at a really low price, then it's worth visiting one of Krakow's bar mleczny (milk bars). They serve different types of dishes (breakfast, as well as dinners or soups), for which you will usually pay between PLN 8-15 (2-4 €). Milk bars are located everywhere, also within the city center. So you do not have to go to the other end of Krakow, and you can just take a short break for food during sightseeing.
Of course, in Krakow you will also find many really great restaurants with a very high standard – they serve both Polish, Italian, Spanish and Japanese cuisine. Without a doubt, Krakow is the perfect place if you like to try new flavors in beautiful interiors – and not pay too much for it. Probably many people wonder how cheap is Krakow compared to other large European cities? You can be positively surprised because if you take into account prices in the Euro zone countries – such as Italy or Spain, or in the Czech capital, Prague – Krakow is noticeably cheaper.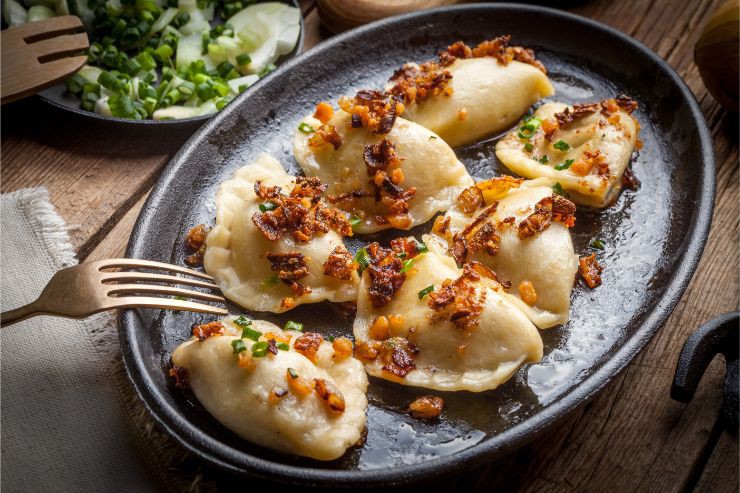 Finding tasty affordable food in Krakow shouldn't be a problem. A meal at an inexpensive restaurant costs around 4.70 € per person. A three course meal at a mid-range restaurant can be around 12-14 €. Fast food is much cheaper. Krakow is famous for its zapiekanki. Essentially, it is a mini baguette that acts as a pizza by being topped with cheese, meat and vegetables. One of these costs between 1.50-2.00 €. It makes for a great snack that can be bought late into the night in the Kazimierz district. You can easily find pierogi and other traditional foods in local diners for as low as 2.00-3.00 € per serving. Another local staple street food  is the obwarzanek, a bagel that can come plain or with sesame seeds, poppy seeds or cheese. This small snack usually costs under 0.50 €.
To sum up restaurant prices in Krakow:
---
Train Prices in Krakow
You can easily get around Poland and Krakow by train. The train service is called PKP.
If you would like to travel more around Poland and visit not only Krakow and the surrounding area, I have an idea for you. An interesting (and most importantly inexpensive) way for spending the weekend will be buying a special weekend ticket. Its price starts from PLN 81!
A weekend ticket allows you to travel on a train around Poland at a low cost, with only one ticket (weekend ticket or weekend ticket MAX). You will be able to travel without restrictions during the entire weekend – more precisely from 7pm on a last workday before weekend until 6 am on the first workday following a free days. Most often it is from 7 pm on Friday to 6 am on Monday. For example, if Friday or Monday are not a workday, the ticket is valid for one day more.
Such a ticket can be bought both online and at the ticket office at the station – it is an ideal way to explore Poland at a really low price.
You can book tickets and look up prices here. Unfortunately, student discounts are only available to locals or Erasmus students studying in Poland so make sure to buy a normal ticket even if you have an international student ID.
Most frequently asked questions about train prices:
Train ticket price from Krakow to Warsaw or from Warsaw to Krakow: ~17-31€
Train price Krakow to Praha: ~54€ (Check with PKP Intercity)
From Krakow to Vienna: The travel includes many changes, therefore, it's really hard to say – not recommended (better to rent a car and have a 5-6h travel)
Train prices can, however, differ on the same route and distance depending on the provider.  A trip with  Regional trains (REGIO) is slower and less expensive than with Intercity (IC). The most expensive option is taking the newly acquired 'Pendolino' - the tickets for this train are called Express Intercity Premium (EIP). So if you are not in a rush you can compare the prices of different trains or plan a trip with regional trains that usually require a layover. A 300 km trip from Krakow to Warsaw costs 15 € with IC and 32 € with EIP.
---
Other transportation
A one-way bus or tram ticket in the city costs 0.90 €, while a 24-hour ticket for all public transport is 3.60 €. It is also possible to buy a ticket that allows you to travel and transfer for 20, 40, 60 or 90 minutes. This is a good option if you know how long your trip will take and if you have to switch buses along the way. The taxi tariff in Krakow is around 0.50 €/km with a starting price of 1.5 € so a 5 km trip can cost you around 4 €. I enjoy biking around town so it might be a cool idea to rent a bike, especially during rush hour.
---
Krakow Tours prices
Like in any large European city, free tip-based walking tours are available. You can check the times of tours of the Old Town and the Jewish quarters here. There are plenty of companies that offer bus tours, eco-vehicle tours, bike tours, Segway tours you name it! The prices vary depending on where they take you and how. A bike or walking tour can cost 20 €, while an excursion outside the city to Auschwitz or Wieliczka is around 40 €. I would recommend a tour of Kazimierz (the Jewish district) as it is difficult to understand it's significance when walking around alone.
If you have any questions about the costs of visiting Krakow, let me know - I might have missed something! You can compare the costs of specific items in Krakow to those in your home country here. Below is a nice chart you might like to check.
Tickets to Krakow museums
Entrance tickets to museums have various prices, but most of them do not exceed PLN 20 for a normal ticket and usually it is even less than PLN 10. Definitely the most expensive is visiting:
Wawel Royal Castle (the cost of normal tickets for all exhibitions is almost PLN 100),
Oskar Schindler Enamel Factory Museum (the price of a normal ticket is PLN 24),
Rynek Museum in the underground of the Main Market (the price of a normal ticket is PLN 21).
Free admission to Krakow museums? It is possible
Do you love visiting museums and don't want to spend too much on tickets? Just visit them on the right day! Almost every Krakow museum can be visited for free one day a week. Importantly, the free tour usually only applies to permanent exhibitions, but it is a real treat for those who love history and art.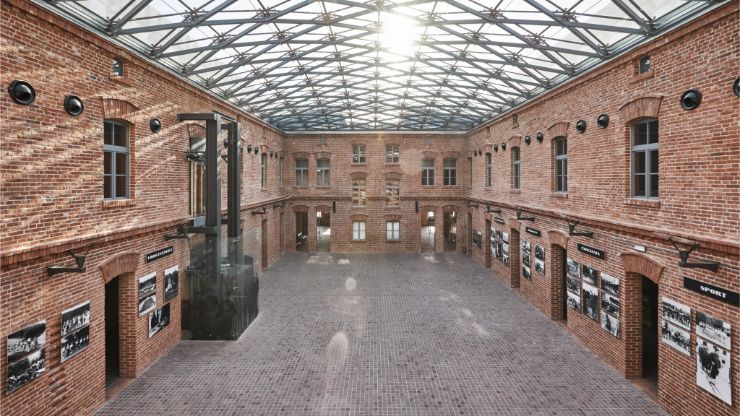 Below you will find a list of over a dozen Krakow museums that you can visit for free on selected days. Remember that some branches offer a limited number of free admission tickets that must be pre-booked online or picked up at the ticket office.
Free admission to Krakow museums – Mondays
Apteka Pod Orłem (18 Bohaterów Getta Square) – free tour from 10 am to 2 pm;
Schindler's Factory (Lipowa Street 4) – free visit to the permanent exhibition from 9 am to 2 pm (in the summer season until 4 pm), the number of free admission tickets is limited and they must be downloaded from the museum ticket office;
Old Synagogue (Szeroka Street 24) – free admission from 10 am to 2 pm;
Wawel Royal Castle – free tour of the exhibitions: Crown Treasury and Armory and Lost Wawel from 9:30 am to 1 pm (from April to October, the number of free admission tickets is limited).
Free admission to Krakow Museums – Tuesdays
Rynek Underground of the Main Square (Rynek Główny 1) – free visits are from 10 am to 4 pm, earlier reservation of places is required (this can be made online);
Ulica Pomorska (Pomorska Street 2) – free visit to the permanent exhibition Cracovians against terror 1939–1945–1956 from 10 am to 5 pm;
Museum of Municipal Engineering (Św. Wawrzyńca Street 15) – free visit to the permanent exhibition from 9 am to 4 pm;
Polish Aviation Museum (Jana Pawła II Avenue 39) – free visit to permanent exhibitions from 9 am to 5 pm.
Free admission to Krakow Museums – Thursdays
MOCAK Contemporary Art Museum (Lipowa Street 4) – free tour of the permanent exhibitions from 11 am to 7 pm.
Free admission to Krakow Museums – Sundays
The Cloth Hall - Gallery of 19th-Century Polish Art (Rynek Główny 3) – free tour of the permanent exhibition from 10 am to 4 pm;
National Museum (3 Maja Avenue 1) – free visit to the permanent exhibition from 10 am to 4 pm;
Home Army Museum (Wita Stwosza Street 12) – free visit from 11 am to 6 pm;
Ethnographic Museum (plac Wolnica 1) – free visit to permanent exhibitions from 10 am to 7 pm;
Archaeological Museum (Senacka Street 3) – free visit to the permanent exhibition from 10 am to 3 pm;
Wawel Royal Castle – free tour of the exhibitions: Representative Royal Chambers and the Lost Wawel from 10 am to 4 pm (from November to March, the number of free admission tickets is limited).
 
So what do  you think? Is Krakow a cheap city?
Krakow Prices Comparison
Restaurants
 
London
Krakow

Meal, Inexpensive Restaurant

15.00 £
(71.15 zł)
4.22 £
(20.00 zł)

Meal for 2 People, Mid-range Restaurant, Three-course

55.00 £
(260.88 zł)
21.08 £
(100.00 zł)

McMeal at McDonalds (or Equivalent Combo Meal)

5.00 £
(23.72 zł)
3.79 £
(18.00 zł)

Domestic Beer (0.5 liter draught)

4.50 £
(21.34 zł)

1.48 £
(7.00 zł)

Imported Beer (0.33 liter bottle)

4.50 £
(21.34 zł)

1.48 £
(7.00 zł)

Cappuccino (regular)

2.62 £
(12.45 zł)
1.58 £
(7.51 zł)
Coke/Pepsi (0.33 liter bottle)
1.23 £
(5.85 zł)
0.78 £
(3.68 zł)

Water (0.33 liter bottle)

0.96 £
(4.56 zł)
0.60 £
(2.86 zł)
Markets
 
London
Krakow
Milk (regular), (1 liter)
0.90 £
(4.29 zł)
0.55 £
(2.59 zł)

Loaf of Fresh White Bread (500g)

1.01 £
(4.78 zł)
0.62 £
(2.94 zł)

Rice (white), (1kg)

1.34 £
(6.34 zł)
0.73 £
(3.45 zł)

Eggs (12)

2.12 £
(10.04 zł)
1.37 £
(6.49 zł)

Local Cheese (1kg)

5.88 £
(27.88 zł)
4.69 £
(22.24 zł)

Chicken Breasts (Boneless, Skinless), (1kg)

6.56 £
(31.11 zł)
3.26 £
(15.48 zł)

Beef Round (1kg) (or Equivalent Back Leg Red Meat)

8.43 £
(39.98 zł)
6.41 £
(30.41 zł)

Apples (1kg)

1.95 £
(9.24 zł)
0.55 £
(2.60 zł)

Banana (1kg)

1.00 £
(4.76 zł)

0.94 £
(4.44 zł)

Oranges (1kg)

1.88 £
(8.91 zł)
0.94 £
(4.45 zł)

Tomato (1kg)

1.95 £
(9.27 zł)
1.05 £
(5.00 zł)

Potato (1kg)

1.29 £
(6.14 zł)
0.36 £
(1.70 zł)

Onion (1kg)

1.12 £
(5.33 zł)
0.40 £
(1.91 zł)

Lettuce (1 head)

0.78 £
(3.69 zł)
0.57 £
(2.69 zł)

Water (1.5 liter bottle)

0.92 £
(4.38 zł)
0.39 £
(1.87 zł)

Bottle of Wine (Mid-Range)

7.99 £
(37.90 zł)
4.22 £
(20.00 zł)

Domestic Beer (0.5 liter bottle)

1.72 £
(8.15 zł)
0.66 £
(3.12 zł)

Imported Beer (0.33 liter bottle)

1.79 £
(8.47 zł)
0.88 £
(4.19 zł)

Pack of Cigarettes (Marlboro)

9.50 £
(45.06 zł)
3.16 £
(15.00 zł)
Transportation
 
London
Krakow

One-way Ticket (Local Transport)

2.50 £
(11.86 zł)
0.80 £
(3.80 zł)

Monthly Pass (Regular Price)

132.00 £
(626.11 zł)
18.76 £
(89.00 zł)

Taxi Start (Normal Tariff)

3.50 £
(16.60 zł)
1.26 £
(6.00 zł)

Taxi 1km (Normal Tariff)

4.00 £
(18.97 zł)
0.42 £
(2.00 zł)

Taxi 1hour Waiting (Normal Tariff)

35.50 £
(168.38 zł)

6.32 £
(30.00 zł)

Gasoline (1 liter)

1.19 £
(5.63 zł)
0.95 £
(4.52 zł)

Volkswagen Golf 1.4 90 KW Trendline (Or Equivalent New Car)

18,000.00 £
(85,378.23 zł)
14,757.86 £
(70,000.00 zł)

Toyota Corolla 1.6l 97kW Comfort (Or Equivalent New Car)

18,702.00 £
(88,707.98 zł)
16,023.87 £
(76,005.00 zł)
Sports and leisure
 
London
Krakow

Fitness Club, Monthly Fee for 1 Adult

45.95 £
(217.93 zł)
21.49 £
(101.94 zł)

Tennis Court Rent (1 Hour on Weekend)

11.94 £
(56.64 zł)
9.02 £
(42.78 zł)

Cinema, International Release, 1 Seat

12.00 £
(56.92 zł)
5.27 £
(25.00 zł)
Clothing and shoes
 
London
Krakow

1 Pair of Jeans (Levis 501 Or Similar)

63.02 £
(298.91 zł)
50.97 £
(241.78 zł)

1 Summer Dress in a Chain Store (Zara, H&M, …)

31.47 £
(149.27 zł)
28.53 £
(135.31 zł)

1 Pair of Nike Running Shoes (Mid-Range)

65.03 £
(308.46 zł)
58.10 £
(275.57 zł)

1 Pair of Men Leather Business Shoes

78.16 £
(370.74 zł)
65.01 £
(308.36 zł)
Rent per month
 
London
Krakow

Apartment (1 bedroom) in City Centre

1,681.11 £
(7,973.91 zł)
403.00 £
(1,911.54 zł)

Apartment (1 bedroom) Outside of Centre

1,179.74 £
(5,595.77 zł)
298.09 £
(1,413.89 zł)

Apartment (3 bedrooms) in City Centre

3,127.35 £
(14,833.74 zł)
684.87 £
(3,248.48 zł)

Apartment (3 bedrooms) Outside of Centre

1,981.65 £
(9,399.44 zł)
485.54 £
(2,303.03 zł)
Buy apartment price
 
London
Krakow

Price per Square Meter to Buy Apartment in City Centre

14,368.48 £
(68,153.08 zł)
1,958.21 £
(9,288.23 zł)

Price per Square Meter to Buy Apartment Outside of Centre

7,242.21 £
(34,351.51 zł)
1,263.49 £
(5,993.02 zł)