Incredible Places to Visit Near Krakow

...just when you thought you've seen it all!
Krakow is an extraordinary city to visit. With its beautiful buildings, interesting museums and the great atmosphere it is definitely an essential while visiting Poland. But what if you've already seen everything that the city offers? Does it mean that you have to be at a loose end? Of course not! There are so many amazing places near Krakow worth visiting!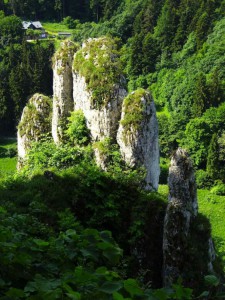 In this post I'm going to show you:
amazing towns 
beautiful castles
incredible natural monuments and sights
Are you ready to start your trip?
Let's go!
---
Towns near Krakow
There are so many beautiful towns less than an hour away from Krakow.
Explore their amazing architecture, fun attractions and one of a kind atmosphere!
Tarnow
Just about an hour away from Krakow lies a beautiful city of Tarnow. With its extremely well-preserved Old Town, one of the prettiest market squares in Lesser Poland and unique buildings, Tarnow is incredibly worth seeing.
It also has a rich Jewish history, which is plainly visible while walking around the pretty little streets of this town.
Make sure you see The Old Synagogue Bimah, Strzelecki Park and Tarnow Cathedral – you won't regret it!
How far from Krakow?
83 kilometers
1 hour 12 minutes
---
Wadowice
It's a very important place in Lesser Poland. Wadowice is a hometown of Karol Wojtyla, later Pope John Paul II. You can visit his home, see how he lived before he became a priest.
You should also see the Town Museum, which features an interactive, multimedia exhibition on the pope's life and Wadowice at the time of his childhood.
Finally, go to Kawiarnia Mieszczańska and taste kremówka – local and the pope's favorite delicacy!
How far from Krakow?
---
Zalipie
Ready for a pop of color? Go to Zalipie – the most colorful village in Poland! See painted cottages, painted houses, painted church, painted everything!
Admire the most creative flower patterns, listen to interesting stories and see the way people lived a few decades ago.
Indulge in the colorful fairytale and take a lot of pictures!
If you want to know some more about this amazing village, we have a great post about Zalipie that will tell you everything you need to know to go there.
How far from Krakow?
116 kilometers
1 hour 30 minutes
---
Lanckorona
Are you curious how Polish villages looked in the nineteenth century? Now you have a chance to see it for yourself! See Lanckorona, a village known for its well preserved 19th-century wooden houses in its center.
The houses are beautiful and surely take you to the past. You should also make sure to see the ruins of Lanckorona Castle, in which many of important historical events happened.
How far from Krakow?
---
Kalwaria Zebrzydowska
Is one of the most popular places to visit near Krakow. Kalwaria Zebrzydowska is an important Catholic and spiritual center in Poland. Go and admire its special atmosphere and architecture.
With its immense Bernardine Monastery, which contains impressive 16th- and 17th-century paintings in its cloister, small shrines all around the town and paths of prayer, it is the perfect place to meditate and clear one's mind.
How far from Krakow?
---
Zator
If you are wondering about things to do around Krakow, you should definitely take a look at Zator's attractions! Not only does it have a beautiful market square with a town hall, but it has a special attraction – Energylandia Amusement Park.
It is a huge complex with an enormous area of 26 hectares, which includes over 30 various modern and advanced devices, roller coasters, you name it!
Ready to have some fun?
How far from Krakow?
56 kilometers
1 hour 8 minutes
Castles near Krakow
Old, stunning, immense. When looking for places to see near Krakow, the most fascinating places of interest are castles. There are so many of them in the Krakow area!
Ready to feel the spirit of old-time Poland?
Pieskowa Skała Castle
A Renaissance castle located on a limestone cliff in the valley of river Prądnik. It was built in the first half of the fourteenth century. The Pieskowa Skala Castle is one of the best-known examples of a defensive Polish architecture.
Let it charm you with its gardens, courtyard an one of a kind atmosphere!
How far from Krakow?
---
The Royal Castle in Niepołomice
This gothic castle in Niepołomice was built in the fourteenth century and then rebuilt in the sixteenth century. This huge building called 'the second Wawel' was the residence of most Polish kings and queens. It is known for its Italian gardens.
Visit the castle and listen to amazing stories about the events that took place here and changed Polish history!
How far from Krakow?
---
The Ogrodzieniec Castle
I bet you'll be amazed by this great building. The Ogrodzieniec Castle, built in the eleventh century is an example of incredible medieval architecture.
Its stark-looking walls take you to medieval Poland.
Make sure you see this fairytale-like castle and feel the magic!
How far from Krakow?
64 kilometers
1 hour 20 minutes
---
The Benedictine Abbey in Tyniec
Founded in the 11th century it has been repeatedly transformed and expanded, notably in the 15th and 17th centuries. The Abbey is situated on a rocky promontory overlooking the Vistula River. The place can be accesed free with our Krakow Museum Pass!
See the everyday life of the monks, listen to Gregorian chants, sung daily by the monks in the church and get ready for an unforgettable experience!
How far from Krakow?
---
Krakow nature
Now something for nature lovers. If you're looking for interesting sights near Krakow, you're lucky! There are so many wonderful places where you can admire nature, breath fresh air and take a break from the city life.
I'm sure you have never seen things like these!
Ojcow National Park
Once you enter Ojcow National Park, you will see one of the most scenic views located near Krakow.
The area is rich in tall limestone structures that have adopted distinctive shapes not to be seen anywhere else.
The park invites you to indulge in its greenery!
If you want some more information, check out our post about Ojcow National Park.
Don't wait!
How far from Krakow?
---
Pradnik River Valley
If you're interested in geology, this is definitely a proposition for you. You can gain information about all kinds of rocks and eras.
But if geology isn't really your thing, you still will be amazed by the Pradnik River Valley, it looks totally unforgettable!
How far from Krakow?
---
King Lokietek Cave
Is said to have sheltered King Władysław I Łokietek, for whom it was named. It is also the largest cave in Ojcow National Park area.
Definitely worth seeing!
How far from Krakow?
---
The Devil Bridge in Czerna
Ruins of the bridge in Czerna, built in the seventeenth century. Legend has it that once a year all devils, evil ghosts and witches meet here to have a debate.
It's a great proposition for fans of spooky stories and also – nature lovers.
How far from Krakow?
---
What are places near Krakow worth seeing?
As you can see, there is no need for you to sit bored in a hotel. There is so much to see and do around Krakow, many nice attractions, great sights.
Whether you're a fan of history, nature or just good fun, you'll surely find something for yourself!
Are you inspired to explore sights near Krakow? Or maybe you've been to these places?
Let us know in the comments! :)