Restaurants in Krakow

Supreme guide to eat delicious!
Every trip to the next country or city is connected with food. No wonder – food is an essential part of learning about a new culture! So if you are planning an amazing trip to Krakow, you have to know where to find the best restaurants in Krakow as well!
Your trip is too short for tasteless meals!
Thanks to this article, you will know exactly where to go for a tasty breakfast, nice lunch and a very good dinner in Krakow.
Do you love to not only explore new places, but also try out new flavors when traveling? Or maybe getting to know the culinary nooks of each country is the greatest fun for you? In Poland you will find many places that will delight you with traditional flavors found nowhere else. In Krakow, you can try the local cuisine and each day eat every meal in a different place. Immerse yourself in the world of Krakow delicacies and discover the best restaurants in Krakow!
What is Krakow's gastronomy like?
The popularity of eating out in Poland is still growing. Poles go to restaurants more often and spend more money there than ever before. The quality of ordered food is also becoming more and more important for them. Thanks to that we can observe as new restaurants are still opening around and the served food is getting better and better. Recently, Polish and regional cuisine have become especially popular. Traditional Polish dishes are served even in top restaurants in Krakow.
As one of the biggest Polish cities, Krakow offers the huge variety of restaurants. Here you can find all types of restaurants and all kinds of cuisine. While experiencing this, you will learn about classic Polish cuisine and its specialties, as well as flavors from other neighboring countries. If you fancy special dishes that you won't find anywhere else, choose restaurants serving regional cuisine typical of the area. You will not be disappointed! Check out our guide of which restaurants are definitely worth visiting.
Best restaurants in Krakow
Excellent high-level restaurant? Cosy bistro? Fast food truck? Krakow is well prepared for all these options, no matter what kind of dish are you looking for! In the recommended places you can find both the best breakfast in Krakow, as well as a delicious two-course dinner!
Do you want to know, how much you will pay?
Prices in Krakow restaurants are divergent. You will pay only a few zlotys for yummy fast food (2 €), PLN 20-30 (7 €) for a nice lunch and even PLN 60 (15 €) for excellent dinner in an exclusive restaurant. Add the price of a possible starter, dessert and drinks to this amount. Try anything and everything you fancy! This is one of the few opportunities to try Polish dishes in their natural environment.
Don't be surprised if you find polish cuisine on the most menus. Polish people love their national dishes, and you will fall in love with them as well. Don't be discouraged by the term "home cooking", which you will often come across in the descriptions of many places. This is actually the best indicator of true Polish taste and unusual culinary tradition passed down from generation to generation.
The best breakfast in Krakow? And not only!
You cannot leave Krakow without trying:
kotlet schabowy (pork chop)
gołąbki (meat and rice stuffing wrapped in a cabbage leaf)
żurek (sour soup)
pierogi (dumplings)
bigos (stewed meat with sausage and sauerkraut)
kiszone warzywa (pickled vegetables, especially cabbage and cucumbers)
kwaśnica (cabbage soup from the mountain region)
zupa szczawiowa (sorrel soup)
and many more!
Many regional dishes are served only seasonally, depending on the availability of fresh vegetables or fruits. The pierogi you eat here in the winter will be completely different from the summer pierogi which are filled with recently picked strawberries and blueberries. For this reason, always ask for seasonal specialties. Some dishes can be tasted only for a few weeks during the year!
Now you know what to look for, but do you know where all these places are?
The best Krakow restaurants in the Old Town!
Where to find the best restaurants in Krakow?
The answer is… almost everywhere!
But what is the best area to look for some Krakow restaurants? Main square and the streets next to it. In this location, you can not only eat well, but also admire the monuments and atmosphere of the streets after a tasty meal.
Krakow main square is filled with restaurants which usually serve really good food.These restaurants are eagerly visited by tourists – mostly because of their location and proximity to monuments.
But the prices may be higher and looking for a free table can be problematic there. If you care especially about visiting a particular restaurant – try to make a reservation in advance! This way you will visit the best places to eat in Krakow without unnecessary stress and extra time spent waiting
So don't be afraid and also check some other districts of Krakow. It can be a nice walk!
Best restaurants in Krakow
Getting hungry after Krakow grand tour? Go straight to the place, that you will love! Dive deep into the atmosphere of the city, both by learning about its monuments and climate, as well as by enjoying local specialties.
Check our lists of top 5 restaurants in Krakow for magnificent dinner, easy lunch, lovely breakfast, cracking fast food or healthy vegetarian meal.
Top 5 Krakow elegant restaurants
Do you want to have some high-level dinner, together with starter and dessert? Or maybe take a girlfriend for a romantic date? Choose the top restaurants in Krakow! Remember to reserve a table in advance – they can often be crowded by people looking for a sophisticated atmosphere.
Here's a list of places that will delight you:
Miodova
Miodova Restaurant is the perfect meeting place! It has the great atmosphere, modern, metropolitan style and delicious Polish cuisine in the own interpretation of the chef. You will meet relaxed service and the huge variety of wines as well. You have to try their crayfish bisque, salmon trout tartare or kopytka (local dumplings) with various additions. We're sure you will be back! Miodova is a great place for lunch or dinner. You will find here some special Krakow-related dishes, such as crayfish soup or cream cakes! With each meal you can choose a wine from the card especially selected by the chef. This will help you highlight the unique taste of the meal.
Qualita
The Qualita Restaurant is led by chef Marcin Dudek. This restaurant is recommended by the Gault & Millau guide. It is located in Q Hotel Plus Krakow. Each dish is prepared with the utmost care here, so it looks like art. The restaurant offers colourful, tasty drinks and perfect coffee as well. We highly recommend you the dumplings with veal, spicy pepper soup or sous-vide guinea fowl. Menu changes every season, so on your next visits to this place you will have the chance to try out completely new specialties!
Albertina Restaurant&Wine
Despite the central location at the junction of Dominikańska and Poselska streets in Kraków Old Town, Albertina proves an ideal place for romantic dinner, private parties, intimate business meetings, wine workshops, and tastings of marvellous cuisine and wine. Bright, elegant, and spacious minimalistic interiors, as well as subtle music create a perfect background that does not distract attention from what is most important. A perfect place for a fancy, elegant evening! In this place you have the chance to eat not only delicious seafood, but also tasty venison, which has been one of the Polish specialties for centuries.
Ed Red
You will taste all kinds of meat there, but Ed Red is special thanks to its dry seasoned steaks. This process allows to control meat matures until it acquires special taste and structure. So if you are a meat lover, better book a table there! It will probably be the best steak you can eat in the whole Krakow! And don't forget to ask a waiter for seasonal cheese – it's always delicious! Of course it will taste best accompanied by a well-matched wine.
Gąska
Gąska is a quite new restaurant in the centre of Krakow's Podgórze. Its speciality is a goose, potato pancakes and other Polish dishes. This restaurant should not be missed. Word "delicious" does not even begin to describe their food – true Polish food at its finest. The restaurant itself is very cosy with fast and friendly service and reasonable prices. Your evening there will be amazing! If you are fascinated by Polish specialties, don't forget to try prażuchy ([praˈʒuxɨ;]) – the potato patties!
Top 5 restaurants in Krakow for lunch
Everyone will get hungry during a long sightseeing tour. In these places you will have a great time and a lovely lunch:
Zenit
Zenit has great, artistic atmosphere. Food is very creative so if you like to try out something new – you will love it. The restaurant is located in Kazimierz, so you can go there after Kazimierz Jewish Quarter Walking Tour. Waiters are super nice and helpful so you're going to feel like at home. In the summertime, you can choose a table outside. You won't forget it! On this restaurant's menu you'll find typical Polish dishes as well as dishes representing international cuisine.
Zalewajka
Zalewajka is the perfect place which offers the combination of traditional and modern Polish cuisine. Stylish and warm interior, modern and open kitchen and delicious homemade is a short description of this restaurant. Dumplings, stuffed cabbage, potato pancakes and pork chop are just some of the delicacies that you can admire there. The menu is composed so that everyone can find something for themselves. Don't forget to try the zalewajka – traditional Polish soup, from which the name of this place comes!
Karakter
Karakter is a "restaurant with character", so you can expect there tasty, original dishes and unique interior as well. It has a very interesting menu and the quality of both food and drinks is very good. Surprising combinations of flavours and really nice wine are the showcases of this place. Do not forget to order goat cheesecake with beetroot ice cream! Some dishes change due to the availability of local vegetables and fruits – pay close attention to them when planning your order.
Alchemia od Kuchni
Alchemia od Kuchni believes that there is nobility in simplicity. That is why the menu is quite short. It includes breakfasts, snacks, street food, main courses, burgers and salads. The dishes are varied, and simple in some way. Everything is made of only a few ingredients and fresh products. The menu changes several times during the season because it is adapted to local, fresh products. But don't worry – portions are very solid! You have to know that the restaurant makes its own sausages and bakes its own rolls!
Barka
Barka restaurant is located on a boat on Vistula river. It's a great, friend  d multifunctional place for everyone! You can eat there an amazing lunch, drink cold beer and dance a little in the evening. Everything with beautiful river view. It's really original place with lovely staff. Very relaxing and very different than you can find in Krakow. Try their chicken, gnocchi and burger – you won't regret! If you are lucky, you can also enjoy one of the cultural and social events here that are regularly organized by the owners.
Top 5 fast food places in Krakow
We all (from time to time) love burgers, french fries and some other unhealthy food. Home-style cooked dishes prepared with fresh ingredients and deliciously seasoned are a great snack between one landmark and another. You can also choose them as an alternative to traditional dinners.
You can find it in Krakow in food trucks and some small restaurants as well.
Here's our top 5:
Streat Slow Food
Streat Slow Food is the first food truck in Krakow referring to the American tradition of mobile cuisine. The restaurant serves fast dishes of the highest quality. The whole food is prepared with an idea of the slow food movement. It has own vegetable breeding and uses only carefully selected products without chemicals and preservatives. All sauces and are prepared on the spot as well. Warning: probably the best burgers in town!
Robimy Pierogi
Different places in Krakow
Robimy Pierogi is a small gastronomic food truck. They prepare high-quality dumplings without the use of preservatives and improvers. The dumplings are made only by hands and with traditional, family recipes. The perfect taste is the secret of high quality, natural ingredients. Their dumplings taste delicious. You can have them cooked, fried, with onion, bacon, butter or cream – the way you like it. And you will like them all! In the summer you can count on special editions of pierogi with vegetables or fruit!
Andrus Food Truck
"Maczanka" is a speciality of Andrus Food Truck. It is traditional Krakow dish with several centuries-old traditions. Andrus has created the first and only "maczanka" street food in Krakow. It's the combination of a traditional recipe and a modern form of serving. You can expect a pork meat marinated for two days, then baked for a long time at a low temperature. The meat is served on a hand-made roll. Real polish food-porn!
Bar Namaxa
Zapiekanka is famous polish street-food and Krakow is known for the best zapiekankas in the whole country. Kazimierz district is probably the best place to try them, but you may have a problem to choose the one place. That's why we recommend you Bar Namaxa. It's also a local choice. What is zapiekanka? It's half-cut baguette baked with vegetables, meat, mushrooms and cheese on the top. Tastes delicious especially with extra sauce! In the case of this place, you will also be delighted with its surroundings – inconspicuous, but with a wonderful atmosphere.
Jadło na Kółkach
Jadło na Kółkach is a food truck which offers great hot-dogs. They are inspired by cuisine from around the world, so you can try untypical hot-dog, like never before. Jadło also makes fries from various vegetables. Thier menu is still changing so you have to follow the fan page to keep up! Forget about boring hot-dog with ketchup only. Thanks to Jadło na Kółkach you will discover this fast-food again!
Top 5 restaurants in Krakow for breakfast
No matter what kind of breakfast is your favourite one, those amazing restaurants will impress you. Among them you will find both traditional and completely modern places:
Bunkier Cafe
Bunkier Cafe is an amazing place on the Krakow restaurants map. It's located in the middle of the Planty Gardens and is open for guests all year. It has no walls during warm seasons but you can admire the park also in winter. Bunkier Cafe is connected with an art-gallery so you already know where to go after the delicious breakfast. This place is beloved by both, locals and tourist. Here you will probably drink the best coffee in the area!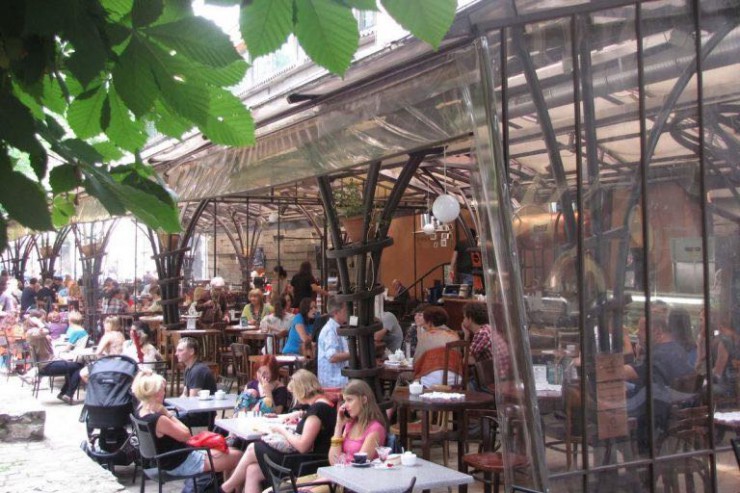 Wesoła Cafe
Wesoła Cafe serves delicious breakfasts and lunches since 2014. Everything is prepared daily with fresh, seasonal ingredients. For dessert, you'll find there a large selection of various homemade, delicious desserts and cakes as well as fresh juices and smoothies. The place serves a wide variety of Vegan and vegetarian dishes, including cakes and pies. In the evenings you can sit with a beer from a local brewery or Italian wine. You can recognize this place by funny neon which calls "It's better to drink coffee than don't". In addition to breakfast, you can also eat lunch and dinner served from a separate menu.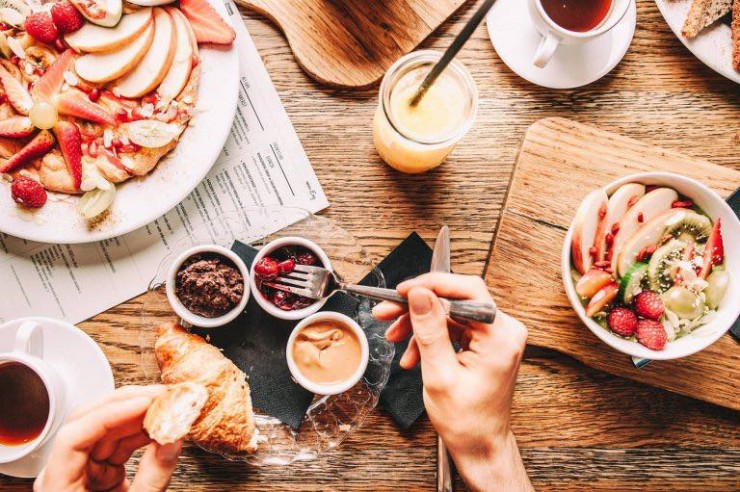 Kolanko No 6
Kolanko No 6 is the restaurant combined with a place of cultural events. They've started in 2002 with a tiny bar serving pancakes. Today it is a large and full restaurant serving many interesting dishes. Clients appreciate its tasty meals and relaxed atmosphere. There is a large veranda open to the charming garden at the back of the restaurant. You will love their breakfast menu! Their unusually designed menu will transport you directly to the old-fashioned Krakow of the past!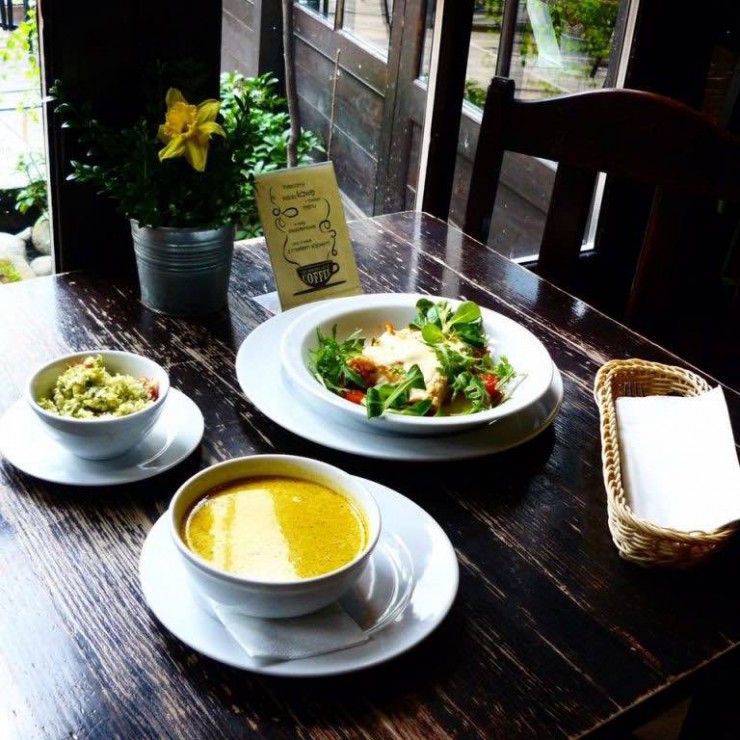 Gossip Cafe
Gossip Cafe has probably the best coffee in Krakow served by fantastic service. But that's not all! They offer delicious pastries, breakfasts, lunches, tarts, salads as well. Be patient when coming to this small restaurant – you will most likely have to wait for a table. But it's worth it! Everything is made fresh and you can taste the freshness of your first bite.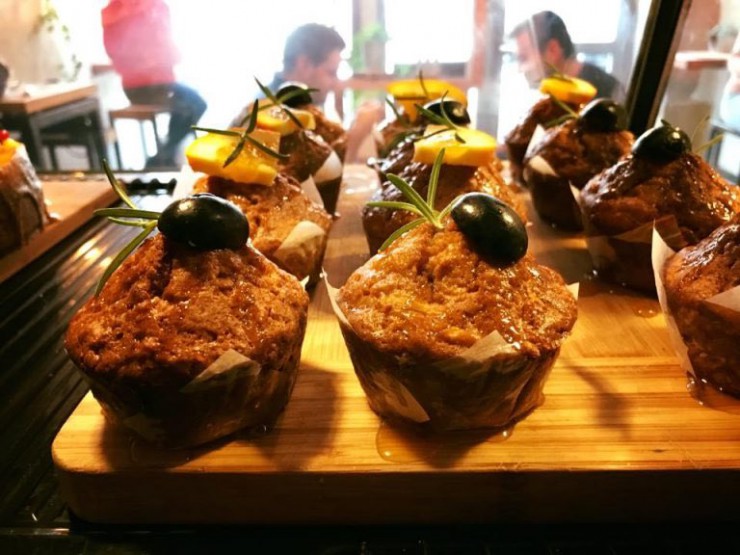 Smakołyki
In Smakołyki's menu, you will find traditional Polish dishes but also a lot of most interesting flavours from around the world. The unique atmosphere and friendly service perfectly harmonize with the beautiful view through the huge site on Planty and the old buildings of the Jagiellonian University. Breakfasts are a strong point of that place, but don't forget to try their all dishes! Starting at noon you can try their delicious dishes of the day. Everyday something new!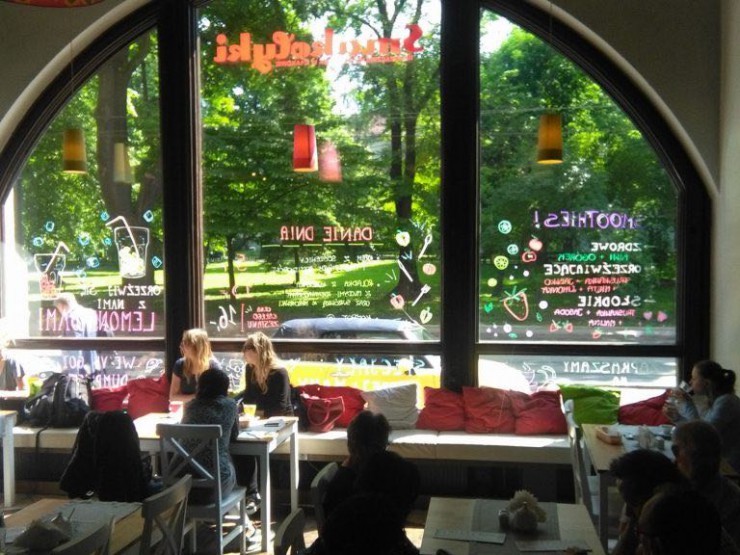 Top 5 vegetarian restaurants in Krakow
If you prefer vegetarian cuisine or you are simply bored of only meat dishes, this will be the perfect choice for you! Ready for a big portion of vegetables?
Zielona Kuchnia
Zielona Kuchnia serves dishes that are not only healthy but also very tasty. The food is really fresh and always presented amazingly. The service is really pleasant and the atmosphere is friendly as well. You will be surprised how much healthy food you can have for a really good price. In the summertime try to find a free table in their lovely garden. Zielona Kuchnia is like a wonderland! If you're looking for a place for an elegant vegetarian dinner – you've come to the right place!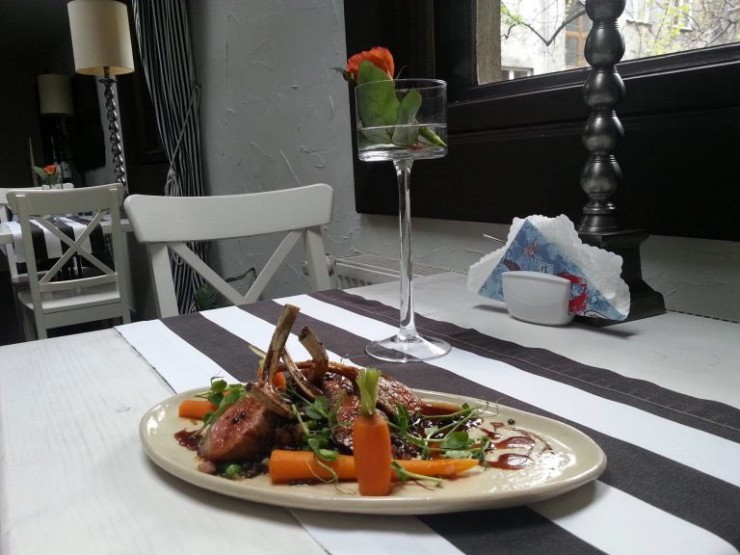 Glonojad
Glonojad is smart, self-service dining bar. It's great if you don't have much time, but want to eat healthy and fresh. Glonojad prepares its dishes every day of vegetables and fruits from local farms around Krakow. You can eat their desserts without remorse – they do not contain any substances that improve their flavour and look. You will love Glonojad's location as well. It's close to Barbican, so you can visit it just after the sightseeing. Here you will find offers for breakfast, lunch and dinner!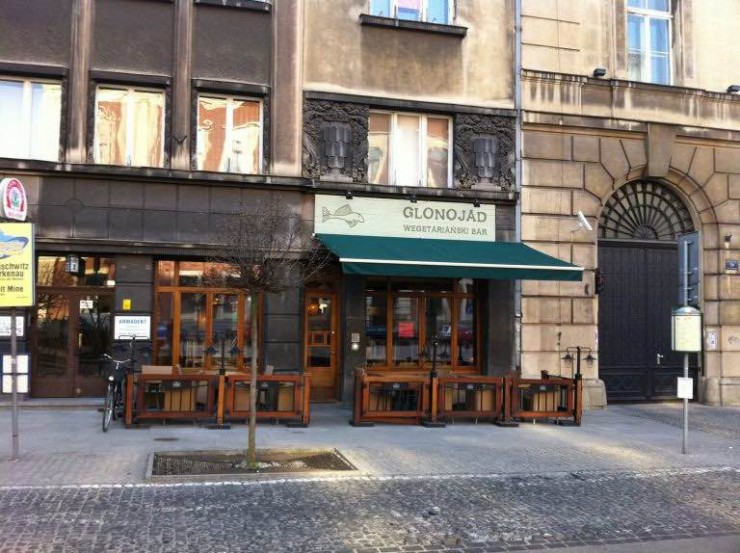 Vegab
Vegab is the first vegan "fast-food" in the Krakow Old Town. It prepares and serves a 100% vegetable kebab, created from bio tofu, pods and wheat proteins. The restaurant was created for both vegans and vegetarians as well as for all people who want to live and eat in 100% healthy way. If you like to try new flavours and fit-alternatives for well-known dishes, you must visit Vegab as quickly as it's possible! As an addition to your meal, you can order here delicious, homemade lemonade.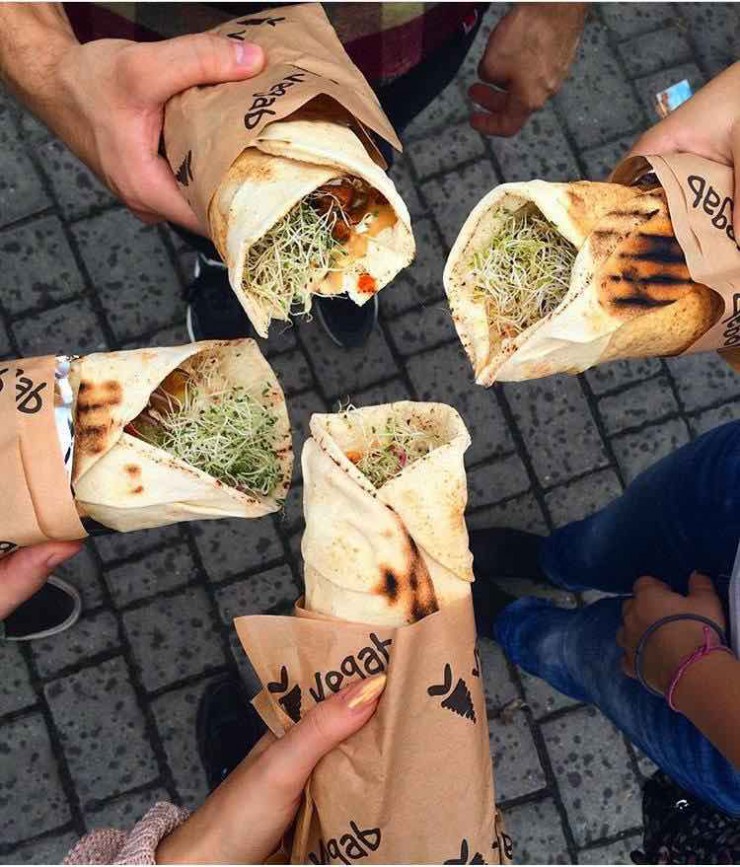 Veganic
Veganic is a restaurant with a new, veggie, vegan and gluten-free dishes prepared from seasonal vegetables, groats, cereals, seeds, nuts and fruits. Everything is served in strong-flavored compositions. In Veganic you will find also a large bar with a selection of craft beers, wines and colourful cocktails made of vegetables, herbs and fruits. If you have kids – take them with you! They won't be bored there as well! If you have limited nutritional options – all ingredients are described in detail on the menu.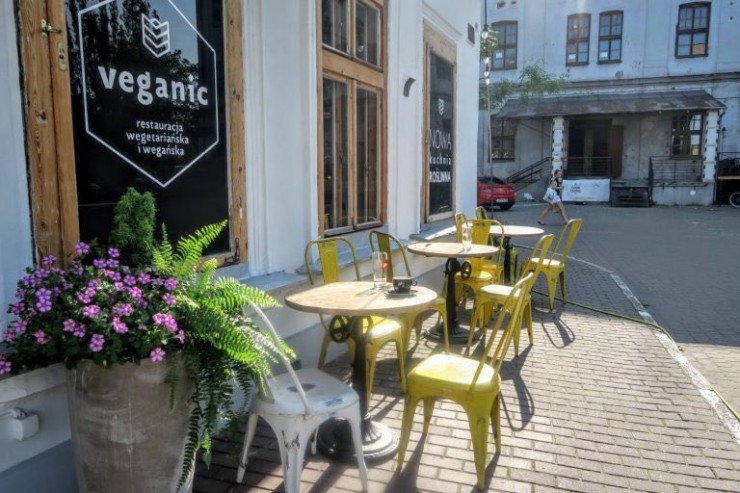 WieloPole3
WieloPole's cuisine is a place where the Polish flavours are crossed with discoveries of scientists about the unusual properties of food. Results? The dishes that are a fusion of the most valuable plant ingredients with delicious superfoods from the farthest places of the world. Dishes from that restaurant are especially recommended for people with chronical problems, like diabetes, elevated cholesterol or overweight. Healthy and delicious!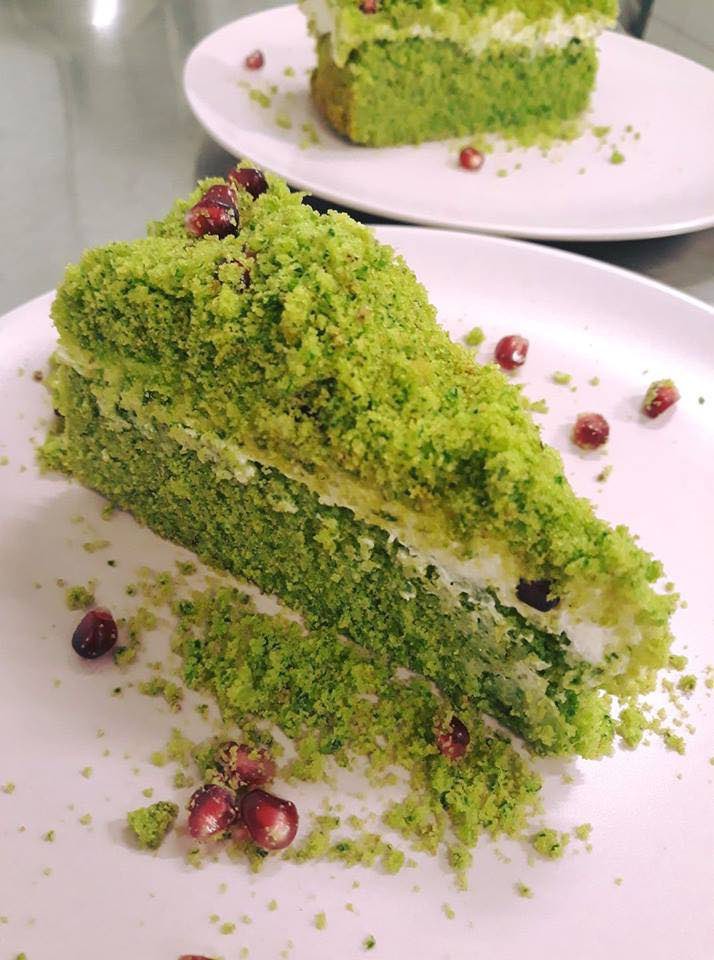 You can also check out our guide to vegan and vegetarian restaurants in Krakow and get to know more places for lovers of vegetable cuisine!
Restaurants in Krakow to avoid
Krakow is famous for many great restaurants. Many restaurants are recommended in global guides and have gained recognition from the most respected chefs. It's easy to find the ones that will delight you with their taste and atmosphere.
However, as in every city, in Krakow as well, you will find places that are best to avoid. How to identify them?
But it doesn't mean there are no bad places as well.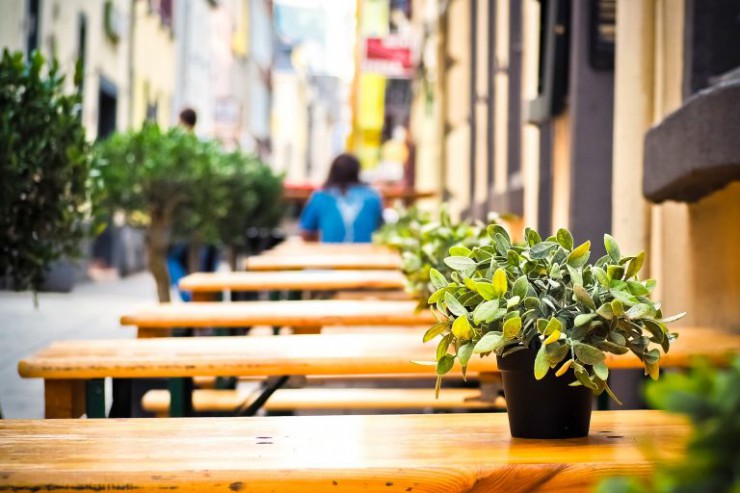 Fortunately, places with dull flavors can be easily avoided. So if you want to find some restaurant on your own, be careful and:
Do not enter into the restaurants without anyone guest inside. It can be a sign, that food is just awful there (unless they've just opened the door).
Go away if the staff is rude or did not notice your present for longer than few minutes.
Check if the tables are clean. If they're not, this may mean that they do not care about guests.
Take a deep breath and smell the air. If you can't feel the fetching scent of the food – better go somewhere else.
Read the whole menu at the beginning. Is it definitely too long? If so, dishes may be stale or prepared from frozen food.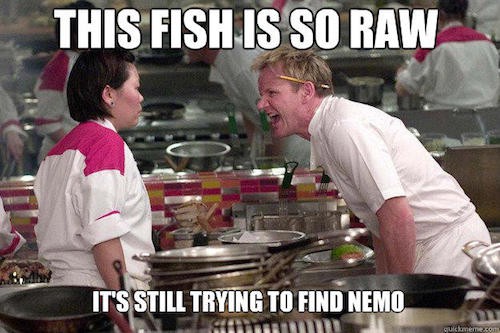 We hope that it will help you find some perfect place!
How to find the best places to eat in Krakow?
Useful tips before a feast
Usually, restaurants in Krakow has the same level of the service as restaurants in any other big city in Europe. That is why you won't feel the difference (except an amazing taste of Polish food!) during your visits. Anyway, we have prepared some nice tips for you. Thanks to them you're going to feel more confident and relaxed.
Tipping in Poland is not compulsory but of course, you can tip the service if it was really good.
Free tap water in restaurants is not very popular. Usually, you have to order something extra for a drink.
Always ask the waiter if there is some special dish of the day or seasonal menu. This will allow you to try dishes that can be eaten sometimes only a few times a year.
Check some reviews of the restaurant you have chosen. You can find it on social media, rankings or just ask the local people. You can also trust us and pick one of our top restaurants in Krakow list. These are proven places, valued by many tourists and locals as well, who know Polish cuisine from the inside out.
If you will fall in love with the taste of Polish cuisine, be sure to join the food tour: the taste of Poland. You can also start your visit in Krakow this way and quickly become an expert of Polish home-food.
In case you come across a restaurant that enchants you with its aromas and suggestions of dishes, but it is fully booked – make a reservation for the nearest available date. Like in most European cities, the best and most famous places often have a long waiting list!
I loved the dumplings with seasonal pumpkin or mushrooms stuffing! ~ Donna
Top restaurants in Krakow – summary
The most restaurants in Krakow you'll find within the old city. Choose one of the best places depending on the occasion or type of meal you like to have. Restaurants in Krakow serve great breakfasts, lovely lunches and refined dishes (also vegetarian!). If you are in a hurry, visit one of the food trucks with Polish fast-food. Be mindful while looking for some new place to eat and enjoy every bite of Krakow food! 
In fact, throughout the city you can find cafes and restaurants with delicious dishes, especially the – Krakow restaurants in the Old Town – one of the most popular areas due to its historical character. However, this does not mean that the other districts have nothing delicious to offer! Do not always be put off by the modest appearance of the premises, because some of them are planned to be minimalistic and simple in expression. And the chefs create delicious, regional, Polish dishes in such places.
Bon appetit!