Weather in Poland

Be prepared for any weather condition
When planning a trip we have to take care of so many things. But you certainly cannot start packing your things if you don't know what weather you should prepare yourself for, right? It is the weather that decides what to do, wear and bring to a trip.
Are you planning to visit Poland? Great! Good news for you. Poland is breathtaking in every weather and there is a lot of exciting things that you can do in each month in order to get the most out of every season!
However, you definitely shoud know a bit about weather in Poland, so that you won't freeze, melt or get wet unexpectedly. In this post I will show you:
avarage temperatures in each month

the highlights of every season

a description of climate in Poland

some fun facts about weather in Poland
Ready?
Let's go!
Winter in Poland
Polish winters are so much fun! The truth is, you never know what to expect :) The temperatures vary and differ in each month, but they are rarely unpleasant. And the most exciting thing about winter in Poland is, of course, snow! Polish people are used to waiting for snow, but when it finally gets to Poland, the views are absolutely incredible! There is nothing better than a romantic walk in the beautiful Polish streets in the winter!
Temperature in Poland in December
Decembers are a bit chilly, with the avarage temperature  of -1°C (about 31°F). The can go The lows drop to much below freezing, averaging -3°C (about 27°F) and the highs only peak to a little bit above freezing, going up to an average of 2°C (around 36°F).
The snow doesn't appear in December that often, but sometimes you can notice a liitle of it on your coat :)  More frequent are rains and snowy rains.
If you want to spend December in Poland, you should defiintely pack your warm clothes and underwear. A hat, scarf and gloves are essential. And of course, your christmas sweater, since December is the time of the beautiful and colorful Christmas markets!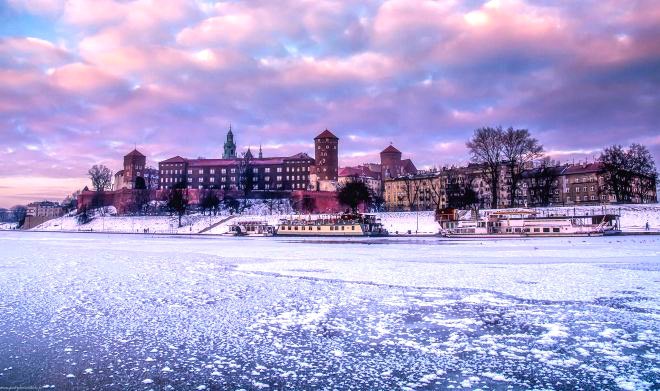 Temperature in Poland in January
The average high reaches just to freezing, at about 0°C (around 32°F). The lows drop to a bone-chilling -5°C (about 23°F). It is the coldest month in the year, but also the most snowy one.
When visiting during this month, be sure to bring a heavy coat or parka, gloves, hat and scarves to keep your exposed skin protected from the low temperatures.
Since January has so much snow, it's a perfect time to go skiing!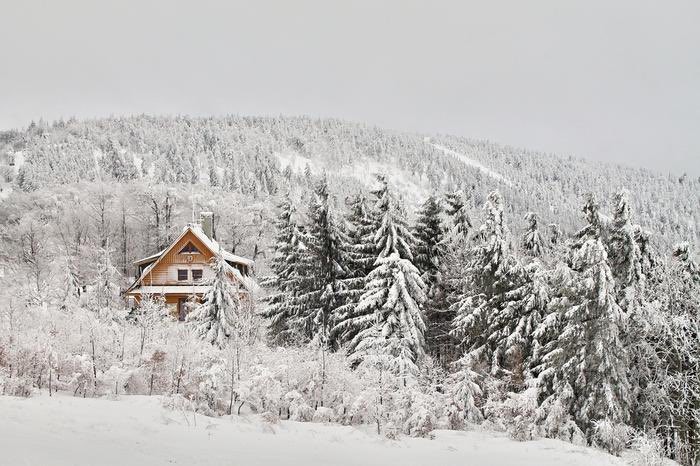 Temperature in Poland in February
February is another cold month, though slightly warmer than January, with an average temperature of -2°C (about 28°F). Rain and snow fall over an average of 11 days over the course of the month.
You should still be prepared for a chilly weather, so warm clothing is a must.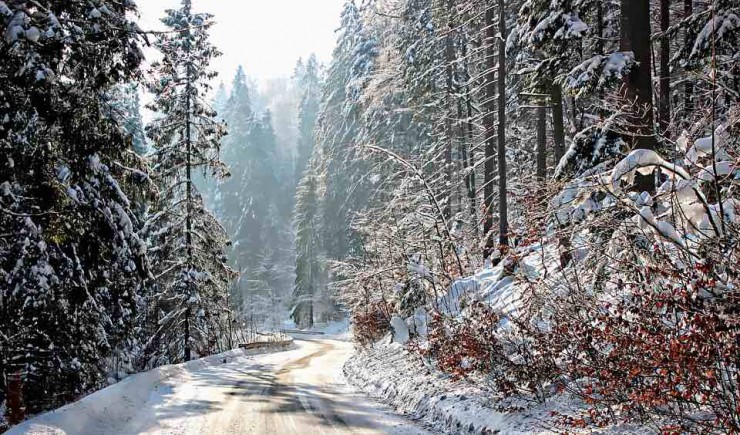 Polish Winter Capital
If you want to get the most out of Polish Winter, you should visit the beautiful city of Zakopane. The place is called The Polish Winter capital and has everything that you could possibly imagine while thinking about winter vacation.
Go skiing

Go ice-skating

Walk the beautiful streets of Krupówki

Taste the traditional Polish soup or mulled wine to make yourself warm
And so much more! Click to see our trip to Zakopane.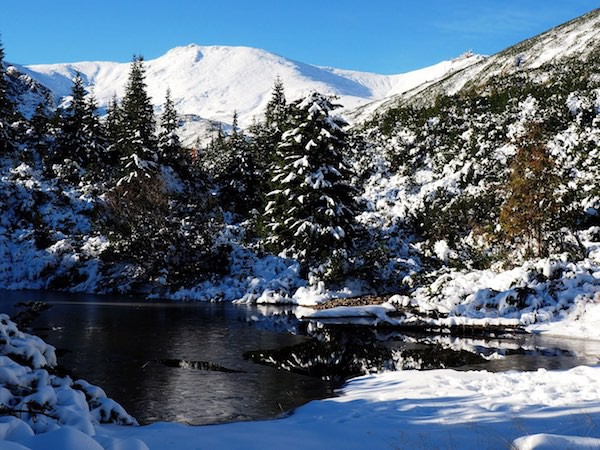 Spring in Poland
Spring is the time when everything seems to wake up from the winter sleep. It's starting to get warm, sunny, and, most impotantly, amazingly green! The most beautiful flowers start to blossom and Polish cities look like flowery fairytales! Polish Springs are perfect for walking, cycling and sightseeing!
Temperature in Poland in March
This month, the temperatures remain cold, averaging 4°C (about 38°F). The lows still get down to freezing, averaging 0°C (around 32°F) and the highs peak at around 7°C (about 45°F), getting warmer but still pretty chilly.
There is, however, more and more sunlight. March tends to be a bit rainy.
A coat lighter coat is still needed and don't forget your umbrella or a raincoat!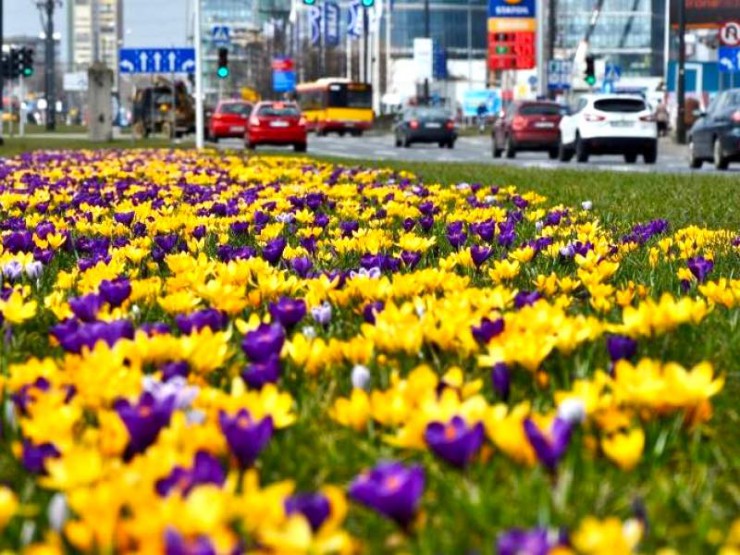 Temperature in Poland in April
The average high jumps up to 12°C (about 54°F), making the spring days feel warm compared to the harsh temperatures the winter months saw. The low still drops to a chilly 3°C (about 37°F).
During this month, you'll start getting more hours of sunlight, with an average of 4.5 hours a day. This means you'll have more time to get outside and see what the city and the surrounding area has to offer.
April is sometimes a bit rainy, so it's good to have your umbrella with you. You should also have your sunglasses an sunscreen!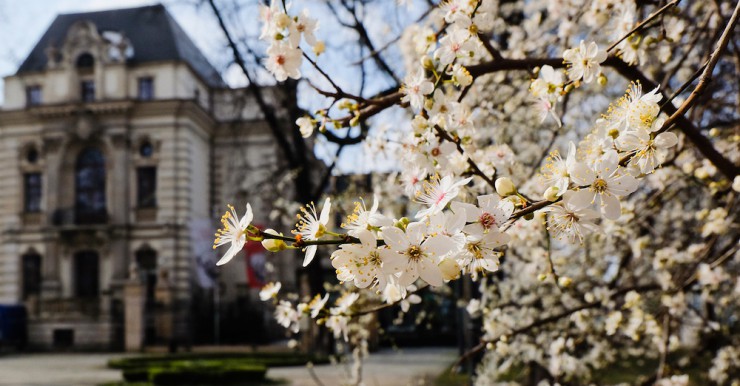 Temperature in Poland in May
It's starting to get really warm! The average high for the month hits a nice and warm 20°C (around 68°F). It still gets cool, however, with an average low of 8°C (around 46°F).
There have been Mays, when the temperature bore resemblance to summer temperatures.
For a visit, pack your lighter clothes, but do not forget your jacket in case it gets a bit cold.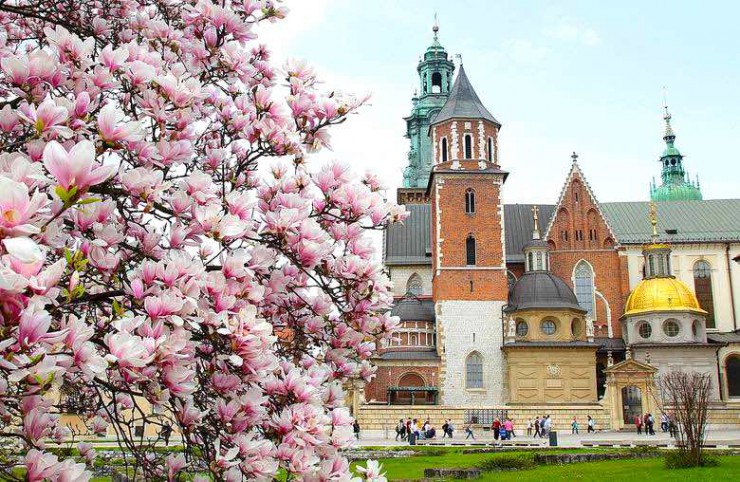 These months are perfect for sightseeing. Polish cities have so much to offer! Spring is the time when the flowers and the trees start to blossom, making Polish cities look incredible! Look at The Wilanow Palace in Warsaw and let yourself indulge in the spring climate!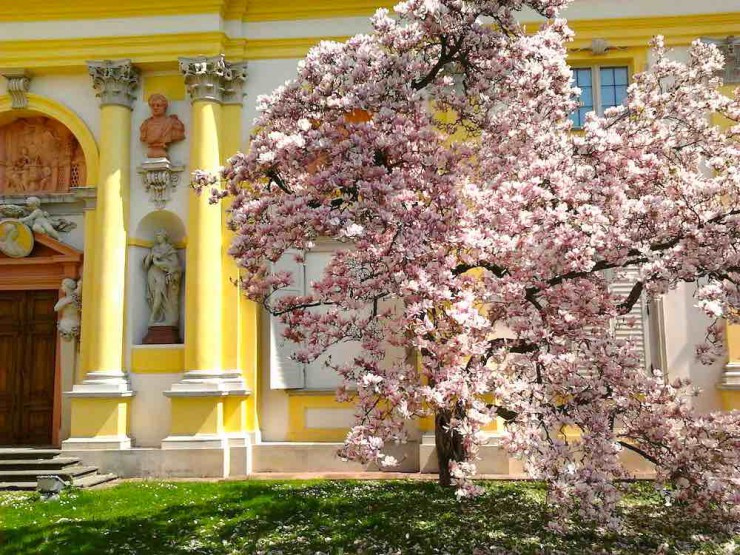 Summer in Poland
There goes Summer! This time of the year is very warm in Poland, enabling tourists to lay in the sun, relax by the pool or the lake and to make long bicycle trips.
Sunscreen and sunglasses are your best friends at this time of the year!
Temperature in Poland in June
The average high during this time jumps up to 22°C (around 72°F); not hot like other parts of the world see during the summer, but very pleasant.
The lows still dip down to 11°C (about 52°F), so even at the beginning of summer, it can still feel cool, especially at night.
Even though the days are getting warmer and longer, the rainfall chances increase this month. An average of 60 mm of rain falls over the course of 17 days.
Definitely pack your umbrella or poncho and be prepared for some wet days during your stay.
Sunglasses are a must!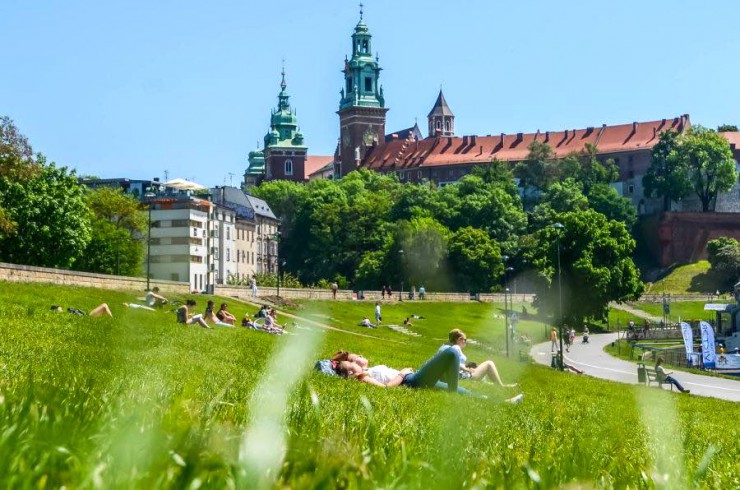 Temperature in Poland in July
Poland sees an average daily temperature of 19°C (around 65°F), warm and pleasant to get outside and enjoy the warmer days, seeing the sights of the city. The highs for the month reach all the way to 25°C (about 77°F) and the lows drop down to 12°C (about 54°F). It's the hottest month of the year.
While the temperatures are warmer and the days are longer, you'll still have to deal with an increased amount of rainfall.
Prepare yourself for hot days by packing your light clothing, sunglasses and sunscreen.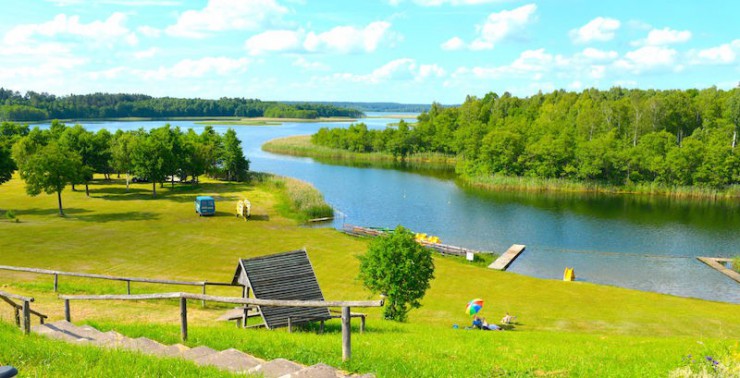 Temperature in Poland in August
The warm temperatures are still on. This is the second hottest month of the year in this area of Poland, with an average daily temperature of 18°C (around 64°F). The highs still reach up to a nice and pleasant 24°C (about 75°F) and the lows drop down to 12°C (about 54°F).
It's a bit of a dry month and the heat can be intense.
Pack your umbrella just in case, but sunscreen and sunglasses are crucial. Your clothes should be very light and so do your shoes, sandals is what you need.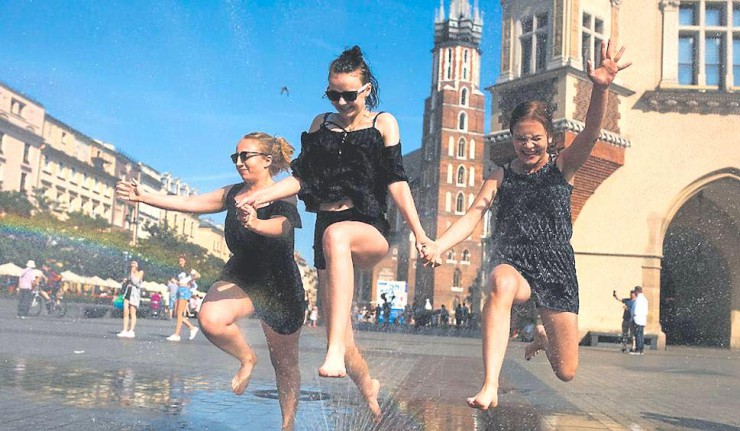 Summer in Poland? Definitely by the sea!
Polish Baltic Sea and the cities that surround it offer so much to the tourists. You can sunbathe, take romantic long walks and visit the best sites!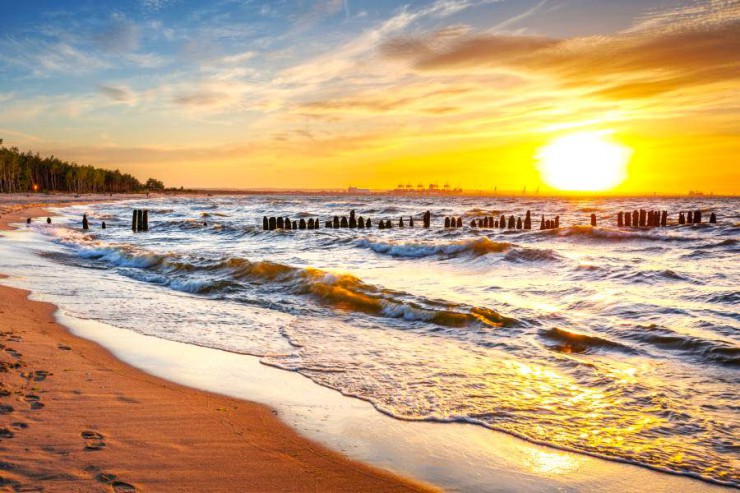 Autumn in Poland
Only in Poland you can experience the most charming view. Indulge in this golden fairytale, walk a lot and play with the leaves!
Temperature in Poland in September
September signals the official start of the beautiful autumn, with pleasant temperatures and falling rainfall amounts. Poland sees an average daily temperature of 14°C (about 57°F), a fantastic temperature for getting out and exploring. The lows start dropping, reaching an average of 9°C (around 48°F) and the highs get up to 19°C (about 66°F)
Although autumn is starting, September is still very warm and it's the perfect time to do the cycling and walking.
Pack your long-sleeved clothes and an umbrella.
Temperature in Poland in October
October is significantly cooler than September, with an average temperature of 9°C (about 48°F). The lows drop to a chilly 5°C (about 41°F) but if you're bundled up properly it's not so cold you can't enjoy your time outside exploring.
October is the time to admire the beautiful ''Polish Golden Autumn''. With colorful leaves everywhere, the walks through Polish streets are unforgettable!
Pack your jacket and warmer shoes. Umbrella is an essential.
Temperature in Poland in November
Temperatures continue to plummet in November with the average daily temperatures only reaching 3°C (about 37°F). The lows get down to a blistery 0°C (about 32°F), hovering right at that freezing mark. The highs don't get much better, averaging only 5°C (around 41°F).
There is a big chance of rain or even snow.
This month is a bit gloomy, but very atmospheric.
Definitely pack a warm jacket, a hat and an umbrella.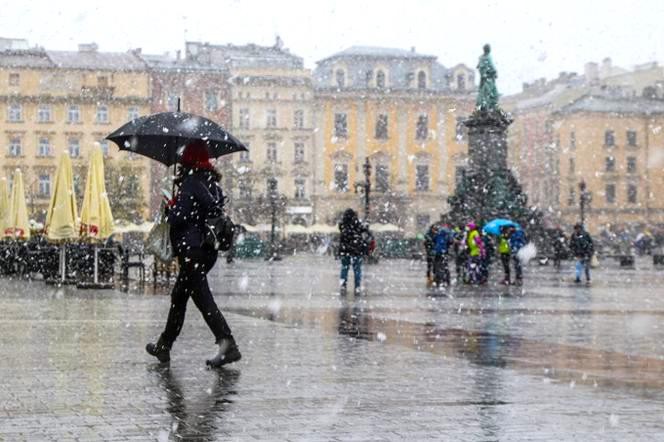 Autumn is the perfect time to visit Krakow. The charming streets of the city, the most interesting sites and amazing atmosphere are one of the kind, even if it rains!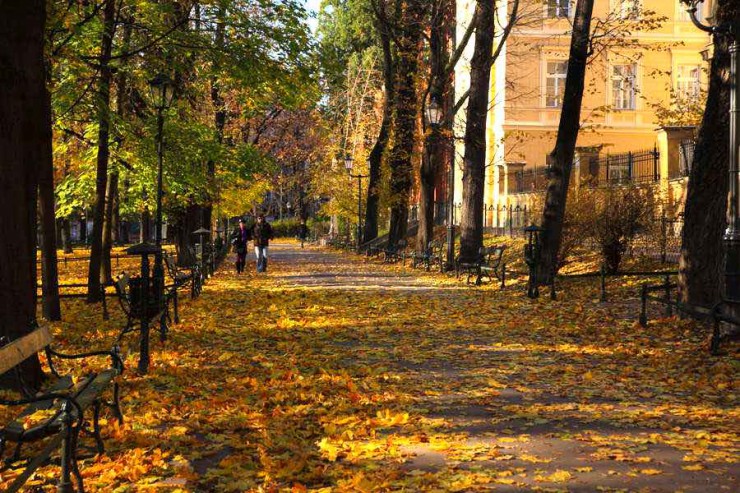 Climate in Poland
Polish climate can be described as a temperate climate with relatively cold winters and warm summers, which is greatly influenced by oceanic air currents from the west, cold polar air from Scandinavia and Russia, as well as warmer, sub-tropical air from the south.
Trivia
The highest temperature in Poland (40,2°C) was recorded in 1921 in Prószków
The lowest temperature in Poland (41,0°C) was recorded in 1940 in Siedlce
The highest rainfall in Poland was recorded (2770mm) in Zakopane in 2001
Each and every city in Poland has its unique charm in all weathers, but we think that Krakow is the most beautiful place, no matter if there is snow, rain or wind.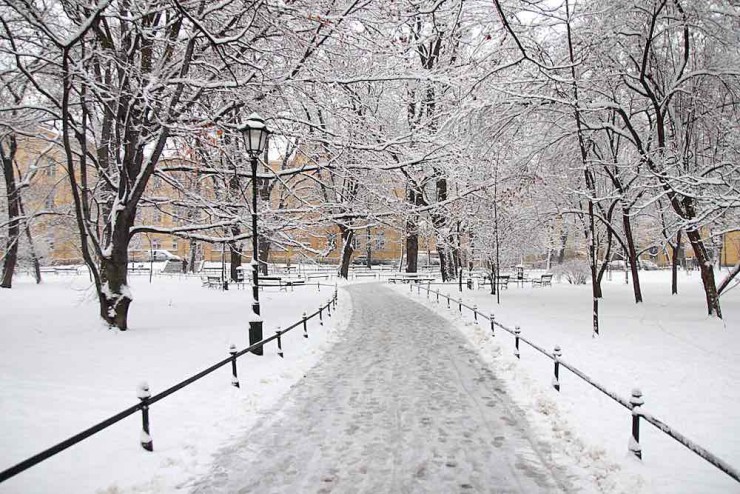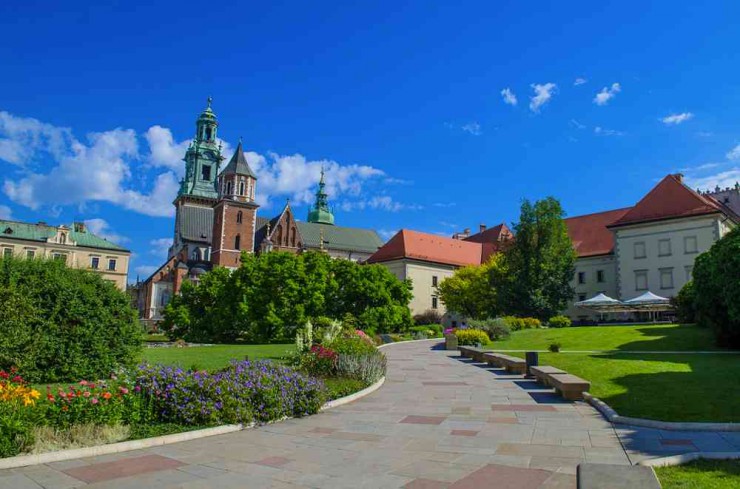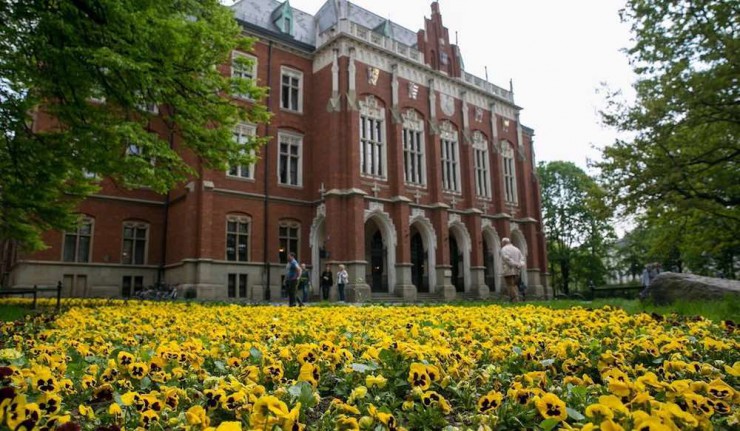 Enjoy it with us!
Weather in Poland
I hope that now you know a bit about the Polish weather and that you'll know what to expect. Are you prepared for your trip? Tell me in the comments :)