..Have you ever heard about Wieliczka Salt Mine before?
If not, you have to know that it is an unique type of attraction that is practically impossible to find a counterpart of on a global scale! The World Heritage list of UNESCO never fails to indicate what historical attractions are unique enough to deserve special protection so it's natural that Wieliczka Salt Mine is the part of it since 1978.
Why is it worth seeing?
If you have ever wondered where the white substance you apply on your chips comes from or what effort is needed to extract its crystals, this site will totally amaze you. If you just like magical places with a rich history, you should go there as well!
What are you going to find there?
Descend up to 327 metres underground to enter "the salt kingdom" – 287 kilometres of royal mine shafts put in operation by a Polish salt mine company named "Żupy Krakowskie" that monopolised the global market of white gold between the 13th and 18th centuries.
Wieliczka will show you also beautiful chapels, corridors and chambers with bas-reliefs and monuments made of salt hidden underground. Do not miss the most vital information on the fairy-tale-like Krakow Salt Mine and join all the satisfied visitors who have already been there!
Overview
You have to know that visiting that impressive place will take a half of your day, that's why it's good to be well prepared before going there.
That is the reason why we've prepared the complete travel guide about Wieliczka. Feel free to use it, starting with those short, useful informations:
Best time to visit: The whole year, but if you want to have more time for sightseeing, go to Wieliczka between April 1st and October 31st.
Entrance fee: 89-94pln for Adults, 247-262pln for the whole family (4 people).
Opening times: 7:30-19:30 in the Spring, Summertime and Autumn, 8:00-17:00 in the Winter.
Distance from Krakow: 17 kilometers from the Old Town of Krakow.
Transport cost from Krakow: Check the prices below.
Interesting facts: The largest sculpture in Wieliczka weighs 15 tons and the salt lagoon covers an area of 7km2. There are 3 kilometers of corridors, 800 stairs and visit at depth of 135 meters below the ground as well!
Thi Royal Salt Mine is one of the largest tourist attractions in Poland. This site was picked as one of the Seven Wonders of Poland in the social plebiscite, with the largest number of votes. No wonders, that from 1945 till today 43 026 898 tourists and 1,7 milions during the last year have visited this place.

Almost every Polish student visits the Salt Mine during a class trip.
Why so?
Visiting the historic mine is not only an expedition into the depths of the earth, but also into the depths of history – that one measured in centuries and geological ages.

That's why unusual chambers, corridors and tunnels delight not only Poles but also foreign tourists.
Do you want to know more details?
History of Wieliczka Salt Mine
At first, the salt in the Wieliczka region was sourced by evaporating the brine found on the surface. The oldest traces of brewing come from the period of about 3.5 thousand years BC. When the salt springs were gone, workers started to dig mine shafts and looking for salt. This is how the mine has been operating continuously since the mid-13th century.
The mine operated for almost 500 years, until the first partition of Poland in 1772. Until that time the earnings from extraction and salt trade accounted one-third of the income of the Republic of Poland. In the years 1772-1918, the mine was under the management of the Austria. It became the property of the State Treasury again, after Poland regained its independence.

Facts about Wieliczka that you should know
There are many more interesting facts about this monument.
Many of the mine's rooms can also be used today. Many conferences, concerts and celebrations are still taking place in the mine. Bery decorative walls and ceilings with wonderful chandeliers give a sublime to each event.

After a 2.5-kilometer walk down the mine, there is a special lift that takes tourists to the surface in few seconds.

The deepest lake along the tourist trail has a depth of up to 9 meters and is located 104 meters underground.

In 2004, it was discovered that this salt lake is a great place for windsurfing.
From the very beginning, Wieliczka was decorated with statues and images of saints.

The sculptures carved from salt gave the chapels spiritual meaning and helped the miners in their daily work.
Salt Mine tips and tours
Are you planning to visit the Salt Mine?
We are very happy about it! Thus, you will find these tips useful.
To reach the town of Wieliczka, you need to travel 10 kilometres south to the city centre of Krakow,  staying within its metropolitan area.
If you want to take pictures, you will have to pay 10pln to obtain a special permit to do so.
In the high season it i open from 7:30 a.m. to 7:30 p.m., two hours longer than between November and March.
If you're planning to appear with children under 4, they will be admitted free of charge inside.
It's good to take some snacks with!
Visitors of reduced mobility will be expected to signalise their presence to the museum staff.
The entire rout will take about 2 hours of your time (up to 3 hours, together with Krakow Saltworks Museum).
The expedition you will participate in will obligatorily be led by a guide, but it will be up to you to decide what route to take: the Tourist, Miner's or Pilgrim's Route. Choose wisely, as they do not intersect and differ considerably, affecting what you will experience underground.
Don't you know which one to choose? We will bring you closer to each of them.
The Tourist Route
Nearly 3 kilometres and 800 steps along 20 chambers and winding corridors of the mine will let you escape reality for about 3 hours.  This fascinating journey takes place 135 metres underground.
There will be otherworldly passages over natural saline lakes you will go through, accompanied by a play of lights and music of Frederic Chopin, impressive wooden structures erected to serve the miners (the mine was continuously in operation until 2007), so well-composed with the walls of the mine as man-made structures  that seemingly melting with the rocky background, as well as the chambers and chapels whose salt-rocky walls were carved into bas-reliefs by gifted miners themselves.
The Chapel of St. Kinga is the most recognised testimony to great artistry of Wieliczka's excavators. Its 465 square metres of a rock-carved floor, bas-reliefs, statues and altars lit by monumental chandeliers of salt crystals will make you think of the amount of human effort needed to transform natural surroundings like this into a work of art with simple tools in the hands of manual labourers.
You will find complex explanations on the process of excavating salt across centuries, the healthy properties of conditions inside the mine and the importance of Wieliczka Salt Mine to the economy of Polish Crown by professional English-speaking guides, exposing you to the evolution of machinery implemented to extract salt from underground rocks. A lot of information will be gathered at the adjoined Krakow Saltworks Museum you will visit, too.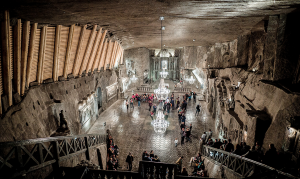 You will not believe the route only constitutes a fraction of the network of mazes hidden below the ground level after you are elevated back by a modern miner's lift, not to mention the amazement you will surely experience there.
The Miner's Route

If you like challenges and feel ready to take more physical effort during your visit to Wieliczka, take the Miner's Route. It leads through a totally different part of the efidice than the typically tourist-oriented one.
You will be given waterproof overalls and mining lamps to participate in a 3-hour expedition in the oldest mine shaft there is, namely Regis. The guide will adopt the role of your Foreman, whose task will be to teach you the mining profession by assigning varied excavation-related duties. You will dig for salt, transport it, try measuring the concentration of methane in the air and learn a lot more about the mining jargon and traditions than if adopting the Tourist Route.
This highly integration-supporting programme will enable you to feel like a real miner would, making it a very memorable experience.
The Pilgrim's Route
Religion is what made the miners weather the difficulties and danger associated with this demanding profession. It has left its mark in the character of works of saline art they created and the religious nature of certain interiors of this marvellous underground space, like the Chapel of St. Kinga.
If you are interested in experiencing a spiritual renewal there, take the Pilgrim's Route. You will be led by a priest guide through faith-related parts of the mine, admiring the salt-chiselled statues of saints, the Chapel of St. Anthony, the Golgotha representing a wood-carved artistry or the miners' bas-relief version of "Last Supper" by Leonardo da Vinci.
After leaving Krakow Saltworks Museum, you may take part in a Holy Mass celebrated by the priest and decide to purchase original religious souvenirs offered at a special shop at the museum. Throughout the 2,5-hour visit, you will realise that the outcome of miners' faith combined with talent is impossible to forget.
We hope that you already know what to choose!
Wieliczka Salt Mine – What to wear?
The temperature in the Salt Mine is quite stable, it does not go below 14°C and does not exceed 16°C. I found it rather chilly so if you are planning on visiting Wieliczka in the summer we would highly recommend you to bring some warmer clothes.
What exactly to wear?
Getting the clothes right for the salt mine isn't too complicated. A warm jumper or light jacket should be enough to keep you warm underground. In terms of shoes high heels and sandals are probably a bad idea. We would opt for the sneakers that are much more comfortable as there are quite a bit of stairs to climb.  We recommend long trousers and sleeves not only because of the cooler temperature but also due to the historic sites. Some have a sacral character and require appropriate attire (shoulders and knees should be covered).
What about the safety?
Safety shouldn't be a concern in the mines as around a million tourists pass through it every year without any problems. There is no need for flashlights and helmets as the sight-seeing route is fully lit, easy to pass through safely and is equipped with emergency lighting as well. At the and, a valuable piece of advice would be not to lick the salt sculptures unless you're not worried about hygiene ( don't worry, you won't pay a fine for tasting them!).
Is the road difficult?
Do keep in mind that visiting the mines requires some energy as it involves climbing and a bit of walking. Pregnant women, elderly people or those with mobility problems should assess their abilities before attempting to do the entire tour. It is possible to view certain parts of the mine in a wheel chair.
What to do with the luggage?
Luggage storage is available at the entrance. Remember, that it is open in the same hours as the mine. Make sure to pick up your things before 7:30 p.m.
Transport to Wieliczka
There are many ways to get to this site. You can choose between the bus, train, shuttle bus or private transport.
For more information check how to get from Krakow to Salt Mines post.
And so? When can we expect you there? 🙂