What To Visit In Krakow

30 Bloggers Reveal 3 Things Worth a Visit
It's hard to choose what to visit in Krakow.
Is that right?
If you asked us about the top 3 places in the guide to Krakow, it would be hard for us to answer as well!
That's why we've asked this special question to 30 people who are connected with Krakow, Poland:
"If you could choose only 3 things to do in Krakow, which ones would you choose?"
Those guys are travelers, bloggers, and hosts who have one thing in common – their love for Krakow!
What happened next?
We prepared a unique guide to Krakow based on Bloggers answers.
All those places can be the part of an amazing Krakow sightseeing, just like this one:
But are you still interested in what exactly they've said?
Their answers prove that there are many amazing places in Krakow and definitely will help you choose the most interesting tours and trips for you before a visit to Krakow Poland!
Let's check their propositions of 3 favorite things!
Responses listed in the order they were received in:
The first thing we usually do in any city is just to start walking on the streets. It gives an impression of the whole city very soon and that was the first thing we've fallen in love with in Krakow, too: the streets and architecture of the Old Town.
Our other top picks would be Wawel Cathedral and Wieliczka Salt Mine.
Wawel Cathedral is such a unique mixture of Baroque and Gothic, it amazed us both from the inside and outside. Though Wieliczka Salt Mine is outside of Krakow, it's just suitable for a day trip. First, we had doubts whether a salt mine could be exciting enough, but it ended up to be one of our favorite experiences from Krakow. We explored the three levels of this giant mine and got stunned by wonderful salt statues and chapels carved out of rock salt on the way.
Drink tea all day long – because you want your stay in Krakow to be as local as possible, and Poles drink a lot of tea. You can literally spend a whole day moving from cafe to cafein search of the best tea and apple pie.
Wieliczka Salt Mine – to get right to the bowels of the Earth. The fact that mines are usually restricted for miners only makes them such an attractive destination and Wieliczka Salt Mine is one of the best of its kind in the world.
Auschwitz – because we need to remember the past to never make the same mistakes again. Auschwitz is a destination many avoid because it makes you feel uncomfortable and sad, but this is what it is supposed to be.
Want some more? Check the list of 20 fun places to visit in Krakow made by 203 Travel Challenges!
I visited Krakow last year and loved it! My top three recommendations are:
Take in the ambiance at the Main Square (I was there before Christmas and there were lots of things going on and a great atmosphere!),
Take the train to Wieliczka to visit the Salt Mine. I'd never seen such a huge and magnificent mine before!
Learn about the horrible histories at Auschwitz – this is such an important part of European history and was very interesting to see, although also very sad. Make sure you book ahead because there are limitations on the number of people allowed to enter each day!
Christina (Nina) Arbis (IES Abroad)
Among all the history, friendly people, and beautiful architecture of the city, Krakow offers a cozy atmosphere with a variety of hidden gems.
I especially enjoyed roaming around Krakow's Old Town Square and Wawel Castle compound. It's a good way to get a feel for the city and the local lifestyle. When I went to visit, there was a market set up in the main square with pottery, textiles, food, etc. It was great—especially because I got to try several kinds of Pierogi (I would definitely suggest trying the local Pierogi!). It was delicious.
As far as attractions, I appreciated visiting the Oskar Schindler factory museum. It captured a significant amount of the city's history in the wider context of Europe and told an insightful story of the well-known Oskar Schindler. Additionally, there was a free nighttime
Macabre-themed walking tour around Old Town Krakow, which my friend group and I found particularly interesting. It wasn't your average walking tour, and our tour guide was engaging and enthusiastic.
Jonny has decided to stick in Kraków and skip the most popular attractions like the Main Square, St. Mary's Church and Wawel Castle to prepare his list.
Schindler's Factory
One of essential museums in Kraków but also hugely pivotal in Polish history and one not to be missed is the impressive Schindler's Factory. Schindler's factory is a multi-room museum which gives you a great in-depth look at Oscar Schindler's factory, the Jewish history of this part of Poland and allows you to understand the tough history that Kraków has been through. The visuals are stunning and the detail of war-time Kraków make this a highlight.
Bar Mleczny
Eat at one of the famous Bar Mleczny (Milk Bars). These little cozy restaurant-come-cafes are Polish food and culture all in one. Head to Milk Bar Tomasza in Kraków and do as the Polish do. Check the hearty menu before ordering a soup, a salad, a main and a drink. If you want tips, try the Barszcz czerwony, a carrot, and cabbage salad, pierogi Ruskie and drink the local compote. It's cheap, tasty and traditional as well as being less touristic than other restaurants.
The Dragon
While Wawel Castle gets all the recommendations, the little Dragon at its foot deserves a bit of recognition. You simply wait for a minute until the dragon breathes fire again while you walk by the river. This is an emblem of the city of Krakow, the same way Warsaw has its mermaid.
Visit? – The Pharmacy Museum on Florianska – little visited and truly amazing – interiors from dozens of pharmacies from the C16 to C20 – fascinating.
Taste? The cakes below our flat on ul. Brzozowa in Kazimierz – from Cafe Vanilia – the best in town – the best in Malopolska! I love the baked pears in pastry, the rosewater doughnuts, the torts… the cheesecakes baked daily. I put on 10kg whilst restoring the flat on the top floor above!
Try? getting lost in the labyrinth of streets in the Old Town – you're bound to find a treasure. So many nice little cafes and coffee shops, small independent shops etc.
Are you looking for some nice apartment just next to the Wawel Castle? This one will totally satisfy you!
Auschwitz – When I was in Krakow, I did a tour of Auschwitz and Birkenau. Although it's a devastating thing to see and experience, it taught me a lot about Poland's history.
Wieliczka Salt Mine – Is there anything cooler than a full, elegant ballroom made entirely out of salt, hundreds of feet underground?
Try a zapiekanka – I fell in love with these in Krakow. Back in the UK, I tried to make my own – but they didn't taste anywhere near as nice!
Stay with us and check out another statement about what to do in Krakow!
Krakow is a beautiful city with an incredible atmosphere and it's super affordable – especially for eating out. There is so much to do in this historically significant city but I've managed to narrow it down to three!
My top three things to do in Krakow are:
Visit Main Square
This square is in the center of the city and dates back to the 13th century. It is one of the largest medieval town squares in Europe and is surrounded by beautiful architecture like the Cloth Hall and St Mary's Basilica. Main Square is usually busy with a lively atmosphere and it's the focal point of lots of festivals throughout the year.
Wawel Castle
This impressive castle is one of the largest in Poland and is an amalgamation of European architectural styles including medieval, renaissance and baroque. There are five different attractions inside the castle – Royal Private Apartments, Crown Treasure and Armoury, Lost Wawel, State Rooms and Exhibition of Oriental Art and you need a separate ticket for each one. You could spend a whole day here!
Kazimierz
In the Jewish District of Kazimierz, you'll find the coolest shops, bars and places to eat. Visit the Antiques Market on a Saturday and you'll be able to browse for hours over vintage clothes and bags, stamp collections from the 1930s and afternoon tea sets.
Rebecca Merchant (BecBec)
I visited Krakow last year for a long weekend and really enjoyed it. Krakow is steeped in history and I certainly wanted to make the most of this.The top three places I have visited in Krakow are:
Museum of Poland under Communist Regime
I am interested in communist history, so for me, it was an interesting place to visit. Where the museum is situated (in the Nowa Huta district) is interesting as it was built after World War Two. The Museum which is situated inside an old cinema. The displays contained lots of artifacts from that era, including postcards, items of clothing, photographs, and signs with what to do in case of the threat of a nuclear attack. Although it is a little trek to visit the museum, if you are interested in communist history it is well worth a visit.
U Babci Maliny
If you want a slice of the 'real' Poland away from the tourist areas for something to eat then U Babci Maliny is the perfect place. It was like walking into your Grandma's house with walls with photographs of the owner. It sold cheap polish food including pierogi, if you want an authentic Polish meal then visiting this place is a must.
Mamma Mia Włoska Restauracja
Finally, another amazing foodie place is Mamma Mia Wloska Restauracja which specializes in Italian cuisine. Famous for its pizza, I had the Spinaci a Capra which is mozzarella cheese, goats cheese, sun-dried tomatoes, spinach, and garlic. You don't need to book although it is recommended as it was so busy and full when I visited.
There are three things in Krakow that clearly stood out for us and no one should miss.
Food and drinks
A food tour through Krakow is an experience. Beginning with delicious Polish sausages moving on to Polish cheese and ending with pierogi – there is something to suit everybody's taste. A visit to one of the small pubs in Krakow should absolutely be scheduled for after the food tour. This is perfect for trying the tasty craft beer, a vodka or a vodka shot.
For a full Susanne's recommendation of polish food, click here.
A walk along the Vistula
Stroll along the river walks of the Vistula when the weather is nice or just relax on the banks of the river. Walk across the Ojca Bernatka Bridge, rent a bike, visit one of the swimming restaurant boats or book a boat tour on the river. The Vistula is the ideal spot to simply enjoy life.
The Wawel Castle
Wawel Castle and go on a quest to find the dragon – Smok Wawelski. There is no better place to get to know the history of Krakow and to enjoy the wonderful view over the city and the Vistula at the same time.
You will be viciously upset with yourself if you fail to visit one of the oldest and most legendary cities in Poland: Kraków. With lots of historical highlights and popular cultural points of interest, it's rather difficult to not fall madly in love with the iconic old-world aura that this city exudes.
First, you have to dig deep and get to know more about Krakow through this powerful place known as the Schindler's Factory Museum, which is a permanent exhibition about the city under the Nazi Occupation and its World Wars stories. It's an unbelievable place full of riveting shards of history.
Next, of course, you have to try a Vodka Tasting tour! Explore the rich history and variety of Polish vodkas, and maybe even other liquors available in between. Lots of super high-quality mead and alcohol to give you that kind of Kraków buzz.
Last but not the least, participate in a Jewish Culture Festival. Usually happening around the months of June – July, this is one of the biggest Jewish culture festivals in the world, one that is loaded with tours, concerts, dances, foods, and a lifetime of newfound friends.
Don't forget, before you regret – visit Kraków!
Rynek Underground: Every visitor to Krakow will sooner or later explore the city's historic Market Square. Opened in 2010, the museum incorporates the original excavated medieval merchant stalls that predate today's Cloth Hall. The experience is quite memorable.
Milk Bars: Some wrongly consider milk bars to be a communist idea. In fact, the first milk bar was founded long before Poland ended up on the wrong side of the Iron Curtain. In milk bars, you can order chiefly traditional and ordinary Polish food like pierogi, tomato soup or cutlets. These spots usually offer authentic, hearty Polish cuisine at a very wallet-friendly price.
Liban Quarry: This hidden attraction is a little creepy, but well-worth a visit. Abandoned Liban Quarry in Kraków was a quarry, then Nazi labor camp, then they filmed Schindler's List there and left behind creepy film props.
George Tsangarides (Eventhuse)
As Poland's undisputed capital of culture, and the home of more bars per square meter than any other European city, Krakow is bursting at the seams with exciting, unique and authentic experiences. Our top three things in Krakow are:
Do – White Water Rafting: For a taste of the more undiscovered side of Krakow, take a trip outside the city center and into the great outdoors for a wet and wild white-water rafting adventure that is guaranteed to get the adrenalin pumping.
Visit – Salt Mine Tour: One of Krakow's most unique and fascinating sights lies deep under the ground in an out-of-use salt mine. The Wieliczka Salt Mine is now a UNESCO Heritage sight and millions of visitors descend each year to explore the deep labyrinth of tunnels, underground salt lakes, chapels, monuments, and chambers.
Taste – Vodka: Polish vodka packs a serious punch and as such has become known as some of the best in the world. Brewed and consumed since Medieval times, this potent liquor has evolved since its early origins and now comes in a huge variety of flavors from sweet cherry or sour lemon and lime to herbal mint infusions and nutty chocolate flavors. A trip to Krakow would be incomplete without a night out at one of the many cozy dedicated vodka bars for a tasting session.
My last visit to Krakow was some time ago, so am not sure that anything I suggest would be of relevance or in tune with the current situation.
The thing I remember and would suggest to anyone visiting Krakow is the Museum of Tadeusz Kantor. Since he is such an inspiring and unique personality in the theatre world, the place which allows encountering with the world he was creating is definitely an impressionable and memorable experience.
Jewish Quarter – because of the history and atmosphere of this place, the market of antiques, cafes open until the morning and zapiekanki of course.
Krakus Mound – due to the most beautiful panorama of Krakow.
Schindler's Factory – amazing place, absolutely must see.
And of course, I recommend tasting sausages served from Blue "Nyska" at Hala Targowa – the best street food in Krakow! 
We are only half way through our Krakow guide. Stay with us!
I have a giant sweet tooth, and I always stop by Gorace Paczki, and get a paczki (donut) that is filled with rose jam. This tiny takeaway counter that displays rows of freshly baked paczki is right off the Main Square and is a great stop for dessert or a sugary breakfast treat.
One of my favorite activities is climbing to the top of St. Mary's Basilica, since you can see Krakow beyond the Main Square and how expansive the city really is. There is no elevator and the climb to the top is not for the faint of heart, but the view is worth it.
I also love Cafe Botanica for a late night drink and dessert. The cafe has multiple rooms and a cozy atmosphere that has always felt like home.
I'd really recommend visiting Wawel Castle as it's a really magical place with its architecture and gorgeous courtyard.
The Main Square would be my second recommendation to visit as it has such a great atmosphere, some great markets too for some shopping.
My third pick would be to explore some of the amazing underground restaurants, bars, and clubs which are hidden beneath the city. They have such a great vibe and guarantee a good night out and good food.
Krakow is a vibrant and diverse city that has a captivating history and fascinating sights. While many visitors soak in the charms and stories of the Old Town, Krakow has a few must-see sights beyond the city center that visitors shouldn't miss.
Our top pick for things to do in Krakow is a visit to the Wieliczka Salt Mine. A tour of the 13th-century mine takes visitors below the earth's surface through corridors and cavernous spaces featuring an astounding number of rock salt statues and beautiful chapels.
An often-missed sight in the Podgorze District is the ancient Krakus Mound. Storied to be the burial place of King Krakus, founder of the city of Krakow, the mound dates to prehistoric times. From the top of the 52-foot-tall hill, visitors have 360-degree views, including a peek into the Liban Quarry.
For a Krakow experience in current times, visitors should go to Tytano, a former tobacco factory that has recently been reutilized into a hub of culture and nightlife. The restaurants and shops feature local products, making it a great spot to go for Krakow's contemporary fare and locally-produced craft beer.
Auschwitz and Salt Mines Tour: For me as a WWII enthusiast I could not miss the opportunity to visit Krakow and not "pay my respects" to all the victims of concentrations camps in Poland. So Auschwitz was my number 1 destination I wanted to visit because it is close to Krakow. It is a destination that you will never forget. It's a full day trip that begins from early in the morning, and in the afternoon it finishes by visiting the Salt Mines of Krakow. Although I would recommend someone, to split the tour in two days, because I felt worn-out visiting the Salt Mines afterward. But if you are on a short trip, then do it in one day.
Jewish Quarter (Kazimierz) and Oskar Schindler Factory: Its a nice location in the city to walk around and discover small coffee shops and restaurants. There are also small museums you can visit as well, and many churches and synagogues. Very close to it (15-minute walk), it's the Schindler Factory that is a must to see, although there isn't much of a factory left, you can still see various information and histories about the ghetto that was around in the war.
Krakow City Center: Krakow has the biggest and most impressive town square that I've visited so far. It's a huge open space, full of beautiful buildings and architecture that you can sit and admire all day. In the center of the square, is the market, that you can find lots of different stuff to buy for souvenirs or presents.
Eat pierogi – These polish dumplings are so delicious, and skipping them during your time in Krakow would be a great injustice. Must try fillings include potato and cottage cheese, sauerkraut and mushroom and sweet pierogi filled with fruit.
Check out the beautiful street art – It's difficult to miss the colorful murals in Krakow. The street art is not only masterful, it's meaningful too.
Visit Ghetto Heroes Square – The dark and troubled history of Krakow is no secret. It's something that should never be forgotten. Ghetto Heroes Square is a poignant reminder of the past, and what humanity is capable of, but at the same time it's also a symbol of hope.
I think it's important to see all sides of a city so I think my three things would be exploring the markets in Rynek's Main Square, trying pierogies at Przystanek Pierogarnia and the reflective visit to Auschwitz-Birkenau.
Ready for the last part of this common Krakow guide?
Krakow is one of the most impressive cities in the world. Shaped by centuries of remarkable history, your visit to Krakow won't be complete without three things: a visit to St. Mary's Basilica, a walk through the Florian Gate, and a meal of authentic Polish pierogies.
St. Mary's Basilica dates back 800 years, and while the church itself is impressive both inside and out, it's perhaps most famous for the trumpeter that plays Hejnal Mariacki each hour. Visiting St. Mary's Basilica will connect you to Krakow's history, architecture, and even a few interesting local legends.
The Florian Gate is another important structure that brings Krakow's incredible history to life. Built just 100 years after St. Mary's, the gate served as a watchtower and the city's main entrance for centuries. While there were once 30 similar towers, they were all torn down in the 1800s as Krakow modernized. Only the Florian Gate stands today as a reminder of how the city protected itself for so many years.
Finally, you can't visit Krakow without trying pierogies! These tasty dumplings are filled with everything from traditional potato or sauerkraut to Italian-inspired tomato and mozzarella to sweet desserts filled with cherries and mascarpone. Our favorites are from Przystanek Pierogarnia, but you can't go wrong with any restaurant that serves them—and you can't leave Krakow without trying them!
Choosing the three best things to do in Krakow can be very difficult. It's a city filled to the brim with picturesque architecture, delicious food and welcoming people, and above all a magnificent history.
I won't be the first (or the last) person to recommend you start with the Old Town, a UNESCO World Heritage site and the largest medieval town square in Europe. From here, you can soak up the stunning views of St. Mary's Basilica and the city's icon, Cloth Hall. It's a very romantic and beautiful area of the city, with the famous Wawel Castle nearby too.
Another place I love in Krakow is Kazimierz. This is a magical place where to this day you can experience the atmosphere of the pre-war Jewish district. You will feel the history on every corner, where you can admire charming buildings, explore art galleries and delve into antique shops, rounding off the day with a drink in a bar with a great atmosphere.
But the very best place to go after exploring the main tourist attractions? Dolnych Mlynow! Known as the city within the city, this former tobacco factory is one of the most popular places for locals and tourists alike. Full of original bars, ideal for art, fashion and designs lovers, it's the perfect place to chill out, sip a cold beer, tuck into great food and then dance into the early hours.
Enjoy Krakow!
If you're heading to Krakow, let me share my three favorite things to do in this beautiful city:
Visit the Jewish Quarter, Kazimierz, which is steeped in history. It was pretty much destroyed during World War II and was neglected until the 1990s when the area was revived. It's now a bustling, vibrant neighborhood full of historical sites, art galleries, restaurants, and cafes.
Pay a visit to Wawel Castle, which is a UNESCO World Heritage site and was built in the 13th century for King Casimir III The Great. It's one of the largest castles in Poland and features almost all the European architectural styles, making it rather unique. Be sure not to miss the statue of the Wawel Dragon, where legend has it that the dragon terrified locals and the King offered his daughter's hand in marriage to whoever could defeat it.
Try Borscht, which is a traditional soup made of beetroot. It might sound a bit odd but it's delicious. Then follow that with pierogi, of course!
Once in Kraków, you need to see Cricoteka – a museum devoted to Tadeusz Kantor's work. But if you wish to join it together with a nice trip out of town you can visit Hucisko, a small village where Kantor built his private house. It is a unique place, as the house was fully created by Kantor himself. The artist designed it's unusual shape, making it not only a house but an artwork of its own.  This is the only place connected to Kantor that is preserved in the original condition.
But there's another reason to visit Hucisko. Aside of the house, there is a huge monument – "Monument of Chair". 14 meters high, made of concrete sculpture was released shortly after the artist's death, based on one of his ideas.
If you're interested in young art you should visit Henryk Gallery, the most dynamic new place on the artistic map of Kraków.
As for a food, Ranny Ptaszek, a small place in the central district, offers great breakfasts. If you arrive in the morning it's a first place to go. When we host artists from abroad that's where we bring them from the airport.
Sit out for a meal in the Main Market Square – Krakow has one of my favorite squares in the world for sitting outside for a meal. There aren't many gorgeous squares where you can enjoy reasonably priced food and drinks, with a view of elegant horse and carriages.
Drinks and a stroll through Kazimierz – The old Jewish Quarter has great restaurants and one of the best collections of hip little pubs I've come across. The area is tourist friendly but isn't as overrun with out of towners like the Stare Miasto district. Kazimierz mostly caters to a hip local crowd and I highly recommend drinks in most places there over almost any pub in the Old Town.
Wawel Royal Castle (Zamek Krolewski) – This grand medieval castle offers stunning views of the Vistula River and Old Town. If it's a nice day join the locals by lounging in the grass along the river near the foot of the castle. Climb up and explore the courtyard. The complex has a beautiful cathedral, palace tour, and armory.
Krakow is one of the most colorful cities in Europe. The city is hip, sleek and full of history at the same time, it all adds up to the air of bohemian chic. It is vibrant, lively and generally has a great atmosphere. So my recommendation for a city trip to Krakow is not to pursue the so-called highlights, at least not on the first day of your visit.
The best way to discover what Krakow has to offer is throwing away your map and get lost. Let yourself be surprised at what the city has to offer. Just wander through the historic city center, listen to the street musicians, enjoy the leafy gardens, browse the colorful markets and soak up your surroundings. And then if you must, go and see the highlights, which of course include the Wawel Castle, the Market Square and the Jewish Quarter with its many restaurants.
Let's check the last three answers!
Unless you're strictly teetotal you simply cannot leave Krakow without sampling some of the vodka. Poland has been producing high-quality vodka since the middle ages, so it's a city where you'll find the clear liquor in abundance. First, try the commonly consumed cherry vodka, Wiśniówka and then move up to the deliciously sweet Krupnik, a honey vodka that's often served hot and accompanied with spices and lemon. None of those take your fancy? Then opt for a cherry, raspberry, Espresso or blood orange flavor instead.
Krakow also has some fantastically quirky bars going on and the one that stands out is the wonderful Café Szafé. Here you'll find red stenciled walls, organic sculptures of birds and instead of seats you'll find enormous brightly colored painted wardrobes! Owned by two artists they like to do things a little different at this cool eatery but without the expense of a forgoing a warm and welcoming atmosphere. They also host concerts, film and photography exhibitions.
If you're feeling a little energetic then try climbing Krakow's mounds which are located within walking distance of the center. The most original features in the whole city are the collection of 9th-century mounds which have pagan origins. The most famous is the Krakus Mound which is said to be the burial place of Prince Krak the legendary founder of the city. Head there for a bit of history and also see some fabulous city views!
If I could choose 3 things to see in Krakow, one of them would be a visit to the Wawel Royal Castle which is located in the center of Krakow. The towers of the castle offer spectacular views of the city for a very reasonable price.
Another thing that really needs to be seen in Krakow is the Cathedral that stands in the middle of the castle complex. The thing that makes this Cathedral so marvelous is the fact that it was built over few centuries and is combined with details of different architectural styles.
Last but not the least, Live Butterfly Museum is something I really recommend doing while in Krakow. It's a small museum but spectacular on its own. You can walk around the room while a few dozen exotic butterflies from various continents fly freely around you. Now isn't that something to experience in historical Poland?
My top 3 things to do in Krakow would include:
Taking a vodka tour with Eat Polska. I have taken 2 of their vodka tours (one in Warsaw, one in Krakow). They are so much fun and really interesting. Vodka is a big part of Polish culture, so it was great to learn more about the history and try so many different varieties.
Visiting Wawel Castle. I'm a big fan of castles, and this was doesn't disappoint. It's just on the outskirts of the Old Town, so it's easy to get to, and it's very imposing up on the hill. I loved exploring the different sections and climbing the tower for some fantastic views of the city.
Eating smalec. I was first introduced to this wonderful food on the vodka tour, and my first thought was, I'm supposed to just eat pork fat? It turns out it's amazing! The combination of the smalec with the pickles is perfect, and I can't get enough of it when I'm in Poland. I must've eaten it every day we were in Krakow. I highly recommend giving it a try while you're there.
Here you can check the full list of things to do in Krakow made by Ali!
A lot of suggestions, right?
30 people can not be wrong! So now you know, that you have to visit Krakow Poland!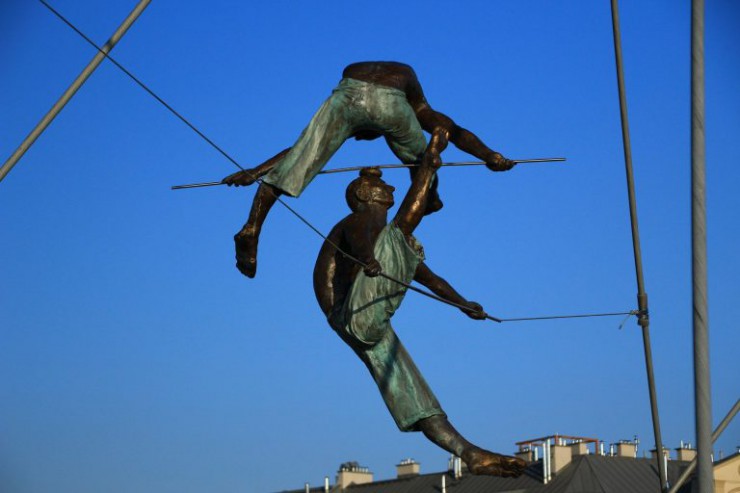 There are so many amazing places and things to see and try. You won't be bored even for a minute there!
Come and see Krakow on your own, starting with the guide above or our own list of 30 things to do in Krakow!