Krakow is an extraordinary place to visit, full of beautiful buildings, interesting museums. It has an amazing history and atmosphere. But where is Krakow? And how to get there? Are afraid to get lost?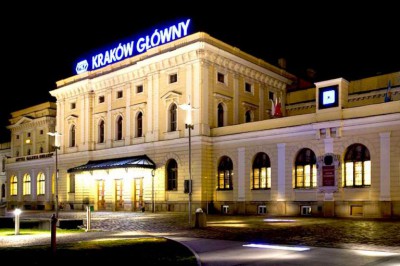 Don't worry!
 
I've prepared a guide in which I'm going to show you:
the location of Krakow 
the location of Krakow airport
where is Krakow train and bus station 
Ready? 
Let's begin!
Where is Krakow located?
Krakow lies in central Europe, in the southern part of Poland, on the Vistula River. It lies at the foot of Carpathian Mountains, 100 kilometers south to Tatra Mountains constituting the natural border with Slovakia and the Czech Republic. It is also located 230 kilometers west from the border with Ukraine.
Krakow is abot 300 kilometers from Warsaw, 80 kilometers from Katowice, 450 kilometers from Poznan, and 580 kilometers from Gdansk.
Where is Krakow airport?
Kraków John Paul II International Airport is an international airport located near Kraków, in Balice, 11 kilometers west of the city center.
No idea where that is?
I've got that covered!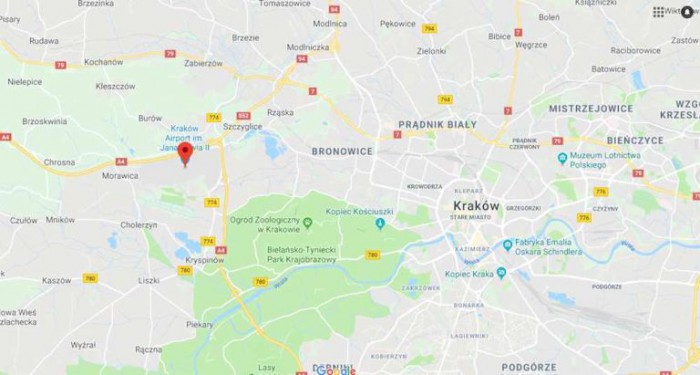 How to get from Krakow Airport to the Old Town?
Since the airport is a bit away from the city center, I've come up with suggestions on how to get there. You can get there:
If you want some more information, check out our post about Krakow airport.
Where is Krakow Train Station?
How about a train ride? Krakow Train Station is in the center of the city.
It is located near Galeria Krakowska so it is really simple to get there and you do not even need to take a tram or taxi to get there.
Here's how far it is from the districts of Krakow.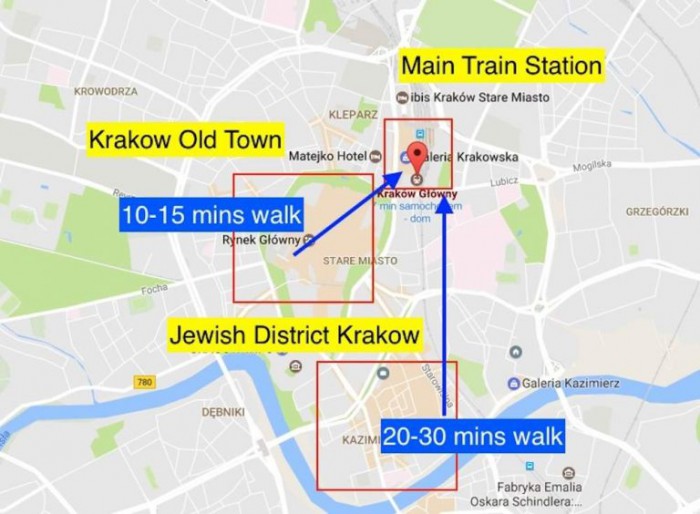 Where is Krakow bus station?
Traveling by bus? Luckily, the bus station is also in the city center, right next to Galeria Krakowska.
As you already know where is Krakow Główny Railway Station it will not be a problem to get there. Is is just few metres away.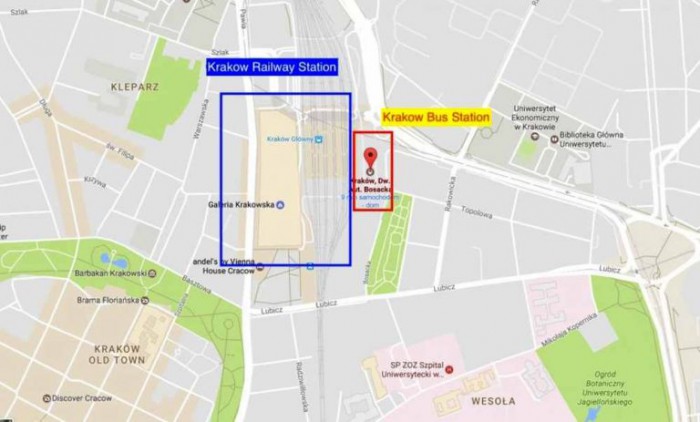 Places near Krakow
Krakow is located in Lesser Poland. This area is full of interesting places, even less than an hour away from Krakow.
The most popular places near Krakow are Wieliczka Salt Mine and Auschwitz-Birkenau Concentration Camps. Here's where they are located.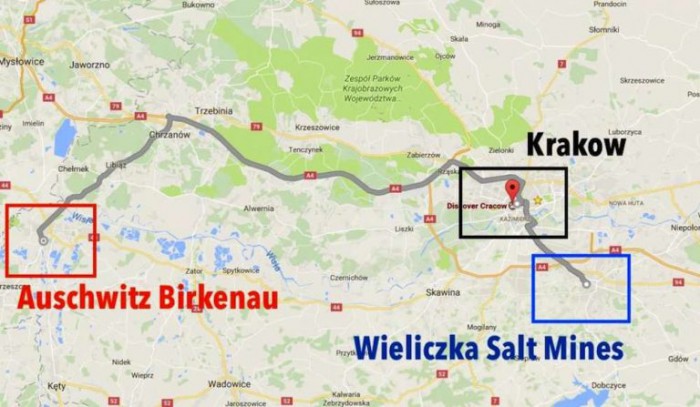 If you want to know some more about these places, check out our other post about places near Krakow in which I'll tell you a bit about them and, of course, how to get there.
What to do in Krakow?
Are wondering is it worth to visit Krakow at all. Check out what can you actually do in Krakow! Here we listed 30 Awesome things to do in Krakow and here you can check out 7 Must-see attractions of Krakow.
Plenty to see and plethora to do! (I like the word "plethora" – so fancy!)
Do you know where Krakow is?
I hope that now you know something about the location of Krakow and that you won't get lost while visiting.
If you want a clearer vision, check out our post to download a free Krakow map.
Are you excited to come to Krakow? Or maybe you've been there before? Tell me in the comments :)