The best stag party? Only in Krakow
Are you organizing the party of a lifetime for your best friend? Go to a stag party in Krakow! Here are the most interesting attractions, from which you can choose at will – planned for 1, 2 and 3 or more nights.
A stag party is an unforgettable event – unless, for some reason, you won't remember what happened ;-) However, regardless of whether you want to recreate the script of The Hangover or write your own, a Krakow stag party is a really great choice. The most interesting attractions include:
Food Crawl with a guide
Pub Crawl with a guide
Tram party
Thermal baths in Zakopane
Nightclubs
Shooting a Kalashnikov
Axe throwing…
... and many, many more!
We'll start planning the attractions with presenting a 1-night proposal – and then we will complement these with further options. With this guide, you can plan a stag party for even 3 amazing evenings or more!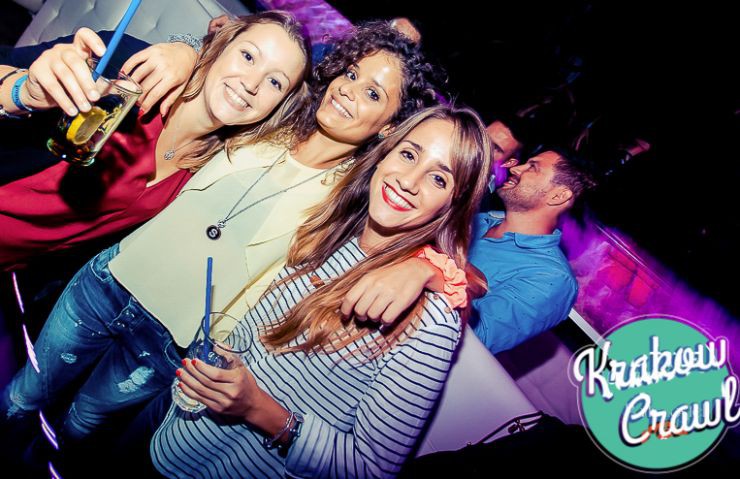 Stag party in Krakow – airport and accommodation
Where to start? By organizing the most important stages of the journey, namely the flight, travel from the airport to the city and accommodation. Here are some tips on how to do it:
1. The trip from the airport to Krakow
Make sure the journey from the airport to the city centre will be easy and fast. Where is the airport and how to reach the city from there? Read here.
2. Accommodation in Krakow
After having fun all night, you will definitely want to relax in a comfortable space. It will be most convenient for you to rent an apartment in the centre or sleep in a hotel. Which accommodation should you choose? Take a look here. 
So – are you ready for an unforgettable experience? Here we go!
A stag party in Krakow – if you only have 1 night
If you are going to Krakow for 1 night, you have 2 options – squeeze in as many attractions as possible in the shortest time possible or choose some of the most interesting ones – and focus on these. Fortunately, both scenarios are feasible, because the city is full of amazing offers for this special evening!
How to organize activities for a stag party in Krakow? Read our sample plan!
1. Time to eat!
No good party should ever run out of food – especially if you plan to party until dawn. Fortunately, Polish cuisine will give you the energy you need. Where to go? What to try out?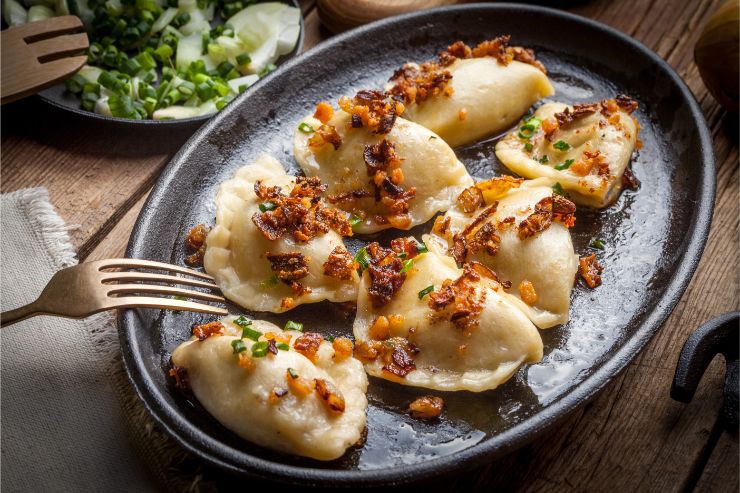 If you have arrived early and have a lot of spare time, we recommend the Krakow Food Tour – this way you will try all the most interesting Polish dishes in one afternoon. Consumption, of course, can't go without vodka tasting – Krakow is full of places where you can eat well and sample the best alcohol.
If you'd rather plan dinner on your own, the Main Market Square or Krakow's Kazimierz district will have lots of restaurants that offer delicious food – not necessarily Polish. You can pick and choose among Italian, Asian, Mexican cuisine or a combination of many flavours. Krakow is also full of vegan restaurants.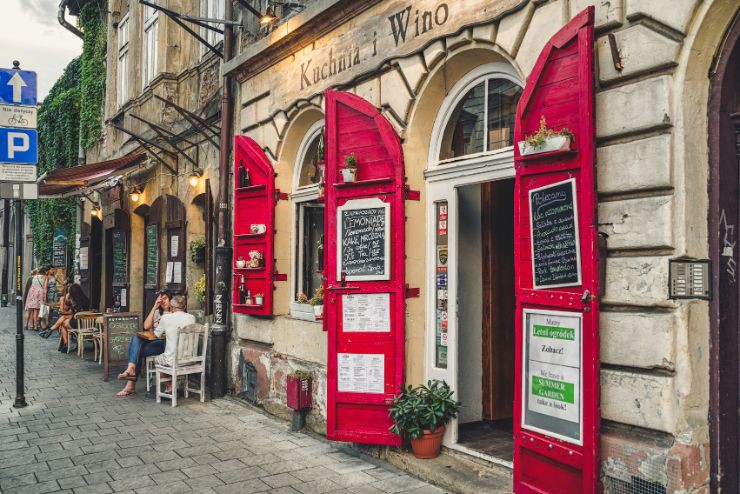 Polish food – what you must try?
Żurek
Pierogi – the absolute must have in Polish cuisine! 
Gołąbki
Pork chop
And many others!
Offers worth using:
What do you need to know?
If you're organizing food-related Krakow activities yourself, be sure to discover Krakow's best restaurants. Waste no time and only choose the best quality food!
Be sure to read more about Polish food – try out all of the dishes above!
2. Stag party in Krakow – only with the best alcohol!
Feeling full? Then let's get to it! A healthy dose of alcohol will be needed. There are plenty of places in Krakow where you can have drinks, shots or, of course, traditional Polish vodka.
You can tour Krakow bars just like restaurants – with a knowledgeable guide or on your own. Regardless of which form you choose, you won't find Polish alcohol disappointing! And one more thing – we guarantee that there will be a lot of foreigners in every pub and you will certainly not be alone. The fun is only beginning!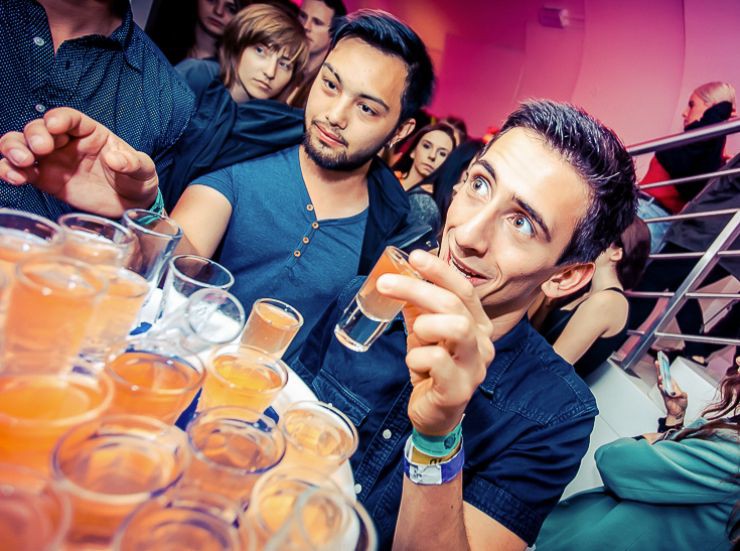 Krakow bars – which ones do you have to visit?
Alchemia
Klub pod Jaszczurami
Ambasada Śledzia – vodka tasting in Krakow
Pijana Wiśnia
Bar Kojot – a must have for karaoke enthusiasts
Beer Zone
Offers worth using:
What do you need to know?
Krakow is a city with such a huge number of bars, pubs and venues that you could easily spend several days hanging out in each of them. In order for you to reach the best ones, you may need a short guide to the Main Square.
3. Stag party in Krakow – party tram
Krakow is a city of trams. However, not all of them take people to work – after all, renting trams for parties is a popular custom among tourists and locals! It's a great choice if you want to travel around the entire Old Town, and enjoy yourself in unusual scenery along the way.
The most interesting option when renting a party tram is the option to customize the event completely. No matter what idea you have, the organizers will strive to make it happen. The tram party offer includes whole packages for a Krakow nightlife stag party – what more could you want?
Krakow party tram – what do you need to decide on?
The theme of the event – a must have if you want to create the wow effect!
The preferred riding hours
The number of participants
The type of the event – most party trams have a fairly wide range of events and, apart from stag parties, you can also organize a birthday party or a company party
Offers worth using:
There are several companies in Krakow that organize night tram events – including Tram Party Krakow or Old Town Tram Party.
What do you need to know?
A party tram ride usually takes about 2-3 hours. You can rent a tram for your own needs or simply join a party tram that always leaves at the same time.
A stag weekend in Krakow – if you have 2 nights
All right – you know how to organize a 1-night stag party. But what if you want to come to Krakow for 2 evenings? Don't worry – we have a schedule ready for you!
1. Day in Zakopane
If you plan to come to Krakow for more than 1 day, it's really worth going to Zakopane – a nearby town located in the mountains (Krakow is located in the south of Poland, very close to the Tatra Mountains). You can get to Zakopane from Krakow by train or by bus – the distance between the cities is around 100 km.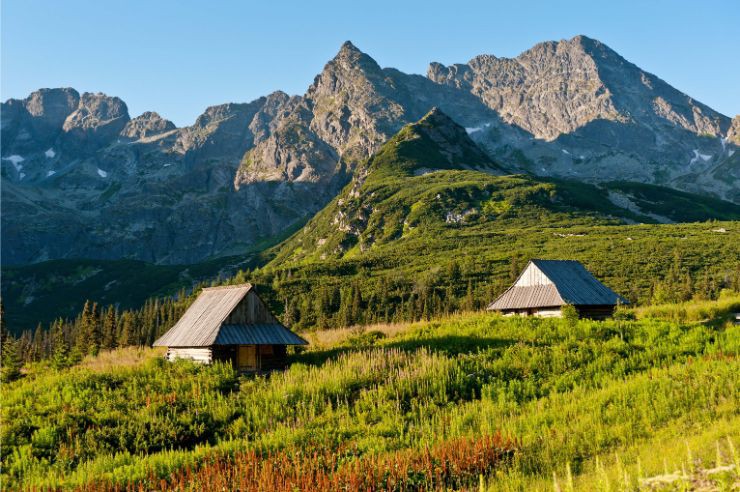 Why is it worth visiting Zakopane? Due to the highlander culture of this place, everything here looks completely different than in Krakow. You will start your perfect stag party with a visit to Zakopane thermal pools – a great way to relax and prepare for a crazy weekend!
Trip to Zakopane – what do you need to visit?
Krupówki – a walking route, Zakopane's main street which is full of tourist attractions. The absolute must visit!
Highlander restaurants – e.g. Karczma Czarci Jar with an amazing interior design or the traditional Zakopiańska Restaurant
Thermal pools in Zakopane and the surrounding area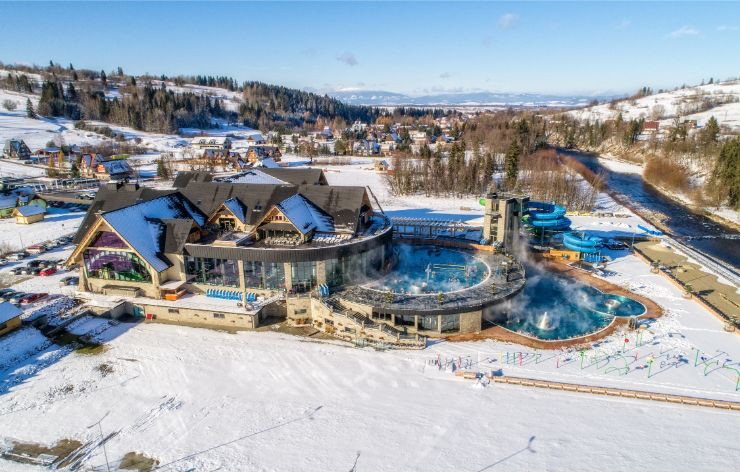 Offers worth using:
What do you need to know?
Zakopane is one of the most popular holiday destinations. Before you plan your trip, find out what this highland town is famous for.
2. Krakow stag party – nightclubs
After a day in Zakopane, you will make it on time back to Krakow – right for the evening! After resting in Zakopane's thermal baths, the time has come for slightly different activities. After all, no bachelor party can go without a tour around nightclubs!
As with bars and pubs, Krakow has a plethora of nightclubs. However, not all of them are worth your attention, especially for an occasion like a stag party. Which clubs should you visit? Take a look at the list below.
Krakow nightclubs – which ones do you have to visit?
Prozak 2.0
Shakers
B4
Społem Deluxe – a must have if you want to see Polish culture in its club edition
Offers worth using:
Even before you go, it is worth looking through websites offering Krakow stag parties. Some give you the option of booking a trip with a crazy guide to the best clubs. Thanks to a guide, you have a guarantee for the best fun!
What do you need to know?
When organizing a trip to Krakow's clubs, you have to care for not only having fun but also your safety. Read our guide, which will help you get to know the ins and outs of nightlife in Krakow.
A stag party in Krakow – if you have 3 nights or longer
And now for the deluxe version – for lovers of extreme sensations. Krakow will easily provide so many attractions for you to have a great time for a few nights in a row! All you need to do is add more attractions to the previous list.
1. Shooting range in Krakow – playing soldiers
What if you went back to your childhood and played with guns? Krakow has many shooting ranges. You can easily find offers tailored directly to stag nights.
You can shoot a Kalashnikov, playing the role of Soviet soldiers. It is possible to choose an outdoor or indoor shooting range, making the attraction available all year round.
Shooting ranges in Krakow – which ones are worth visiting?
Cracow Shooting Academy
Top Gun
GrotGun Shooting Range
Gotoshoot
Offers worth using:
Stag parties organized at the shooting range
What do you need to know?
Shooting ranges are usually not located within the Main Square itself, which is why you may need the up-to-date map of Krakow.
2. Awaken your inner woodsman – go axe throwing in Krakow!
An alternative to shooting (or its continuation, if you prefer that way) can be an attraction in the form of... axe throwing. It may sound trivial, but you can really have loads of fun doing it!
Did you know that Krakow is home to the first axe-throwing enthusiast club in Europe? That's no joke! This is a great attraction for the first day of your stay, when you can still focus ;-) and try your hand at this discipline. Axe throwing helps clear your mind and get rid of negative emotions – just in time before a stag party several nights long.
Axe throwing in Krakow – where should you go?
Axe Nation – a must have when it comes to axe throwing. Europe's first club for enthusiasts of this sport! The club can accomodate up to 25 people and can organize various types of events, stag parties among them.
Bad Axe - Viking style axe throwing club, also great for team events.
Offers worth using:
Axe throwing voucher for up to 5 people at Axe Nation. 
Booking a stag party for up to 20 people at Bad Axe (program includes throwing axes, catering and a photo booth).
What do you need to know?
A single axe throwing session in Krakow lasts about 1.5 hours, and the price depends on the size of your group. You will usually receive an exclusive room so that no one will disturb you. You can also take some beer with you!
How do you like our ideas for a stag party in one of the most beautiful Polish cities? If you're still not sure, be sure to read more about each attraction!
Or perhaps you're not entirely convinced it is worth coming to Krakow at all? Relax – we have prepared a special blog entry, telling you why you should visit Krakow if you live in the UK. So – see you there?